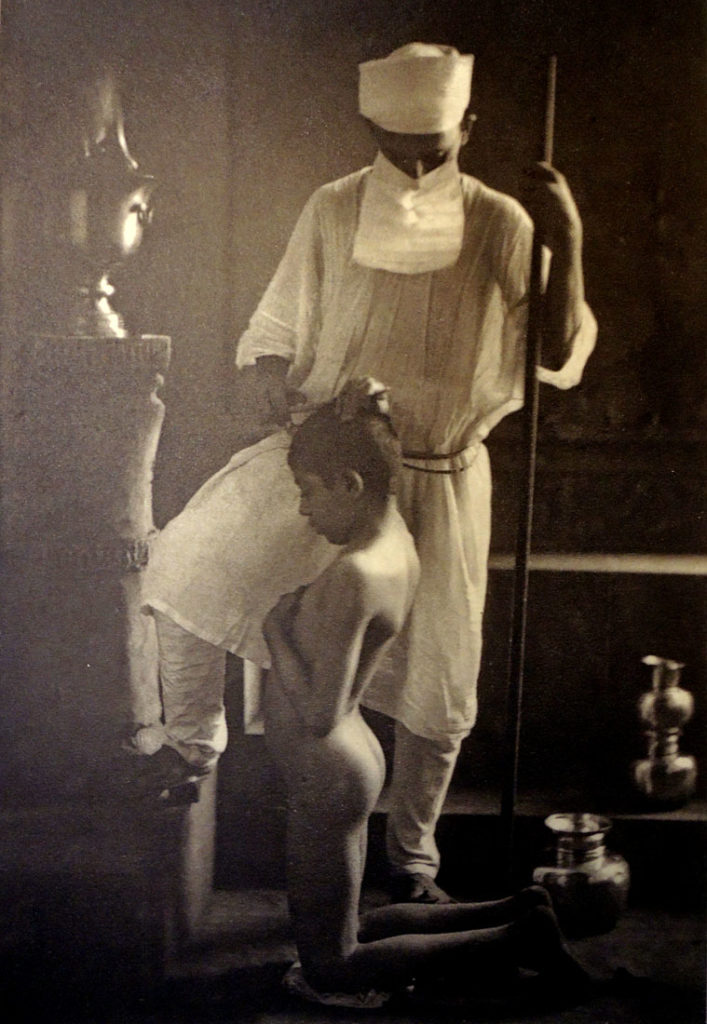 Above: Shapoor N Bhedwar, The Naver Ceremony. The First Ablution. Glyptogravure by Waterlow & Sons Limited. Frontispiece to The Photogram, 1, no.4 (April 1894).
Catharine Weed Barnes Ward (1851-1913) and her husband Henry Snowden Ward (1865-1911) founded the monthly magazine, The Photogram in 1894 with the ambitious plan to include a photograph or photomechanical print tipped into each issue. The variety and quality of prints mailed to subscribers that first year is surprising.

The April supplement in particular offers a glyptogravure (meaning engraved on stone, elsewhere called woodbury-gravure) from the postage stamp and certificate engravers Waterlow & Sons.
More on the photographer Shapoor Bhedwar can be found here: http://www.photo-web.com.au/gael/docs/Shapoor-Bhedwar.htm and more on the Naver Ceremony related to the consecration of a priest into the Parsi (Parsee, i.e. Zoroastrian) priesthood can be found here: https://www.zoroastrian.org/articles/The%20Iranian%20and%20Parsi%20Priests.htm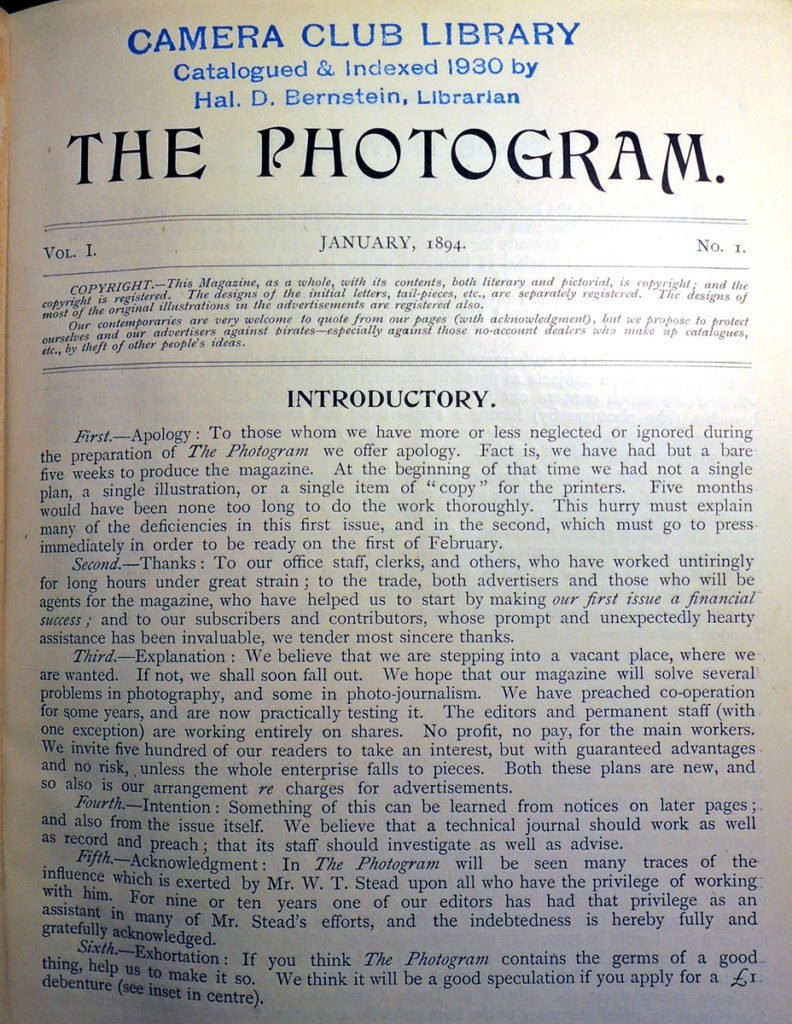 An obituary for Catherine Weed Ward was published in American Photography, 7 (1913), which reads in part:
The brief announcement in our September number of the death of Mrs. H. Snowden Ward, formerly Catherine Weed Barnes, on July 31 at her English home, Golden Green, Hadlow, Kent, England, will, we are sure, be received with regret and sorrow by her numerous American friends, occurring as it did about eighteen months after her husband's death here in December, 1911.

It was between 1887 and 1888 that Mrs. Ward began the practice of photography. With the aid and advice of a professional photographer at her Albany, N. Y., home, she fitted up there a studio and darkroom facilities for photographic work. She was interested in the Historical Society at Albany, and made many photographs of historical places, buildings, and articles in and about the city. She soon acquired the technique of negative making and became a proficient photographer. Shortly after this she became one of the first women members of the Society of Amateur Photographers of New York, and contributed prints and slides to its exhibitions.

About 1890 for two or three years she was an associate editor with our Mr. Beach, and also at one time with Mr. Alfred Stieglitz, of this magazine, then known as the American Amateur Photographer. In the summer of 1893 she was married to Mr. H. Snowden Ward in Rochester, N. Y., at which time he was editor of an English monthly magazine called the Practical Photographer, published in London. Mrs. Ward then made her home in England, and continued her photographic work there with the same zeal and interest as here. The publication of a new monthly photographic magazine was begun in 1894, called The Photogram, which Mr. Ward edited, assisted by Mrs. Ward in a literary and pictorial way, supplemented by the publication of an annual book entitled "Photograms," containing superior halftone illustrations of the best work that had been exhibited during the previous year.
With apologies for my camera, here are some of the other prints included in The Photograms of 1894.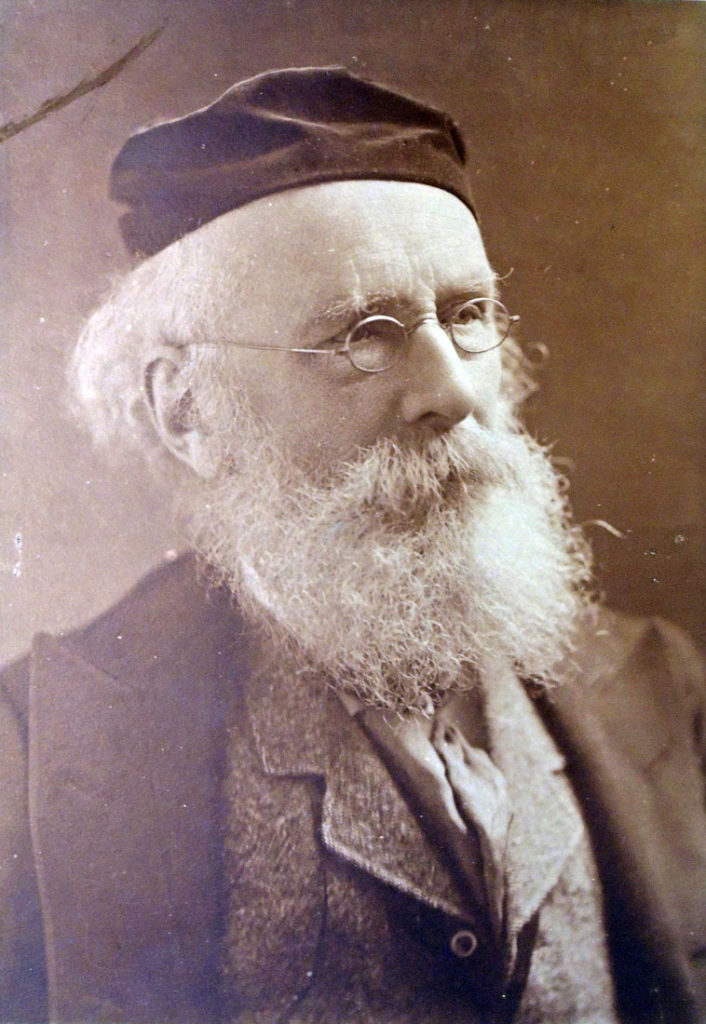 Harold Baker (negative), printed by J. Martin & Company on Paget Matt Surface Print Out Paper, An Artist. The Photogram 1, no. 9 (September 1894).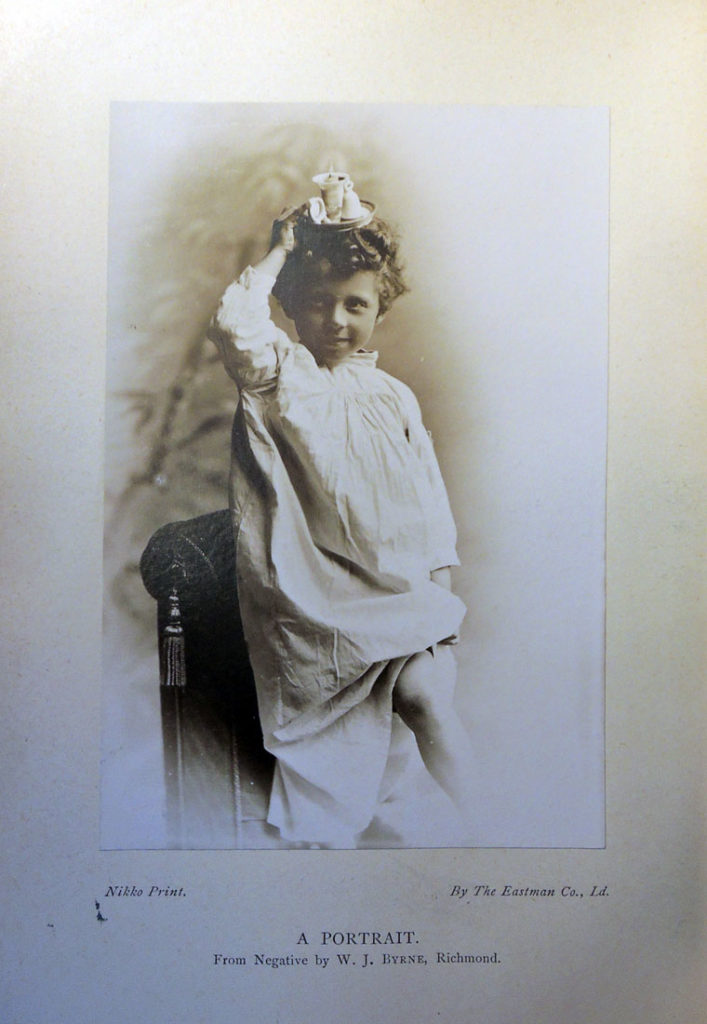 The Eastman Company (positive) after W.J. Byrne (negative), A Portrait. Nikko Bromide paper print. The Photogram 1, no.3 (March 1894).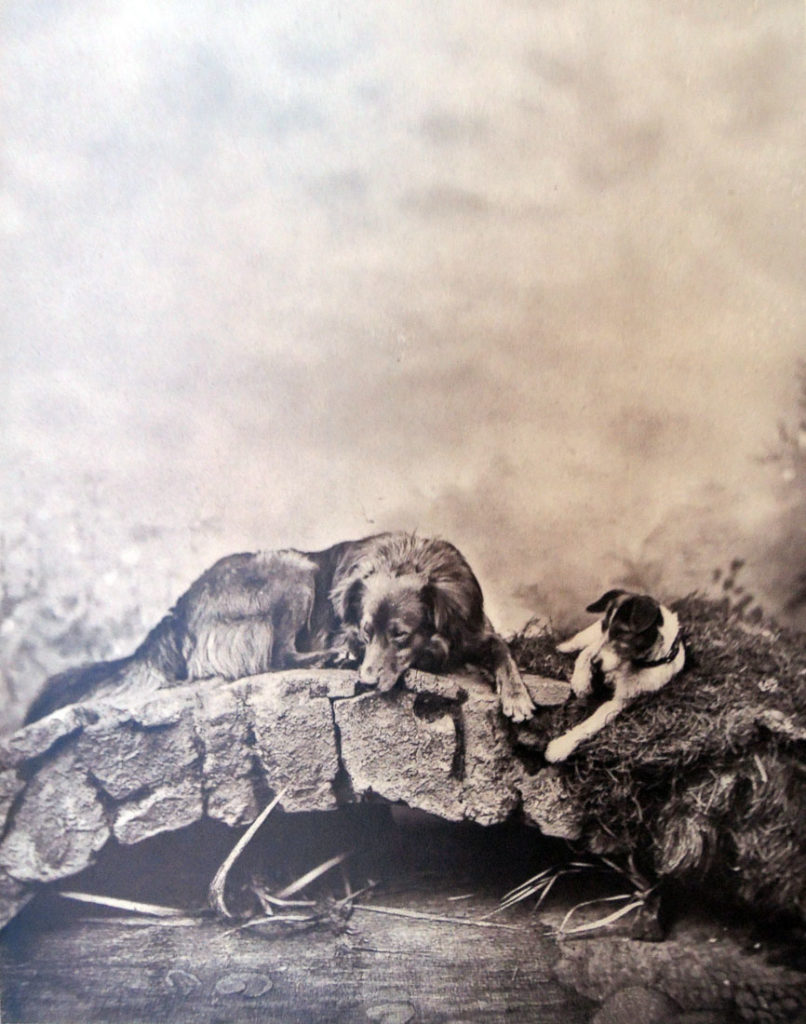 Thomas Fall, My Friends. Woodburytype. The Photogram 1, no.2 (February 1984).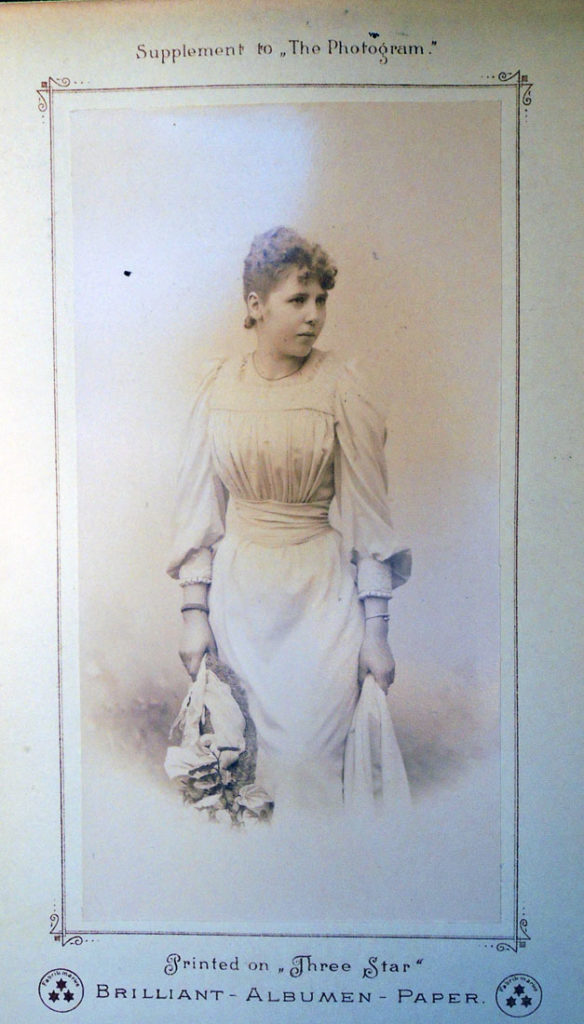 Erwin Raupp, [Portrait of a Lady], printed on Three Star Brilliant Albumen paper. Albumen silver print. The Photogram 1, no. 6 (June 1894).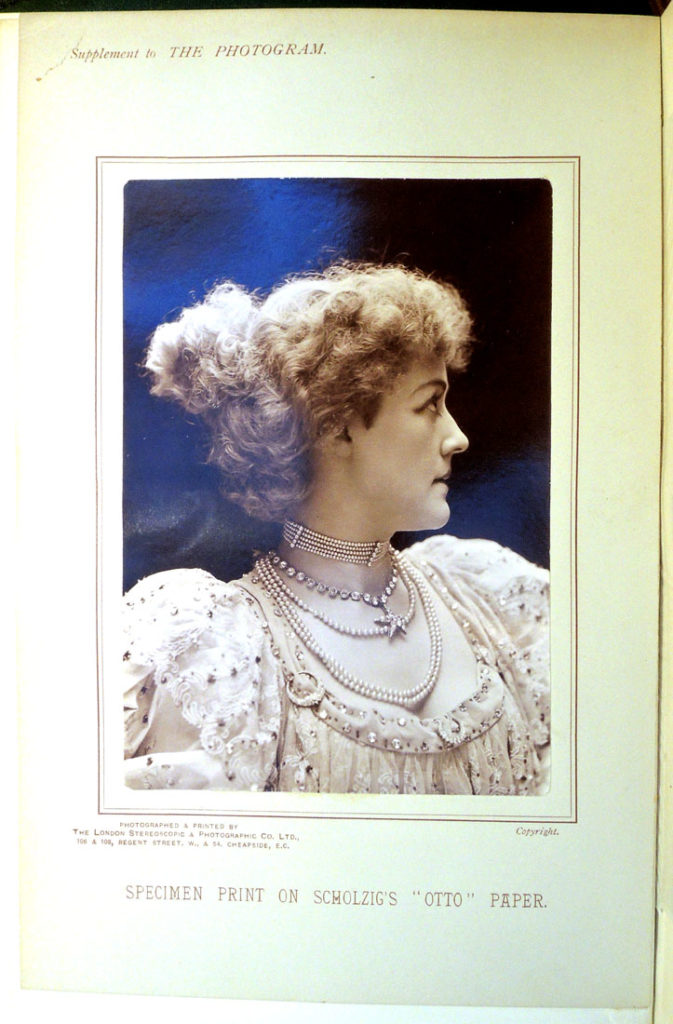 The London Stereoscopic & Photographic Company, Specimen print on Scholzig's "Otto" paper. Otto silver print. The Photogram 1, no. 7 (July 1894).
Thank you to David Magier, Associate University Librarian for Collection Development, for explaining the Parsi consecration ceremony.
The Photogram (London, 1894-1903). RECAP 4597.7171