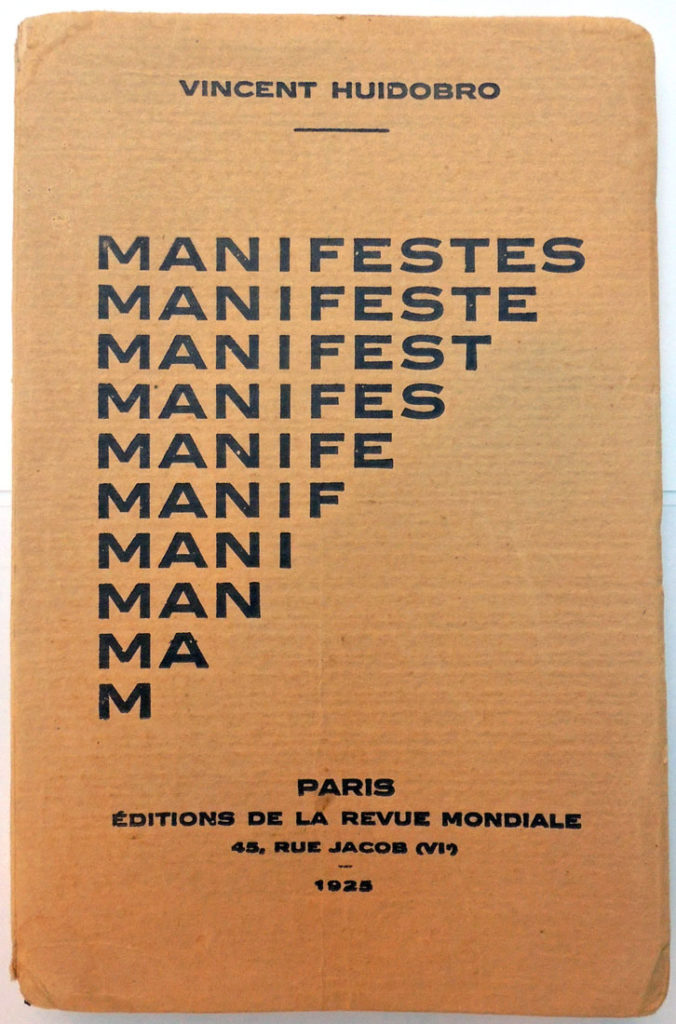 Vincent Huidobro (1893-1948), Manifestes, Manifeste, Manifest, Manifes, Manife, Manif, Mani, Man, Ma, M. (Paris: Editions de la Revue Mondiale, 1925). Purchased with funds provided by the Program for Latin American Studies (PLAS). Graphic Arts Collection GAX 2018- in process.
We thought we had collected every volume published by the Chilean writer Vicente Huidobro (1893-1948) and then, this rare collection of manifestos turned up including a French translation of his best-known manifesto on Creacionismo (Creationism), as well as Manifestos manifest, The Poetry of Madmen, Tourist Advisory, and The Seven Oaths of the Poet among others.
For another volume in our collection, see: https://www.princeton.edu/~graphicarts/2010/08/vincente_huidobro.html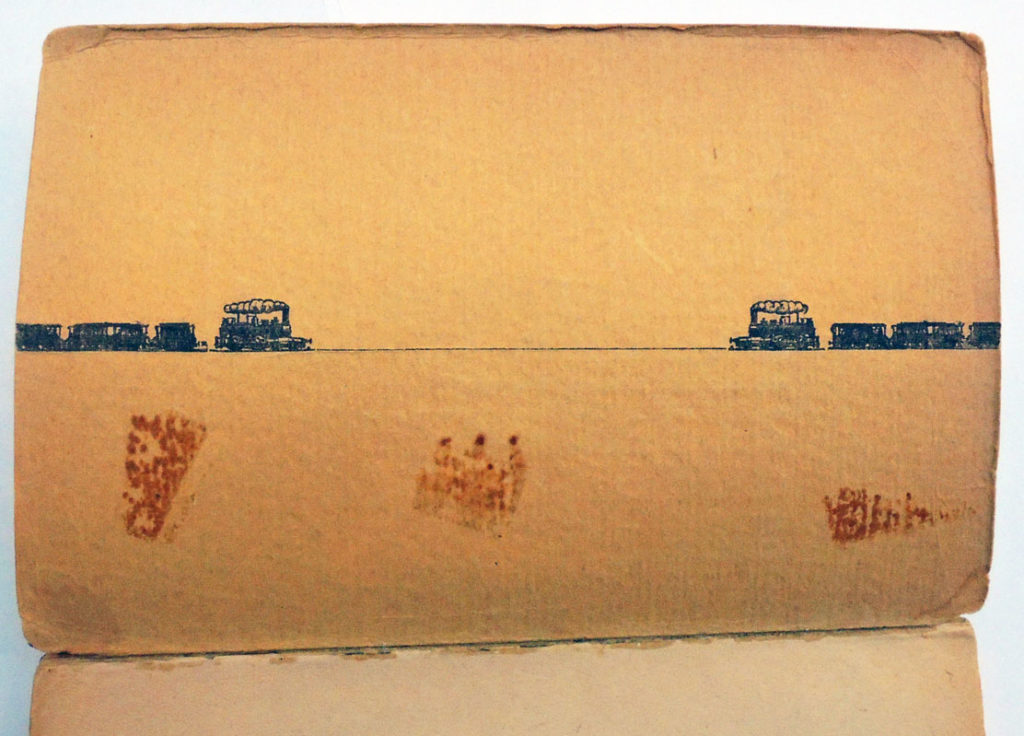 Printed (not drawn) verso of paper cover.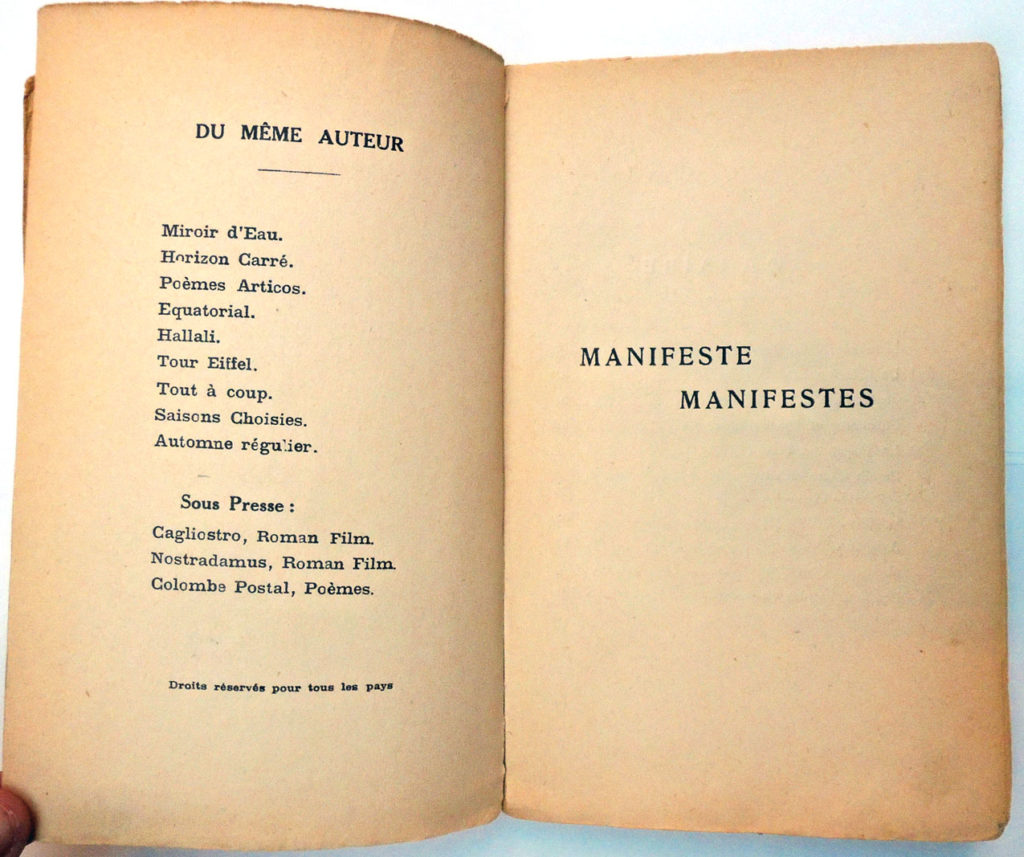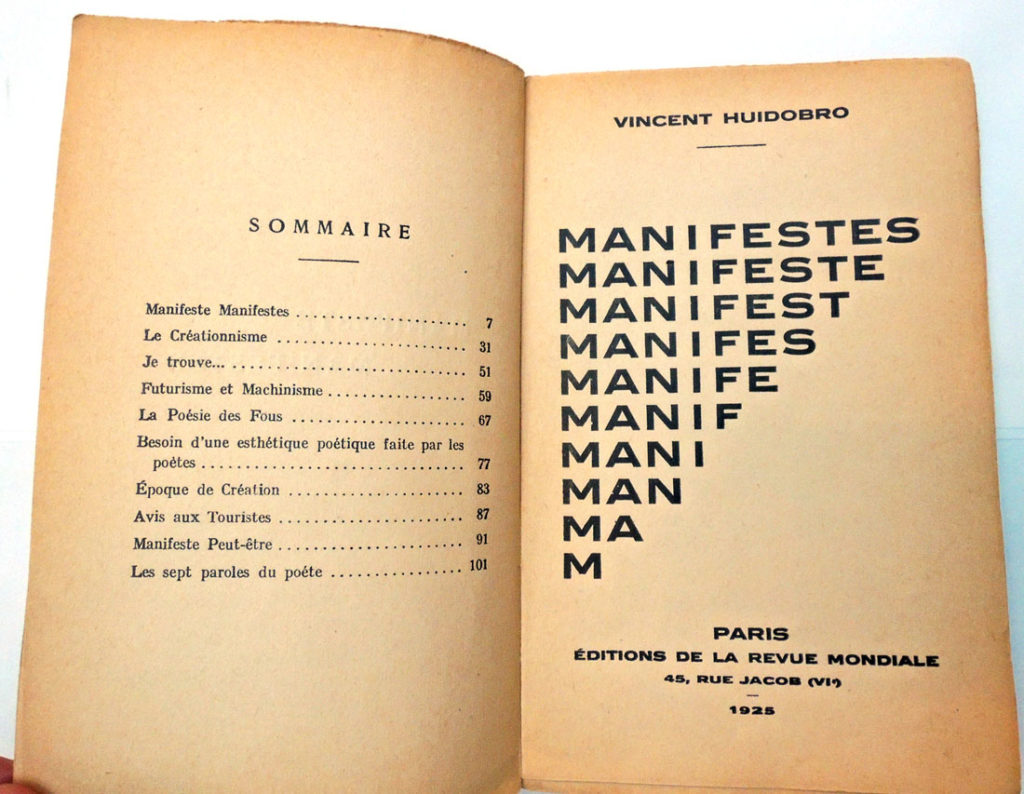 Huidobro was only 23 years old when he left South America for Europe. From 1916 to 1925, the young poet lived with his wife and children in Paris, quickly aligning himself with the circle of Cubist artists and writers. He remembered:
"It was the heroic epoch, in which we struggled for a new art and a new world. The thunder of the cannons didn't drown the voices of our spirit. Intelligence stood its group, at least in France. I formed part of the Cubist group, the only one that's had a real importance in the history of contemporary art. In 1916 and 1917, I published in Paris, along with Apollinaire and Reverdy, the magazine Nord-Sud, which today is considered one of the principal organs of the great struggle for revolutionary art in those days. My closest friends were Juan Gris and Jacques Lipchitz. Lipchitz and I were the youngest in the group. They called me the "blanc-bec," which could be translated as the Benjamin of the family. . . .

Apollinaire would come to dinner on Saturdays. Max Jacob, Reverdy, and Paul Dermée would often come as well. Occasionally, Blaise Cendrars, Marcoussis, and Maurice Raynal would show up, just home from the front. Then I met Picasso who was returning form Southern France and about to put on the famous "Parade" ballet to the music of Erik Satie, another old and dear friend…"–The Selected Poetry of Vicente Huidobro (New Directions Publishing, 1981).
Nord-Sud (Sylvia Beach Collection Oversize 0904.682q)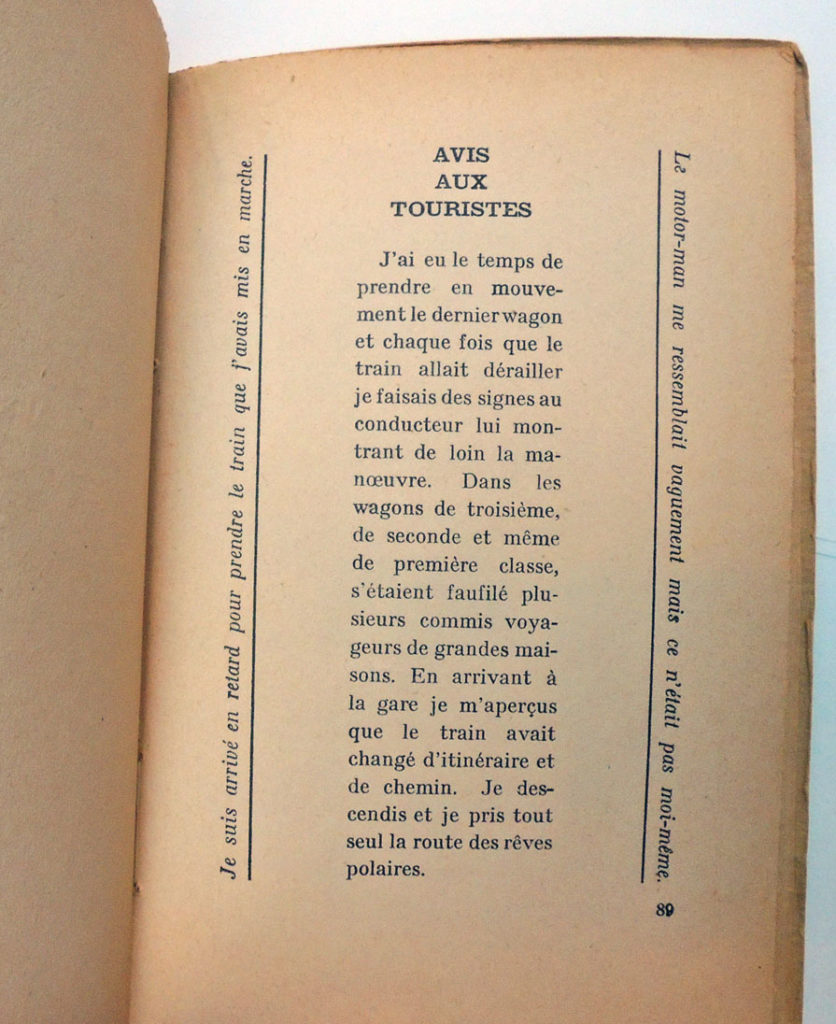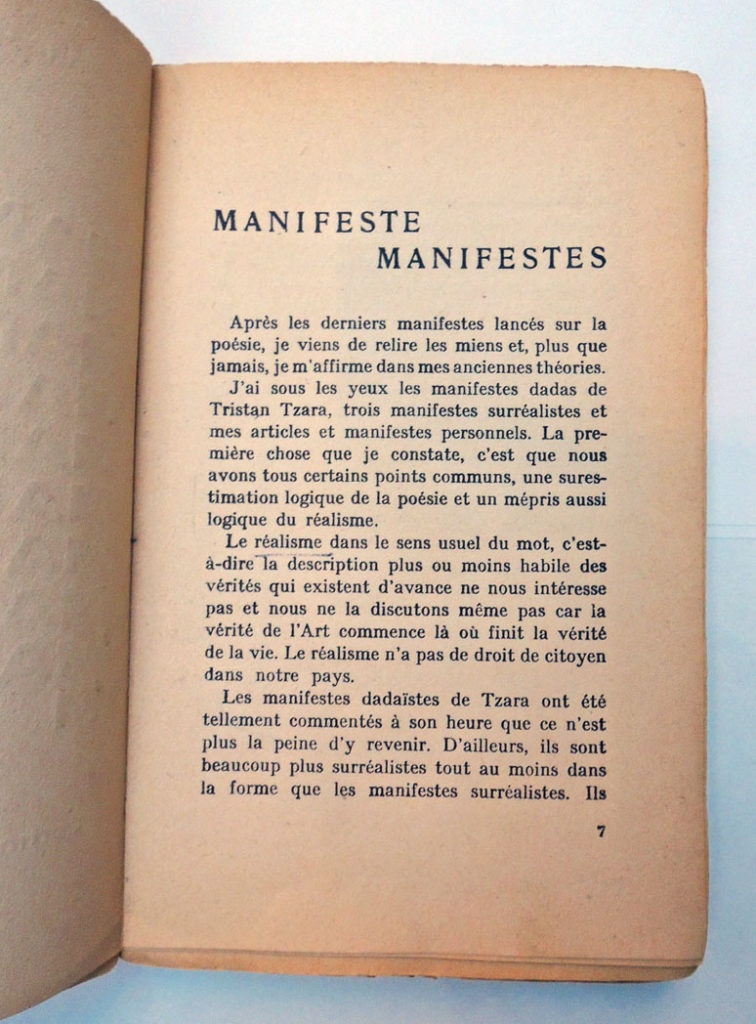 Huidobro believed poets had a heightened state of consciousness, or super-consciousness, which he wrote about it in his Manifesto of Manifestos:
"Super-consciousness is reached when our intellectual capabilities acquire a superior vibratory intensity, a wavelength, a wave clarity, infinitely more powerful than ordinarily. In the poet, this stage can take place, can be triggered be a cause that is, at times, insignificant and invisible for the poet himself."
Read: The International Yearbook of Futurism Studies, 2017, Mariana Aguirre, Rosa Sarabia, Renée M. Silverman, Ricardo Vasconcelos (Walter de Gruyter, 2017) SA NX456.5.F8 I589