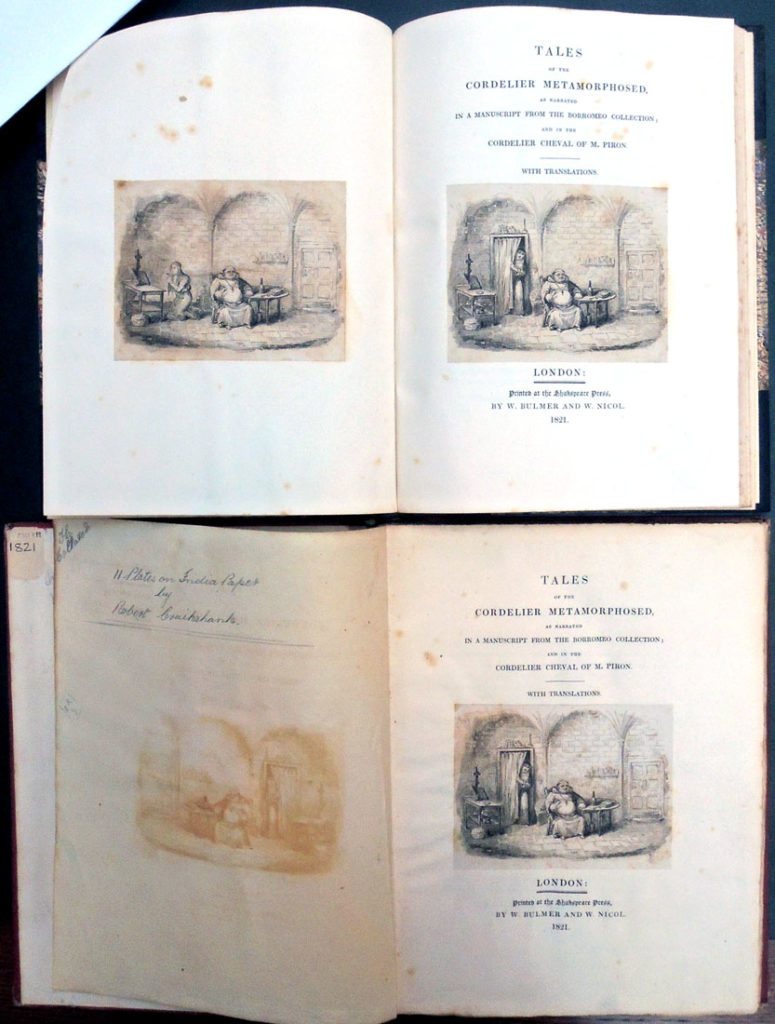 George Hibbert (1757-1837), editor, Tales of the Cordelier Metamorphosed, as Narrated in a Manuscript from the Borromeo Collection: and in The Cordelier Cheval of M. Piron. With translations ([London: Printed at the Shakespeare Press by W. Bulmer and W. Nicol, 1821]). Graphic Arts Collection Cruik 1821 Robert. and Graphic Arts Collection 2018- in process.
The Graphic Arts Collection now holds two of the sixty-four copies printed of Tales of the Cordelier Metamorphosed, with illustrations by Robert Cruikshank (1789-1856). Our new volume seen at the top includes an unpublished Cruikshank cut, presumably rejected by George Hibbert (1757-1837) for the title page. This is Hibbert's own copy where he kept both side by side.
These are first (and only) editions of the publication, printed for Hibbert, who was a wealthy Jamaica merchant, rare book collector, and an early member of the Roxburghe Club. The text consists of two tales, one a prose novella attributed to Michele Colombo and the other a French verse tale by Alexis Piron (1689-1773).
Hibbert writes to Roger Wilbraham:
The Italian Novel, which I believe to be now for the first time printed, existed, in Manuscript, in the Collection of the late Count Borromeo, of Padua; at the sale of which, in 1817, you made some interesting additions to your already valuable store of Italian Literature; and this manuscript, among other trifles, fell to my lot. It stands entitled, in the catalogue of that Sale, no.250. Novella di Gianni andato al Bosco a far legna, &c &c in 4to, MS, indeita, and it is there, upon what authority I know not, attributed, together with some preceding articles of the catalogue, to Michele Colombo.

It attracted my notice, from its close resemblance in the principal incidents of the story, to 'Le Cordelier Cheval,' or, as it is sometimes entitled, 'Le Moine Bride,' of Alexis Piron, a tale which I have always esteemed as not the least pleasant of that author's facetious effusions; and suspecting that Piron, like La Fontaine before him, often gathered his subjects from some older record, I have looked in vain among the earlier novelists, for an original hint of this story. Whether the Italian be really such, or merely an imitation, or whether both the narrations be not borrowed from some preceding collection of facetiae, I will not pretend to determine.
According to Lowndes only 64 copies were printed, presumably distributed only to Hibbert's friends. Hibbert's copy has the bookplate of 'Munden', indicating the Munden estate, Hertfordshire, which he inherited in 1828. When Hibbert moved out of London in 1829, much of his book collection was sold at auction bringing a total of £23,000. This volume stayed in the family into the 20th century.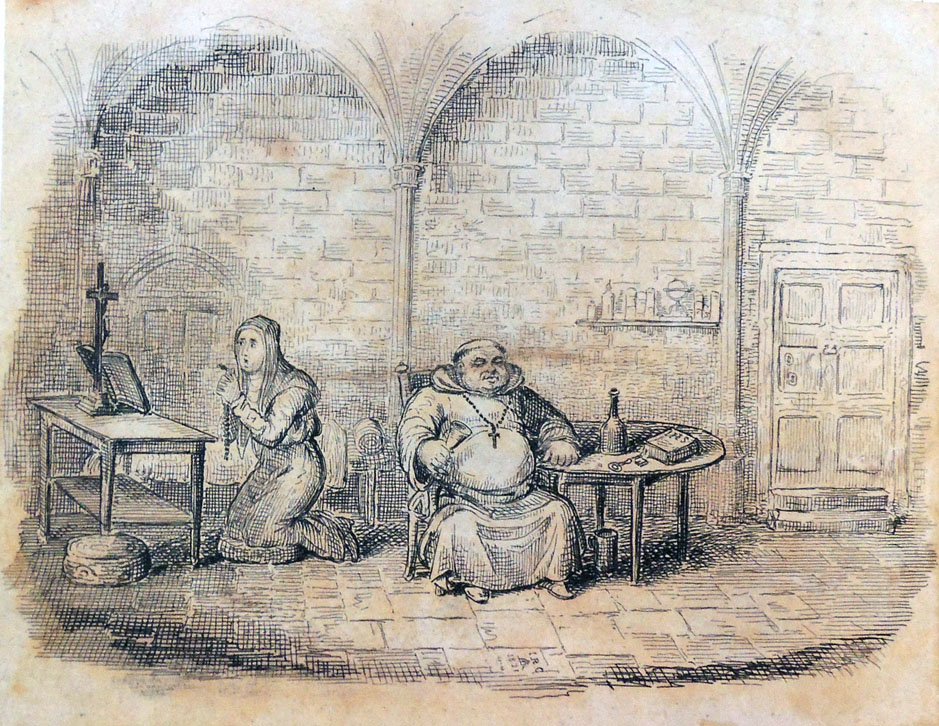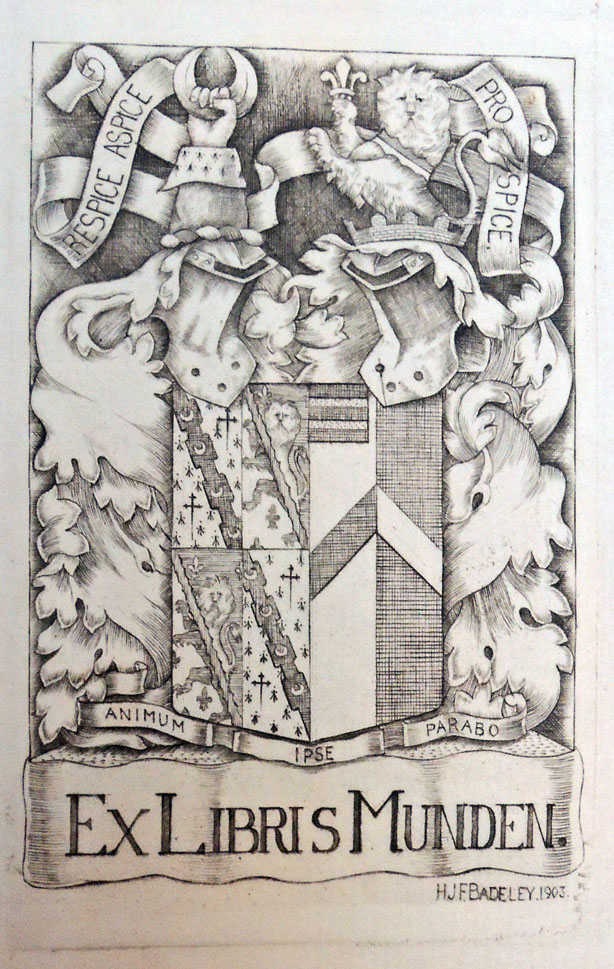 The Munden bookplate was engraved by Baron Henry John Fanshawe Badeley (1874-1951). The motto above is Respice, adspice, prospice (Look to the past, Look to the present, Look to the future). Below: Animum ipse parabo (I myself will provide courage).
Our first copy was a gift of Richard Waln Meirs, Class of 1888, donated to Princeton University Library in 1913. It has an armorial bookplate of Thomase Gaisford (1779-1855) and a presentation inscription to Philip Bliss (1787-1857) on front free endpaper: "Philip Bliss, British Museum, 1822. Given me by the Translator, George Hibbert, Esq. R. W., to whom Mr. Hibbert inscribes the vol. is Roger Wilbraham."