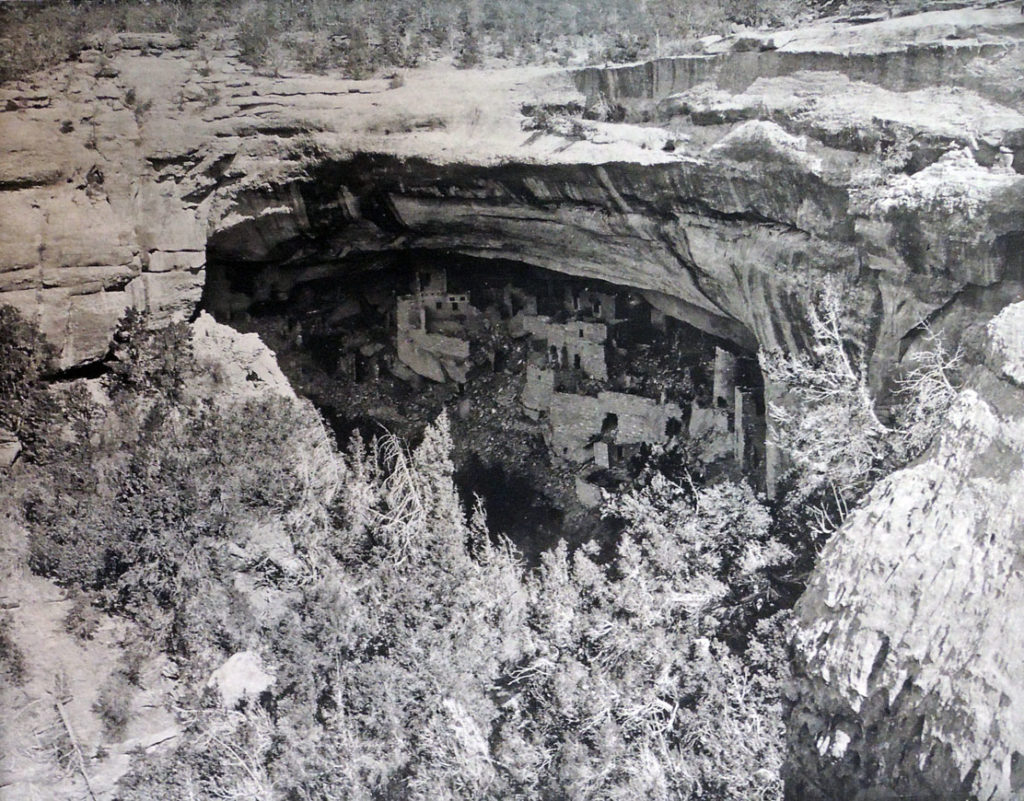 Gustaf Nordenskiöld (1868-1895), The Cliff Dwellers of the Mesa Verde, Southwestern Colorado: their pottery and implements ([Chicago: P. A. Norstedt & Söner, 1893]). Western Americana F778.N8q
Gustaf Nordenskiöld (1868-1895), Ruiner af klippboningar i Mesa Verde's cañons / af G. Nordenskiöld; med talrika illustrationer efter originalfotografier af författaren ([Stockholm: P.A. Norstedt, 1893]). Western Americana 2014-0242Q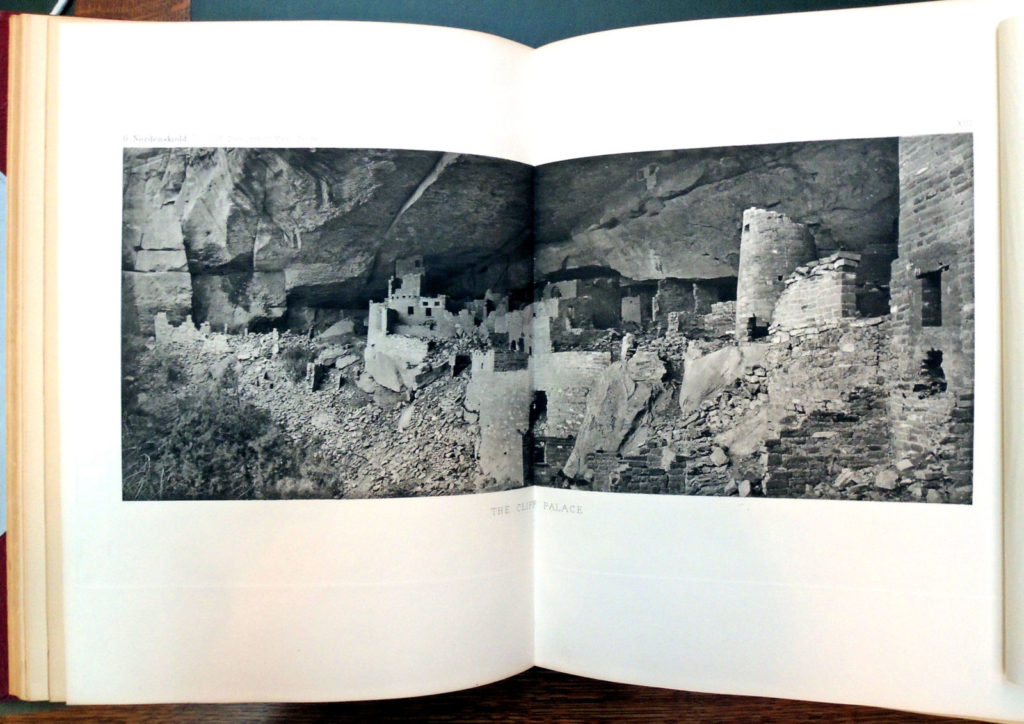 In his preface, translated by D. Lloyd Morgan and dated August 14, 1893, Swedish geologist Gustaf Nordenskiöld wrote:
The summer and autumn of 1891 I passed in Colorado, engaged upon investigations of the remarkable cliff-dwellings scattered in the canons of an extensive plateau, the Mesa Verde, in the south-west of the State. The present work is the result of those researches. It contains a description of the ruins, an account of the excavations carried out there and of the objects discovered.

In order to trace as far as possible the development of the cliff-dweller culture, I append a survey of the ruins in the South-western States akin to the cliff-dwellings of the Mesa Verde, a description of the Moki Indians, the descendants of the ancient Pueblo tribes, and an account, based on the relations of the first Spanish explorers, of the manners and customs of the agricultural town-building Indians in the middle of the sixteenth century. A special part of the work is devoted to a description by Prof. G. Retzius of the crania found during the excavations.

In order to give my descriptions of the ruins and of the objects found in them as great objectivity as possible, I have almost exclusively employed in the illustrations direct methods of reproduction. The ruins have been reproduced from my photographs, partly in autotype by Messrs. Angerer & Goschl of Vienna, partly in photogravure at the Librairies-imprimeries Reunies in Paris. The pottery, implements, etc. are heliotyped from photographs of the originals by Mr. Chr. Westphal of Stockholm. 14 August, 1893. G. Nordenskiold.
The photogravures were printed from Nordenskiöld's own photographs at Librairies-imprimeries réunies. managed by Albert Quantin. The actual printer was probably the heliogravurist Paul Dujardin (1843-1913), who worked for Quantin and other publishers from his shop at 28, rue Vavin.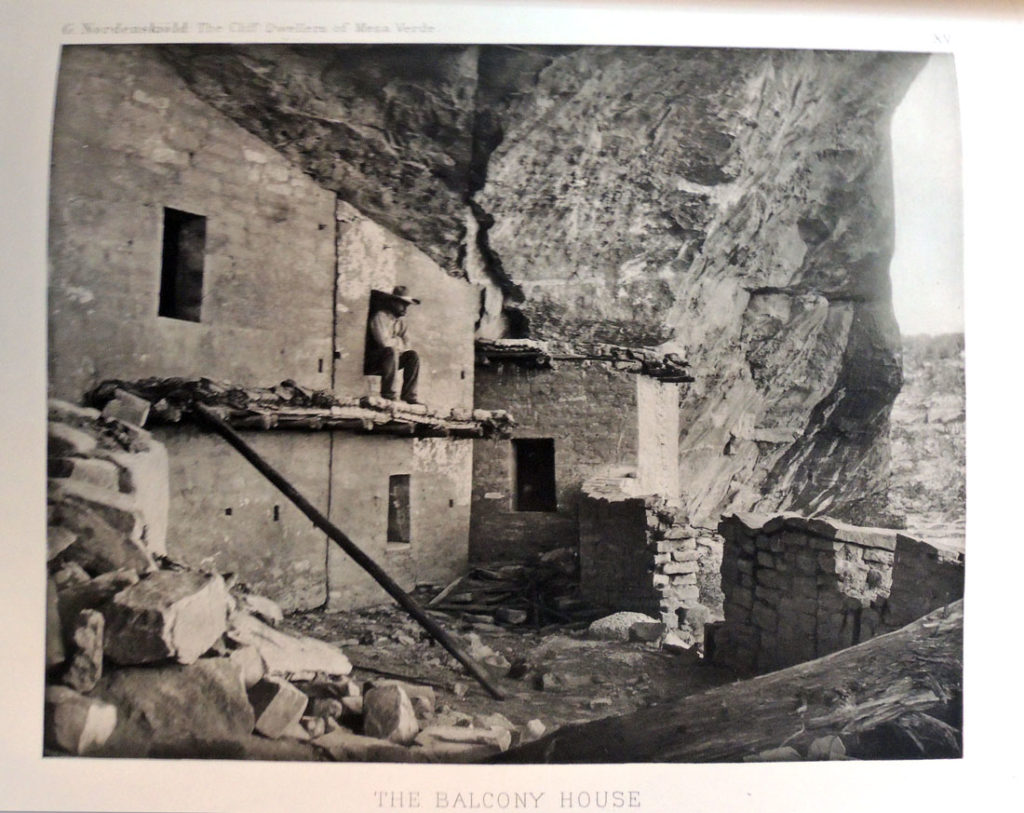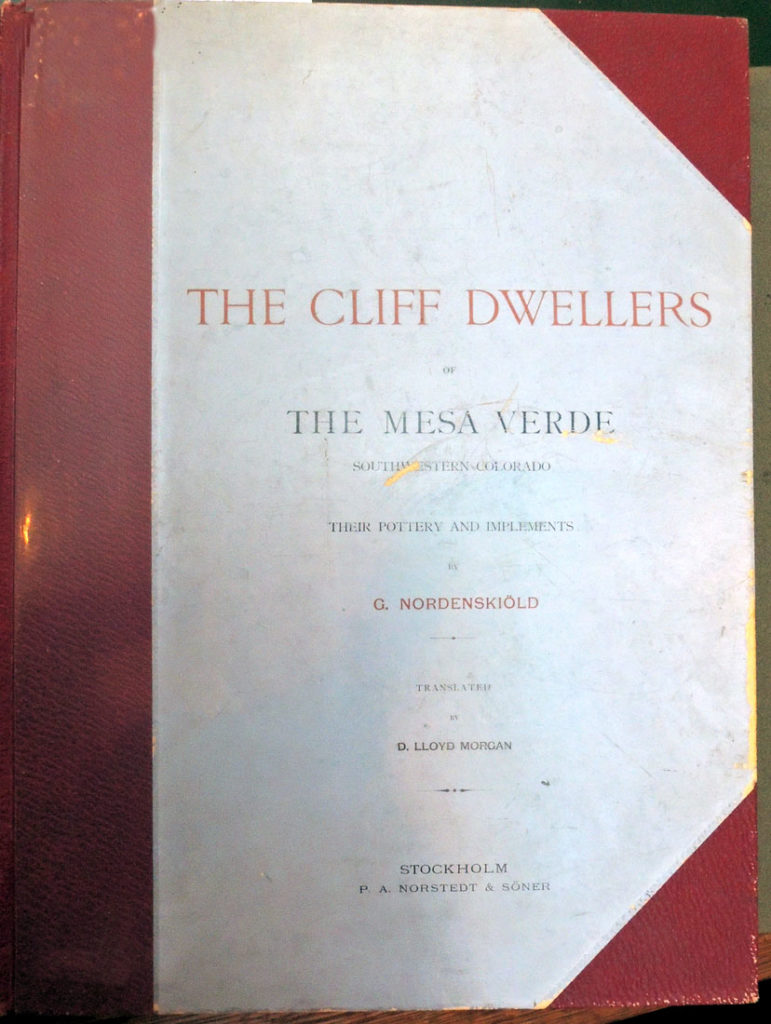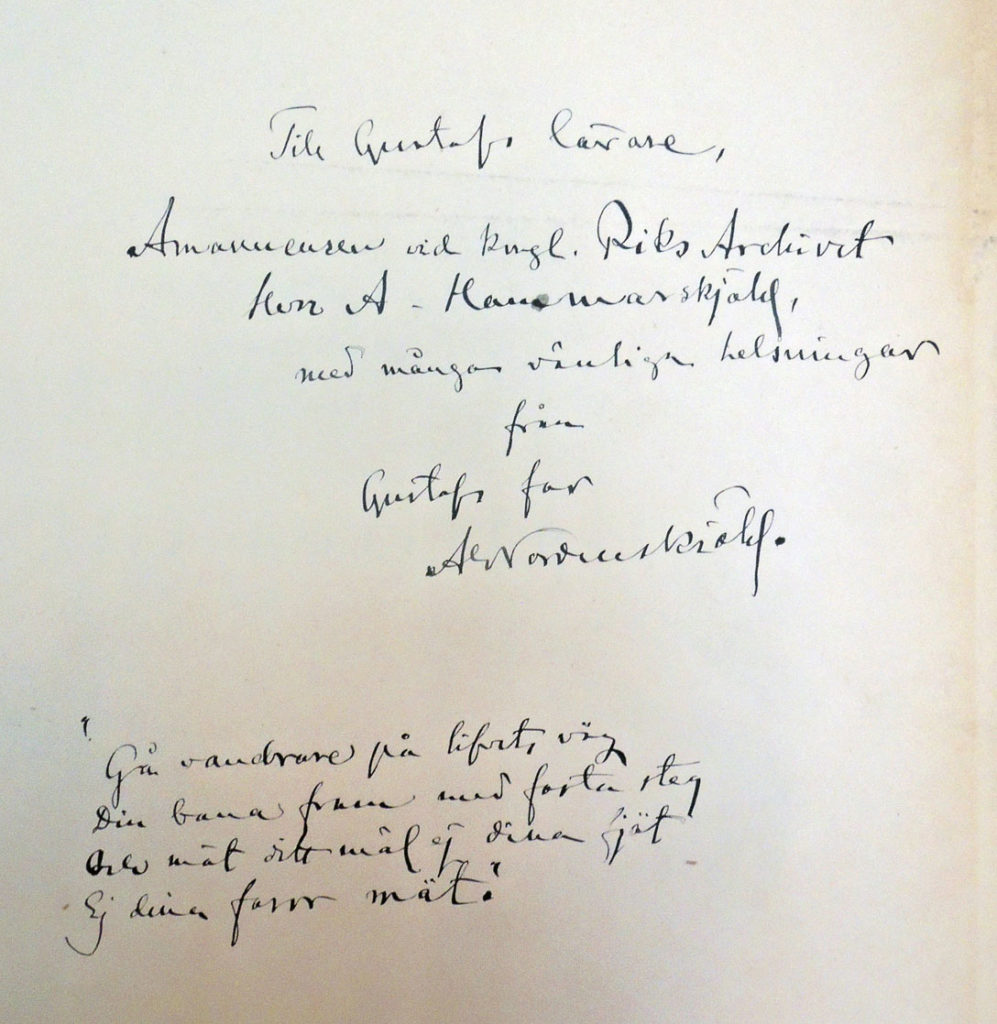 With thanks to our Lecturer in Visual Arts Fia Backström, here is the translation of the inscription in our volume:
To Gustaf's teacher,
The assistant at the Royal national archive
Honorary A – Hammarskiöld
with many warm regards
from
Gustaf's father
A Nordenskiöld.
'Go wanderers on the road of life.
Your path ahead with quick steps
and measure your goal not your reasons
don't measure your famn!'