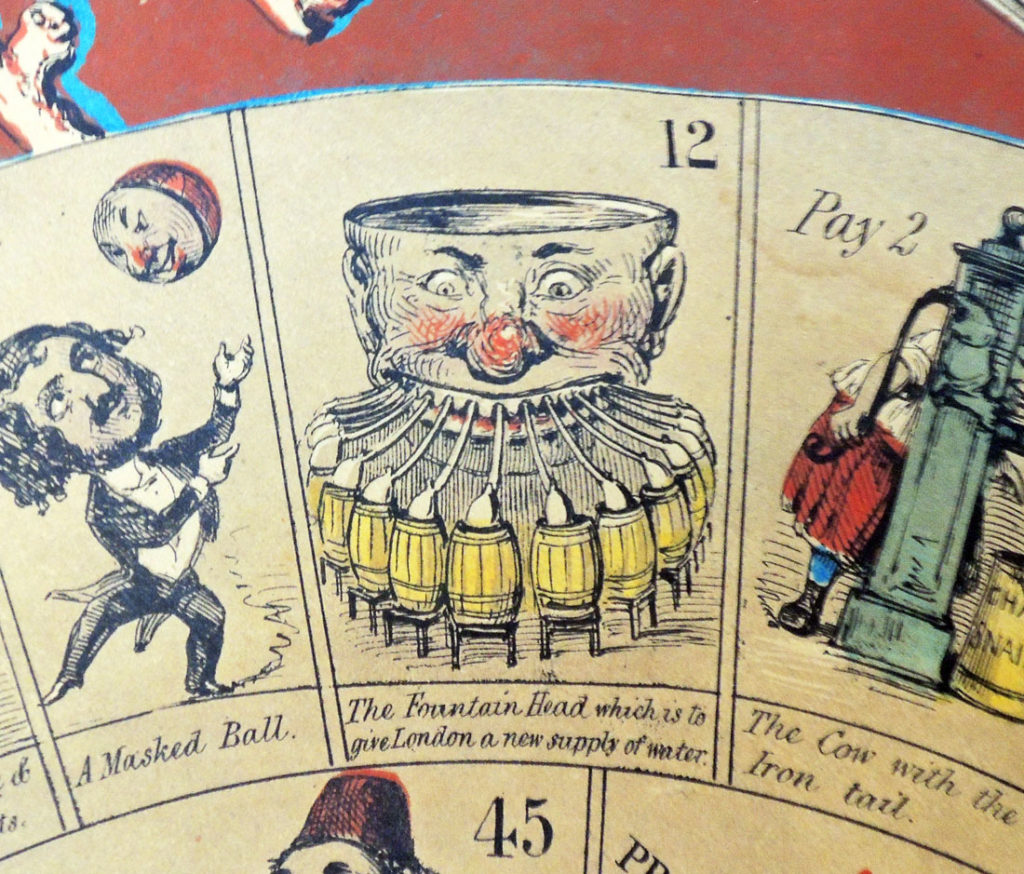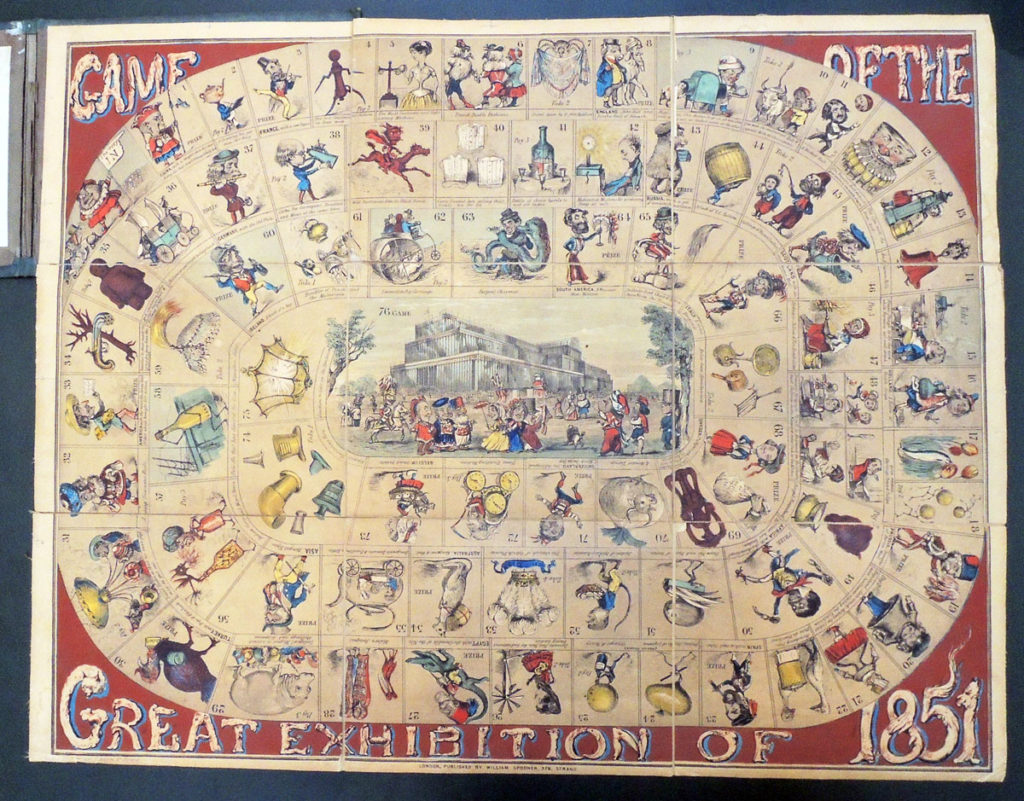 The Graphic Arts Collection recently acquired this unabashedly politically incorrect board game, in which people from around the world meet in London at the 1851 Great Exhibition. Caricatures of all races, creeds, and occupations are encountered as players make their way around this 'game of the goose' published by William Spooner.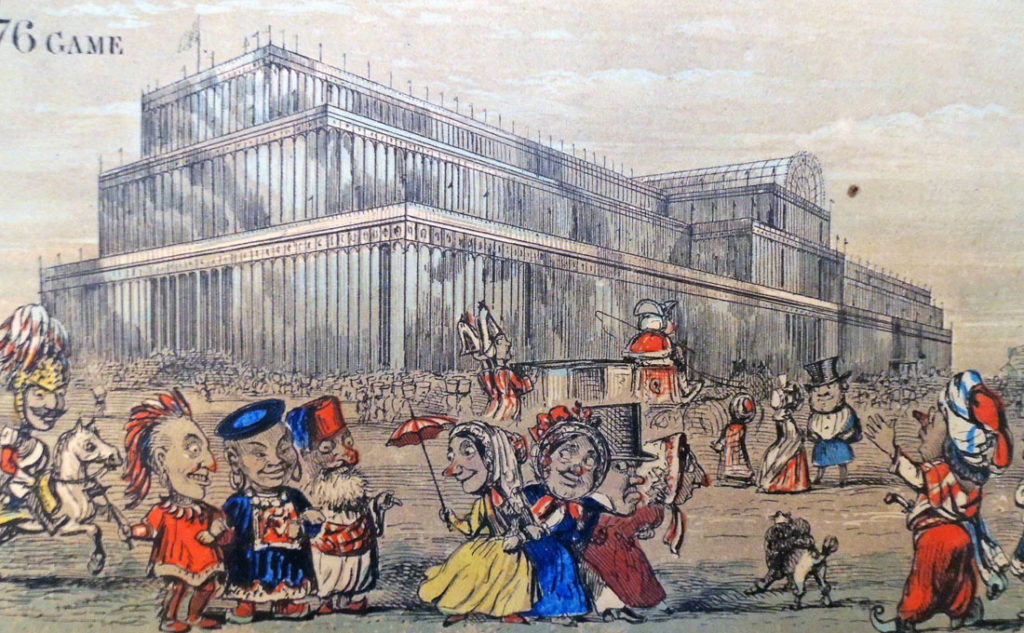 For some reason, this game has 76 squares rather than the typical 63. The central winning square is the Crystal Palace itself with international visitors mingling outside the building.
**Note, square 34 representing the Americans holds a gun that can even shoot around corners. This is a reference to the Hartford inventor Samuel Colt (1814-1862), who brought 500 of his new Colt revolvers to display in the Exhibition.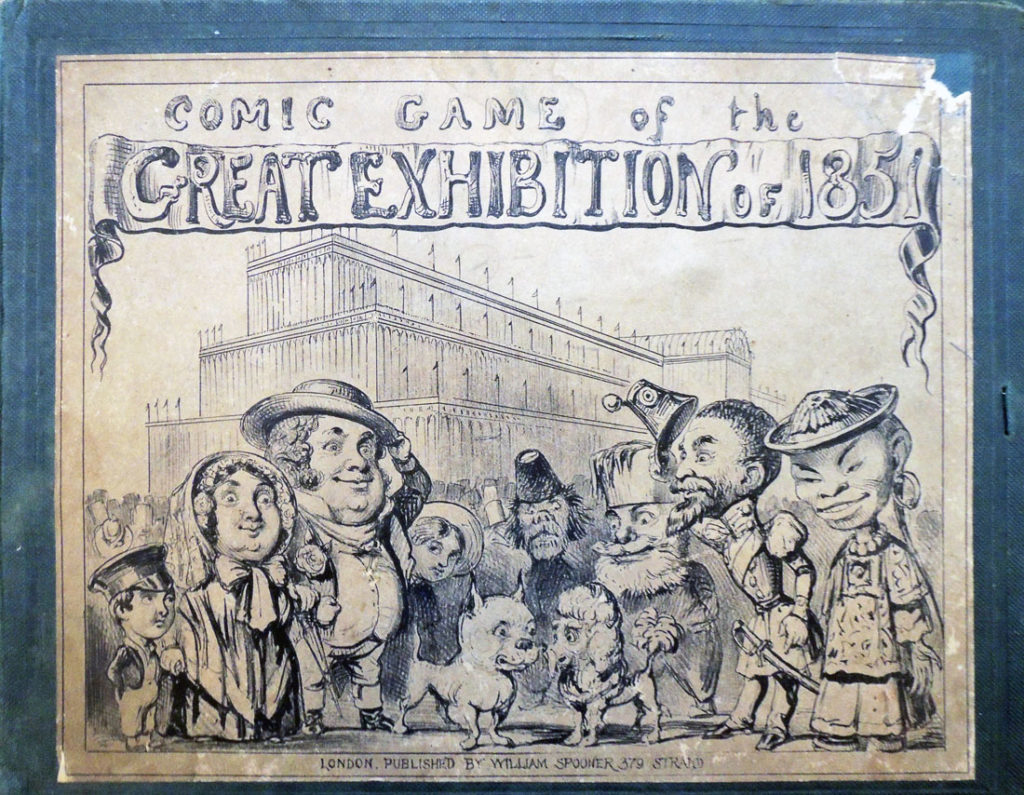 No artist is identified on the board but the figures are redolent of Richard Doyle's work, such as his comic An Overland Journey to the Great Exhibition, published the same year.
Artistic skits of the Great Exhibition of 1851: There were, doubtless, many of these— separate publications—in addition to the illustrations in Punch and other journals. I can mention two by distinguished men. 1. Overland Journey to the Great Exhibition, showing a few Extra Articles and Visitors, by Richard Doyle. These sketches were in nine panoramic plates in oblong quarto. 2. The Great Exhibition "Wot is to Be "; or, Probable Results of the Industry of All Nations, by George Augustus Sale. This was a folding panorama, eighteen feet in length, the designs, about 350 in number, being coloured, oblong octave. Not very long since I saw a copy of this, priced 385., in a London catalogue of second-hand books." –Notes and Queries (March 16, 1889): 206.
Comic Game of the Great Exhibition of 1851 (London: William Spooner, 1851). Graphic Arts Collection GAX 2018- in process.
See also: Richard Doyle (1824-1883), An Overland Journey to the Great Exhibition: showing a few extra articles & visitors (London: Chapman and Hall, [1851]) Graphic Arts Collection Oversize NE910.G7 D7 1851q