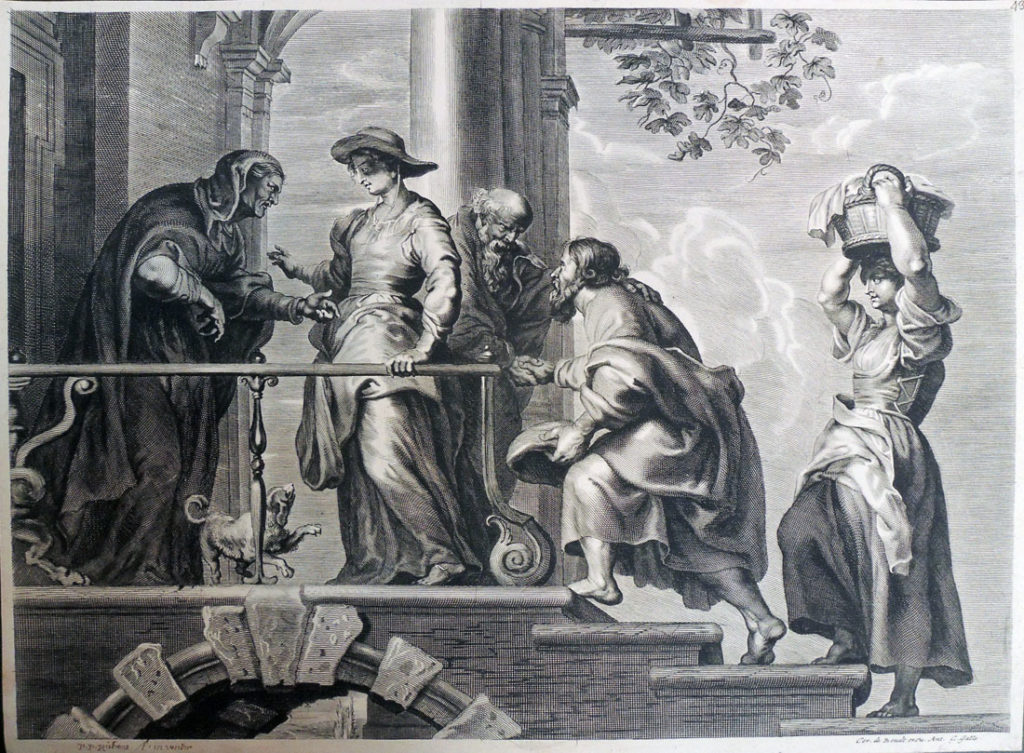 There are many works of art that depict Luke 1:39-40, roughly translated "At that time Mary got ready and hurried to a town in the hill country of Judea, where she entered Zechariah's home and greeted Elizabeth." Peter Paul Rubens (1577-1640) painted this scene several times, including an oil sketch now at the Národní Galerie in Prague and a vertical panel that makes up one half of a triptych in the Cathedral of Antwerp.
Both versions have been translated into single sheet engravings and bookplates. The Metropolitan Museum of Art holds an engraving of The Visitation by Pieter de Jode II (1606–ca. 1674) after Rubens, printed somewhere between 1625 and 1674 [below]. The British Museum also has a copy, along with other variations engraved by J Hébert (flourished 1842-1846); Gillis Hendricx (flourished 1640-1677); Schelte Adamsz. Bolswert (ca.1586-1659); and one by Valentine Green (1739-1813).
The Antwerp publisher Cornelius de Boudt (active 1600s) is responsible for yet another engraving, executed by Cornelius Galle I (1576-1650) after Rubens. De Boudt spent time in Rome but returned to Antwerp, where he collaborated with the painter on several projects for the Plantin Press (the printing company founded by Christophe Plantin).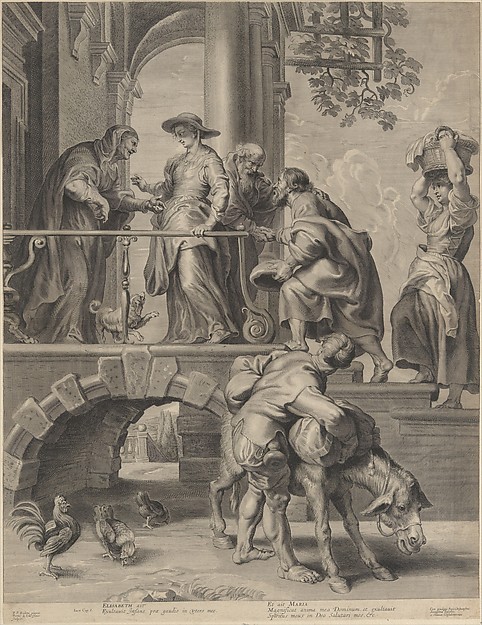 Pieter de Jode II (1606–ca. 1674) after Peter Paul Rubens (1577–1640), The Visitation, 1625–74. Metropolitan Museum of Art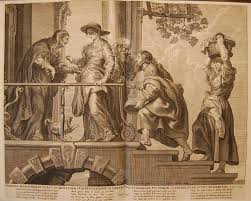 Unlike other copies, Princeton University Library's engraving has no scene below the stairs or added text. Someone has written Rubens's name in brown ink at the bottom left, in case viewers did not recognize the scene. It is conceivable that the Plantin Moretus Museum of Antwerp continued to reproduce this engraving long after the copper plate was first made.
To the left is an engraving of The Visitation from a series of 130 engravings (plus title-page) forming a Picture Bible, ca. 1652, unfortunately not included in one of Princeton University Library's copies. Our print may be an earlier or later copy after this publication.