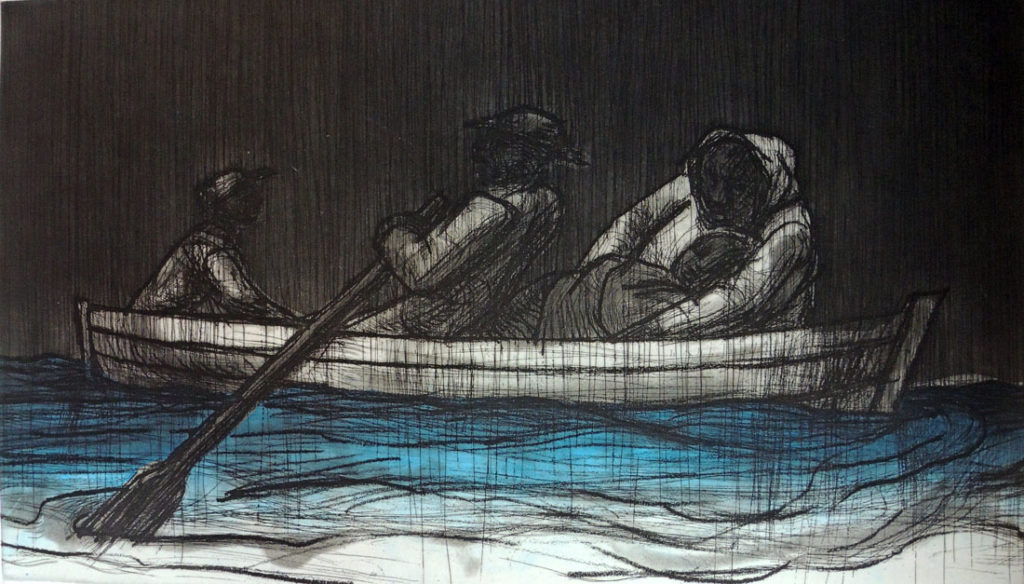 Richard Wright (1908-1960) and John Wilson (1922-2015), Down by the Riverside, with four etchings by John Wilson (New York: The Limited Editions Club, [2001]). "The etchings have been editioned at the Center Street Studio by James Stroud."–Colophon. Copy 88 of 300. Graphic Arts Collection GAX 2018- in process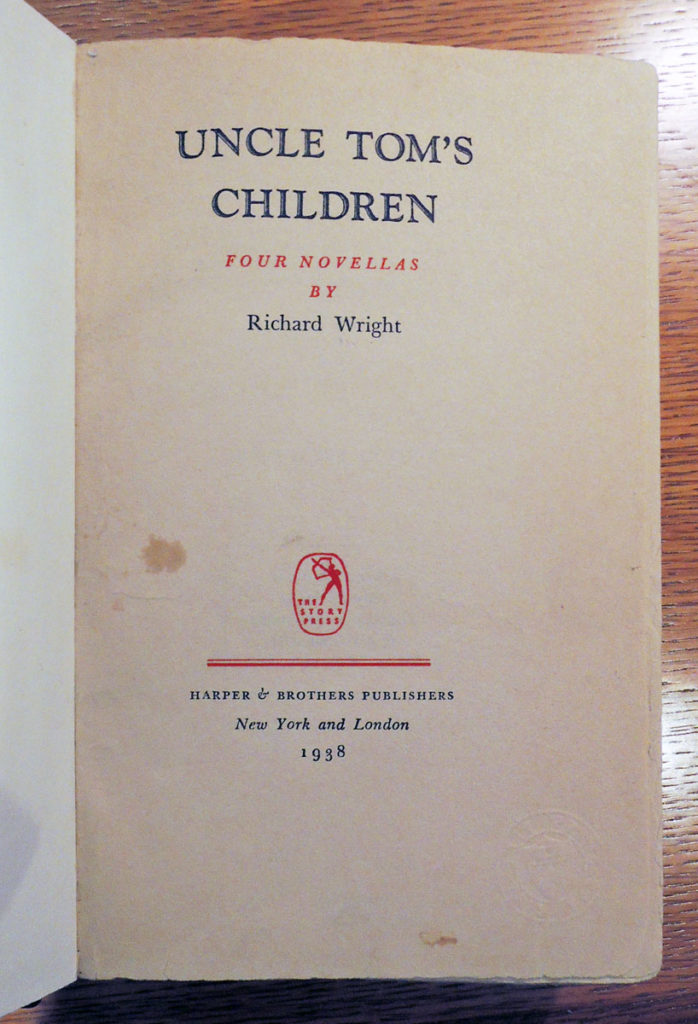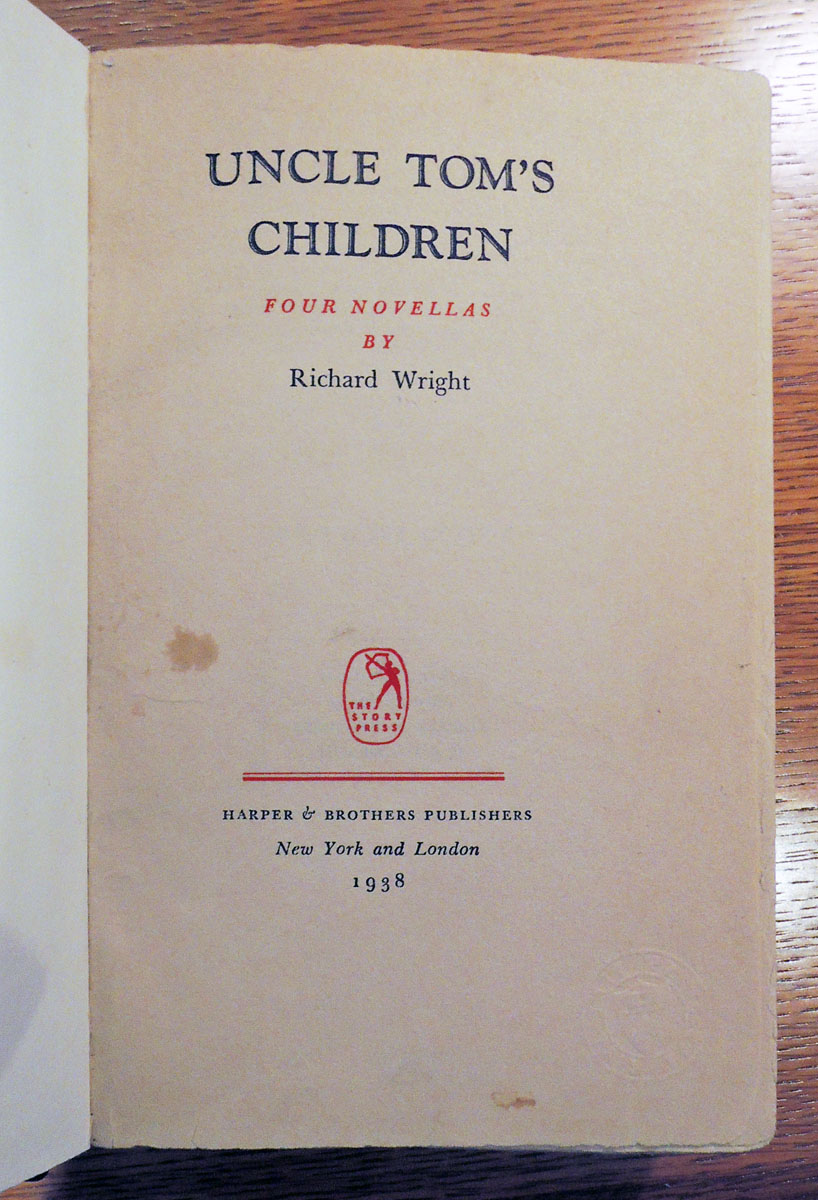 [left] Richard Wright (1909-1960), Uncle Tom's Children, Four Novellas (New York, London: Harper & Brothers, 1938). PS3545.R815 U535 1938
Roxbury-born artist John Wilson (1922-2015) first read Richard Wright in 1945, responding to his words with a lithograph entitled "Native Son." When the Limited Editions Club commissioned a suite of prints inspired by Wright's short story Down by the Riverside, Wilson not only produced the prints but wrote the afterword for the volume.
"Growing up in Boston during the late 1920's and 30's," he notes, "I saw gruesome pictures of southern lynchings in the black press. I understood that simply being black was the most important reality affecting my entire life. In New England the attitude was that this was a southern thing because there was no legal discrimination 'up north.' Of course everyone in my community understood the difference between rhetoric and reality."
"In the early forties, I read Richard Wright's Uncle Tom's Children. Those powerful, trenchant short stories put me in the middle of 'that southern thing,' I felt a strong sense of brotherhood, identifying with his characters struggling to survive with dignity. I understood more clearly the role of terror and uncompromising violence."
". . . I chose to illustrate this story because of Wright's vivid dramatic setting. Etching techniques like aquatint and spit biting were ideal to interpret the dark brooding, murky atmosphere. Above all, the river with its powerful currents and its violent energy . . . seemed to symbolize basic forces of nature. I wanted the blue translucent shapes and flowing rhythms of the water to carry the figures from one episode to the next."–John Wilson, 2001.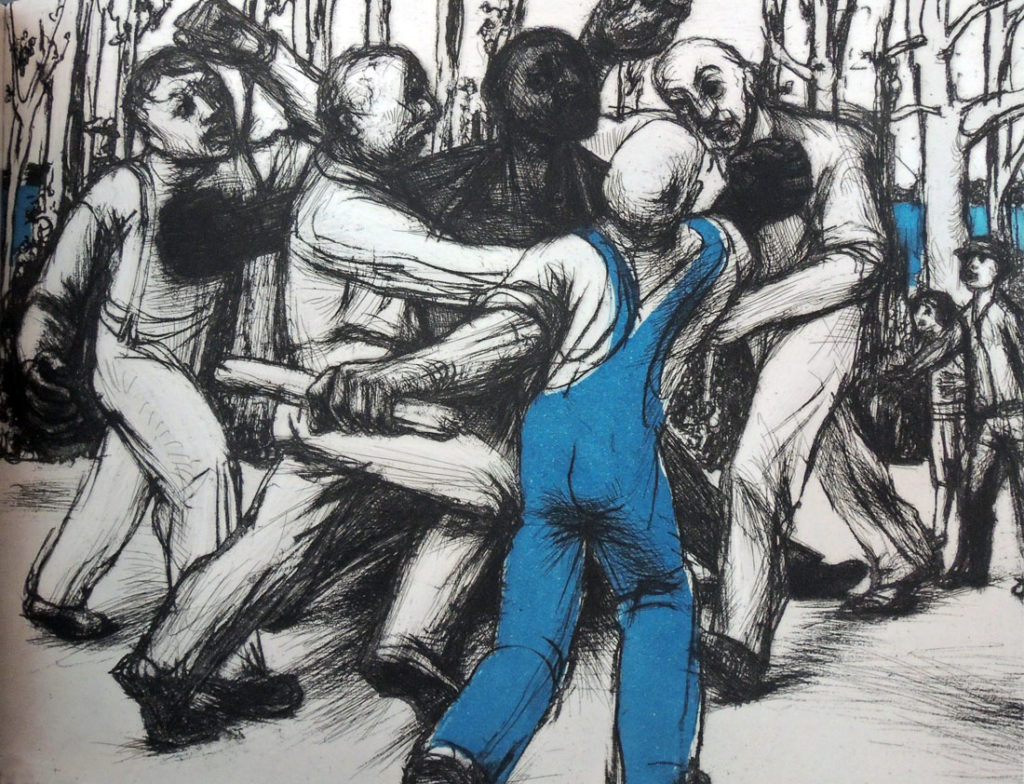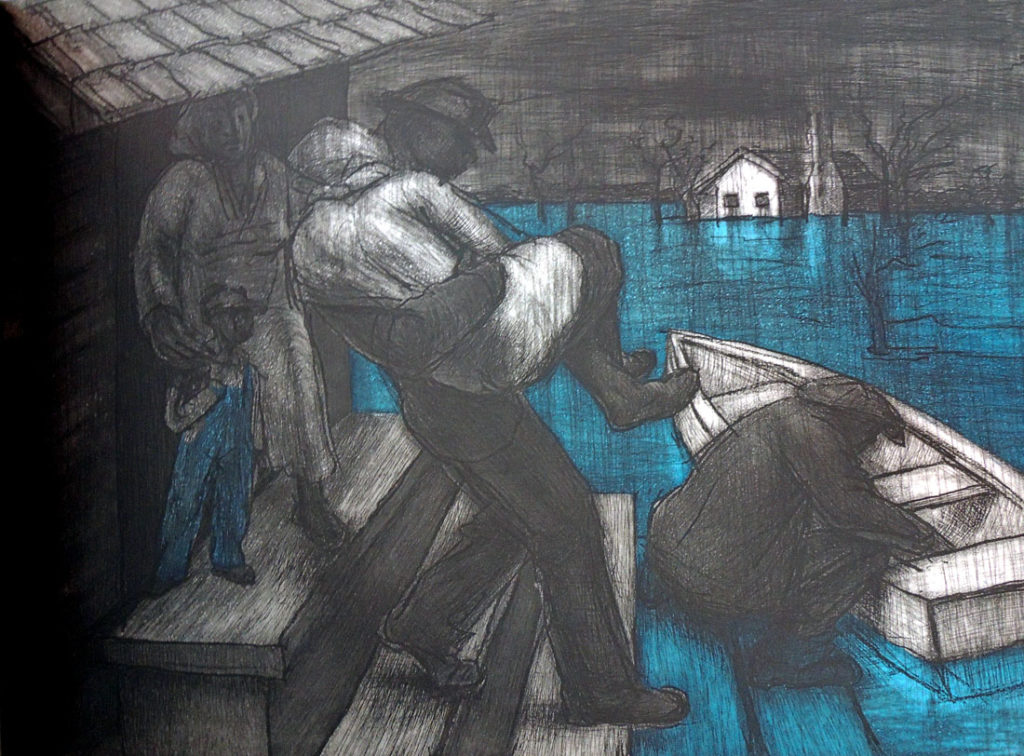 "Down by the Riverside" (previously unpublished), the second short story in the 1938 and 1940 editions of Uncle Tom's Children, dramatizes the tragic death of a black man, Brother Mann, who uses a stolen boat during a Mississippi flood to take his pregnant wife to a hospital for the child's delivery. On the way to the hospital, Mann is discovered by the owner of the boat, a white man, who tries to shoot him, but Mann, in self-defense, kills the owner. When Mann reaches the hospital, he finds his wife dead. Later he is drafted by the military men in charge of rescuing flood victims.

The first house to which he is sent, with a black companion, both of them on another boat, happens to be that of the owner of the stolen boat, whose family recognizes Mann. Although he considers killing them, their house suddenly tilts, the axe in his hand does not fall over their heads, and he ends up rescuing them. Once the boat safely reaches the hill, they tell the authorities that Mann is a murderer. As he flees down the riverside, he is shot to death."–The Mississippi Quarterly, Spring 1993, by Yoshinobu Hakutani