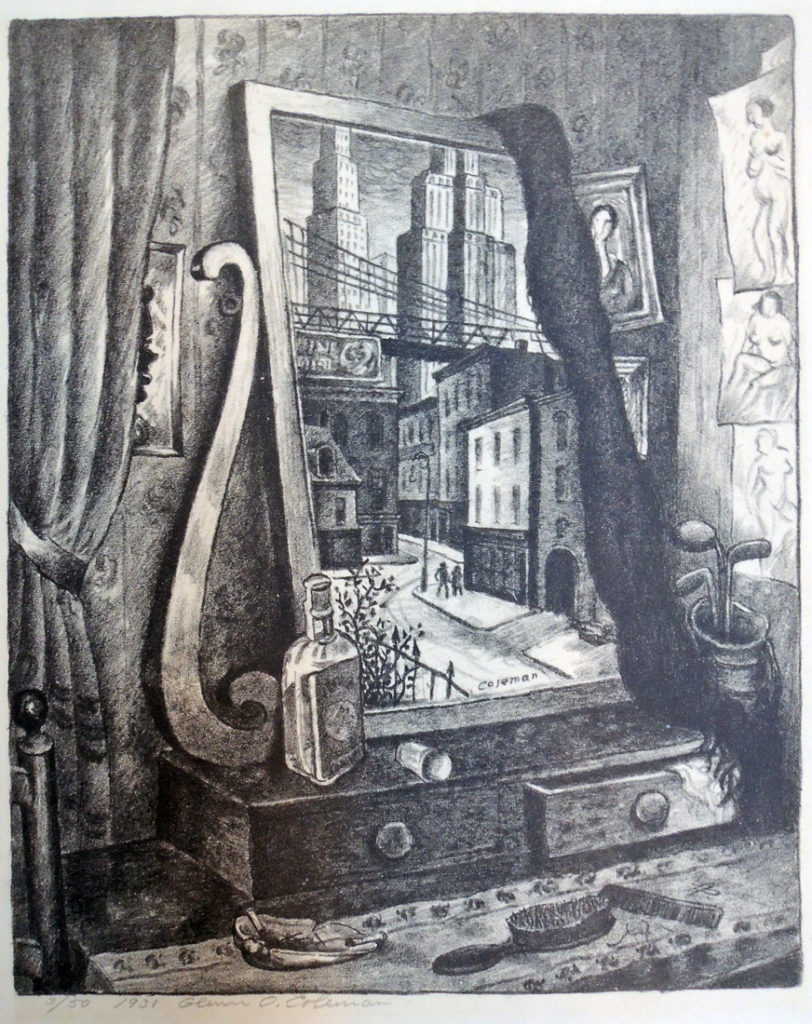 Glenn O. Coleman (1881-1932), The Mirror, 1931. Lithograph printed by George Miller after Coleman's 1927 painting. 3/50. Graphic Arts Collection GA 2008.00386.
In the fall of 1913, best friends Stuart Davis (1892-1964) and Henry J. Glintenkamp (1887-1946) left their Hoboken studio, grabbed the third musketeer Glen O. Coleman (1881-1932) and moved into a studio in the Miller Building, which was right across the street from the Lincoln Center Arcade (present day Julliard). The $40 rent was split three ways and the walls hung with their work recently included in the Armory Show. All three had agreed to join the staff at The Masses, where John Sloan was the new art editor and every spare minute was spent drawing. That December Davis turned 21, Glintenkamp was 26, and Coleman was 32 but lied about his age, passing as 26.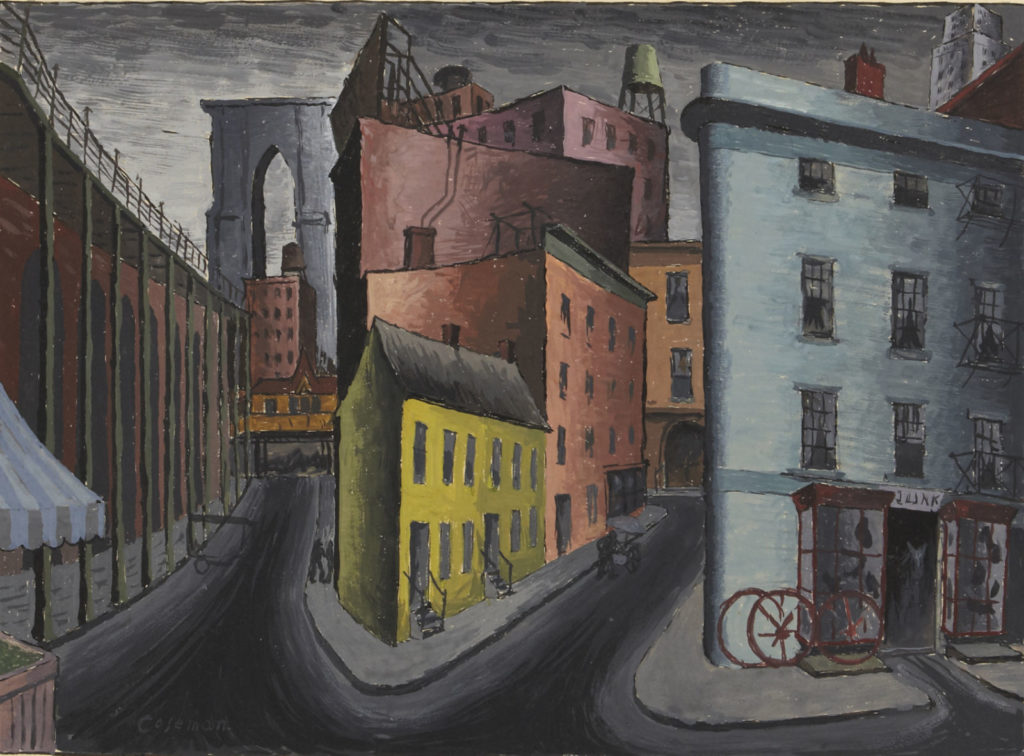 [Princeton's Art Museum is fortunate to have one of Coleman's lower east side street scenes merging architectural elements, which echoes the view in the mirror above. Instead of paintings, he called them Arrangements.
Glenn O. Coleman, City Street, ca. 1927 Gouache on off-white wove paper. Princeton University Art Museum. Laura P. Hall Memorial Collection x1946-172]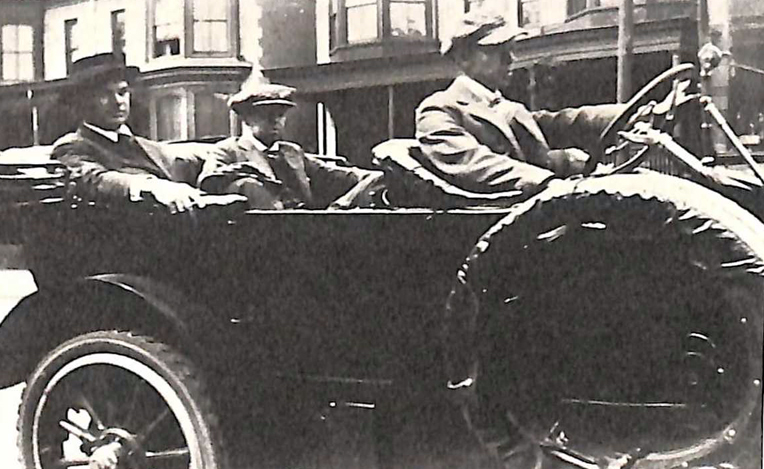 Glintenkamp, Coleman and Davis on their way in 1914. Reproduced in Rebecca Zurier, Art for the Masses, (1911-1917) (New Haven, Conn.: Yale University Art Gallery, 1985). Firestone Library NC108 .Z87 1985.
The Lincoln Arcade, at Broadway and 66th Street, had become the new Bohemia with artists, musicians, and actors filling the halls. George Bellows lived on the top floor, sharing his space with Eugene O'Neill who was writing a play about a young man who wanted to be an artist. Robert Henri rented two rooms across the hall where he opened the Henri School of Art, with Coleman as class monitor (one of three or four jobs he maintained).
Downstairs Marcel Duchamp carried two large panes of glass into the studio he shared with Jean Crotti, and promised the finished work to Walter Arensberg, if he would cover their rent. Other residents at various times included Thomas Hart Benton, Samuel Halpert, Raphael Soyer, actor William Powell, and cartoonist Pat Sullivan (Felix the cat), among many others.
Davis, Coleman, and Glintenkamp worked together and played together, wandering through Chinatown, the Lower East Side, and across the Brooklyn Bridge as Henri instructed, in search of real life scenes for their paintings and prints. Note The Doctor's saloon, a Park Row dive bar owned by Patrick "Burly" Bohan (1864–1931), drawn by both Coleman and Davis.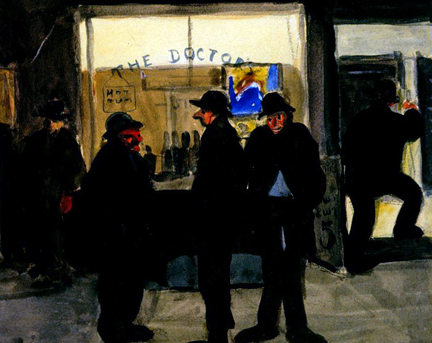 [above] Detail from Stuart Davis, Outside "The Doctor's", 1910. Watercolor. The Norma and Myron H. Goldberg Art Trust, reproduced in Stuart Davis A Catalogue Raisonne edited by Ani Boyajian and Mark Rutkoski (New Haven: Yale University Art Gallery, 2007). Marquand Oversize ND237.D32 B692 2007q
[below] Glenn O. Coleman, Third Avenue from the portfolio Lithographs of New York, 1928. Printed by George Miller. Edition of 50.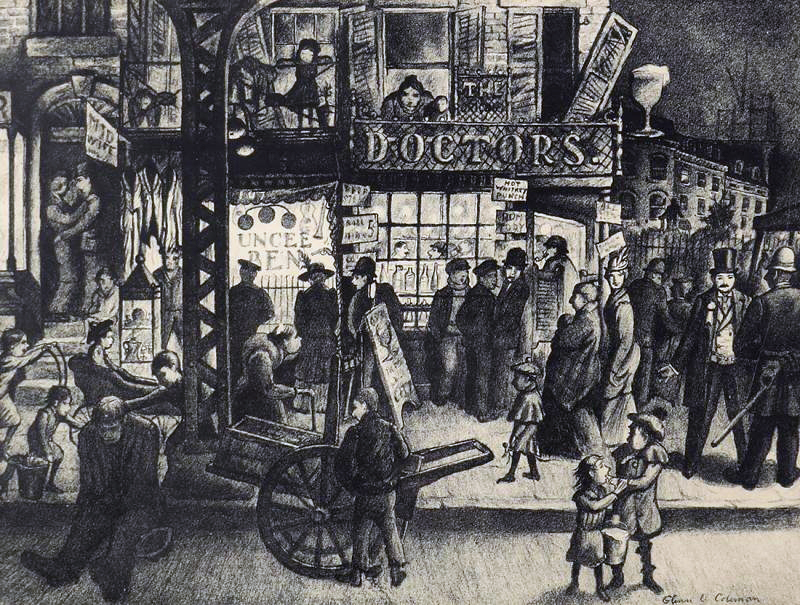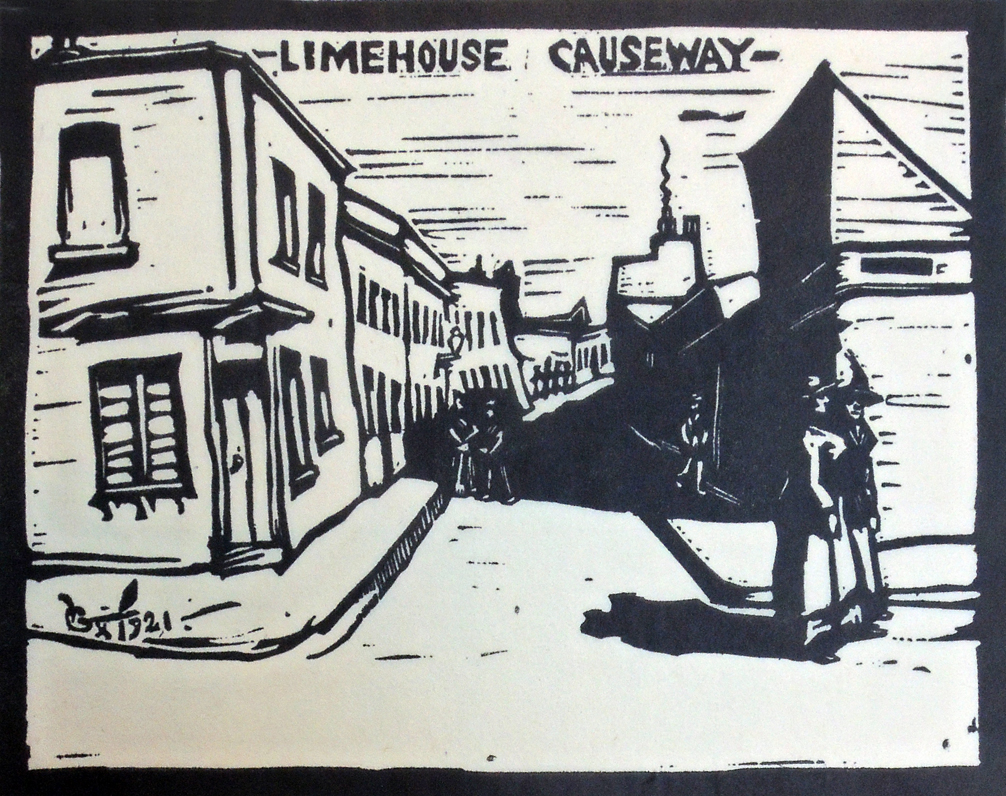 Henry J. Glintenkamp (1887-1946), Limehouse Causeway, 1921. Linocut. Graphic Arts Collection GA 2007.01354
When the United States joined World War I in 1917, Davis received a deferment and worked in New York, Coleman was exempt (over the draft age), but Glinkenkamp, registered as a conscientious objector, fled to Mexico. Wherever he traveled he continued to paint and make prints featuring street life. Limehouse Causeway [seen above] is a street in East London that was the home to the original Chinatown of London.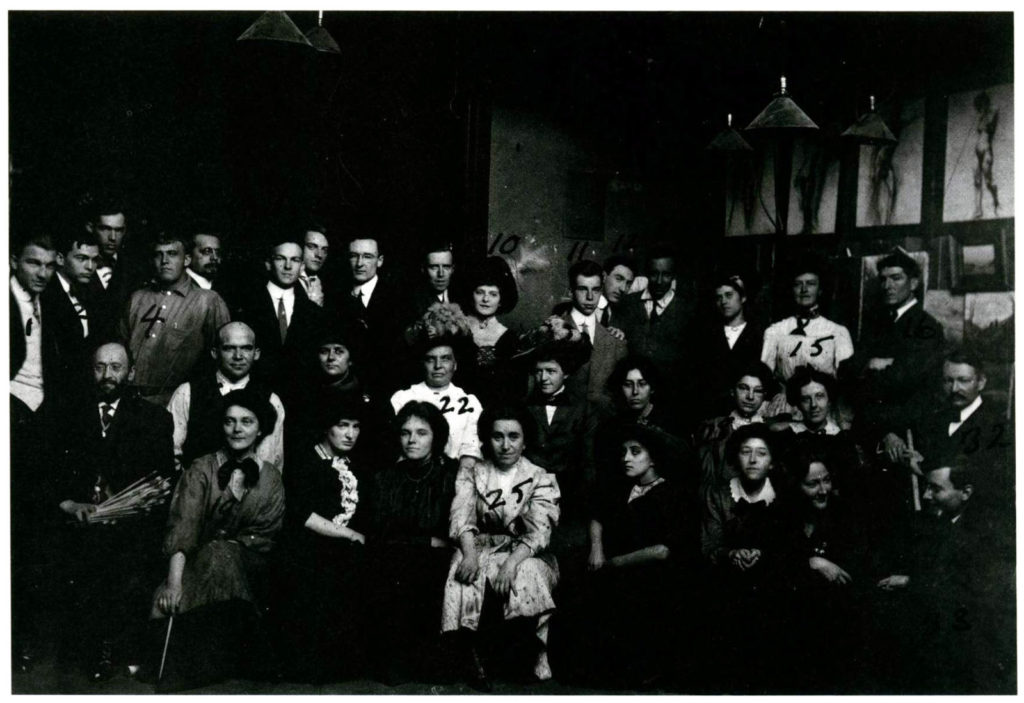 Photograph of Robert Henri's class in 1909 with Davis and Coleman in the back row with an unidentified woman between them (Glintenkamp was not in the class that year). Reproduced in Karen Wilkin, Stuart Davis (New York: Abbeville Press, 1987). Marquand Library Oversize ND237.D32 W53q
Lincoln Square Arcade on fire and firemen extinguish the fire in New York City. HD Stock Footage CriticalPast Published on Jun 19, 2014
Glenn Odem Coleman was born on July 18, 1881, in Springfield, Ohio, not 1887 as we all previously believed. This is the beginning of a longer piece on Coleman.