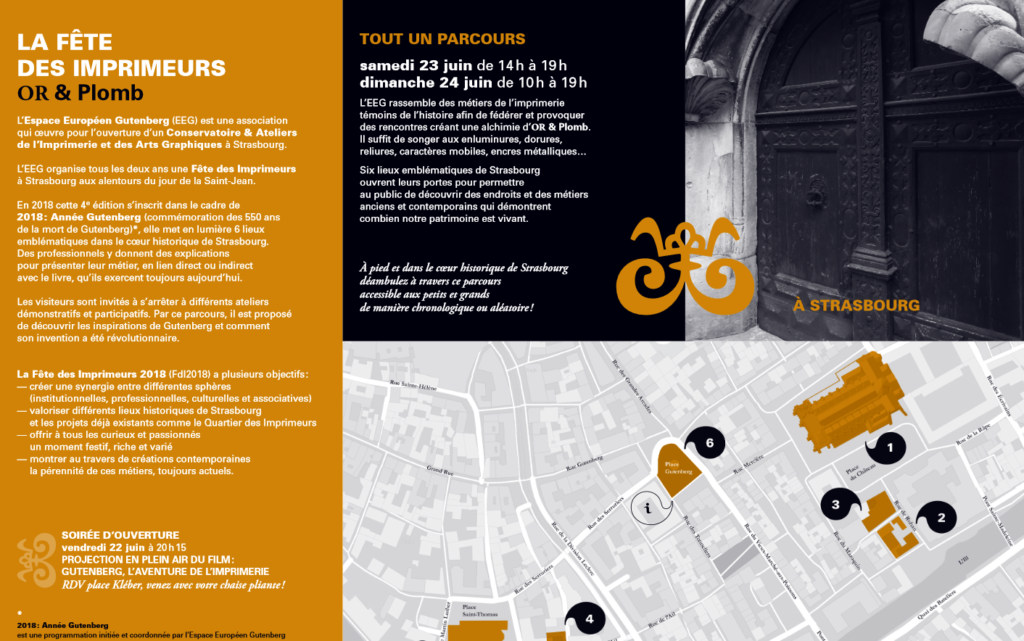 https://gutenberg2018.eu/wp-content/uploads/2018/05/FdI2018_prog.pdf
Every two years, the Espace Européen Gutenberg (EEG) in Strasbourg organizes a "Printers' Day" around the time of Saint John's Day. This year the celebration will take place June 22-24 and the following locations will be open to the public, with professionals offering demonstrations and exhibits of their work:
1 l'espace Saint-Michel de la cathédrale Notre-Dame
2 la cour intérieure des ateliers de la fondation de l'Œuvre Notre-Dame
3 le musée de l'Œuvre Notre-Dame
4 la Popartiserie
5 la chapelle des évangélistes de l'église Saint-Thomas
6 la place Gutenberg
The EEG includes a wide variety of Printing and Graphic Arts professionals. This is a separate celebration from La Fête de l'estampe held on May 26 throughout France https://www.fetedelestampe.fr/, which is a celebration of engravers. 2018 will be the fourth time they have organized a "Fête des Imprimeurs à Strasbourg" and this year it is a special celebration in honor of the Gutenberg Year (the commemoration of 550 years of the death of Gutenberg).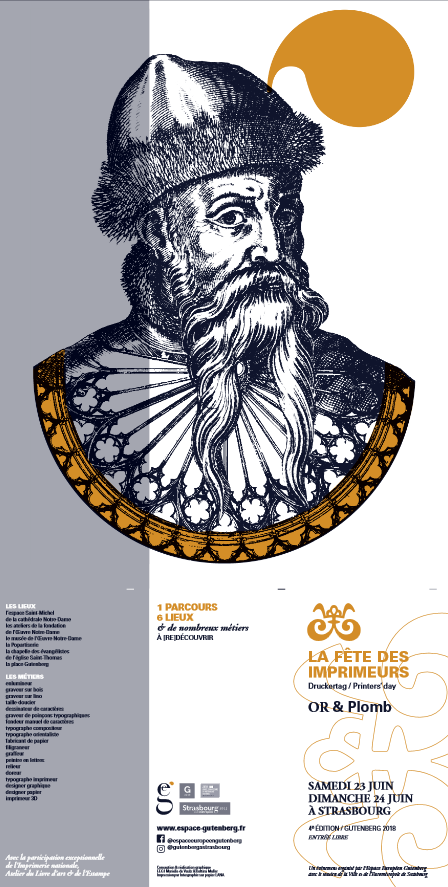 Learn more: https://gutenberg2018.eu/wp-content/uploads/2018/05/FdI2018_affiche.pdf
L'Espace Européen Gutenberg (EEG) est une association qui œuvre pour l'ouverture d'un Conservatoire & ateliers de l'imprimerie et des arts graphiques à Strasbourg. L'EEG organise tous les deux ans une Fête des Imprimeurs à Strasbourg aux alentours du jour de la Saint-Jean.

En 2018, cette 4e édition s'inscrit dans le cadre de 2018: Année Gutenberg (commémoration des 550 ans de la mort de Gutenberg)*, elle met en lumière 6 lieux emblématiques dans le cœur historique de Strasbourg dans lesquels des professionnels donnent des explications, pour présenter leur métier en lien direct ou indirect avec le livre, qu'ils exercent toujours aujourd'hui. Les visiteurs sont invités à s'arrêter à différents ateliers démonstratifs et participatifs. Par ce parcours, il est proposé de découvrir les inspirations de Gutenberg et comment son invention a été révolutionnaire.