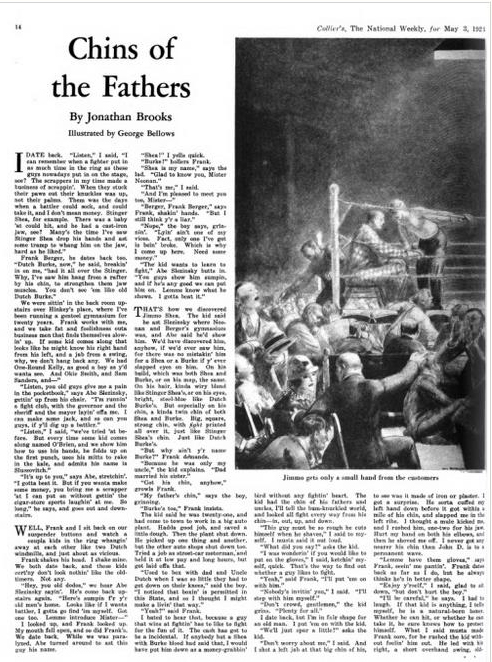 The Fogg Art Museum at Harvard University holds the drawing "Ringside Seats" by George Bellows (1882-1925), which caused tremendous headaches for the artist when Collier's magazine [ReCAP Oversize 0901.C711q] used it to illustrate the story "Chins of the Fathers" by Jonathan Brooks in the May 3, 1924 issue.
Bellows was promised $400 for this single drawing in graphite, black chalk, pastel and lithographic crayon along with scratchwork and stumping on smooth surfaced multi-ply cream wove paper. However, Collier's reproduced it as a double-page spread, the gutter slicing the single picture into two, along with cropping it on the right and in the middle. Bellows was furious.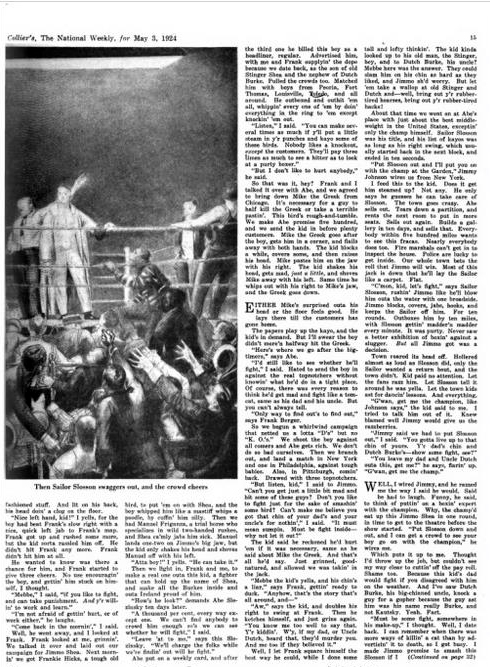 Bellows sent the magazine a new invoice charging $800 for two drawings. As transcribed in Charles Morgan's George Bellows Painter of America (1979), he continued:
"If there were any way of suing you for libel on the reproductions I would do so. To trim, cut, and otherwise mutilate an artist's work is quite analogous to misrepresentation before the public, in this case going as far as criminal libel… It is time for publishers to be taught a lesson on this score for their guidance on the rare occasions when they deal with the work of serious artists."

"…Not only have you shown the worst of taste, and a total lack of consideration for me, you are also guilty of [a snide trick.] Sanding the sugar, watering the milk, stretching one into two. Instead of appearing then before the public as having created one beautiful drawing, in which the proportion of light and shade was basic, I am shown by you as having made two rotten drawings in which [with] your trimming and cutting light and shade is completely destroyed. I therefore intend at least to be paid for the "two" rotten drawings, as per contract…"
Bellows hired Judge Van Slyke and sued the magazine, while continuing to work on an oil painting after the drawing. On July 14, Van Slyke sent a telegram "Defendant's motion of Judgment denied, Judge holding that your picture was mutilated, its artistic merit destroyed and that our action for libel is maintainable. Congratulations!"
Sadly, Bellows died of peritonitis on January 8, 1925, resulting from a ruptured appendix, never seeing the lawsuit to its close.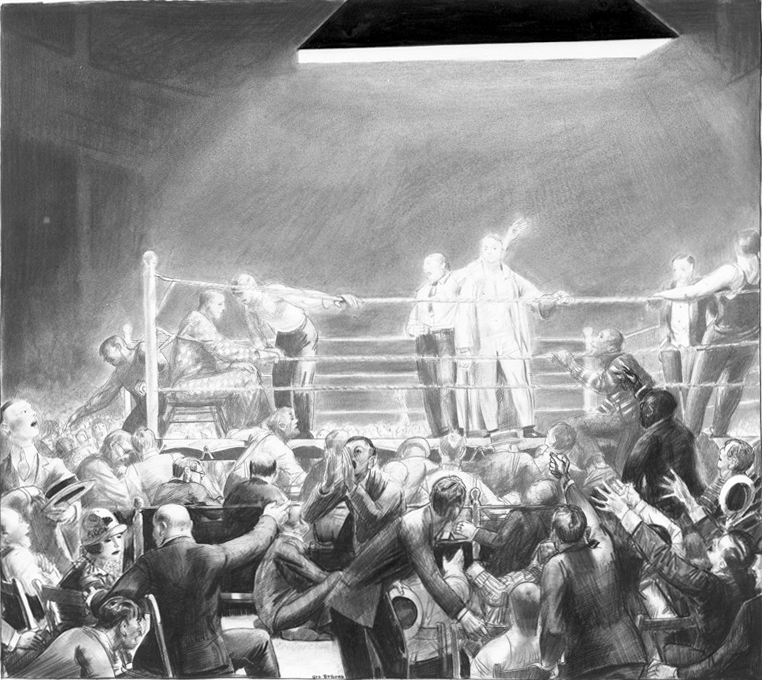 George Wesley Bellows, Ringside Seats, 1924. Graphite and chalk drawing. Fogg Art Museum, Harvard Art Museums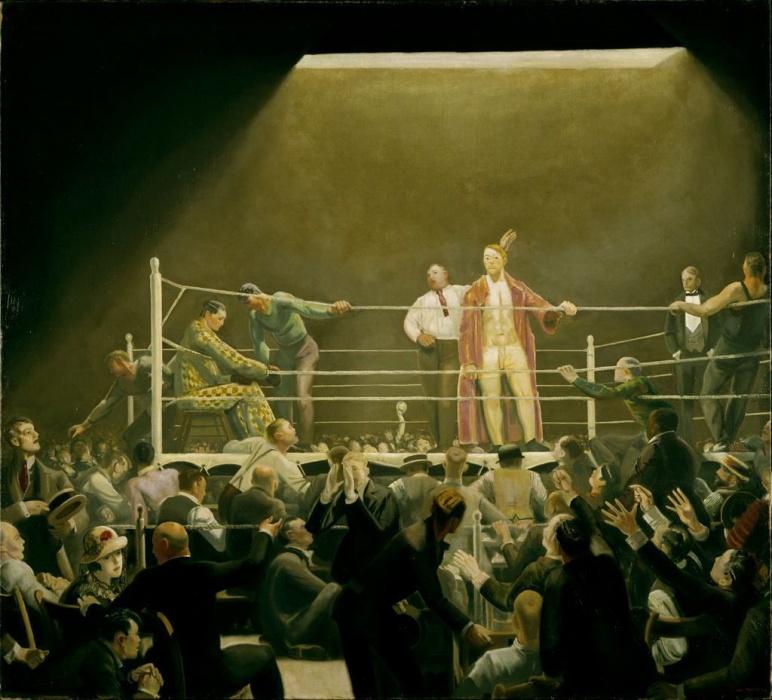 George Wesley Bellows, Ringside Seats, 1924. Oil on Canvas. Hirshhorn Museum and Sculpture Garden, Smithsonian Institution.