(left) The Engraver or Plate cutter, ca. 1725.   (right) The Engraver, 1694.
In 1568, Jost Amman carved woodcuts depicting various occupations, printed together with several lines of verse by Hans Sachs. In 1694 the Amsterdam artist Jan Luyken (or Luiken) and his son Casper published a collection of 100 engravings depicting arts and craft professions, also with a six-line poem below.
Each of these books were enormously successful and many variant copies followed. Recently the Graphic Arts Collection acquired an Amsterdam edition by Reinier and Josua Ottens, published around 1725. This set of engravings includes occupations copied directly from the Luykens' volume but with completely new verses below.
The prints are also shifted into a new order, offering little narratives. One such example, shown below, is a Doctor seen with a massive botanical open before him and an unhappy patient opening a flask. The verse translates loosely: "The sick people who appear before me are taken in by medics, unless their coincidence was too great, I know no drinks for death." This is immediately followed by the grave digger seen with a collection of skulls.
A few more plates are posted here.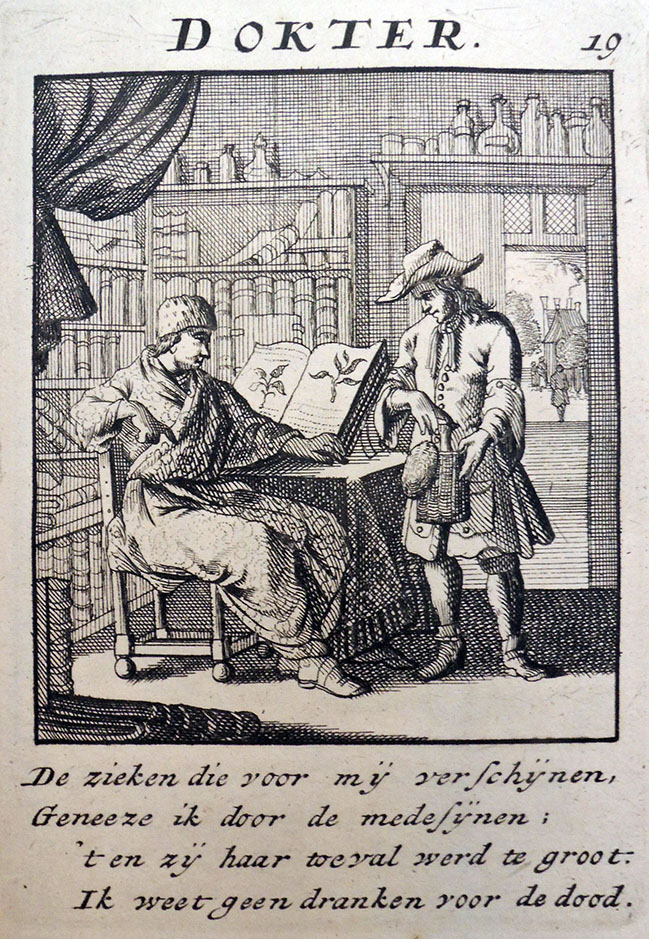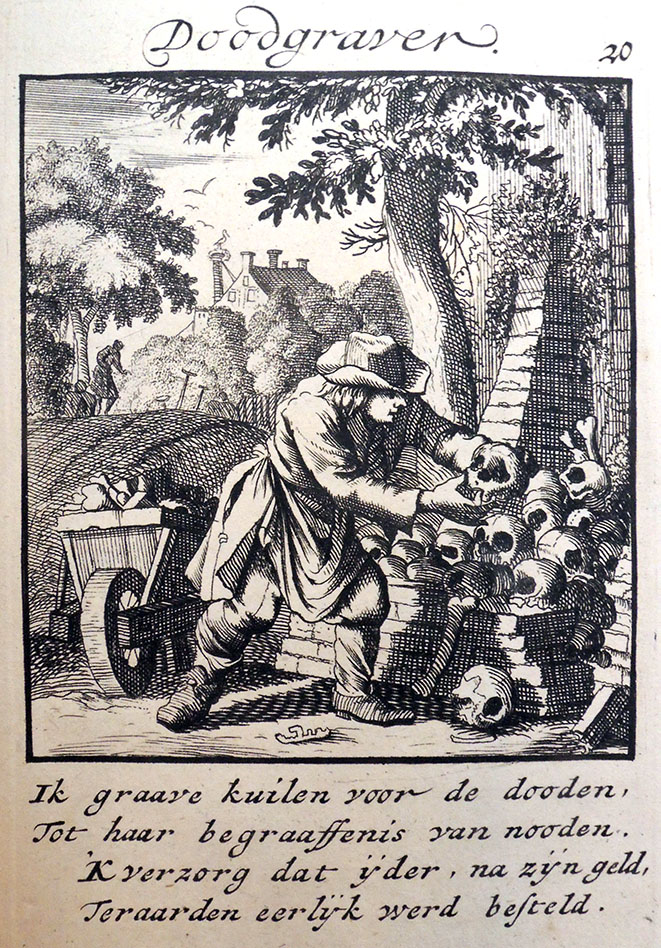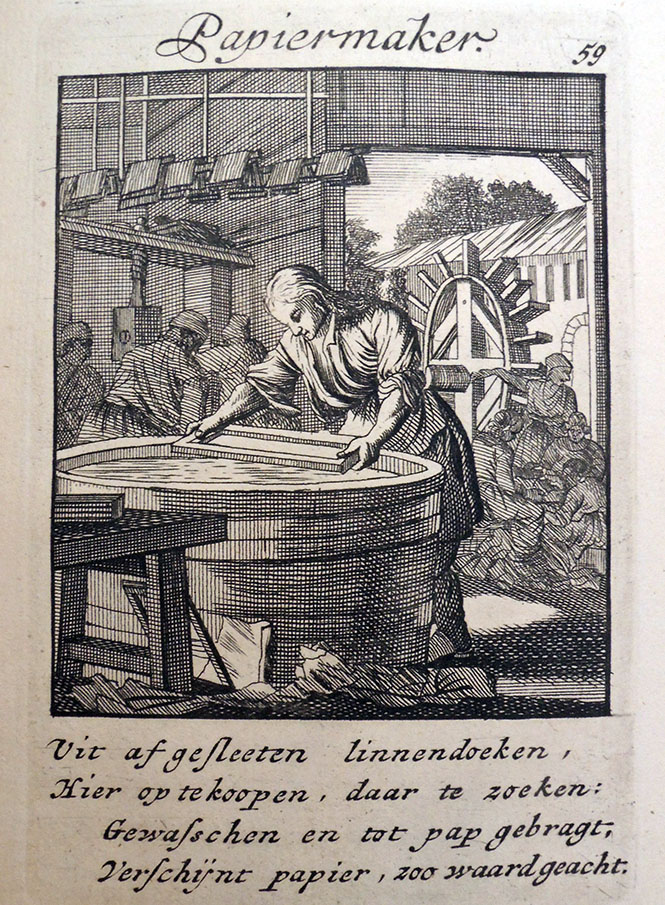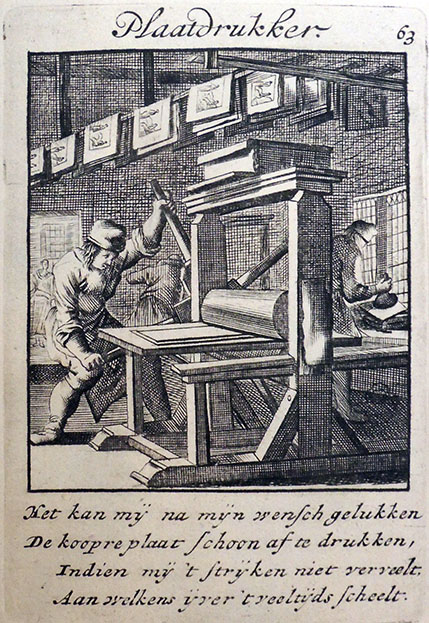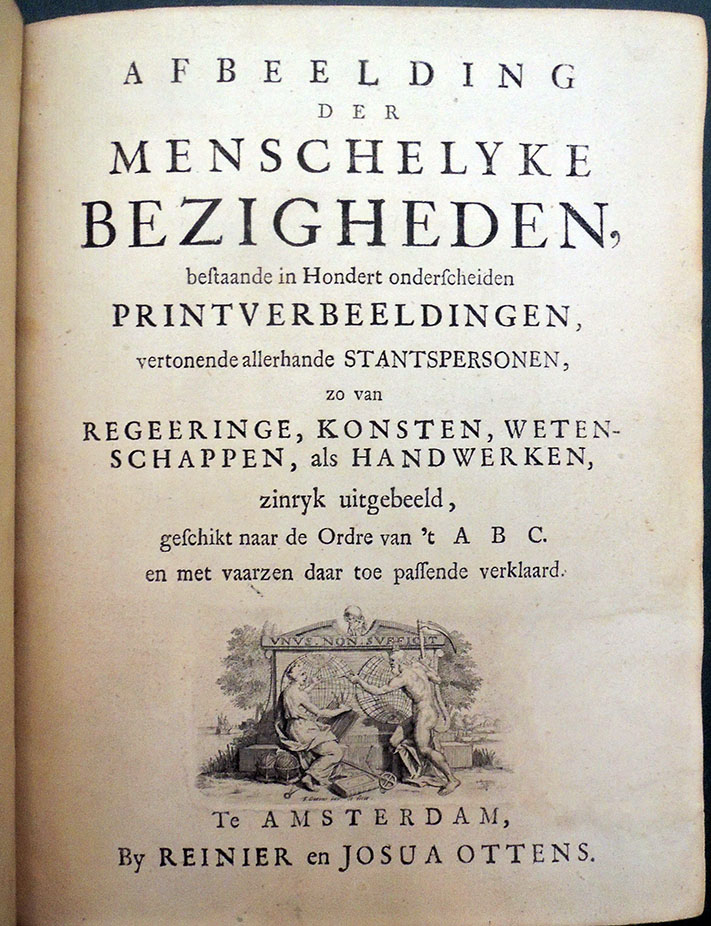 Afbeelding der menschelyke bezigheden, bestaande in hondert onderscheiden printverbeeldingen vertonende allerhande stantspersonen [= Depictions of Human Activities, Consisting of Hundreds of Distinguished Printed Images Showing All Kinds of People] (Amsterdam: Reinier and Josua Ottens, ca. 1725). Graphic Arts Collection GAX 2018- in process.
See also:
Jan Luyken (1649-1712) and Casper Luyken (1672-1708), Het menselyk bedryf, vertoond. in. 100. Verbeeldingen [= Human Industry, exhibited in 100 Images] (t'Amsterdam: Gedaan door Johannes en Caspaares Luiken, 1694). Reprint of 1694 original. Rare Books 3382.34.358
Hartmann Schopper (born 1542), [Panoplia] omnium illiberalium mechanicarum aut sedentariarum artium genera continens (Francofurti ad Moenum: [Apud Georgium Coruinum, impensis Sigismundi Feyerabent], M.D.LXVIII [1568]). Verses by Hartmann Schopper, accompanied by woodcuts by Jost Amman (1539-1591). Graphic Arts Collection 2003-1720N
Hans Sachs (1494-1576), Eygentliche Beschreibung aller Stände auff Erden (Franckfurt am Mayn : [s.n.], 1568). British Library Online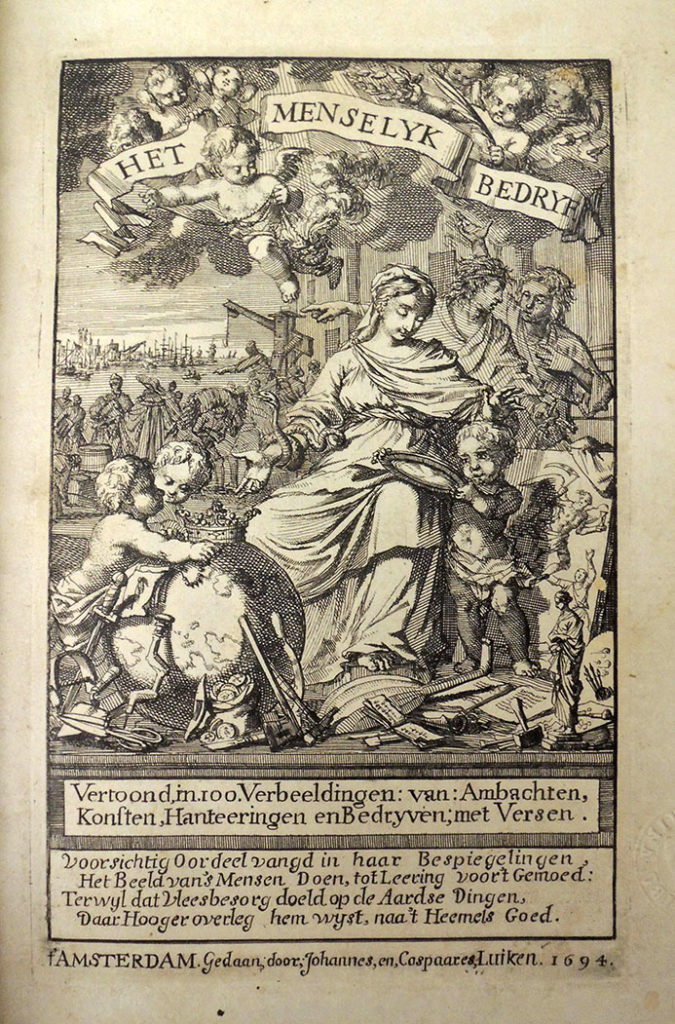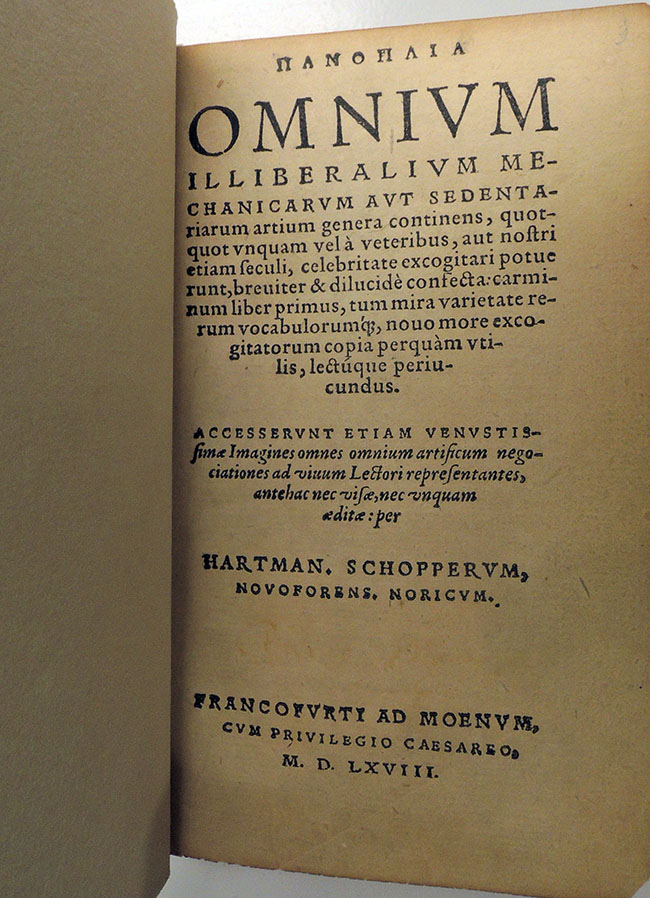 Note, Jost depicts a woodcutter rather than an engraver, cutting wood rather than copper.