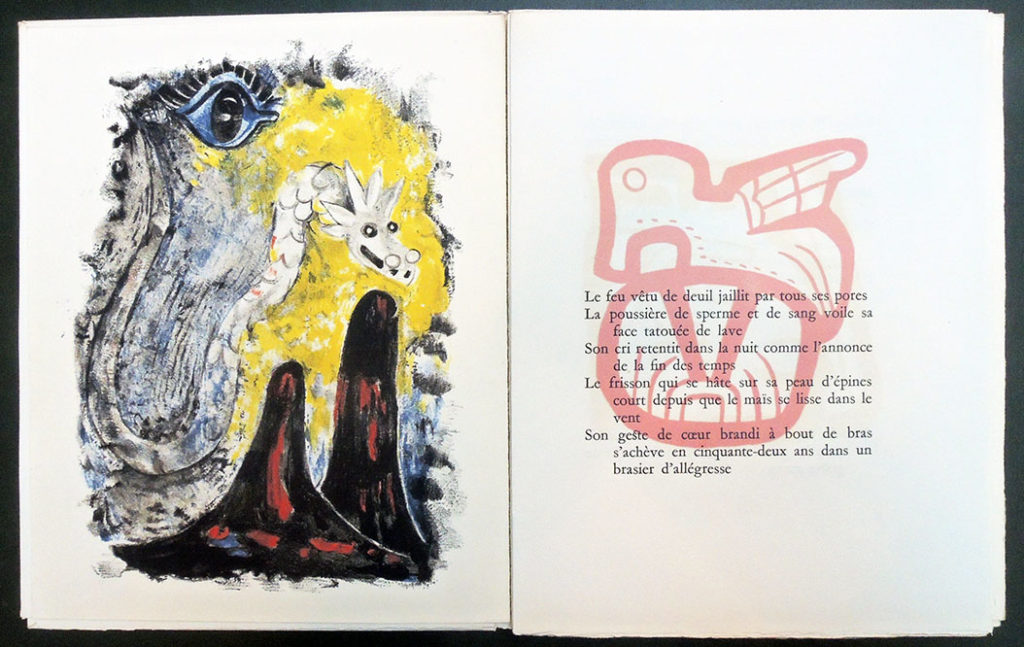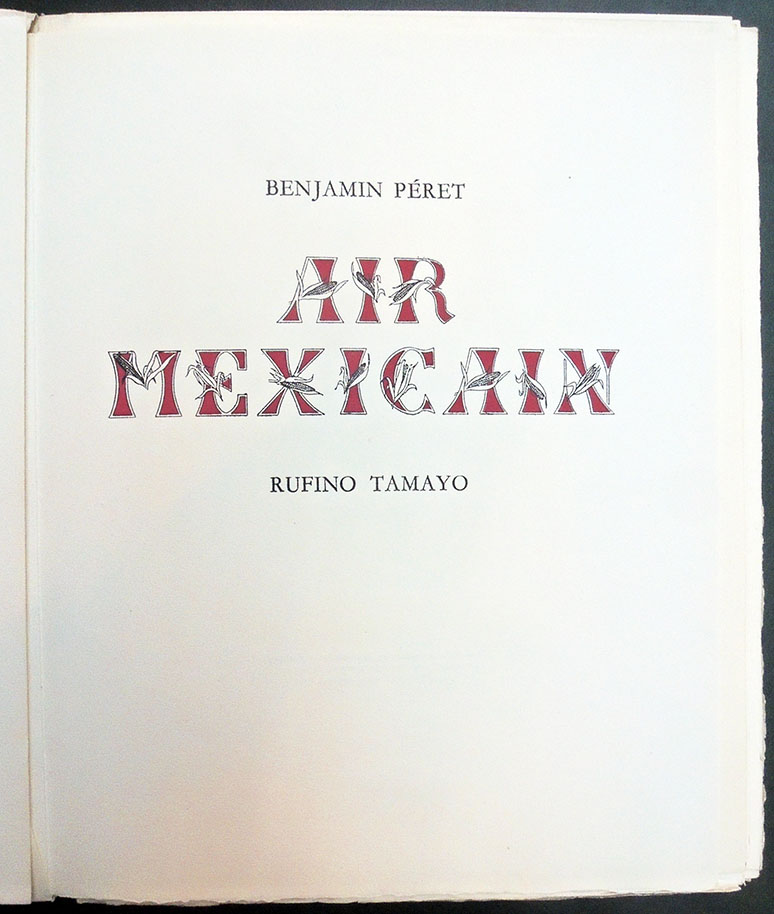 The Graphic Arts Collection recently acquired Air Mexicain by the Mexican artist Rufino Tamayo and French poet Benjamin Péret, born within days of each other in the summer of 1889. According to Juan Carlos Pereda,
"The second project undertaken by Tamayo as illustrator was Air Mexicain, by the French poet Benjamin Péret, written in 1949 and printed in 1952. The poem was written immediately after Péret returned to France after having lived in Mexico since 1942. During his stay in Mexico, Péret studied pre-Columbian myths, chronicles, testimonies, ruins, and works of art; paying as much attention to popular stories as to the geography of the country. His descriptions reflect a knowledge of Mexican history and his bedazzlement at the discovery of the wonderful, exotic elements of the culture.

In the poem Péret offers metaphors related to indigenous symbolism, synthesizing history from the pre-Hispanic past up to the present. According to Jean Louis Bédouin, who translated Air Mexican into Spanish, Péret is 'one of the writers who is most sensitive to Mexican contradictions, one of the most attentive to the phenomena of historical hybridization, of which he is the result.'"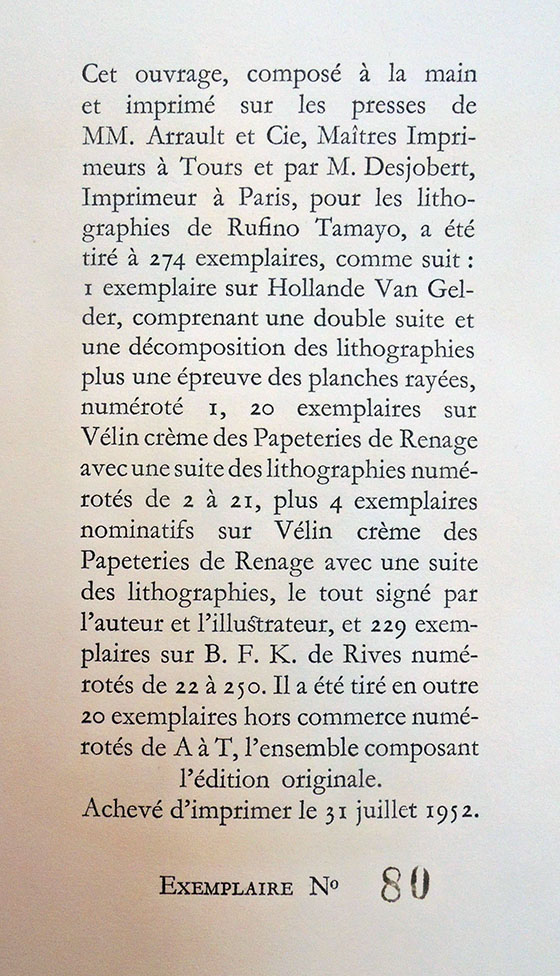 Benjamin Péret (1899-1959) and Rufino Tamayo (1899-1991), Air Mexicain ([Paris]: Librairie Arcanes, 1952). Four color lithographs. Copy 80 of 250. Graphic Arts Collection GAX 2019- in process
The text was composed by hand and printed on the presses of M.M. Arroult et Cie. (master printers in Tours, France) and the color lithographs were printed at the Desjobert Workshop in Paris.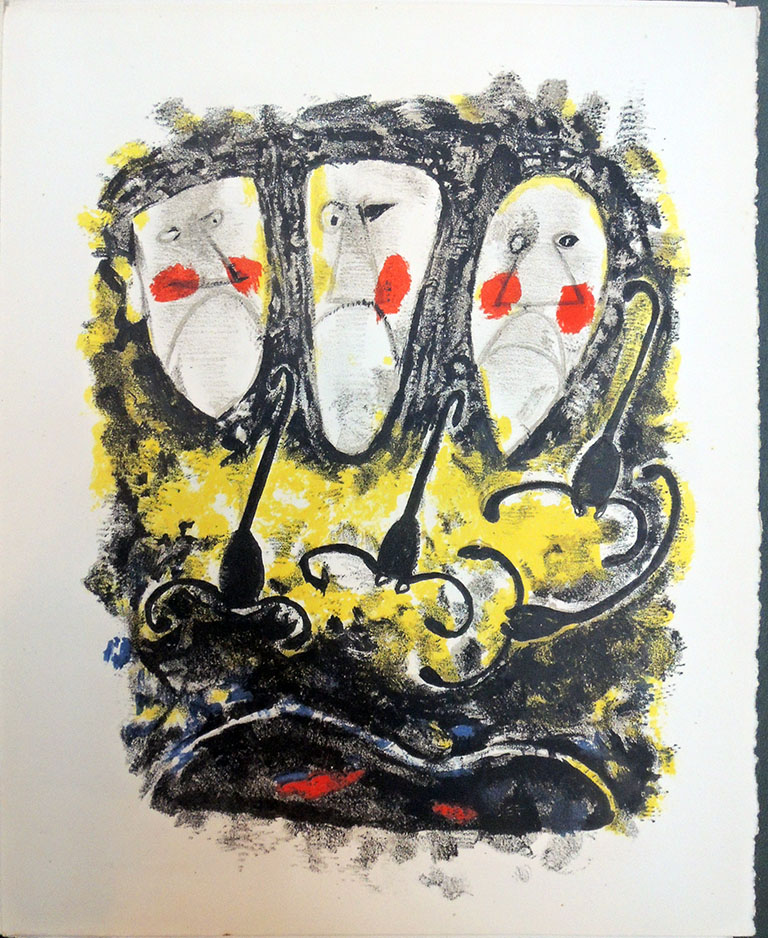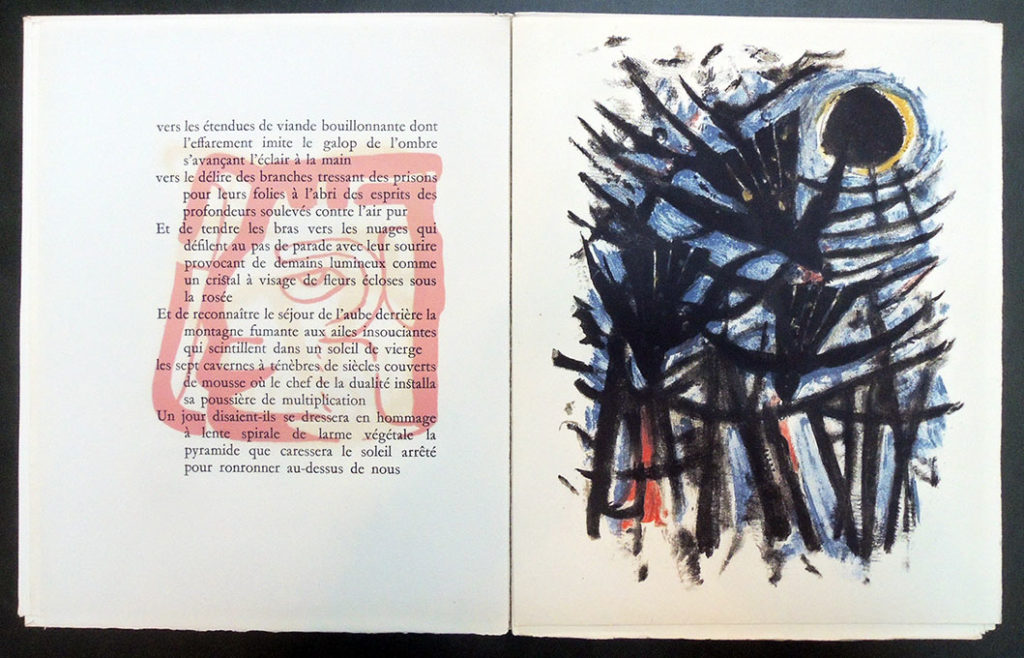 Having returned to France, [Péret] fought for the Republicans in the Spanish Civil War. In 1940 he was imprisoned for his political activities. Upon his release he sailed for Mexico with the aid of the American-based Emergency Rescue Committee to study pre-Columbian myths and American folklore. He had originally wished to emigrate to the United States but was unable to do so due to his Communist affiliations.

Peret went to Mexico with his lover, the Spanish painter Remedios Varo. In Mexico City he became involved with the European intellectual community around the Austrian painter and surrealist Wolfgang Paalen living there in exile. He was particularly inspired by Paalen´s huge collection and knowledge about the "Totem Art" of the Northwest Coast of British Columbia; 1943 he finished a long essay on the necessity of poetical myths, exemplified with the mythology and art of the Northwest Coast, which was then published in New York by André Breton in VVV. Whilst living in Mexico City Péret met Natalia Sedova, Trotsky's widow. He remained in Mexico until the end of 1947. He returned to Paris and died there on 18 September 1959.
—http://www.popflock.com/learn?s=Benjamin_Peret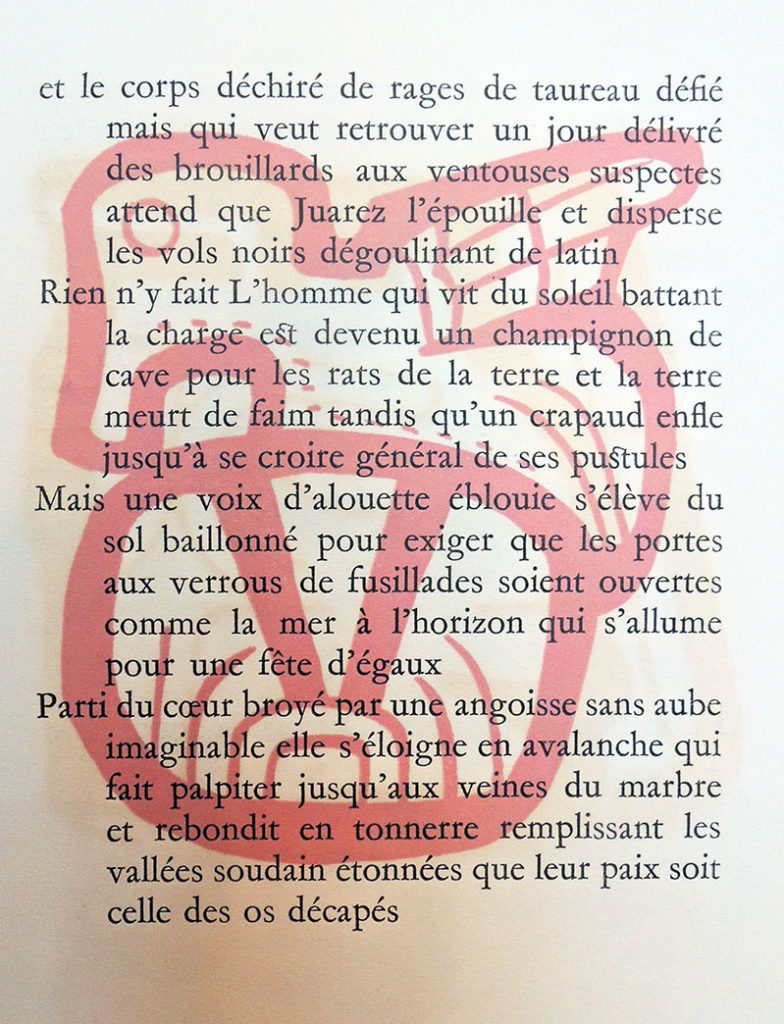 See more: Rufino Tamayo: Catalogue Raisonné: Gráfica 1925-1991 = Prints 1925-1991 / [coordinación de proyecto, Juan Carlos Pereda] (México, D.F.: Fundación Olga y Rufino Tamayo: CONACULTA-INBA; Madrid: Turner, [2004]). Marquand Library Oversize ND259.T15 P425 2004q