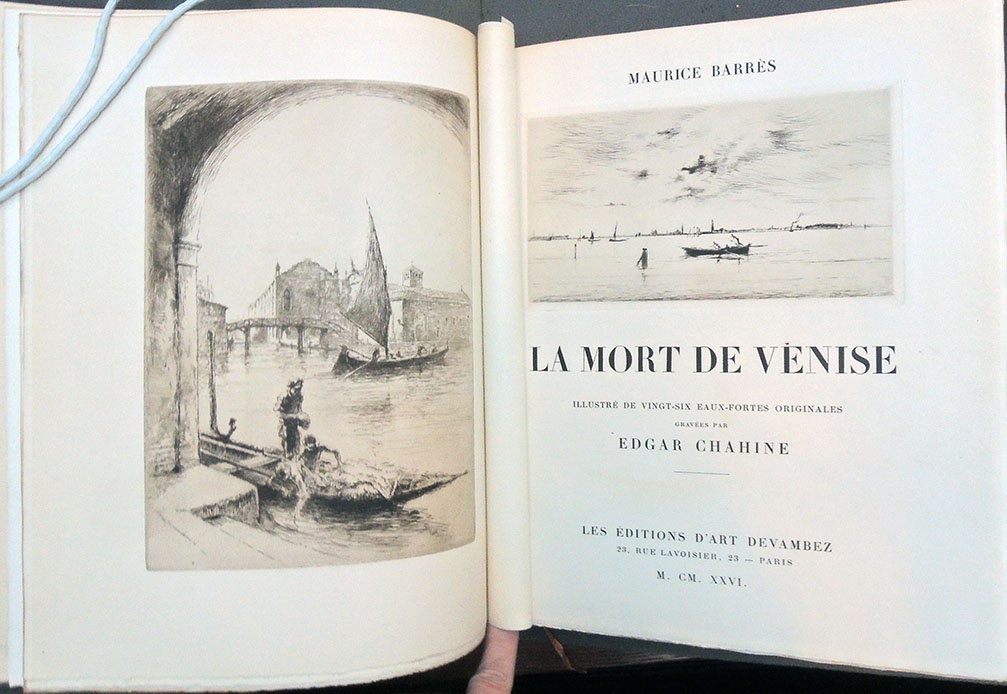 From 1923 to 1931, the fine print publishing house of Maison Devambez established the imprint, Les Éditions d'Art Devambez (also written Ed. d'art Devambez), which produced a series of limited edition, artist illustrated books. Édouard Chimot (1880-1959) was named artistic director of the imprint that he led with close, personal interaction with his fellow artists, often matching them with texts by nineteenth-century French authors. Most volumes include intaglio prints, with drypoint a particular specialty of their printers.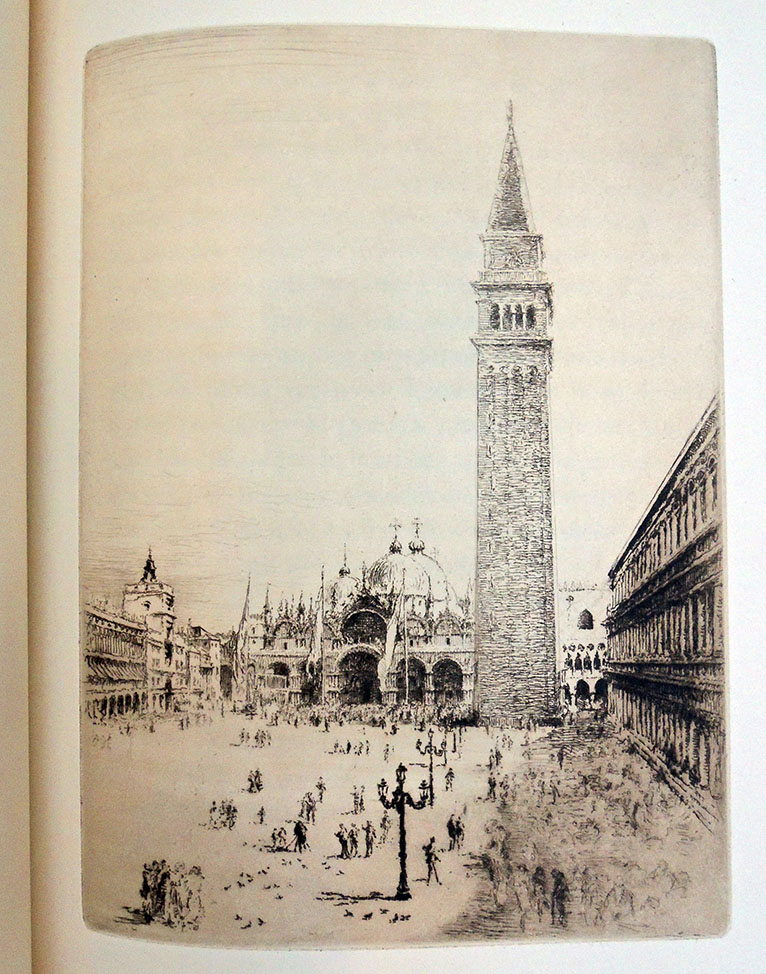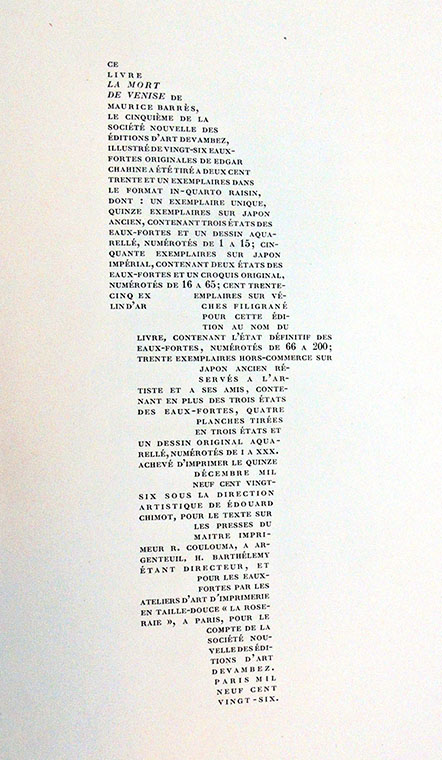 In its first years, Chimot published:
Anatole France, Le Petit Pierre, illustrated by Pierre Brissaud, 1923
Anatole France, La Vie en Fleur, illustrated by Pierre Brissaud, 1924
Henri de Regnier, La Canne de Jaspe, illustrated by Drian, 1924
Pierre Louÿs, Les Chansons de Bilitis, illustrated by Édouard Chimot, 1925
Maurice Barrès, La Mort de Vénise, illustrated by Edgar Chahine, 1926
Claude Farrère, L'Homme qui Assassina, illustrated by Henri Farge, 1926
Gustave Flaubert, Salammbô, illustrated by William Walcot, 1926
Pierre Loti, La Troisième Jeunesse de Madame Prune, illustrated by Tsuguharu Foujita, 1926
Pierre Louÿs, Les Poésies de Méléagre, illustrated by Édouard Chimot, 1926
Born in Venice, Edgar Chahine (1874-1947) became a French citizen in 1925 and spent the next few years creating prints as illustration for fine press editions. His work on Mort de Venise is of particular interest because his Paris studio was destroyed by fire in 1926, making the prints in this book some of the few surviving impressions from his Venice series (begun in 1906 with Impressions d'Italie). Chahine went on to illustrate books by Paul Verlaine (1844-1896); Anatole France (1824-1924); Collette (1873-1954); Gustave Flaubert (1821-1880); and others.
Maurice Barres (1862-1923), La mort de Venise. Illustrée de vingt-six eaux-fortes originales gravées par Edgar Chahine (Paris: Editions d'Art Devambez, 1926). Copy 94 of 231. Graphic Arts Collection GAX Q-000649