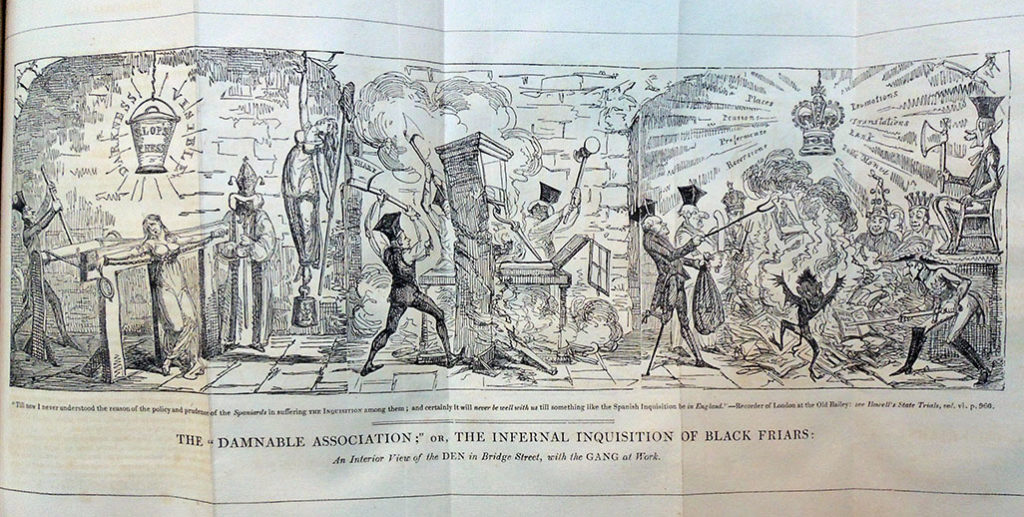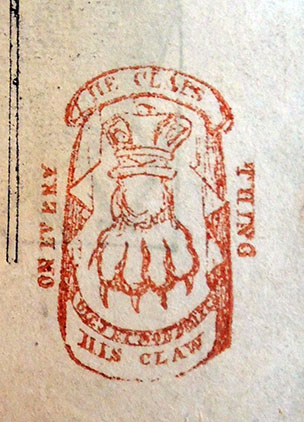 The Lenny Bruce of the early nineteenth century, William Hone (1780-1842) was a radical comic writer and publisher who joined forces with the visual artist George Cruikshank (1792-1878) to expose and ridicule abuses in British politics as well as the news media supporting the conservative government.
Hone was charged with three counts of libel in 1817 but brilliantly acquitted of all charges citing his use of parody. It wasn't a crime to be funny.
One of the greatest but least celebrated publications issued by the two men was a serial news sheet titled A Slap at Slop, lampooning the work of John Stoddard, publisher of The Times and The New Times newspapers.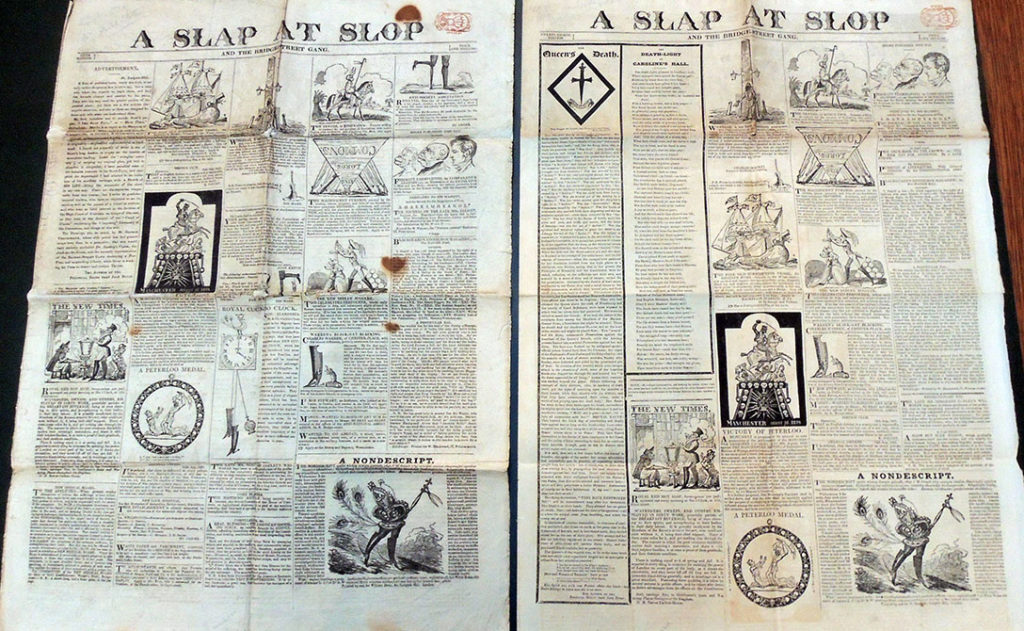 Along with two variant editions of A Slap at Slop, the Graphic Arts Collection holds Hone's personal copy of Factiae and Miscellanies (1827), a collection of 14 of his tracts and 120 engravings by George Cruikshank, which includes Hone's manuscript annotations, autograph letters, newspaper clippings, and a likenesses of William Hone and George Cruikshank. These came to Princeton thanks to the astute collecting and generous gift of Richard W. Meirs, Class of 1888 and Gordon A. Block Jr, Class of 1936.
Rather than talk about their work, here are some examples (obviously just a taste) reproduced hopefully large enough for you to read the hilarious texts for yourself: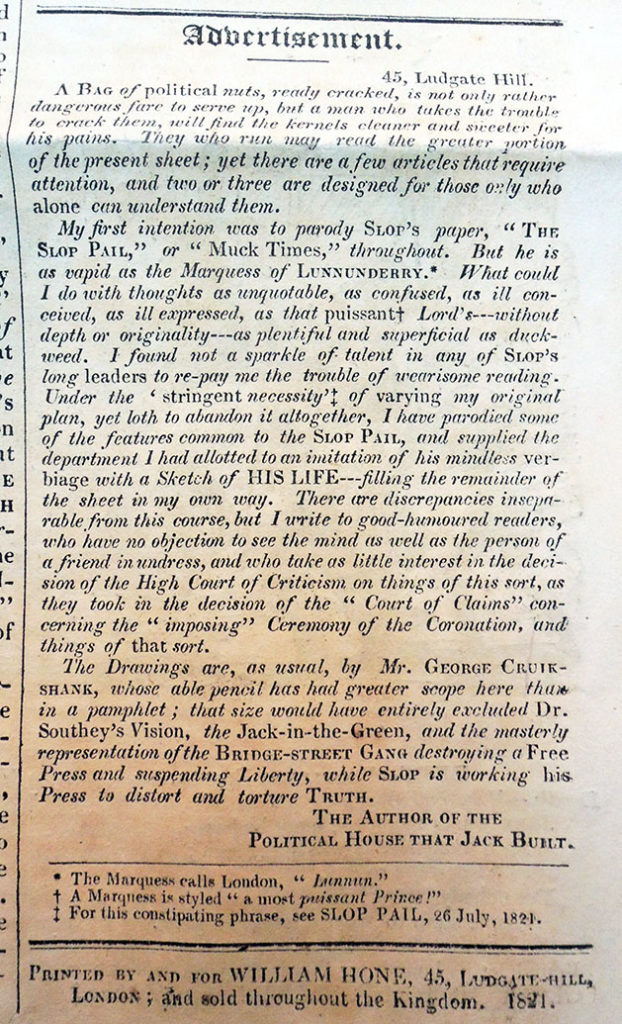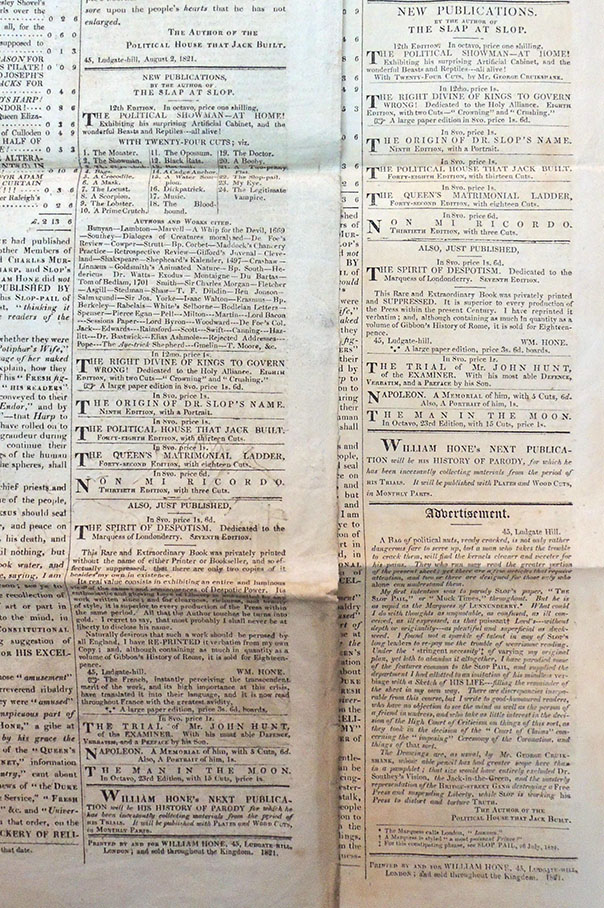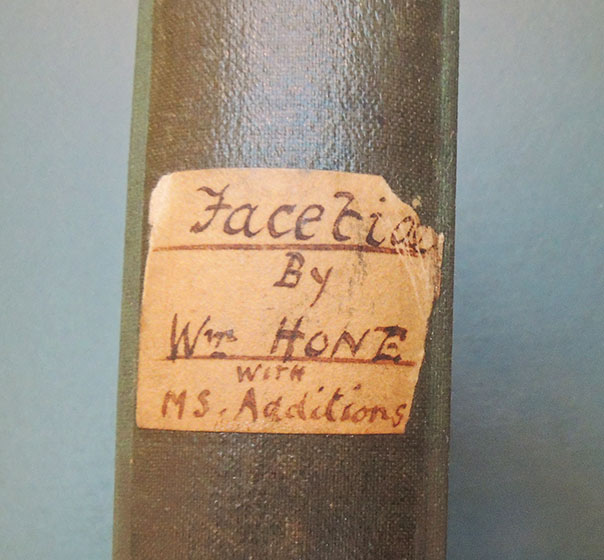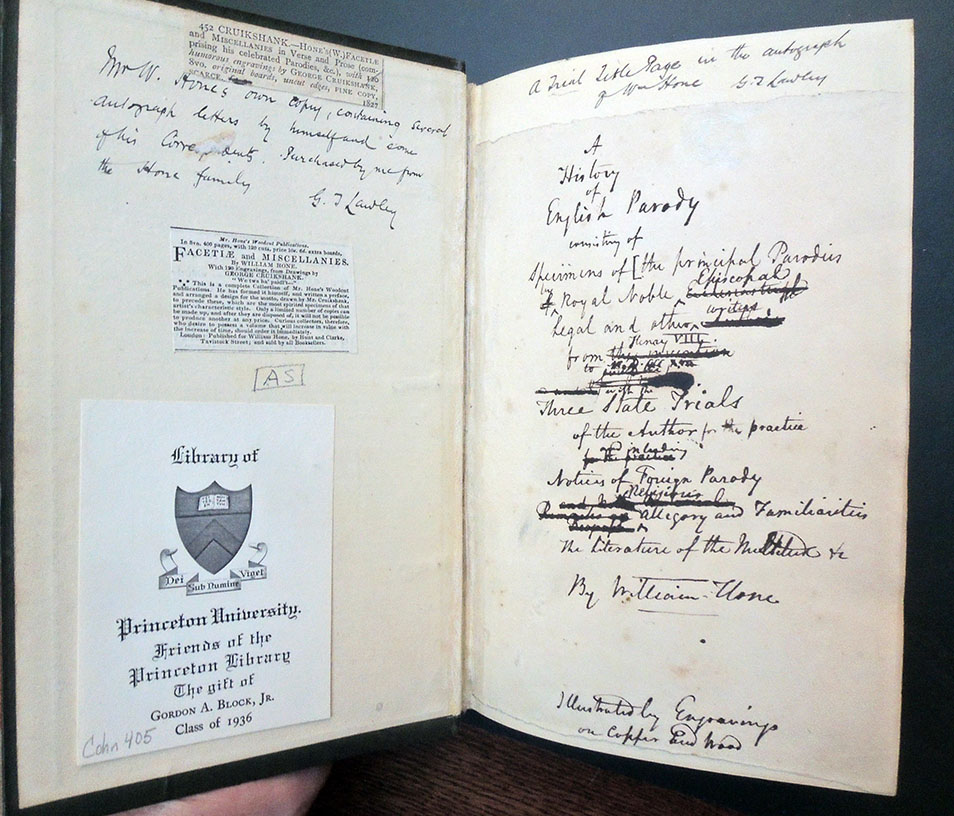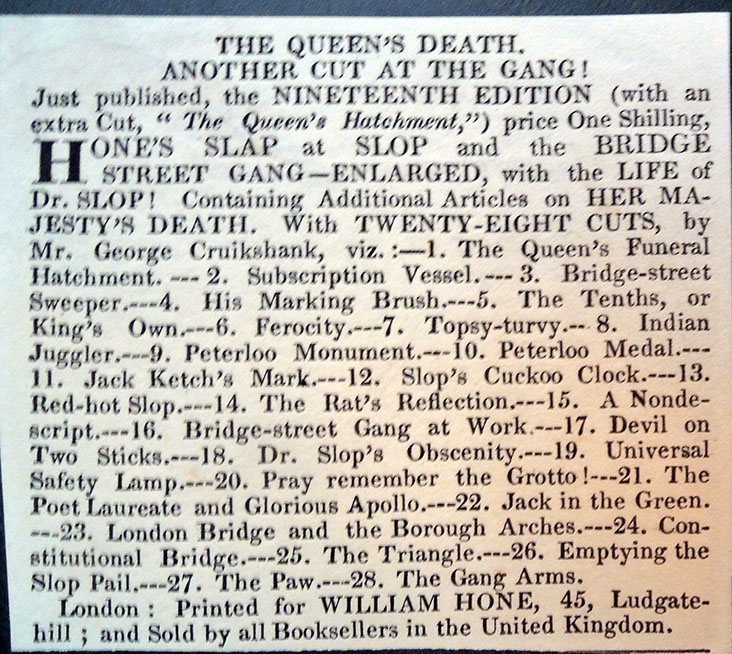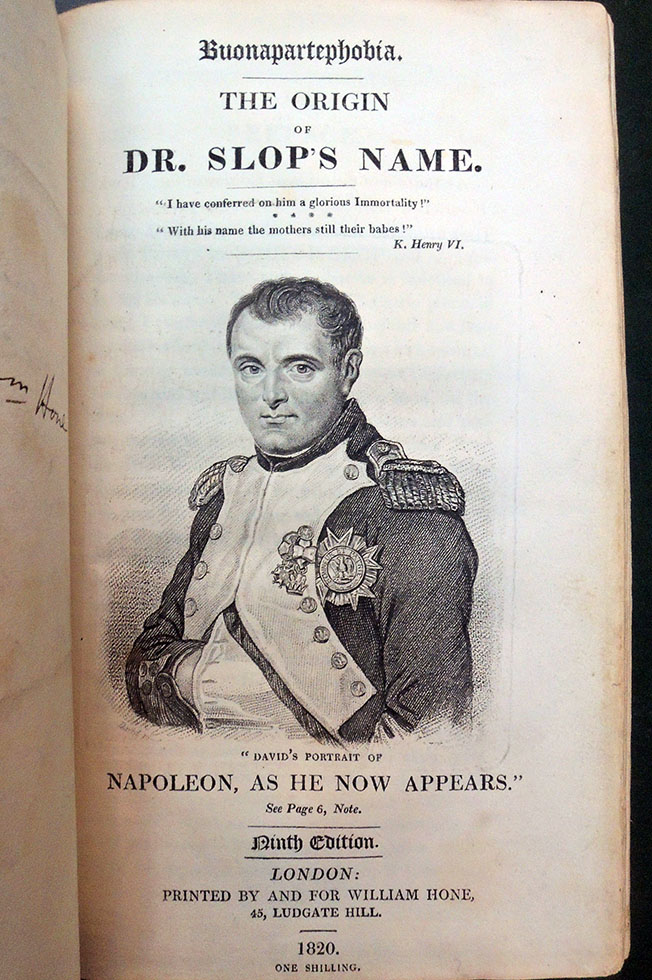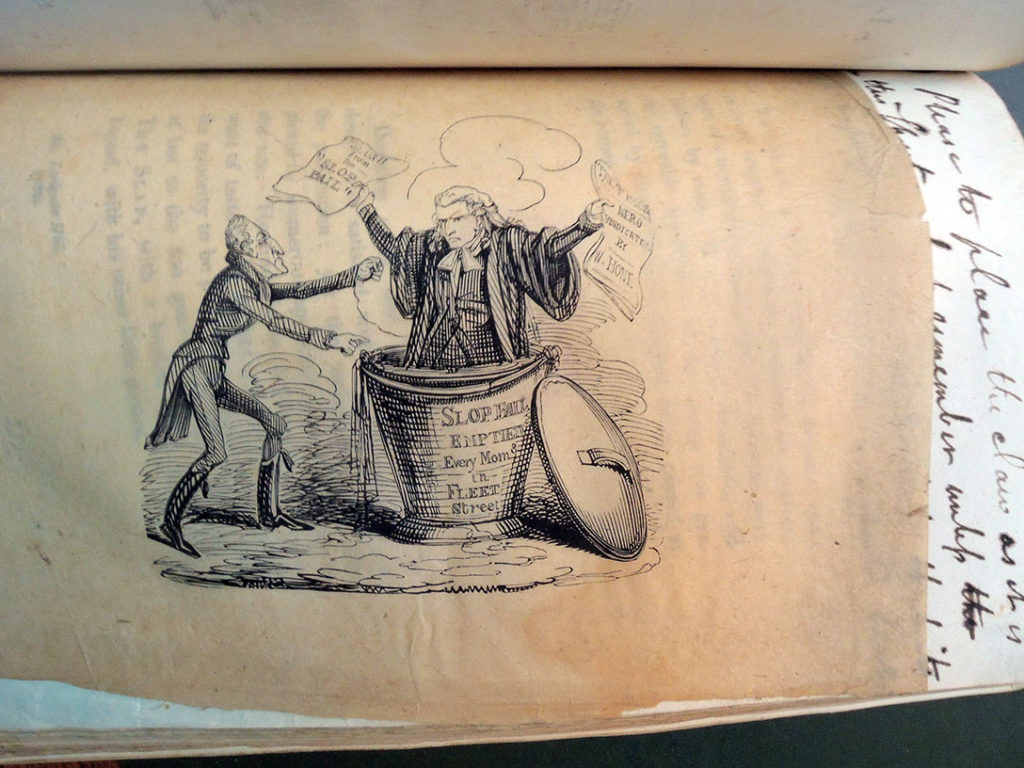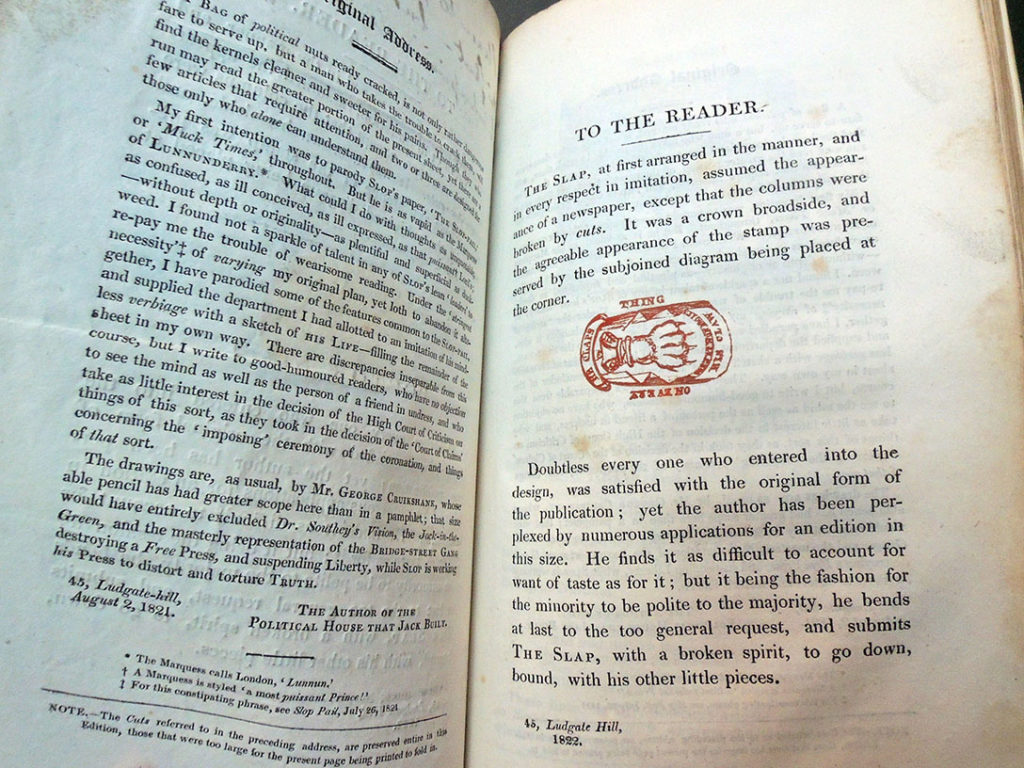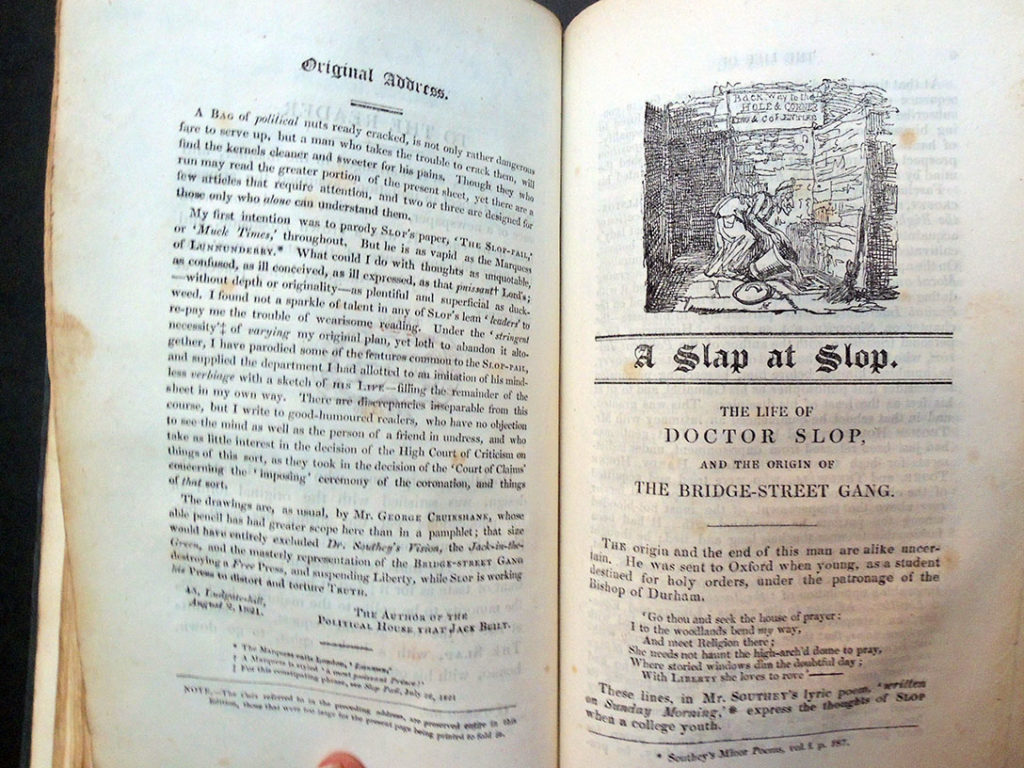 George Cruikshank (1792-1878), A Slap at Slop and the Bridge-Street gang: Royal cuckoo clock, 1821. Pencil drawing for the Royal Cuckoo Clock, with inscription in George Cruikshank's hand "Reward for the discovery of the Royal Society–south of the pendulum of England". References: Cohn 749. Graphic Arts Collection GC022/George/Drawings
William Hone (1780-1842), A Slap at Slop and the Bridge-Street Gang (London: Printed by and for William Hone, 1822). Illustrations by George Cruikshank. Graphic Arts Collection Cruik 1819.41
William Hone (1780-1842), A Slap at Slop and the Bridge-Street Gang; with twenty-seven cuts (London: Printed by and for William Hone, 1822). Illustrations by George Cruikshank. Graphic Arts Collection Cruik 1817.28
William Hone (1780-1842), A Slap at Slop and the Bridge-street gang ([London, W. Hone, 1821]) 5th edition; 26 illus. by G. Cruikshank. "By a closer setting of the material, room is made for an extra illus. and over a column and a half on the Queen's death. Included also is an octavo sheet with 4 original pencil sketches with explanations, 3 of them from "A slap at slop." The two issues and the drawings inserted in a red cloth wrapper and slip case. Graphic Arts Collection Cruik 1821.28
William Hone (1780-1842), Factiae and Miscellanies. With one hundred and twenty engravings drawn by George Cruikshank (London: Published for W. Hone by Hunt and Clarke, 1827). A collection of 14 of Hone's tracts gathered together and published under the above title. There is an additional woodcut on the title representing two men seated at a table. These are likenesses of William Hone and George Cruikshank. Laid in: "The queen's matrimonial ladder / printed by William Hone, Ludgate Hill, London. Price (with the pamphlet) One shilling." 30 x 6.5 cm., folded to 15.5 x 6.5, on cardstock. Provenance: The author's copy, containing his ms. annotations, with autograph letters bound in, and newspaper clippings laid in. Front free endpaper has trial title page, entitled "A history of English parody …" Annotations by George T. Lawley, noting he purchased the volume from Hone's family. Graphic Arts Collection Cruik 1827.61