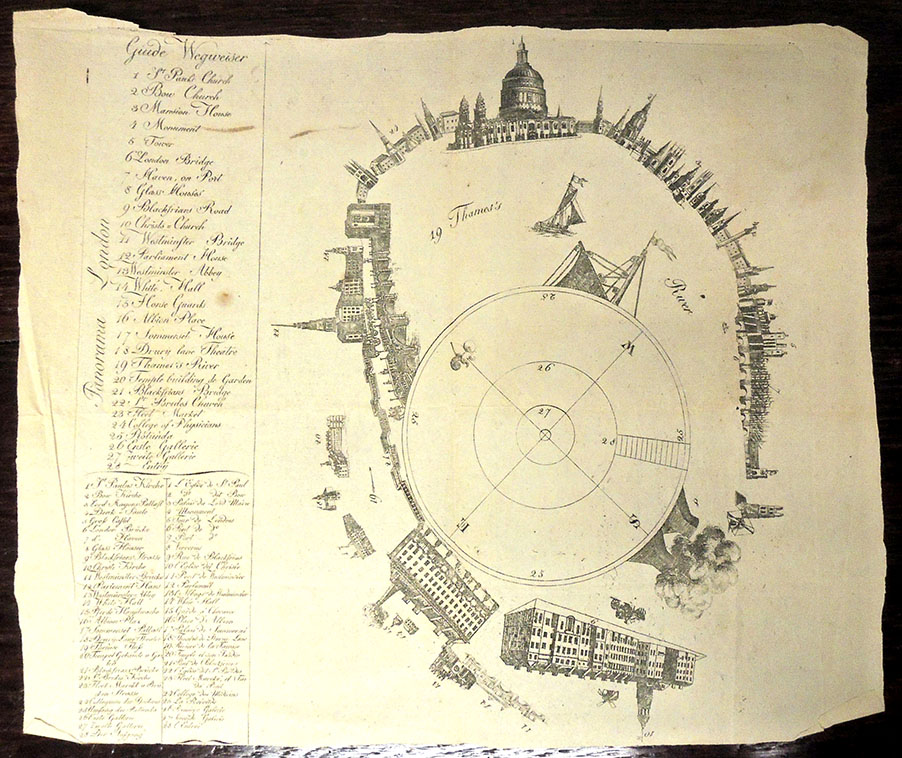 Now on deposit in the Graphic Arts Collection, thanks to Bruce Willsie, Class of 1986, is a rare engraving: Robert Barker (1739-1806) and Henry Aston Barker (1774-1856), [Key to the panorama 'London from the roof of the Albion Mills'], ca. 1792. Graphic Arts Collection.
Patented in 1787 by Robert Barker, the 365° painted panorama transported spectators into a virtual reality of place and time. Advertisements read: "There is no Deception of Glasses, or any other whatever; the View being only a fair Sketch, displaying at once a Circle of a very extraordinary Extent, the same as if on the Spot; forming, perhaps, one of the most Picturesque Views in Europe."
In 1791, Barker's first London show, View of London from the Roof of the Albion Mills, began at the five-story, steam-powered flour mill on the south side of Blackfriars Bridge designed by Samuel Wyatt in 1786 but gutted by fire in March 1791.* After London, the painting toured Europe and many of the brochures or descriptions given to the audiences were printed in several languages.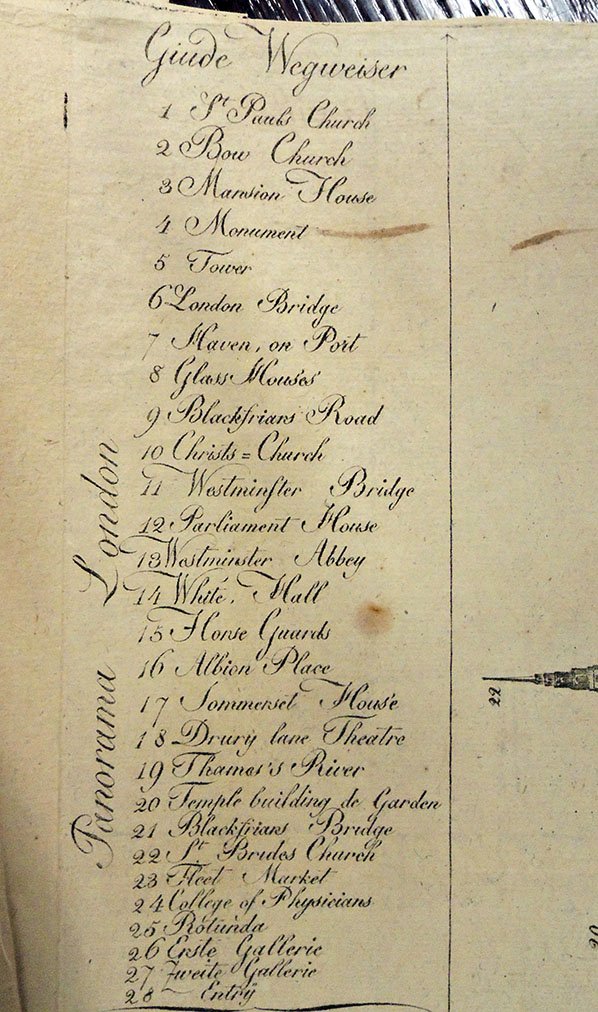 "[Robert] Barker's Panorama of London from Albion Mill does not survive, although contemporary visual evidence is offered by two descriptive orientation keys and a set of commemorative aquatints. Panorama visitors were given such descriptive keys gratis, not only as souvenirs, but also to inform them of significant sights: they are themselves an important response to Barker's epistemological anxiety about his painting.
Two orientation keys survive for Barker's Panorama of London: the first, an undated and cheaply printed [engraving], which can be speculatively dated to 1792, and the second, entitled Panorama de Londres, with the text in French and English, probably issued in Paris c. 1803. –Markman Ellis, "Spectacles within doors': Panoramas of London in the 1790s" https://www.euppublishing.com/doi/pdfplus/10.3366/E1354991X0800024X
The panorama's scenes weren't what you might expect. One set of the six memorial aquatints can be found at the British Museum, and a mounted set is held at the Government Art Collection, Queen's Yard, 179a Tottenham Court Road, London [see below].

The British Museum has two versions of the key print, describing one as written in French and Dutch, although it appears to be the same as Princeton's engraving in English, French, and German.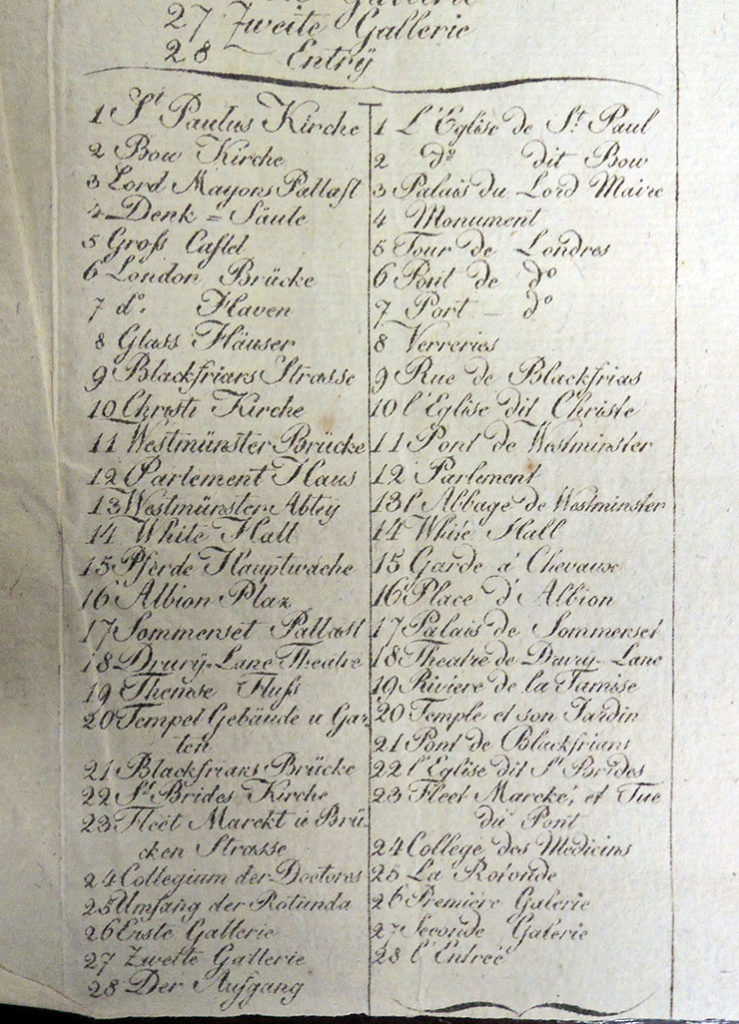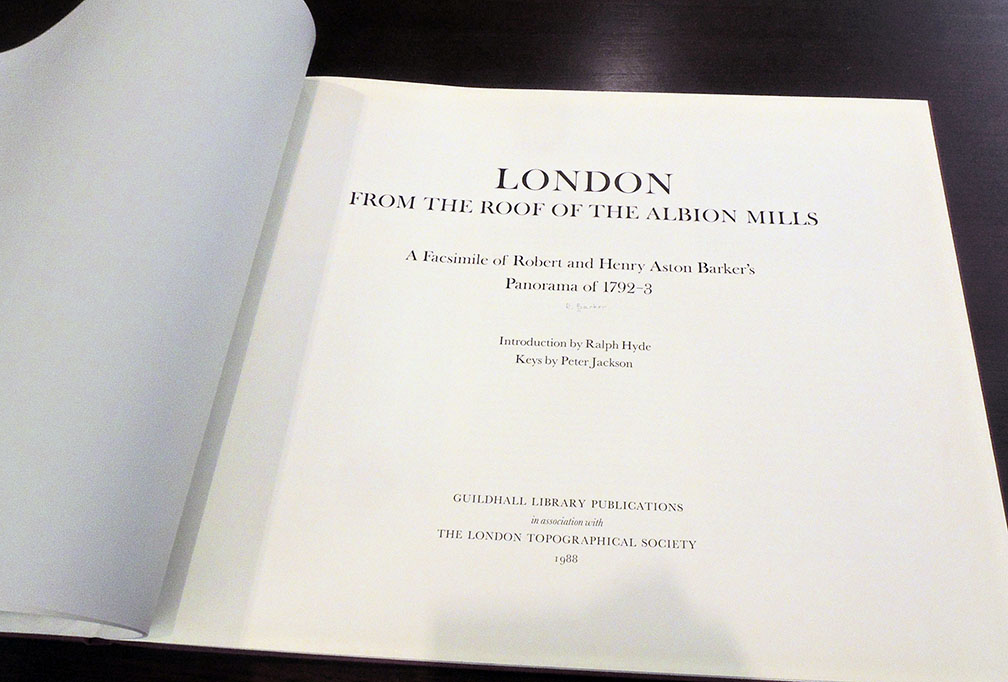 Robert Barker (1736-1796), London from the Roof of the Albion Mills: a Facsimile of Robert and Henry Aston Barker's Panorama of 1792-3 / introduction by Ralph Hyde ; keys by Peter Jackson (London: Guildhall Library Publications in association with the London Topographical Society, 1988). Marquand Library Oversize DA682 .B37e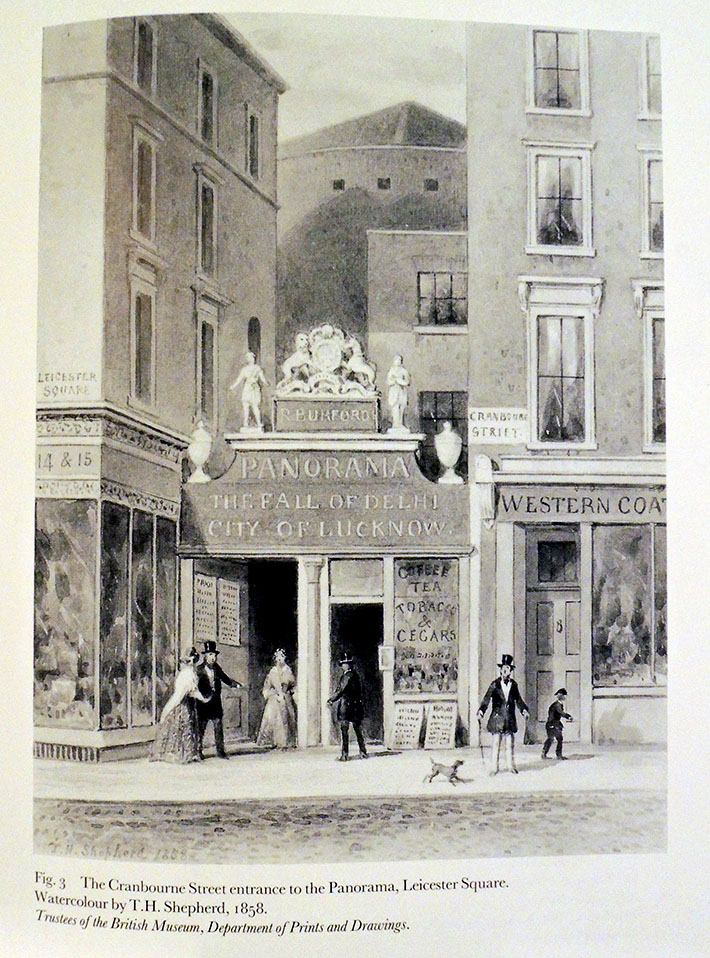 "This 360 degree view is taken from the roof of the Albion sugar mills at the S. end of Blackfriars Bridge, to which vantage point Henry Aston Barker was sent to make sketches by his father, Robert Barker, in the winter of 1790-91 … The son's drawings were then greatly enlarged and painted in distemper on canvas by Robert Barker to create a 1,479 sq. ft. exhibition panorama. This at first was exhibited at … Leicester Square … Birnie's aquatints of H.A. and R. Barker's London panorama were prepared and published while it was still on exhibition in Castle Street and testify to the show's popularity. … Altick records that the six aquatints served as the source for America's first panorama show. Taken to the United States by a gentleman named Laing, they were copied onto canvas by William Winstanley. The resulting panorama was exhibited in Greenwich Street, New York City, in 1795."–Ralph Hyde, Gilded Scenes and Shining Prospects: Panoramic Views of British Towns 1575–1900. New Haven, Connecticut: Yale Center for British Art, 1985.
*The fire in the Albion Mills and perhaps Barker's panorama were the inspiration for
Jerusalem by William Blake [preface to Milton]:
And did those feet in ancient time
Walk upon Englands mountains green:
And was the holy Lamb of God,
On Englands pleasant pastures seen!
And did the Countenance Divine,
Shine forth upon our clouded hills?
And was Jerusalem builded here,
Among these dark Satanic Mills?
Bring me my Bow of burning gold:
Bring me my arrows of desire:
Bring me my Spear: O clouds unfold!
Bring me my Chariot of fire!
I will not cease from Mental Fight,
Nor shall my sword sleep in my hand:
Till we have built Jerusalem,
In Englands green & pleasant Land.