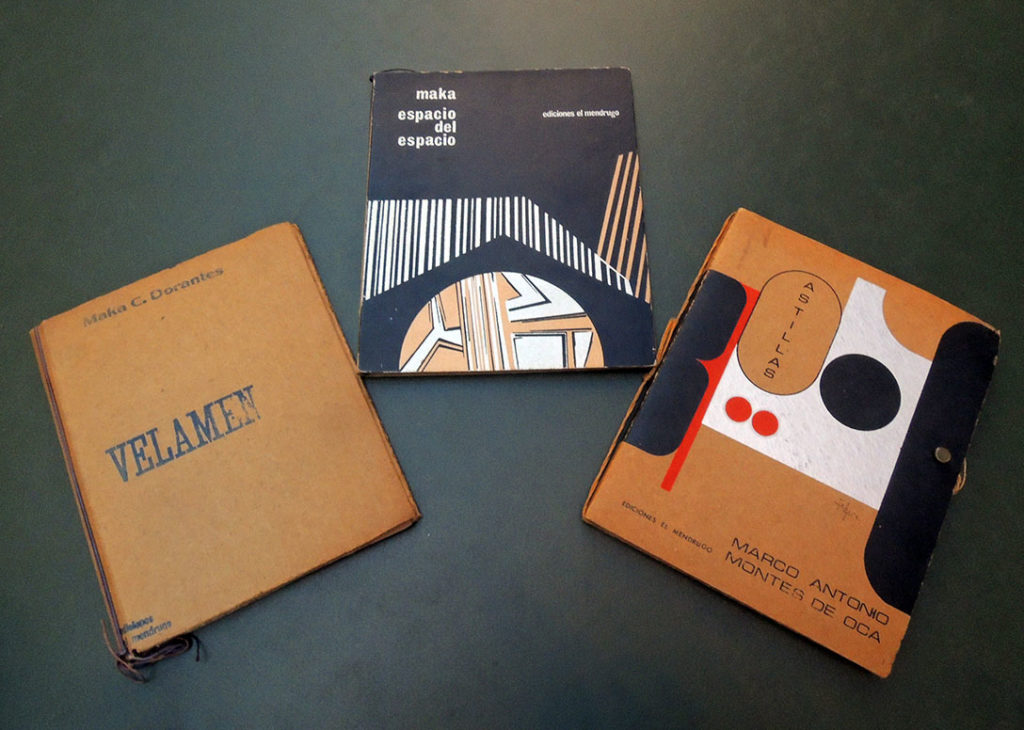 A precursor to the better-known 21st century cartoneras (inexpensive books with cardboard covers, originally from Argentina), the Ediciones el Mendrugo also published poetry with handmade images in a modest format from found or recycled materials. Three examples recently came into the Graphic Arts Collection.
[loosely translated from the Living Books site] "…it is worth mentioning a previous history in the publishing world, curiously ignored by those who investigated this popular phenomenon, Ediciones El Mendrugo, by the Argentine poet Elena Jordana, who in the early 70s published books bound with corrugated cardboard, printed on kraft paper (or estraza) and tied with sisal thread, with typography of rubber stamps, where it was necessary to count on heavy typewriters capable of perforating on the stencil (artistic decoration technique), in order to consign the data of title and authorship on the covers, in the aesthetic way of the university flyers.

Each issue was personally distributed by the author herself, on her trips to Mexico, the United States and Argentina. Among the published authors are Nicanor Parra, Ernesto Sábato (who gave up his publication rights so that the text "Letter to a young writer", with support from the Argentine Society of Writers (SADE), was presented at the 1974 Book Fair), Octavio Paz, Enrique Fierro, Juan de la Cabada, Guillermo Samperio, José Joaquín Blanco and Alejandro Sandoval among thirty writers. As it appears in the journalistic chronicle, each book was made individually among friends, with jugs of wine and songs (Elena herself studied folksong in its beginnings), even some books were accompanied by a jute backpack so readers could wear it more comfortably."–http://librosvivientes.blogspot.com/2015/11/ediciones-el-mendrugo-precursora-de-las.html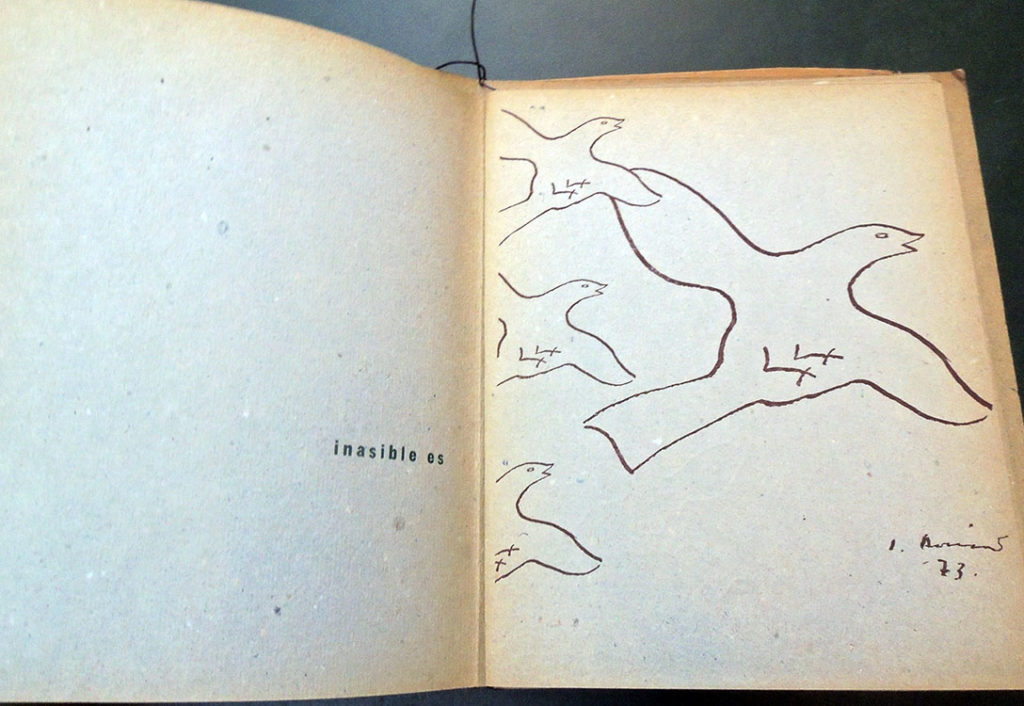 Princeton University Library holds nearly 400 cantoneras, most from the 21st century and so, the addition of these earlier examples of the genre are most welcome. While there are many groups or presses making these books, the majority of our current holdings are from the Eloísa Cartonera.
A history of the movement has been published, which will be helpful in sorting out the participants: Akademia cartonera: a primer of Latin American cartonera publishers = un abc de las editoriales cartoneras en América Latina edited by Ksenija Bilbija, Paloma Celis Carbajal; editorial assistance by Lauren Pagel and Djurdja Trajković (Madison, Wis.: Parallel Press, University of Wisconsin-Madison Libraries, 2009). Firestone Z490 .A37 2009.
Maka C. Dorantes (Maka), Espacio del Espacio (Mexico City, D. F.: Ediciones el Mendrugo/Elena Jordana, n. d. 197?). First Edition. Unpageated (ca. 30 pp.) Graphic Arts Collection in process
MarcoAntonio Montes de Oca, Astillas (Mexico City, D. F.: Ediciones el Mendrugo/Elena Jordana, n. d. 197?). First Edition. Graphic Arts Collection in process
Maka C. Dorantes (Maka), Velamen (Mexico City, D. F.: Ediciones el Mendrugo/Elena Jordana, n. d. 197?). First Edition. Graphic Arts Collection in process