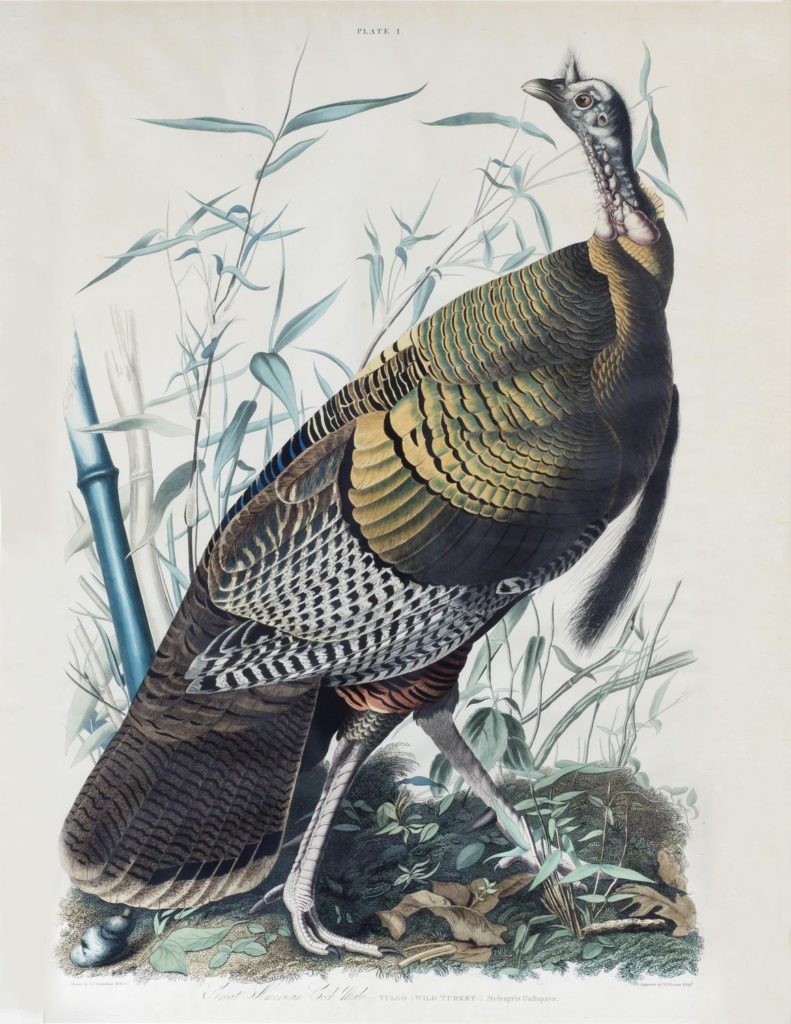 In a letter dated March 2, 1831, J.J. Audubon (1785-1851) wrote to his engraver Robert Havell Jr., (1793-1878) requesting changes in the copper printing plates already completed at the Scottish engraving studio of W.H. Lizars (1788-1859). "I wish you to set about having the Plates reengraved I mean the Lettering as soon as possible and to employ such Engravers as well do Justice to the whole of it."
The engraved title Great American Cock, usually plate no. 1 in the bound volumes of Audubon's Birds of America, was to be removed and replaced by Wild Turkey (Meleagris gallopavo). In addition, he asked for changes in the legends of the first forty-four plates.
There is no explanation for the change in the name. Cock is the standard British term for a male bird, "especially domestic fowl." However, Audubon's legend is not part of the Linnaean taxonomy of birds but instead an enthusiastic description for his favorite bird. This may have been his attempt to improve the scientific precision of the work as a whole.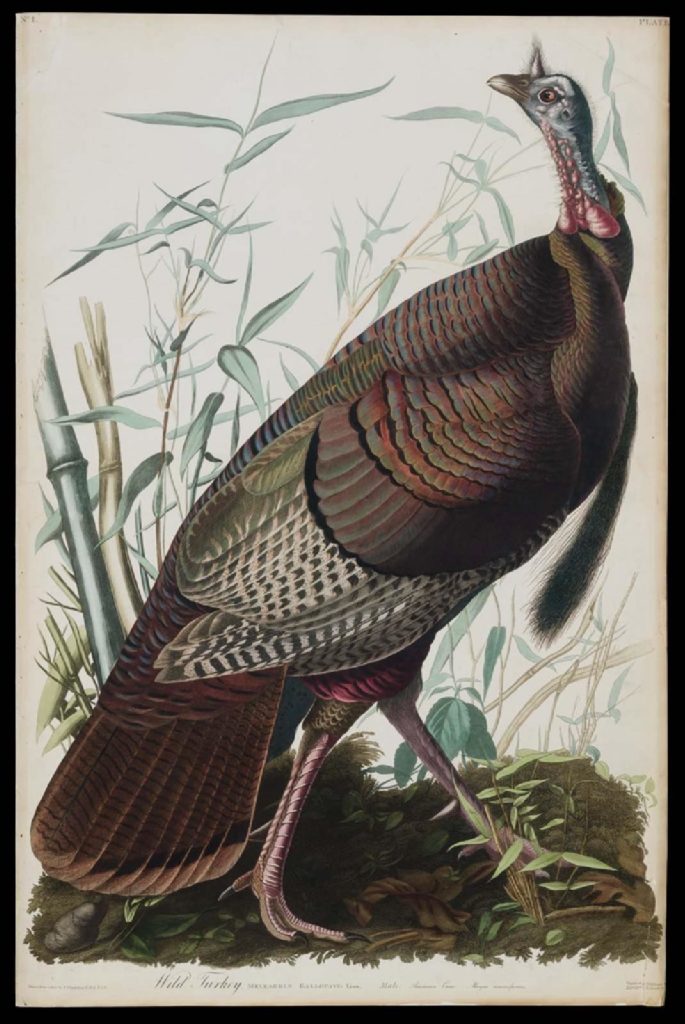 In the early 1800s when the Audubon family lived in Mill Grove, Pennsylvania, the house was filled with animals, both preserved specimens and live family pets. Most prized with a wild turkey, referred to in Audubon letters as "my favorite turkey cock."
"Lucy [Audubon] become accustomed to, and even contented with, the strange ways of John James, who brought home a number of wild creatures from his excursions into the woods. She helped raise and care for the wild turkey that John James captured when it was only a few days old. The bird rapidly became a great pet to the Audubon children and the entire village. Anxious to protect the turkey from hunters, Lucy tied a red string around his neck so that he would be recognized while wandering about town. Each evening the gobbler could be seen roosting on the roof of the Audubon cabin."– Carolyn E. DeLatte, Lucy Audubon: A Biography (LSU Press, Sep 1, 2008).
There is no way of knowing how many plates were produced with the title Great American Cock as Lizars began engraving them in 1826 before Havell reengraved the plate according to Audubon's demand in 1831. The copper printing plate for the Wild Turkey was purchased from Lucy Audubon by William E. Dodge Jr. (1832-1903) and kept in the Dodge family, first with his sister Grace H. Dodge (1856-1914) and then her nephew Cleveland E. Dodge (1888-1982), Princeton class of 1909, who lent it to the Princeton University Library exhibition in 1959. Dodge served as a trustee of the American Museum of Natural History, among other organizations, and ultimately donated the copper plate to AMNH for their Audubon room. Unfortunately, the engraved title at the bottom of the plate has been removed.