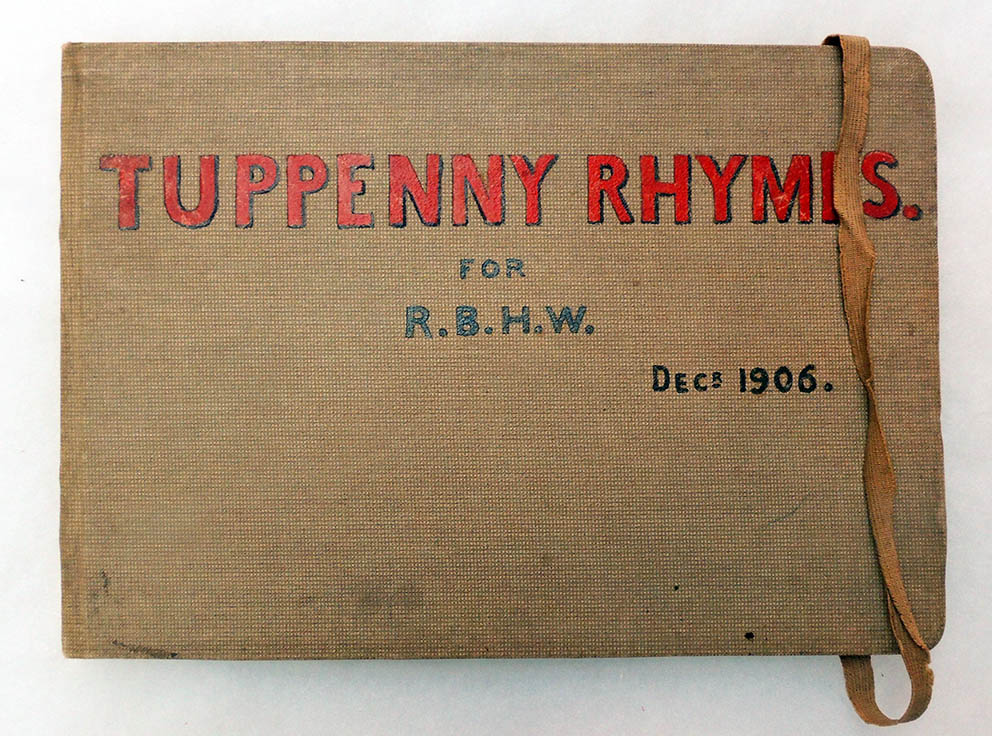 Attributed to Arthur James Hervey Wyatt (1861-1938), Tuppenny Rhymes. Illustrated manuscript dedicated to Raymond Benedict Hervey Wyatt "on his [16th] birthday 15th Decr. 1906." 38 illustrated pages. Graphic Arts Collection GAX 2019- in process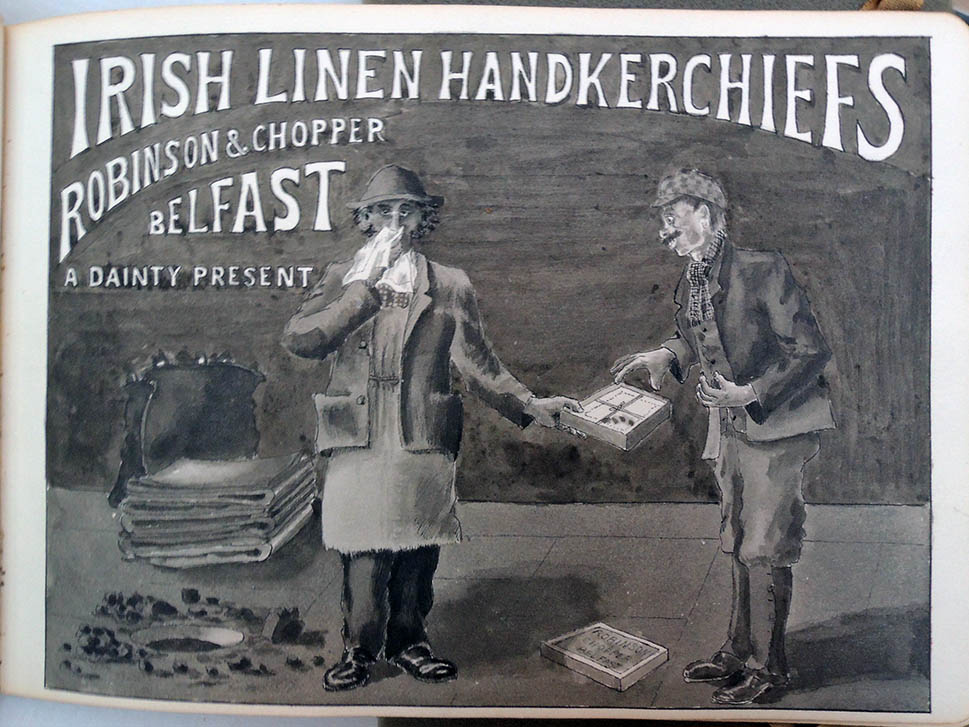 The Graphic Arts Collection recently acquired this wonderful illustrated manuscript written for the teenager Raymond Benedict Hervey Wyatt (1890-1977) by one of his parents, likely his father, the engineer Arthur James Hervey Wyatt.
Educated at Bedford Grammar School, Wyatt Sr. went on to become an expert in sighting devices for heavy guns working for over twenty years for Morris Aiming Tube and Ammunition Company, Ltd. During the War, he joined the Ministry of Munitions and became assistant inspector for the East Midlands Area, with headquarters at Bedford.
This comic and affectionate gift to his son interposes humorous verse with nine full page and four half page illustrated comic advertisements for faux companies.
These include "Bovrox. The strongest thing on earth. Prepared only in our Chicago factory from the oldest and most delicate cows. In fragile bottles 2/6"; "Petrach's Cheese Chocolate. Delicious! Scrumptious! Made from pure chocolate and ripe old Stilton cheese"; "Boko for the nose. Ensures a luxurious nasal organ."
Of the nine manuscript poems, the second, Raymond's Life. After W. S. Gilbert, follows the path of Raymond's life from his ambitions to be an engine driver, his education as a Bedford Scholar, his love of cricket, and his ambition for various careers.
It ends: "With engineering, law and Greek / And many another rum thing, / With half the world's pursuit's to seek/ Let's hope he sticks to something./ Mid agriculture, bank or school- / The crowded court – museum cook, / The bar – the bench / Or chemic stench/ Let's hope he sticks to something."
In real life, Raymond went on to be a successful pathologist and coroner, working at Bedford County Hospital in 1926 and the Coroner for the South-Western Division in London. In 1941, Wyatt carried out the inquests into the deaths of Karl Drucke and Werner Walti who were executed as spies by Alfred Pierrepoint at Wandsworth Prison on August 6,1906.