What do these men have in common, besides the same hat?
They are part of a series of portraits of American revolutionary officers, published in Paris during the 1770s by partners Jacques Esnault (1739-1812, also written Esnauts) and Michel Rapilly (1740-1797?), whose shop was located at no. 259 rue Saint Jacques. Each portrait uses the same cartouche with a shield, cannon, and banner, some laterally reversed. Most of the prints held in the Graphic Arts Collection are before the complete caption, signature, or number at the top.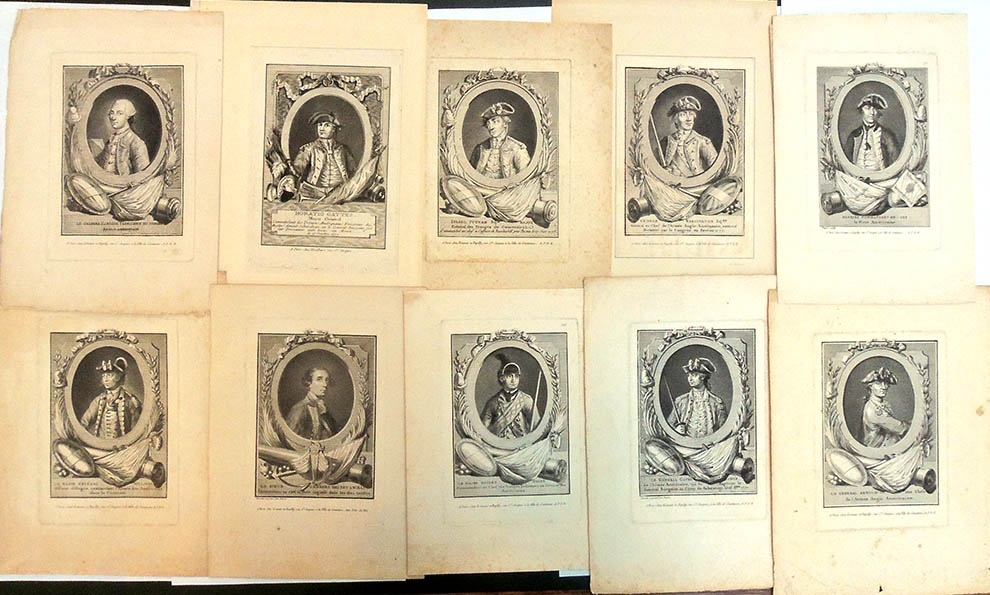 The portraits in the Graphic Arts Collection (both catalogued and recently found) include:
Israel Putnam (1718-1790), an American army general officer, popularly known as Old Put, who fought with distinction at the Battle of Bunker Hill during the American Revolutionary War.
Charles Lee (1732-1782), a general of the Continental Army during the American War of Independence. He also served earlier in the British Army during the Seven Years War.
Horatio Lloyd Gates (1727-1806), a retired British soldier who served as an American general during the Revolutionary War.
George Washington (1732-1799), an American general and the first president of the United States from 1789 to 1797.
John Hancock (1737-1793) an American merchant and president of the Second Continental Congress.
John Sullivan (1740-1795), an Irish-American General in the Revolutionary War, a delegate in the Continental Congress, Governor of New Hampshire and a United States federal judge.
George Brydges Rodney (1718-1792), 1st Baron Rodney, KB, a British naval officer. He is best known for his commands in the American War of Independence
Robert Rogers (1731-1795), an American colonial frontiersman. Rogers served in the British army during both the French and Indian War and the American Revolution.
Esek Hopkins (1718-1802), the only Commander in Chief of the Continental Navy during the American Revolutionary War.
Benedict Arnold (1741-1801), an American military officer who served as a general during the American Revolutionary War, fighting for the American Continental Army before defecting to the British in 1780.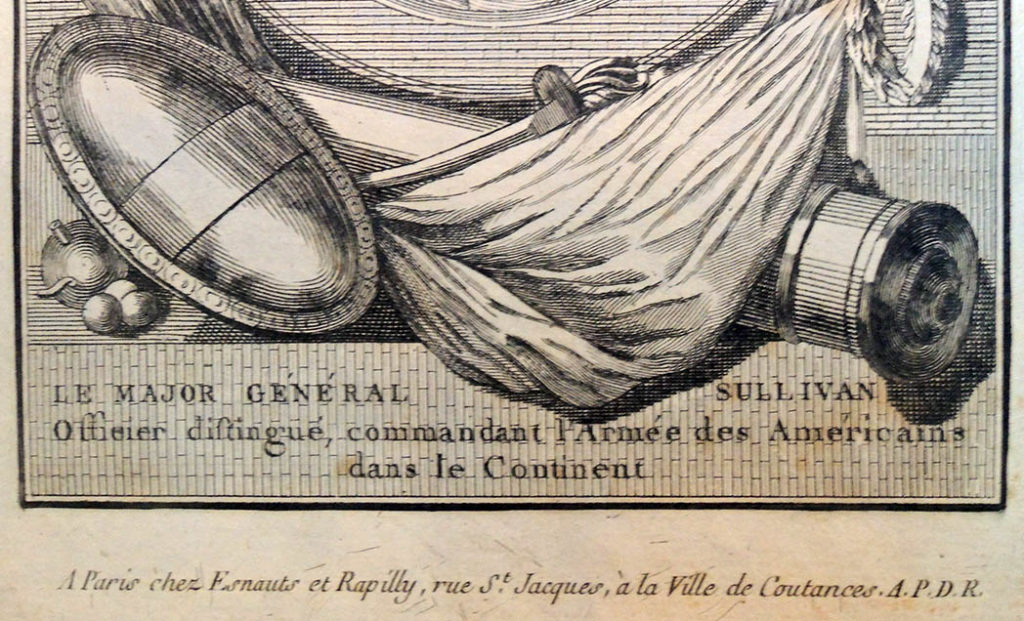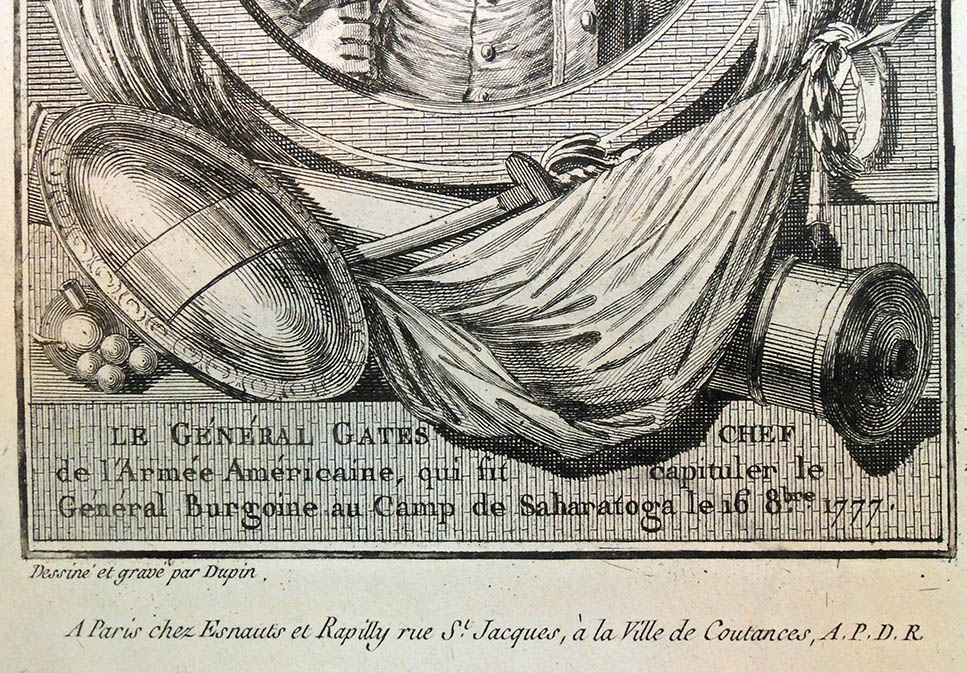 Several prints are complete with the signature of the printmaker "Dupin," although it is not certain whether this refers to Jean Victor Dupin (born 1718) or Nicolas Dupin (died after 1789) also referred to as Dupin II.
It would not be Pierre Dupin "the Elder" (ca.1690-ca.1751), father of Jean-Victor, as several online sources list. Nicolas is the better attribution but cannot be confirmed.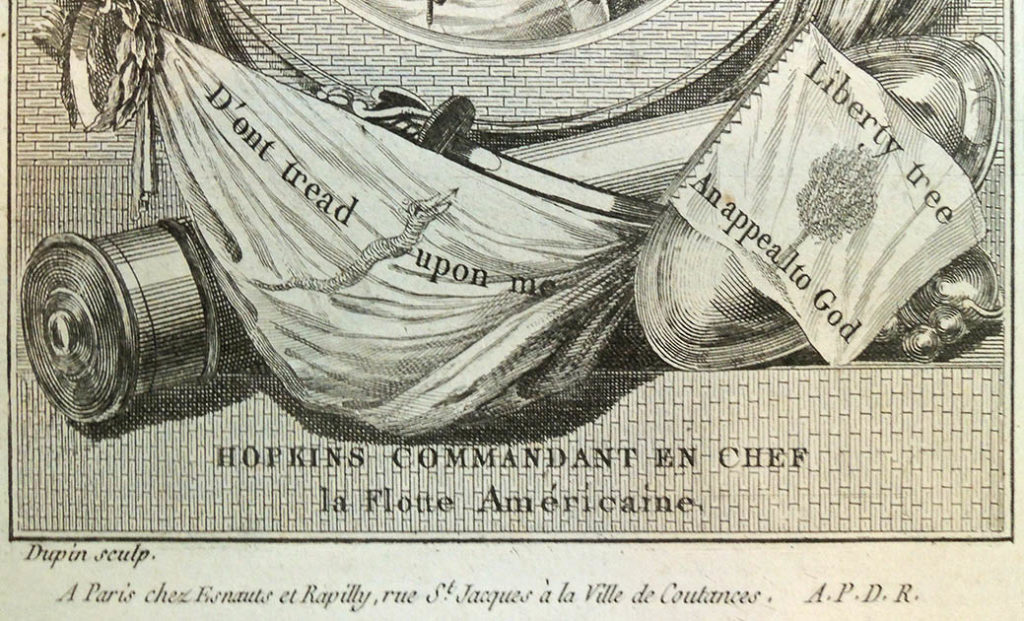 This is the only print in our collection with text engraved in the cartouche.