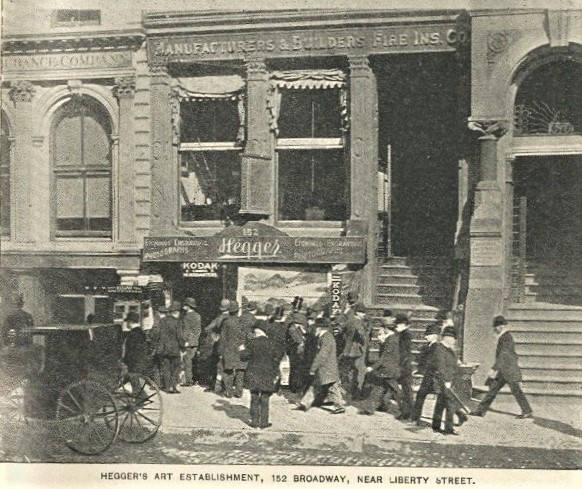 Frank Hegger (ca. 1840-1903) was described by his daughter Grace (Mrs. Sinclair Lewis) as a "failed artist turned photographer." On October 27, 1886, he became one of the first image distributor arrested by Anthony Comstock, Secretary of the New York Society for the Suppression of Vice, for selling obscene photographs.
Hegger was accused of selling "unmounted photographs" that were imported through the mails from Paris, described as "of the most obscene and filthy character. …one package contained 134 pictures, most of them from life, and I am satisfied from my investigation that there is a large amount of nude and obscene pictures imported by various dealers in the City of New York, …designed for artists [but]…distributed promiscuously."–Amy Werbel, Lust on Trial: Censorship and the Rise of American Obscenity in the Age of Anthony Comstock (Columbia University Press, 2018).
Recognized for his superb carbon prints, Hegger did a fair amount of business with Adolphe Braun through his Paris offices. One package seized in the raid was addressed from that firm, possibly reproductions of works from the Louvre, where Braun held the sole license to photograph and circulate reproductions. These may have been the objectionable nudes. According to Werbel, "Comstock's campaign to rid America of vice in fact led to greater acceptance of the materials he deemed objectionable."
By 1890, all Hegger advertisements describe landscapes and architectural views, no portraiture, although men continued to line-up on the sidewalk to get into his shops at 152 Broadway and 288 Fifth Avenue, where prints as large as 4 x 3 feet were displayed and sold.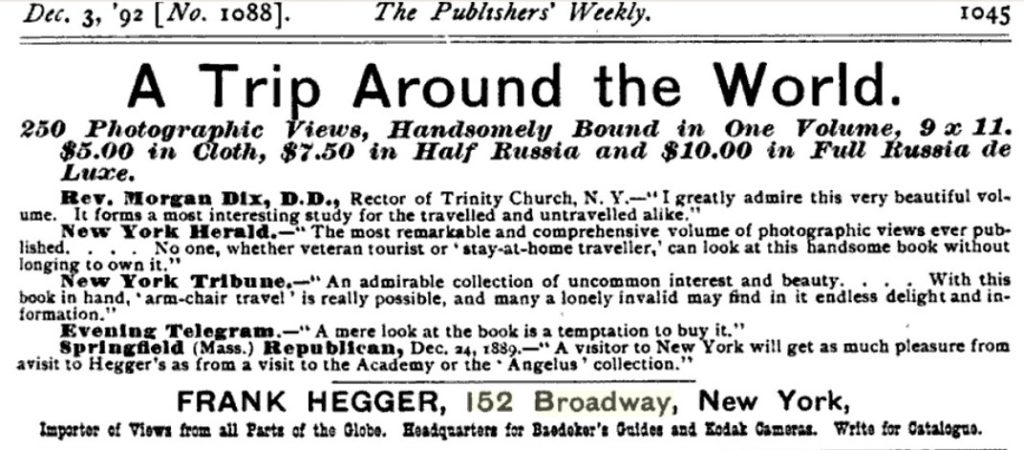 "Frank Hegger's Photographic Depot, at 152 Broadway, is the best-known and most popular establishment of its kind in America. This spacious store is a magazine packed with everything that is choice in water-colors, etchings, engravings, photographs of every possible description, and unmounted views from all parts of the globe. "If you can't get them at Hegger's, you can't get them in this country, " is a well-deserved compliment and literally true.

Hegger's is always abreast with the time, and the selections which continually replenish his stock are made with the taste and judgment of a man of travel and a knowledge of the best one sees as a traveler.  . . .The absence of the Hegger establishment from New York would leave an aching void to the eyes of thousands to whom his show-windows and portfolios are a perpetual source of intellectual refreshment and aesthetical delight.

The Broadway sidewalk is often blockaded by the throng attracted by his ever freshly renewed and ever novel and interesting displays, and brokers and business men, hot with the fever of mid-day business, break suddenly away from their drive for gain to "run in and see what Hegger has new," and jostle grave[?] divines and college professors in their investigations of the huge sample books."
—King's Handbook of New York City: An Outline History and Description of the American Metropolis (1892).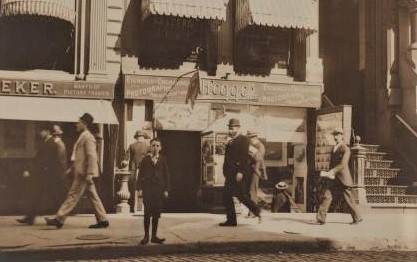 152 Broadway, adjoining the N. E. corner of Liberty Street, showing Frank Hegger's Photographic Depot, the best known and most popular establishment of its kind in its day. –New York Public Library "Old New York" 1883?
See also: Half a loaf by Grace Hegger Lewis (New York: H. Liveright, 1931). Fictionalized autobiographical account of the author's marriage to Sinclair Lewis. ReCAP 3827.15.342