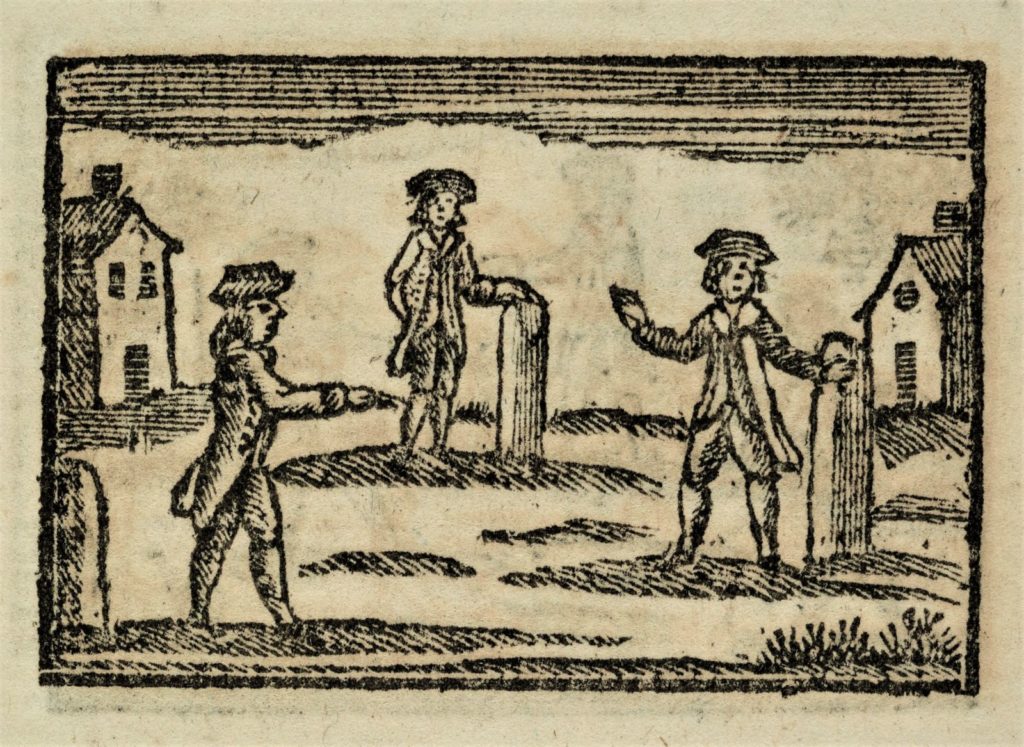 Base-Ball
The Ball once struck off,
Away flies the Boy
To the next destin'd Post,
And then Home with Joy.
Moral
Thus Seamen, for Lucre
Fly over the Main,
But, with Pleasure transported
Return back again.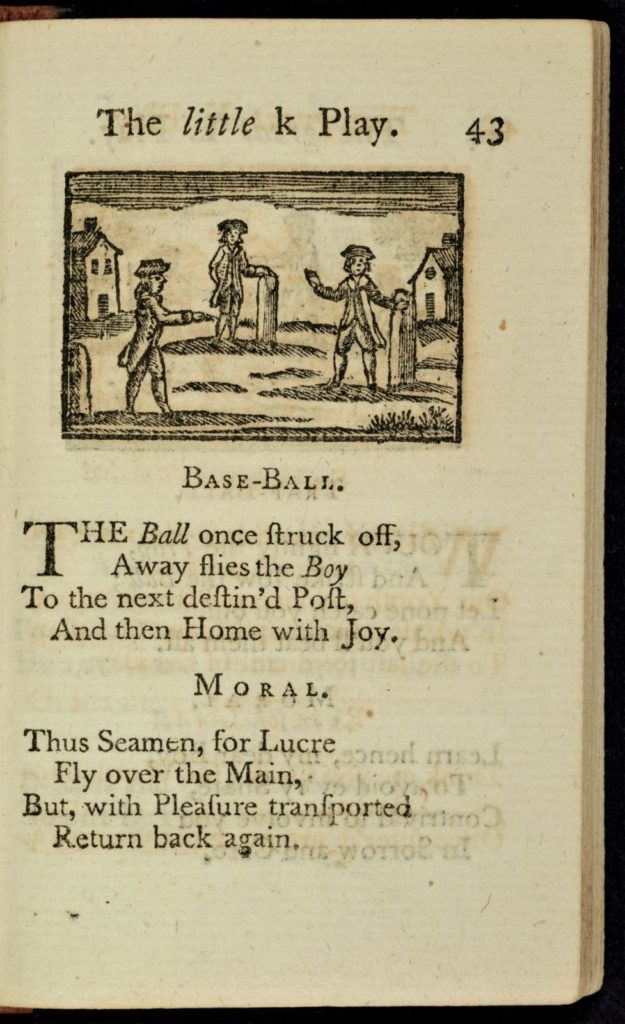 Now online is a digital copy of Sinclair Hamilton's: A little pretty pocket-book: intended for the instruction of amusement of little Master Tommy, and pretty Miss Polly. With two letters from Jack the Giant-Killer: as also a ball and pincushion: the use of which will infallibly make Tommy a good boy, and Polly a good girl: To which is added, A little song-book, being a new attempt to teach children the use of the English alphabet, by way of diversion . . . First Worcester edition (Printed at Worcester, Massachusetts: By Isaiah Thomas, and sold wholsesale and retail at his bookstore, MDCCLXXXVII [1787]). 11 cm, 64 woodcuts. Digital: http://arks.princeton.edu/ark:/88435/jm214s73x. Graphic Arts Collection Hamilton 115s; also in Cotsen Eng 18 8136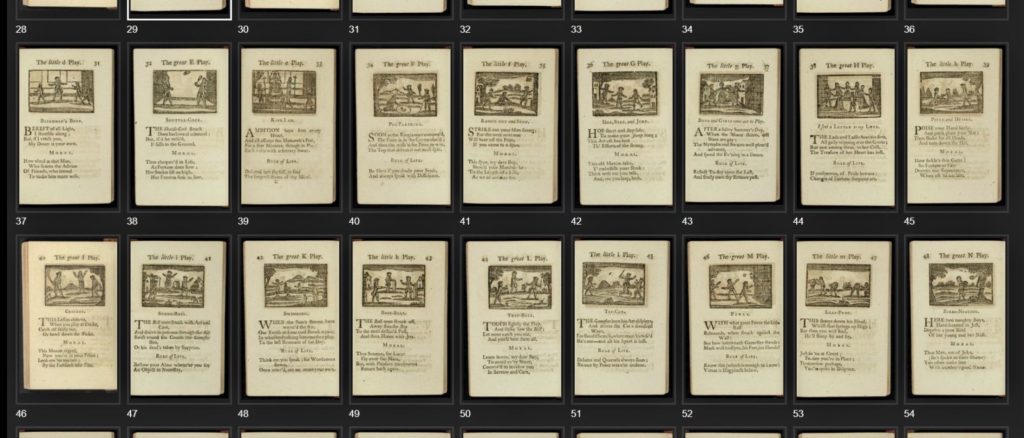 Compare Princeton's copy to the Library of Congress: https://www.loc.gov/resource/rbc0001.2003juv05880/?sp=51
This is a reprint of Newbery's edition originally published in London in 1744; first published in the United States by Hugh Gaine in 1762 as A Little Pretty Book. According to Hamilton, the mention of baseball on p. 43 might be the first. It predates other possible baseball "firsts."
"The earliest known mention of baseball in the United States was in a 1792 Pittsfield, Massachusetts by law banning the playing of the game within 80 yards of the town meeting house. Another early reference reports that "base ball" was regularly played on Saturdays on the outskirts of New York City (in what is now Greenwich Village) in 1823. …The booming port city of New York had more than 120,000 residents in 1823, according to the census, and its warren of cobblestone lanes had pushed as far north as present-day Canal Street. The Retreat mentioned in the article was a two-acre rural estate that in 1822 became the site of a tavern run by a man named William Jones.– https://ourgame.mlblogs.com/the-pittsfield-baseball-bylaw-of-1791-what-it-means-940a3ccf08db
It also pre-dates the mention of the first game at The Retreat in New York City. "… articles appeared April 25, 1823; they indicate that some form of the game was even then being called "base ball" and was played in Manhattan. … The game was played on the west side of Broadway between what is today Eighth Street and Washington Place in Greenwich Village, long before anyone dreamed of putting on a pinstripe uniform.– https://www.nytimes.com/2001/07/08/nyregion/baseball-s-disputed-origin-is-traced-back-back-back.html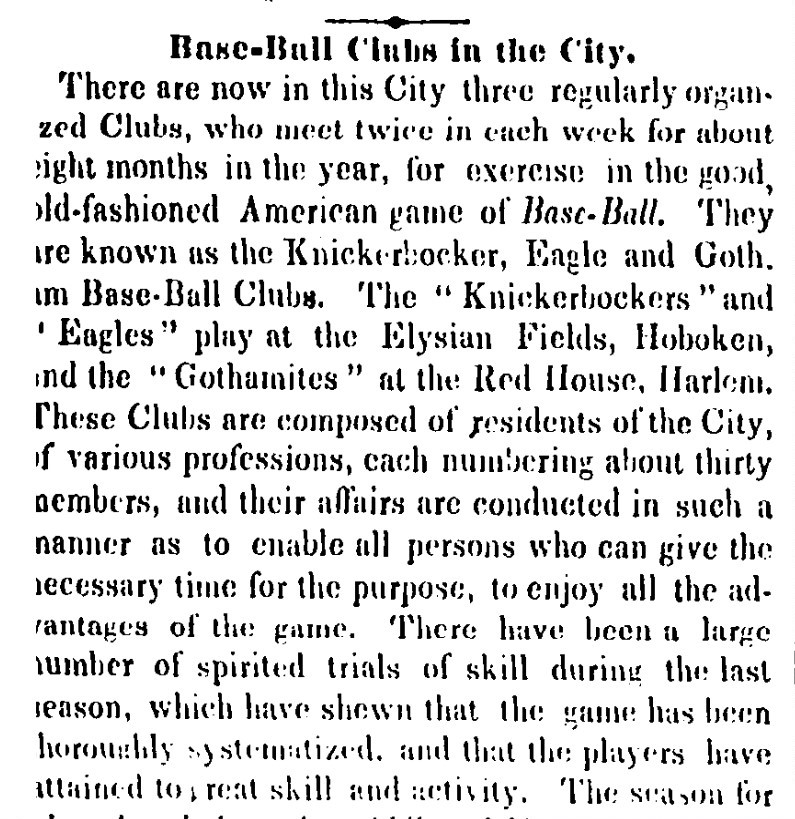 New York Daily Times December 19, 1854: 3.
More on the Gotham Club: http://protoball.org/Gothams_Club_of_New_York