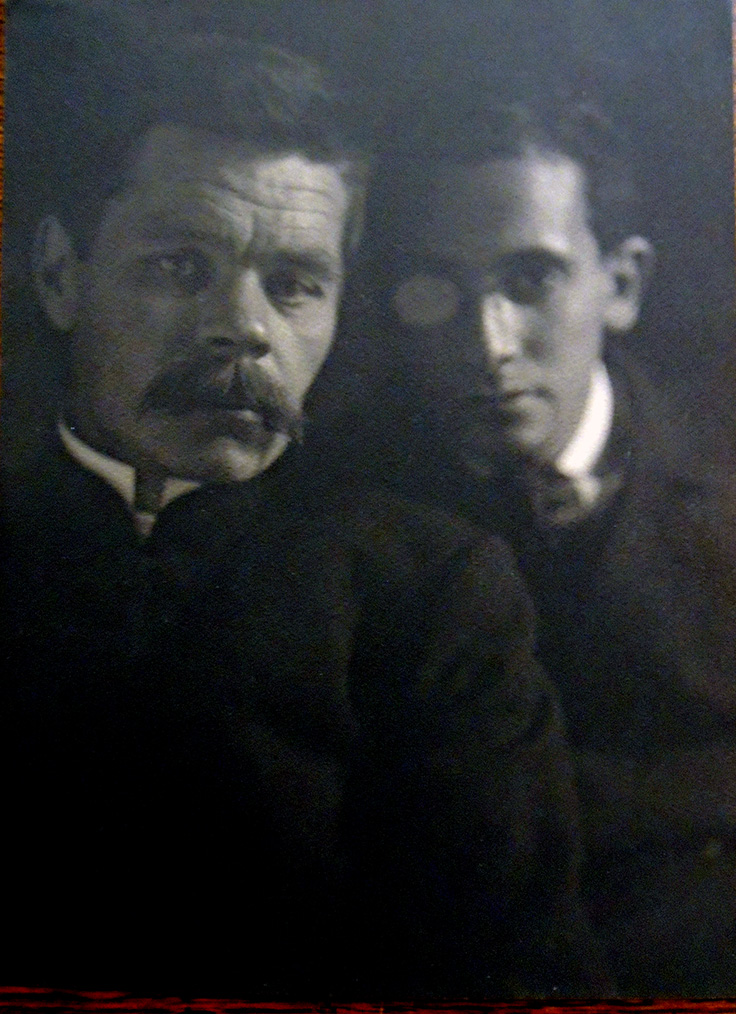 In clearing out an office recently, a platinum print was found signed by the American photographer Alice Boughton (1865-1943). It is a portrait of Maxim Gorky and Zena Peschkoff, his adopted son taken around 1910. This appears to be a slightly different moment than the print owned by the Metropolitan Museum: https://www.metmuseum.org/art/collection/search/270412
The April 1914 issue of Wilson's Photographic Magazine [Graphic Arts Collection HSV 2007 0005M] offers a biographical profile of Boughton written by Beatrice C. Wilcox that mentions the sitting:
While she is interested in illustrative work and in out-of-doors studies, Miss Boughton's principal work is in portrait photography. Many celebrated men and women have sat to her for their portraits, and not the least interesting part of her work is in coming in contact with these various personalities. An experience never to be forgotten was the kindliness of Prof. William James, who had time for everybody, and the sympathetic touch and vivid personality of Ellen Terry.

Celebrities are not always kindly and sympathetic, or even interested in their own pictures, but the photographer must in some way try to get in touch with each one. For instance, Maxim Gorky, who spoke no language but Russian, sat gloomily absorbed in his own thoughts and expected the photographer to do everything. Miss Boughton finally penetrated his gloom and got a look of responsiveness through her interest in his young adopted son, who spoke French and acted as interpreter.

She has taken actors in small dressing rooms, on the roof, and fire escapes, and has overcome many obstacles and perplexities of lens and camera, but, in her opinion, handling the people is the hardest work of all. A photographer must have the social instinct, a sympathetic personality, tact and the infinite patience to make his sitters feel at ease and to bring out the best qualities of each one.
Maxim Gorky (1868-1936) lived in Europe and then America from 1906 to 1913. In the United States he started his classic novel The Mother about a Russian Christian woman and her imprisoned son, who both joined revolutionaries under the illusion that revolution follows Christ's messages. Here is the New York Times announcing Gorky's visit:
GORKY'S ADOPTED SON TELLS OF WRITER'S PLANS. On His Way Here to Get Aid for the Revolutionists. TO SPEAK IN MANY CITIES Pleshkoff Says His Foster Father Will Show Russian Life as It Really Is. Nikolay Zavolzsky Pieshkoff, adopted son and protege of Maxim Gorky, the famous Russian writer, who is due here in a few days, talked with a TIMES reporter yesterday. For more than a year, the young man, who fled from Russia to escape persecution by the agents of the Government, has been living quietly on the east side and earning his living in the mailing room of Wilshire's Magazine. [full article: https://timesmachine.nytimes.com/timesmachine/1906/04/08/101773168.pdf]