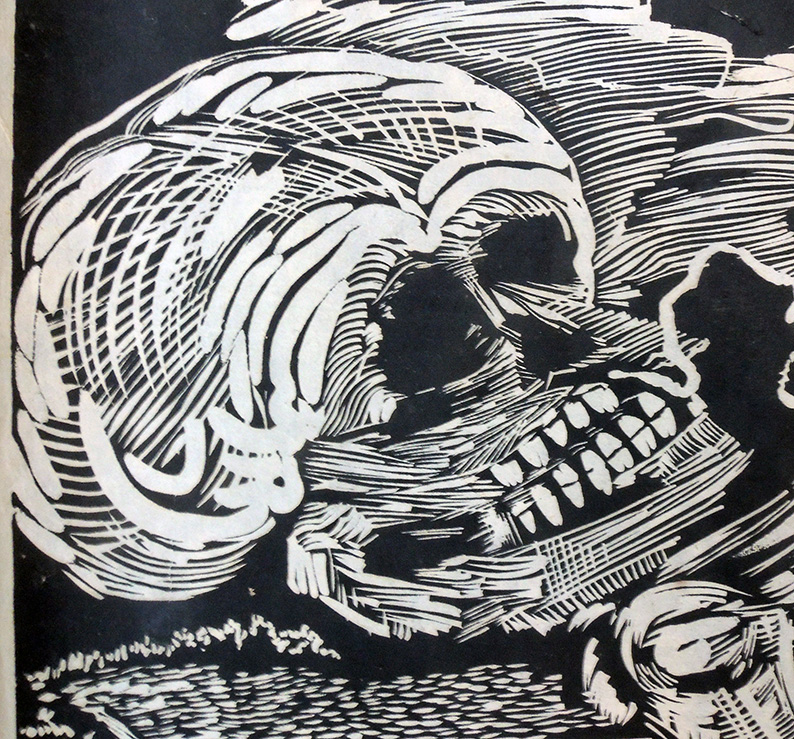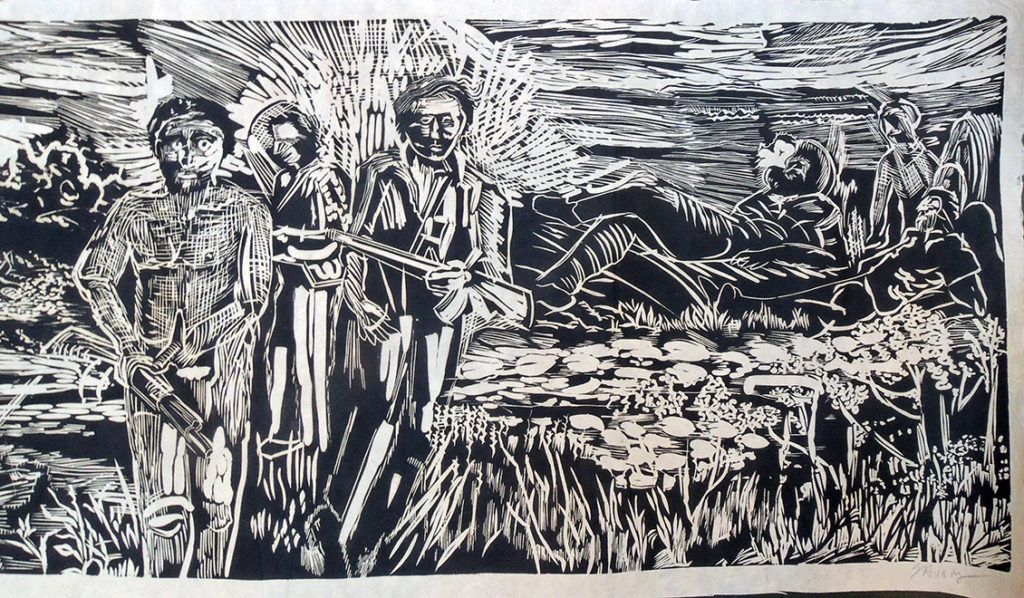 right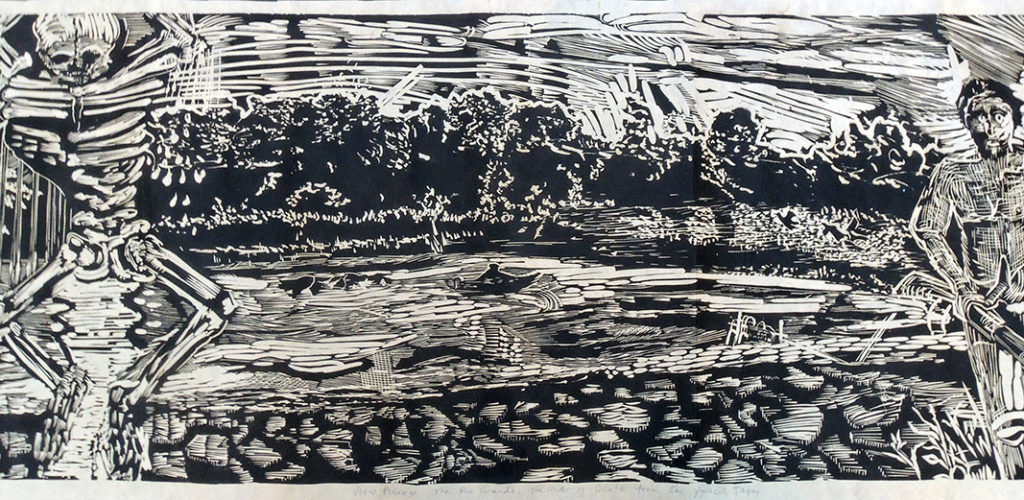 center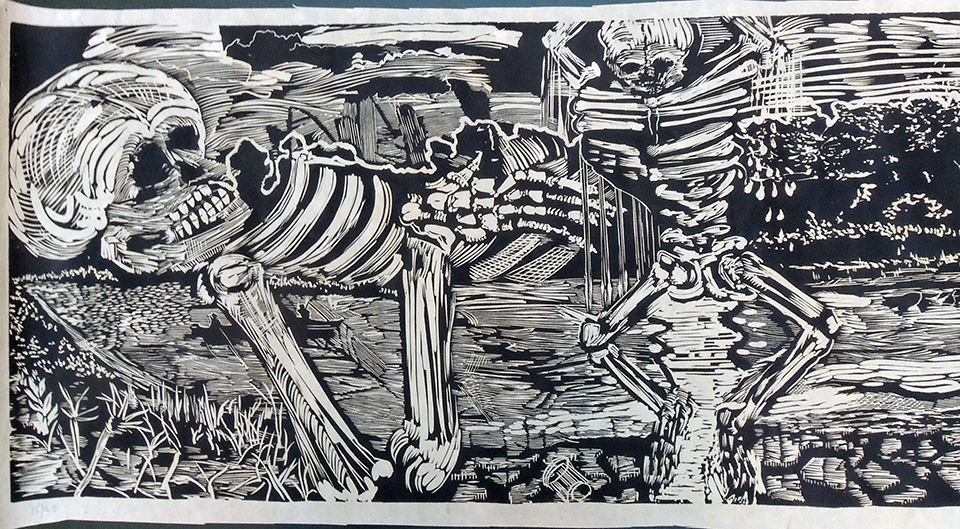 left

Eric Avery, View Across the Rio Grande, the River of Death, from San Ygnacio, Texas, 1983. Linoleum block print on handmade Okawara paper. 26 5/8 x 73¾ inches. 15/20. Gift of the artist. Graphic Arts Collection GAX 2019- in process
Dr. Avery writes, "The image was drawn [in 1983] on linoleum on the Rio Grande River bank, two blocks from my San Ygnacio home. During this time with many undocumented persons, including refugees fleeing the war in Central America, were crossing the river, an occasional body would be found floating in the river. The ones found near San Ygnacio were buried in a paupers section of the cemetery.
On the right side of the print, Michael Tracy is lying on the riverbank, with Henry Estrada, his partner, and myself standing at his side. Fishermen are in their boats in the river. Armed fighters from Central America are crossing in the middle of the print."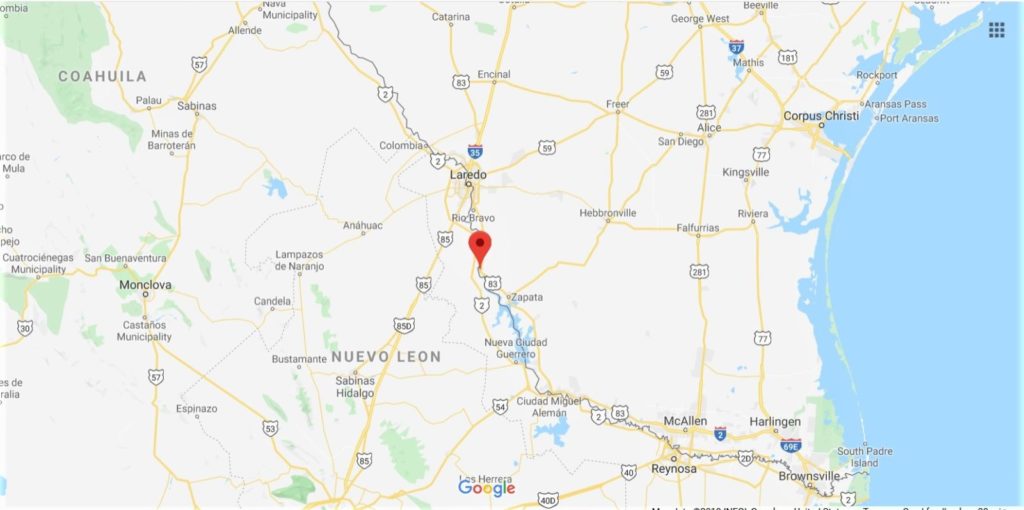 The Texas/Mexico border
The artist notes that he kept a house in San Ygnacio  for 40 years, while also living elsewhere for work.  "Moving back now, the crisis on the Border is much worse than when I made the print. Then, the wars in Central America are represented by the armed men coming north. Now, Trump's Wall is proposed to be constructed on the Riverbank where I made the print."
Eric Avery is an artist/printmaker who became a physician during the Vietnam War in the 1970's. In 1974, he received his medical degree from The University of Texas Medical Branch in Galveston, Texas and then in 1978 completed his psychiatry training at the New York State Psychiatric Institute in New York City. For forty years he has worked at the intersection of visual art and medicine, leaving the practice of medicine several times to concentrate on his art career. His social content prints explore issues such as Human Rights Abuses, and Social Responses to Disease (specifically HIV and Emerging Infectious Diseases), Death, Sexuality and the Body. His body of work is more thoroughly represented at www.docart.com.
This semester his work is highlighted in the exhibition: States of Health: Visualizing Illness and Healing on view at the Princeton University Art Museum through Sunday, February 2, 2020. https://artmuseum.princeton.edu/art/exhibitions/3617