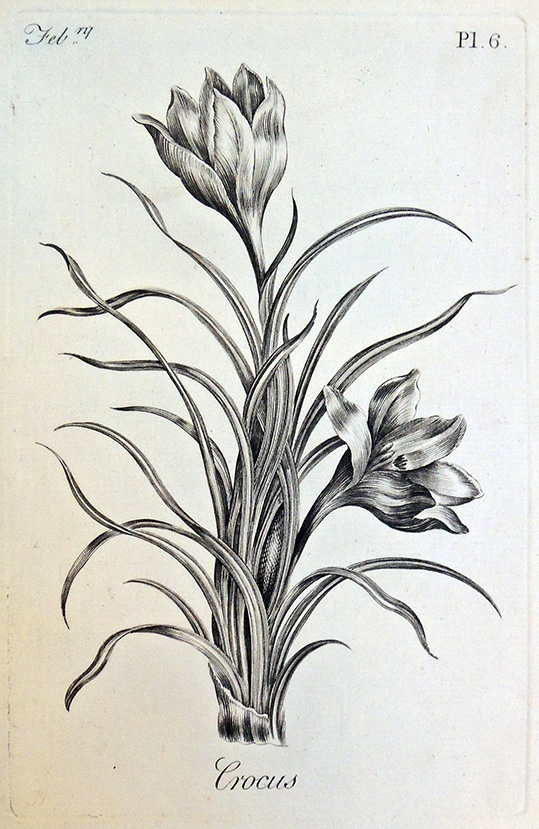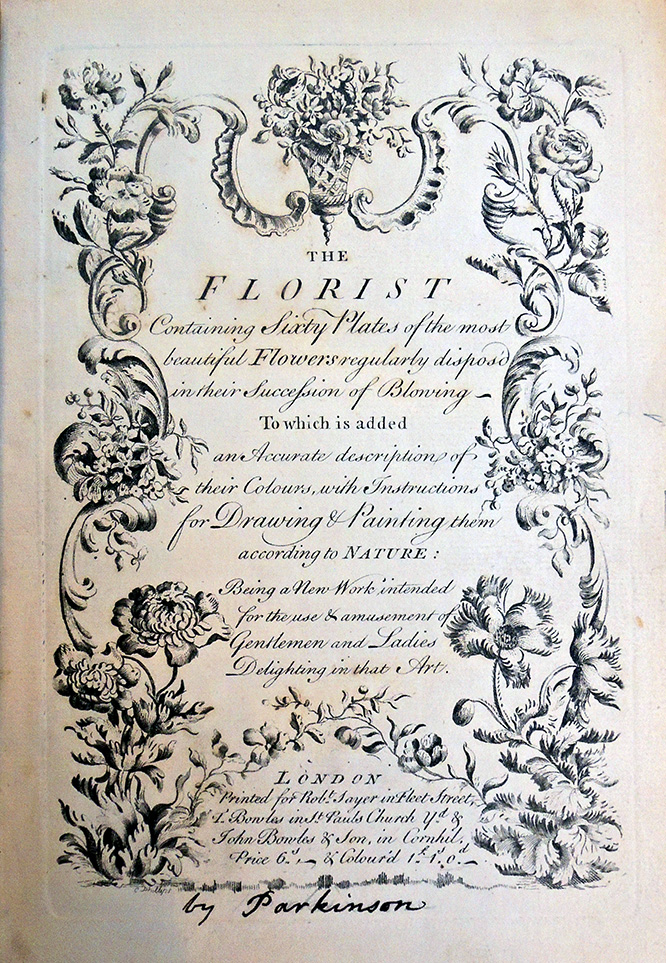 The Florist. Containing Sixty Plates of the Most Beautiful Flowers Regularly Dispos'd in Their Succession of Blowing to Which Is Added an Accurate Description of Their Colours, with Instructions for Drawing & Painting Them According to Nature: Being a New Work Intended for the Use & Amusement of Gentlemen and Ladies Delighting in That Art (London: Robert Sayer and Thomas Bowles, ca. 1760). Graphic Arts Collection GAX 2019- in process.
Provenance: Thomas Baskerfeild (1752-1816), a wealthy artist from Bedforshire who lived on the profits his father made as a drysalter ("a dealer in chemical products, dyes, etc. or, formerly, in dried or salted foods") in partnership with Sir Richard Glyn in Hatton Garden. His library was sold by Sotheby's in a sale that lasted seven days beginning November 13, 1817, and raised a total of £1426.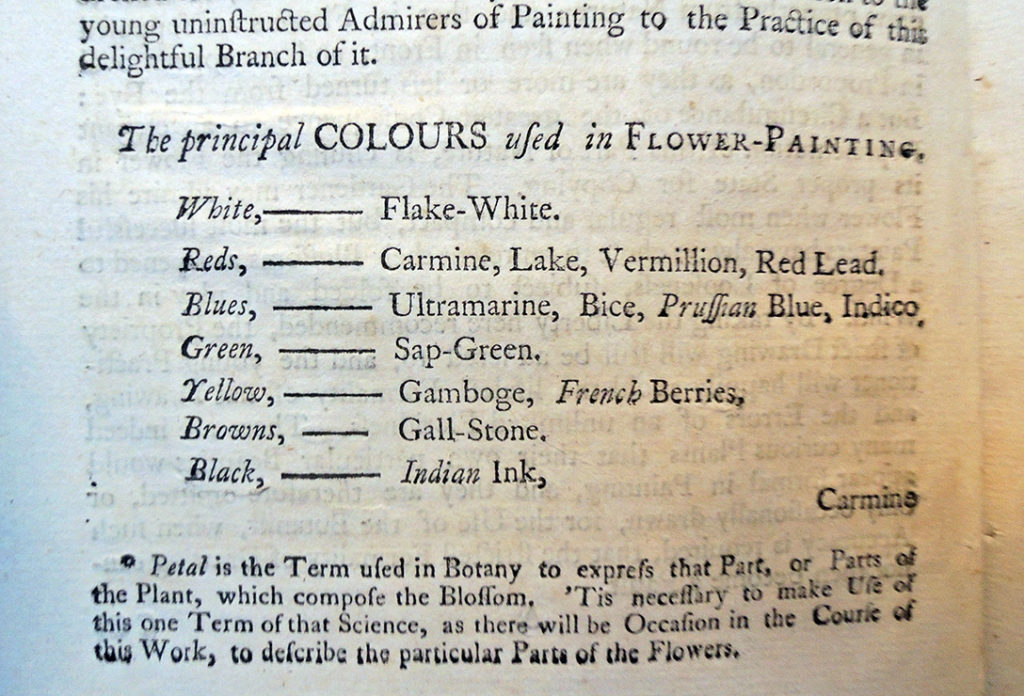 The Graphic Arts Collection has a spectacular new botanical drawing book, one of the first painting manuals designed for adult use. Published by Robert Sayer (1725-1794) in collaboration with Thomas, Robert,  and Carington Bowles, the work includes a suite of 60 plates depicting specific flowers, together with detailed instructions on how to color each one. The principal colors are listed in the introductory text [above], all of which could be obtained from the publisher: "Ladies and Gentlemen may be supply'd with the aforemention'd Colours, and all other, carefully prepar'd: Also, all Materials for Drawing and Painting, at the most reasonable Rates, by the Publisher of this Work" (p. 3). Specific instructions for coloring each flower are then given, with information on the particular recommended colors.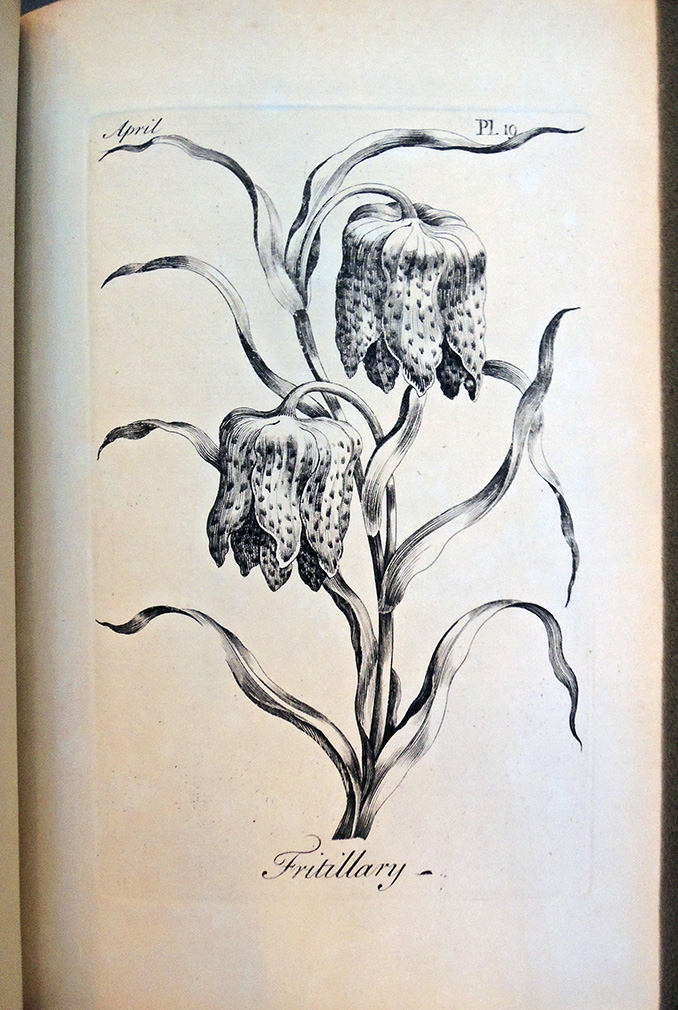 This edition is dated to ca. 1760 because of the "John Bowles and Son" in the imprint, since the family worked under this name from 1753 until 1764. In Blanche Henrey's British botanical and horticultural literature before 1800 (Reference Collection Z5352 .H45), he notes three editions using the same plates and title-page, with the major difference between the first two being the numbering of the text section as pp. 61-76 rather than pp. [1]-16, as here. Henrey's third edition includes the name of Jonathan Bennett in the imprint. Both text and plates were later copied and published under the title Bowles' Florist. Henrey notes only seeing one copy of each of the editions mentioned, two copies black and white and the copy noted for the present edition being the only colored one (at CKC). "The compiler has, so far, seen only one copy of this edition [no. 709, the Bennett edition] of The Florist. It is in the Lindley Library, R.H.S. and the plates are uncoloured. According to a statement on the title-page coloured copies were also obtainable." As shown here, Princeton's book is uncolored.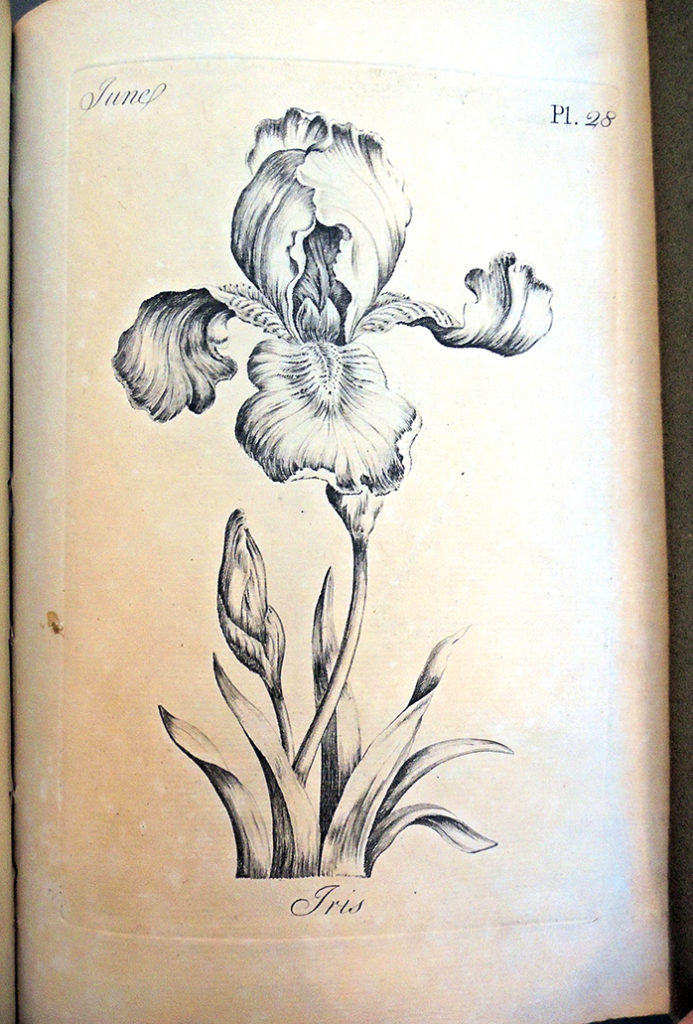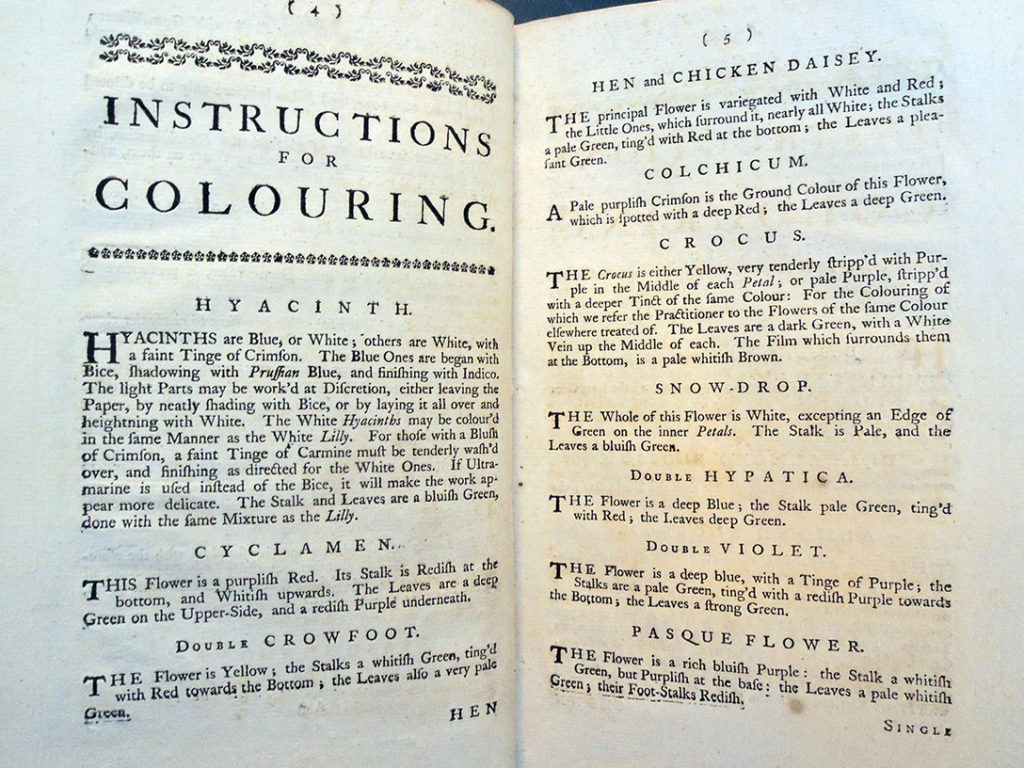 Another edition not mentioned in Henrey has the imprint "Sold by I. Smith, at Hogarth's Head, Cheapside, London" (OCLC lists Wellcome only). As well as the entries in OCLC and ESTC, Yale Center for British Art has two copies, one of which is colored, and Virginia's Oak Spring Garden Library also has a copy.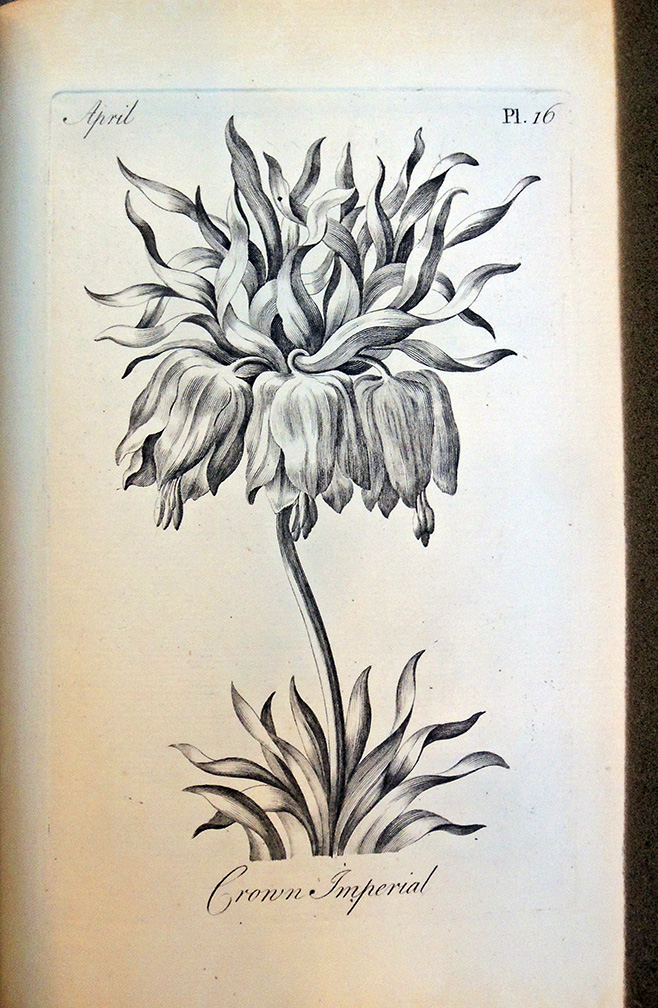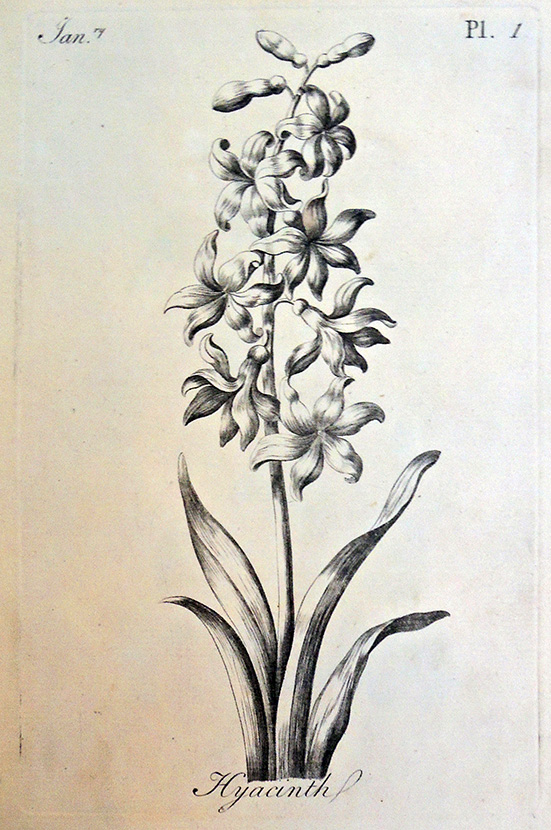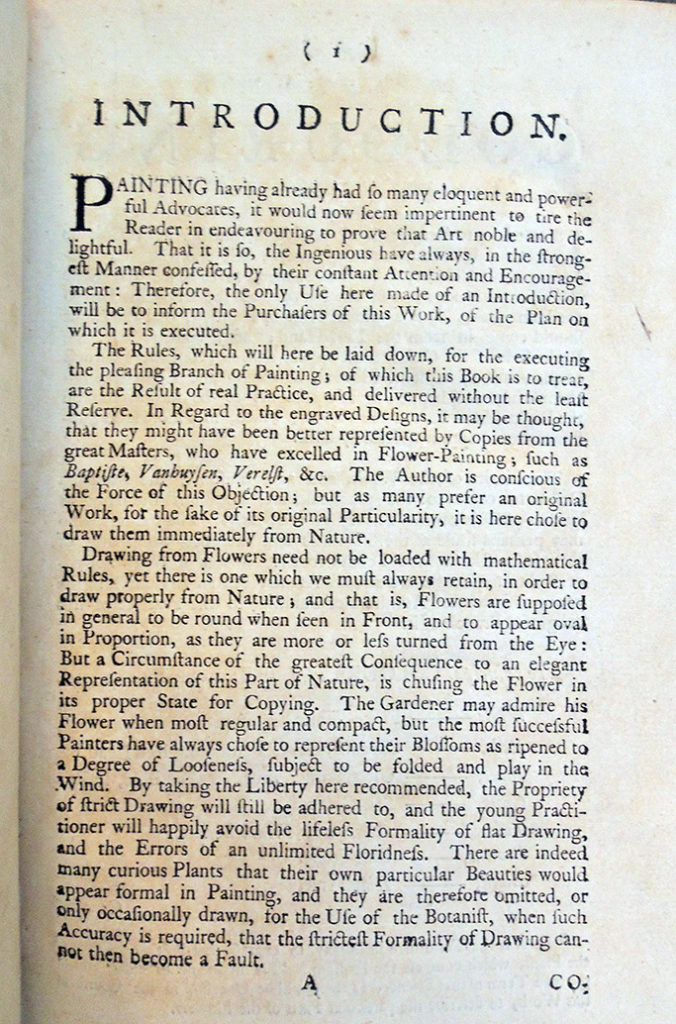 "Painting having already had so many eloquent and powerful advocates, it would now seem impertinent to tire the Reader in endeavouring to prove that Art noble and delightful. That it is so, the ingenious have always in the strongest manner confessed by their constant attention and encouragement: therefore, the only use here made of an introduction will be to inform the purchasers of this work, of the plan on which it is executed."