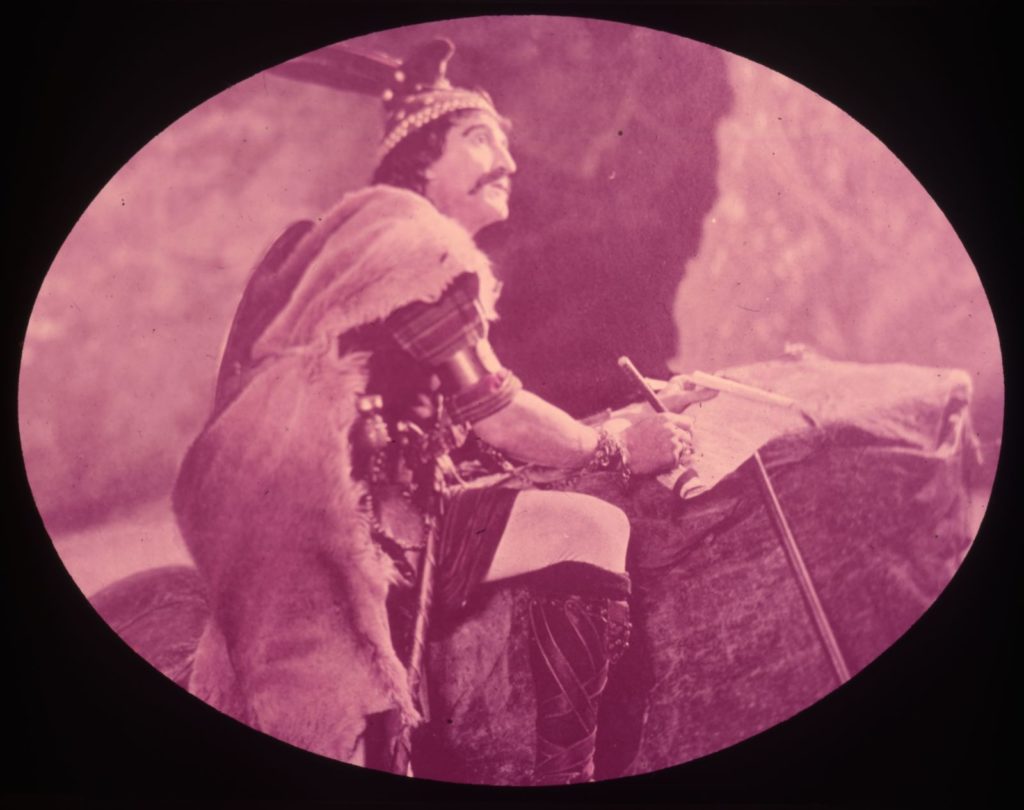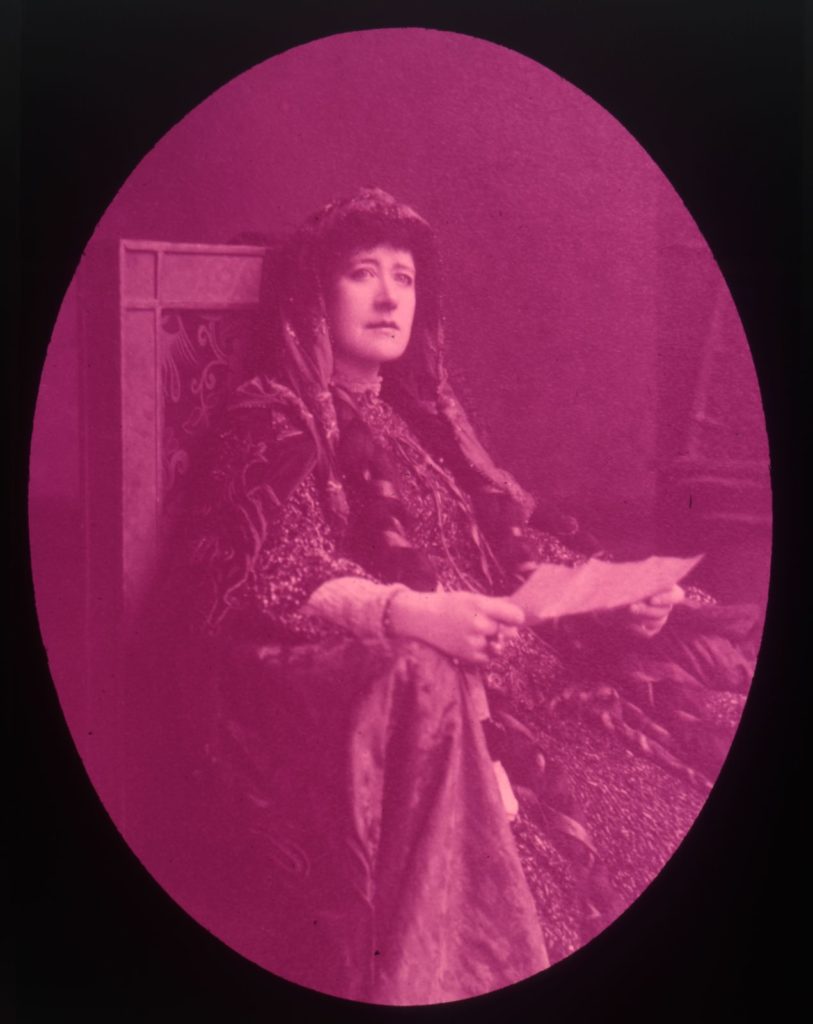 A recent photo-reproduction request for the Macbeth slides within The Wheeler collection of lantern slides (formerly held by the Brander Matthews Dramatic Museum, 412 Low Library, Columbia University), led to the discovery that many had turned pink.
Regardless, there are some wonderful photographs and prints of Shakespeare productions in the 19th century. The collection includes 19 boxes of slides, together with 3 boxes of ring-bound 3×5 card sets, plus six other related items (stored in box 19).
Access is provided by a box list [see below] and a list in numeric order giving a brief description of each numbered slide. There is also the ring-bound card sets, grouped by presentation such as 'Belgian Children's Theatre'.
Contents of boxes http://libweb.princeton.edu/libraries/firestone/rbsc/aids/tc123.columbia.pdf
Listing by Wheeler number http://libweb.princeton.edu/libraries/firestone/rbsc/aids/tc123.wheeler.pdf
Many Wheeler slide sets are productions of William Shakespeare, Macbeth highlighted here. For details on the Brander Matthews Dramatic Museum, http://www.columbia.edu/cu/lweb/archival/collections/ldpd_6661090/ see the records of the Museum (1910-1971) held by the Archives of Columbia University. We call it the 'Wheeler Slide Collection,' probably because these slides were made by the New York firm DeWitt C. Wheeler.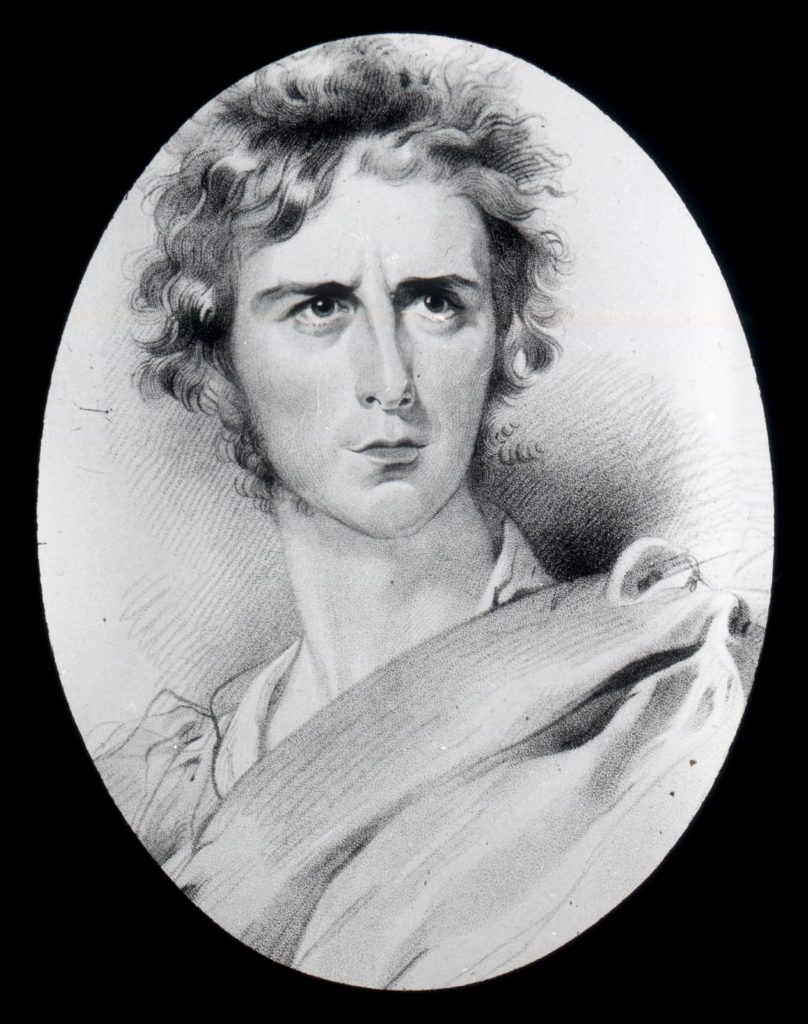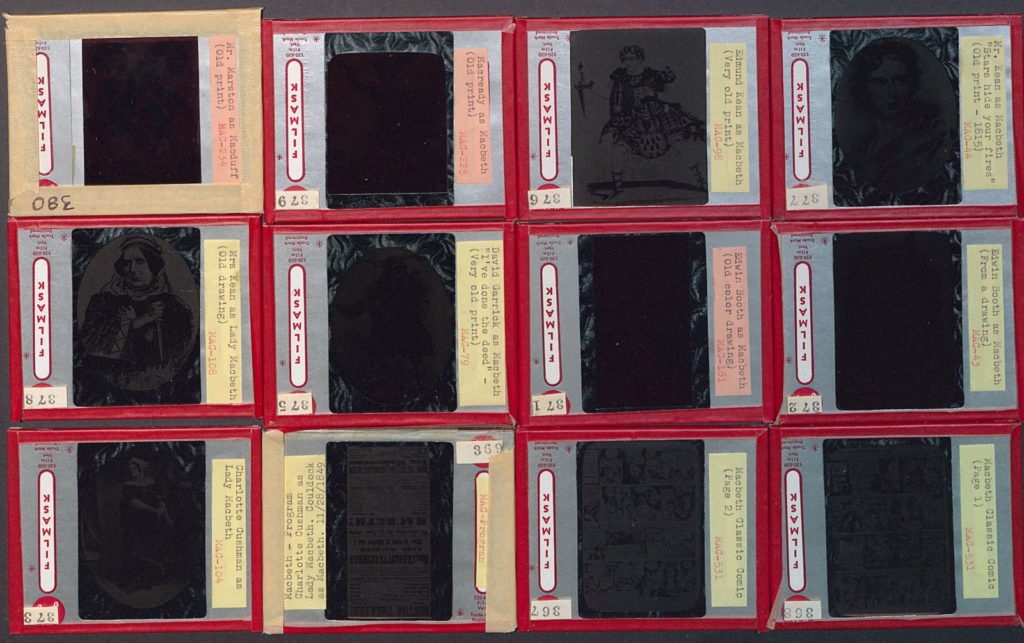 https://catalog.princeton.edu/catalog/3849555
From Columbia's website: "Brander Matthews (1852-1929). Appointed to the Columbia College faculty in 1892, Matthews began collecting theater-related memorabilia in 1911, convinced that the only way to learn about drama was through first-hand acquaintance with artifacts, images, and texts of the theatrical past.
Matthews then donated his own collection of theatrical memorabilia to the University to support the burgeoning study of world-wide theater history. He commissioned stage models representing historical periods, collected the scripts and theatrical designs of his contemporaries, gathered more than 30,000 images of actors and entertainers, and purchased masks and puppets from dealers and performers all over the world.
Thanks to a generous endowment, additions to the collection were made for decades after Matthews died in 1929. The Dramatic Museum was housed in Low Library at Columbia until it was closed in 1971; since then the collection has been split between various archival repositories at Columbia University."