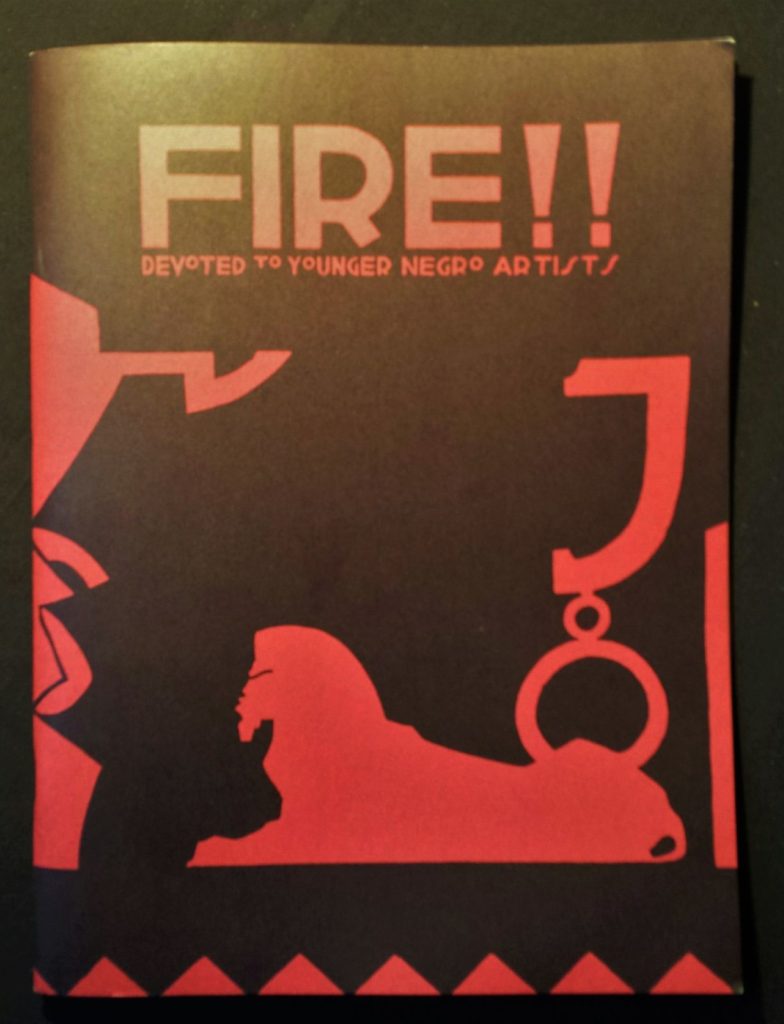 Wallace Thurman (1902-1934) editor, FIRE!! a Quarterly Devoted to the Younger Negro Artists. Facsimile edition (Metuchen, NJ: Fire!! Press, 1982, 1926). Graphic Arts Collection GAX 2020- in process. Cover design: Aaron Douglas. Illustrations: Richard Bruce and Aaron Douglas.
Vol 1, no. 1, Nov. 1926. "This facsimile edition … consists of fourteen hundred copies, of which one hundred twenty have been numbered and signed by Richard Bruce Nugent" p.48.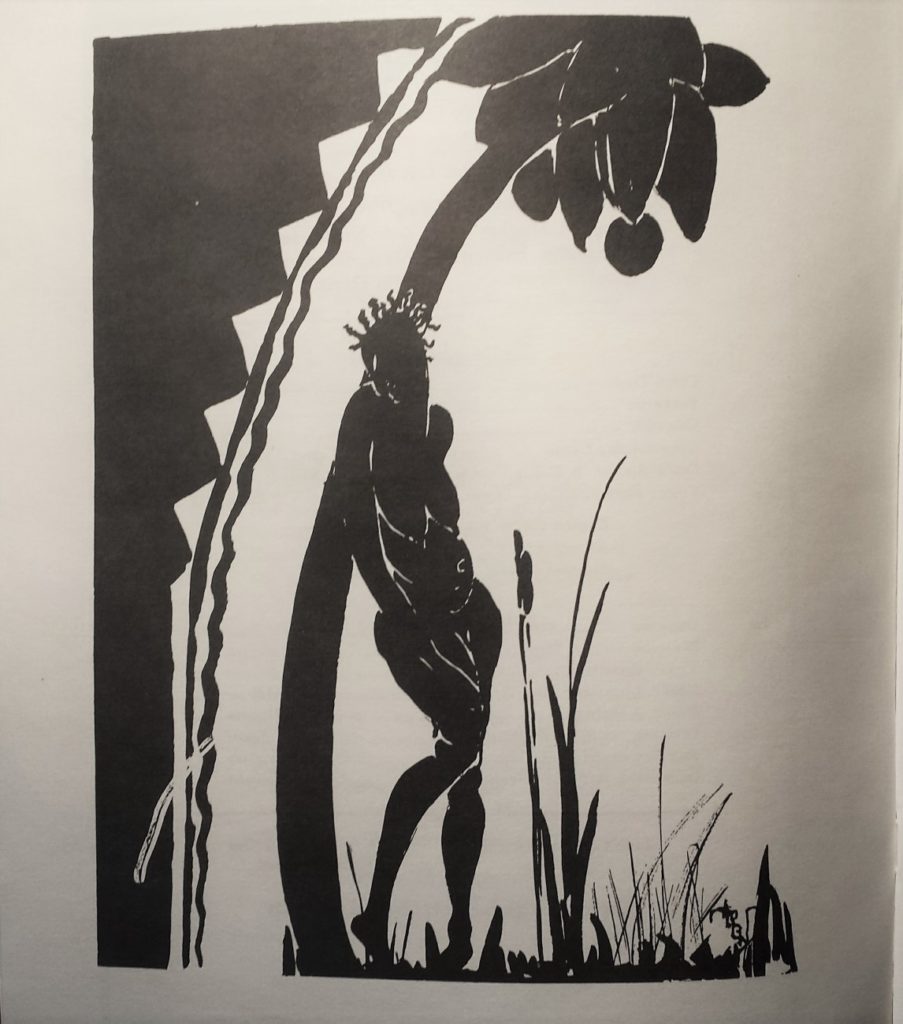 Contents:
Cordelia the Crude, a Harlem sketch by Wallace Thurman
Color Struck, a play in four scenes by Zora Neale Hurston
Flame from the Dark Tower, a section of poetry: From the Dark Tower by Counteé Cullen
A Southern Road by Helene Johnson
Jungle Taste by Edward Silvera
Finality by Edward Silvera
The Death Bed by Waring Cuney
Elevator Boy by Langston Hughes
Railroad Avenue by Langston Hughes
Length of Moon by Arna Bontemps
Little Cinderella by Lewis Alexander
Streets by Lewis Alexander
Wedding Day, a story by Gwendolyn Bennett
Smoke, Lilies and Jade, a novel, part 1 by Richard Bruce
Sweat, a story by Zora Neale Hurston
Intelligentsia, an essay by Arthur Huff Fauset
Fire Burns, editorial comment by Wallace Thurman
Lighting Fire!! by Richard Bruce Nugent (ca. 1982)
FIRE!! in Retrospect by Thomas H. Wirth (ca. 1982).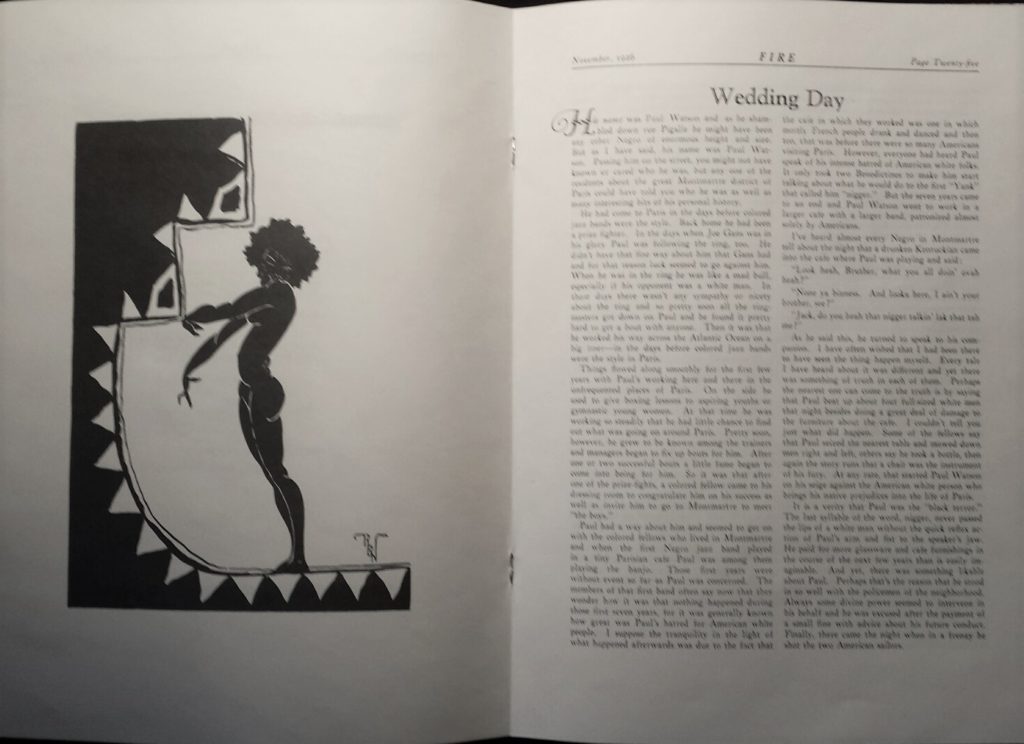 "Fire!! In Retrospect" by Thomas H. Wirth:
"More than fifty years have passed since FIRE!! Was published in November, 1926. Copies of the original are treasures beyond price. Langston Hughes reports in his autobiography The Big Sea that several hundred of them were consumed (quite literally) by a real fire in the basement where they ere stored. Then FIRE!! Went broke. Indeed, it never was solvent. Only the fist issue of this "Quarterly Devoted to Younger Negro Artists" ever appeared.
By definition, treasures are not simply rare. They are important. Its table of contents reveals instantly why FIRE!! Is important. Here is a roster of major names in the chronicles of Afro-American literature and art: Wallace Thurman, Zora Neale Hurston, Aaron Douglas, Langston Hughes. These, the most talented and creative of their generation, combined to generate…FIRE!!
…Unlike Alain Locke's The New Negro, published the year before FIRE!! Was not conceived and assembled by a single impresario. FIRE!! Was the joint creation of these seven first-rate minds. A number of other significant talents also contributed to ti. It was a special time and a special place which made the collaboration possible. Hence FIRE!! Is, in a real sense, the Harlem Renaissance incarnate."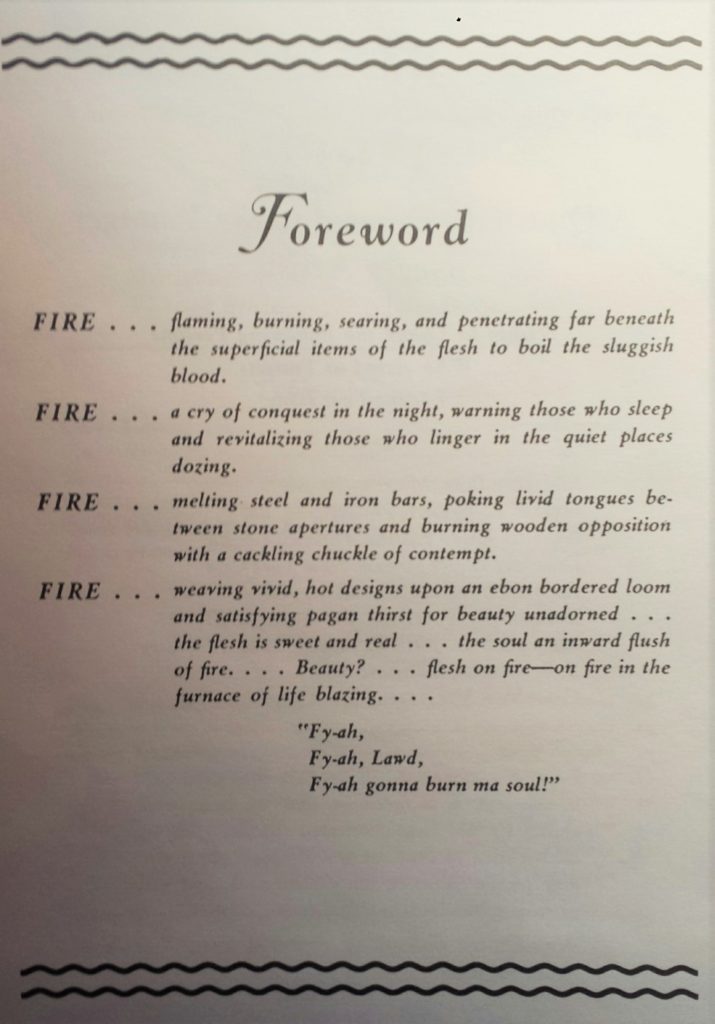 A copy of the original edition is archived in the Manuscripts and Rare Books Collection at the Schomburg Center for Research in Black Culture, 135 Street, New York City.