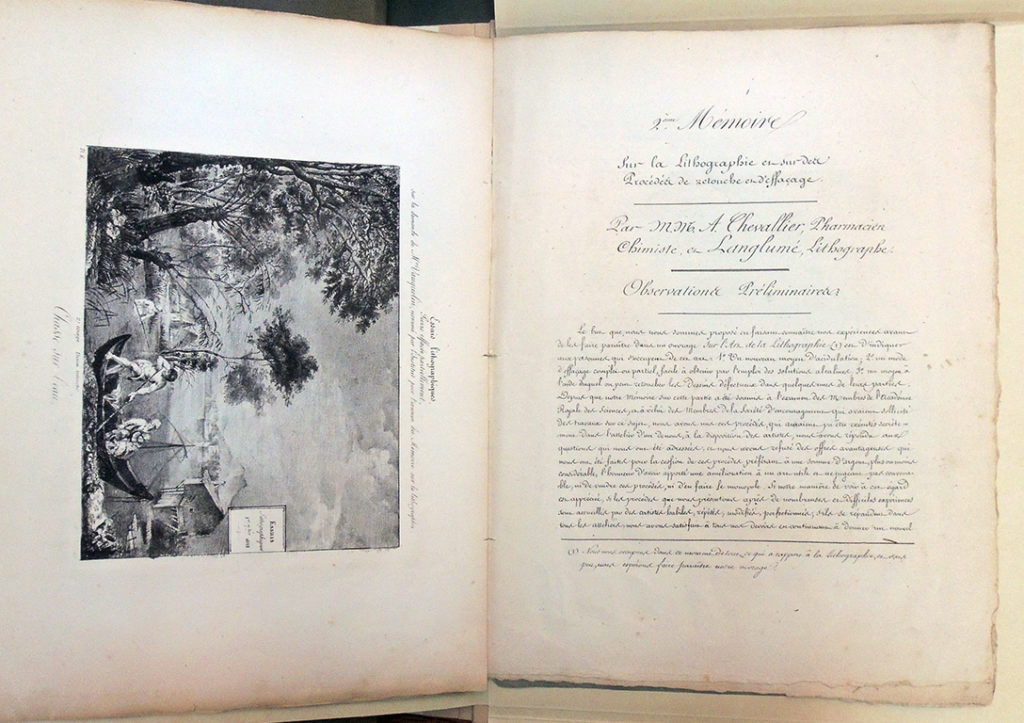 How to make a correction on a lithographic stone without starting over from the beginning.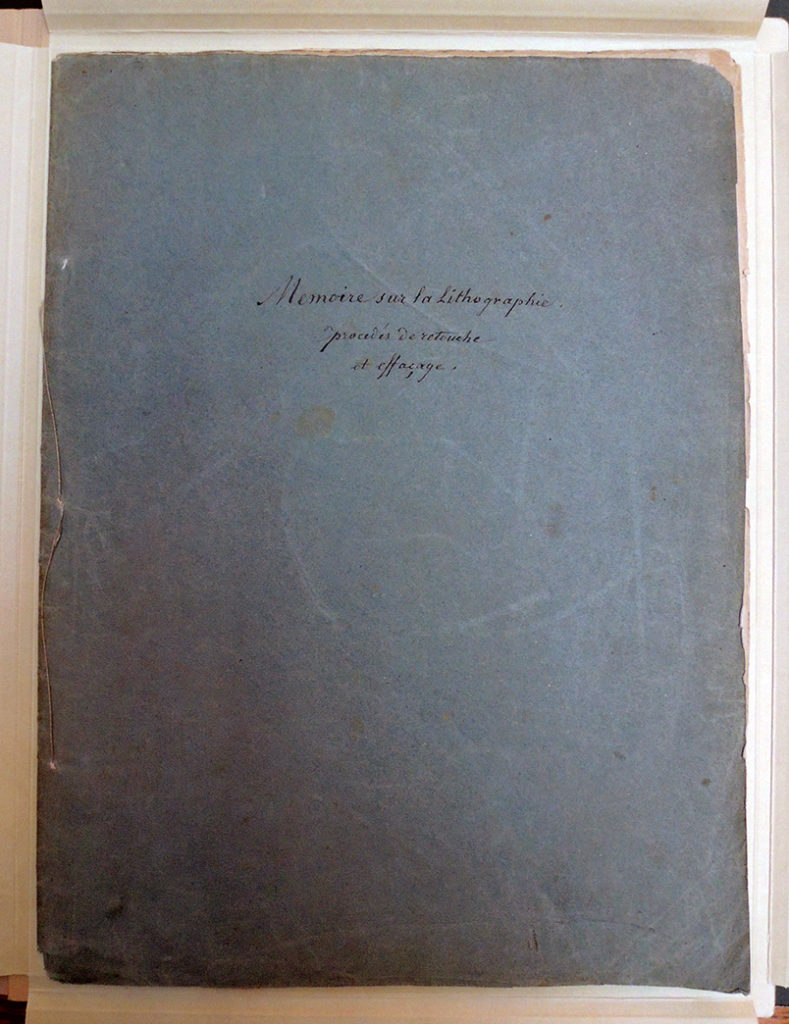 Alphonse Chevallier (1793-1879) and Pierre Langlumé (1790-1830). Deuxième mémoire sur la lithographie et sur des procédés de retouche et d'effaçade. Paris, no imprint, 1828. 18 pp. (9 lithographic plates and 9 lithographic text). Lithographed index of plates, of which two signed D.R. and lith. Langlumé, and seven with lithographic manuscript signatures of Anselme Payen (1795-1871), Charles-Philibert de Lasteyrie (1759-1849) and Edme-Francois Jomard (1777-1862) dated 26 juillet 1828 in lower white margin of plates.
The Graphic Arts Collection has superb holdings in the history of printing, with lithography well represented. This acquisition brings a key missing piece not only to our collection but to public research holdings for the world.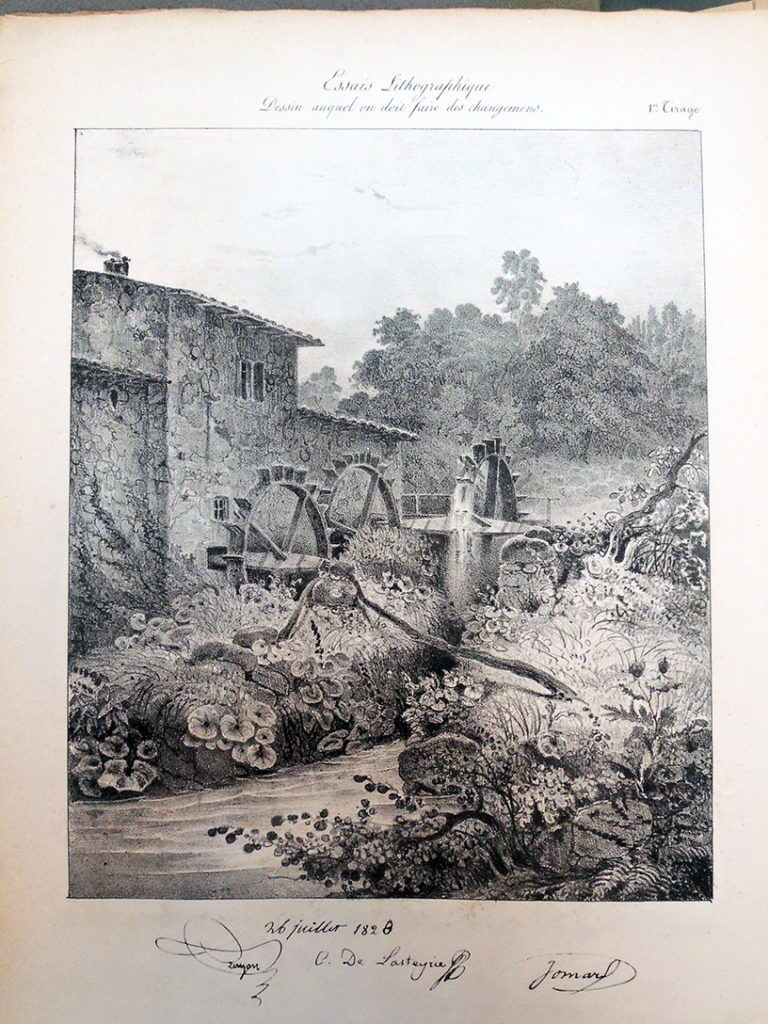 In the nineteenth century, lithographic printing quickly spread throughout Europe and beyond, particularly after 1818 when Alois Senefelder published a comprehensive manual (English edition: Graphic Arts Collection Oversize Rowlandson 905q and Oversize NE2420 .S5q). Others followed in quick succession and through these we can trace the many technical innovations introduced during the 1820s and 1830s.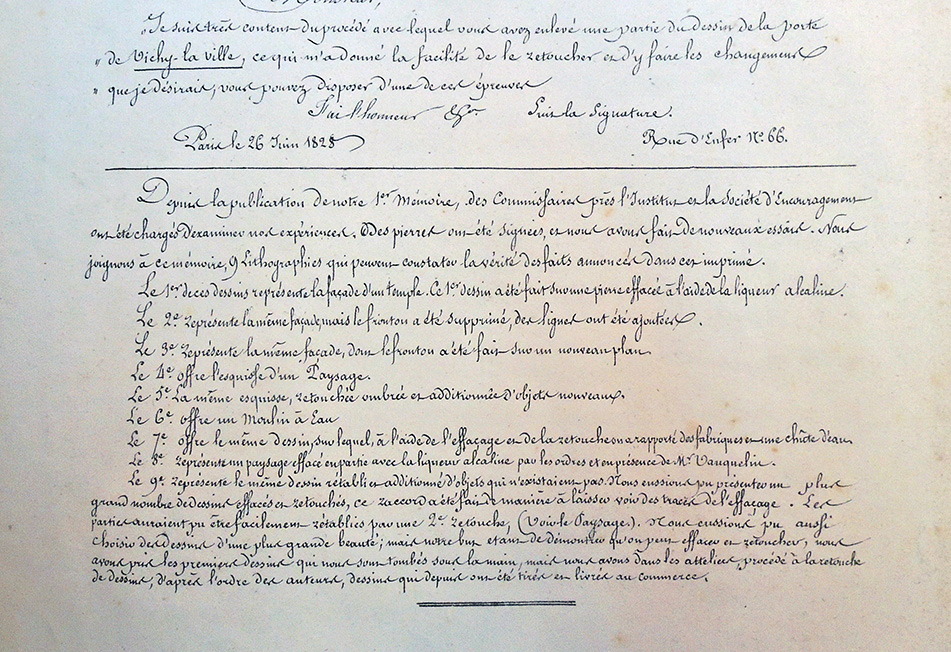 By 1819 printers could read not only Senefelder's work, but also the leading French manual (Antoine Raucourt de Charleville, Mémoire sur les expériences litrographiques [sic] faites a l'École royale des ponts et chaussées de France. Graphic Arts Collection NE2420 .R2 1819) and the English translation prepared by the London lithographer Charles Hullmandell. (A Manual of Lithography, or, Memoir on the Lithographical Experiments Made in Paris. Graphic Arts Collection 2004-2934N).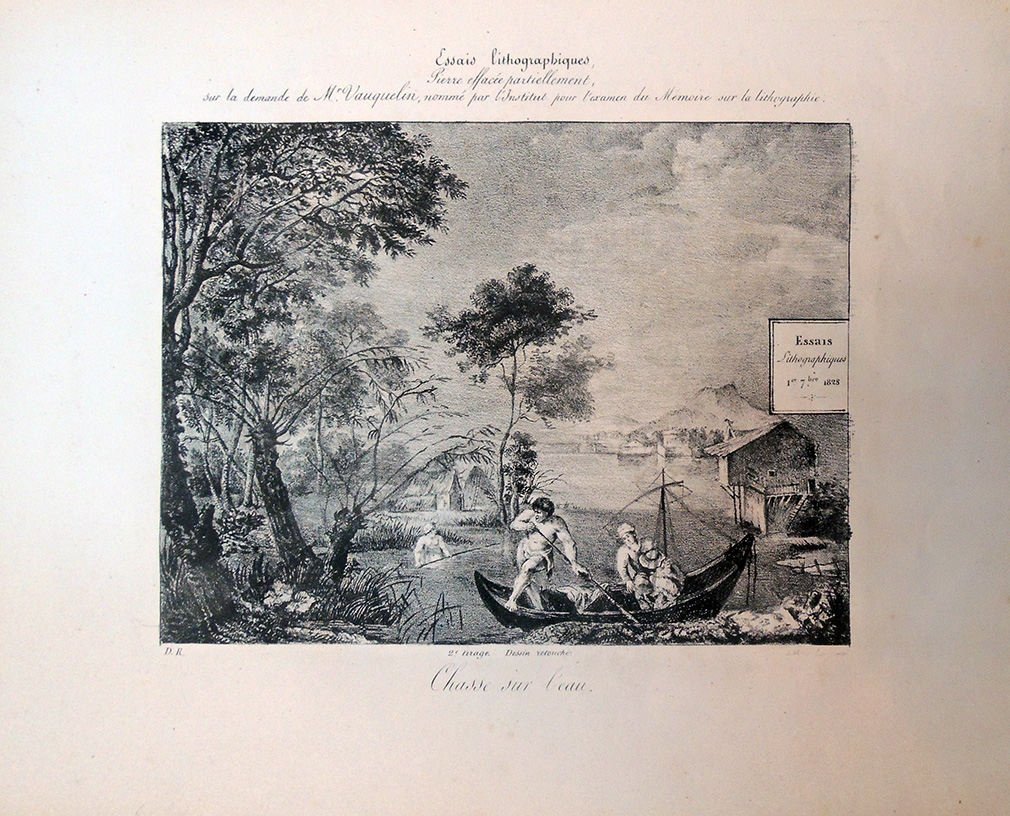 Founded in Paris in 1801, the Société d'encouragement pour l'industrie nationale (Society for Encouraging National Industry) offered medals and prizes for many branches of science and industry, in an effort to promote research and development of "useful knowledge." In 1826 the Société offered a prize of 100 francs to lithographers "pour la meilleure méthode de faire des retouches" and in 1828 the gold medal was awarded to the chemist Jean-Baptiste-Alphonse Chevallier and the lithographic printer Pierre Langlumé. That same year they published a description of their process Mémoire sur la lithographie et sur des procédés de retouche et d'effaçade.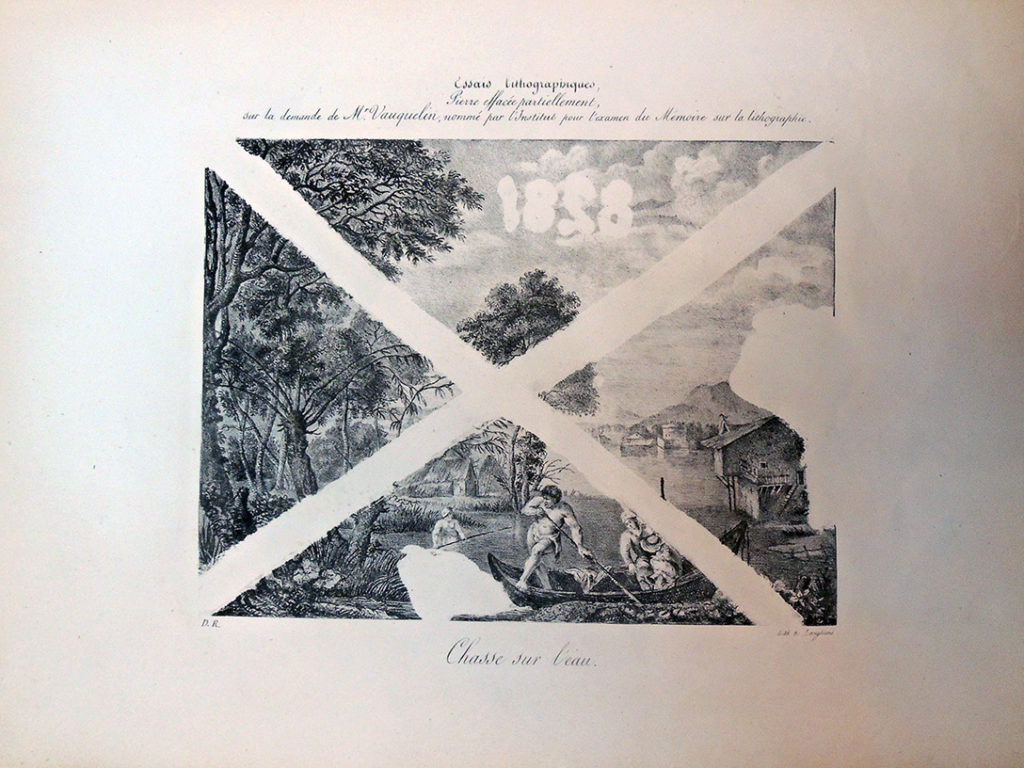 By that time, many people had perfected printing on stone but no one had found a way to correct or change marks without regrinding the stones and starting from scratch. Chevallier developed the use of a solution of potassium hydroxide (potasse caustique) in varying degrees of strength according to whether the whole drawing was be removed or a small section re-sensitized for further drawing.
According to Michael Twyman "The liberating effect was on a more mundane level; it gave the artist more confidence in the medium. A tone that printed lighter than it looked on the stone could be worked darker after a proof had been taken, accidents in the printing could be repaired, extra foliage could be added to the foreground to improve a picturesque landscape;" (Twyman, Lithography 1800-1850).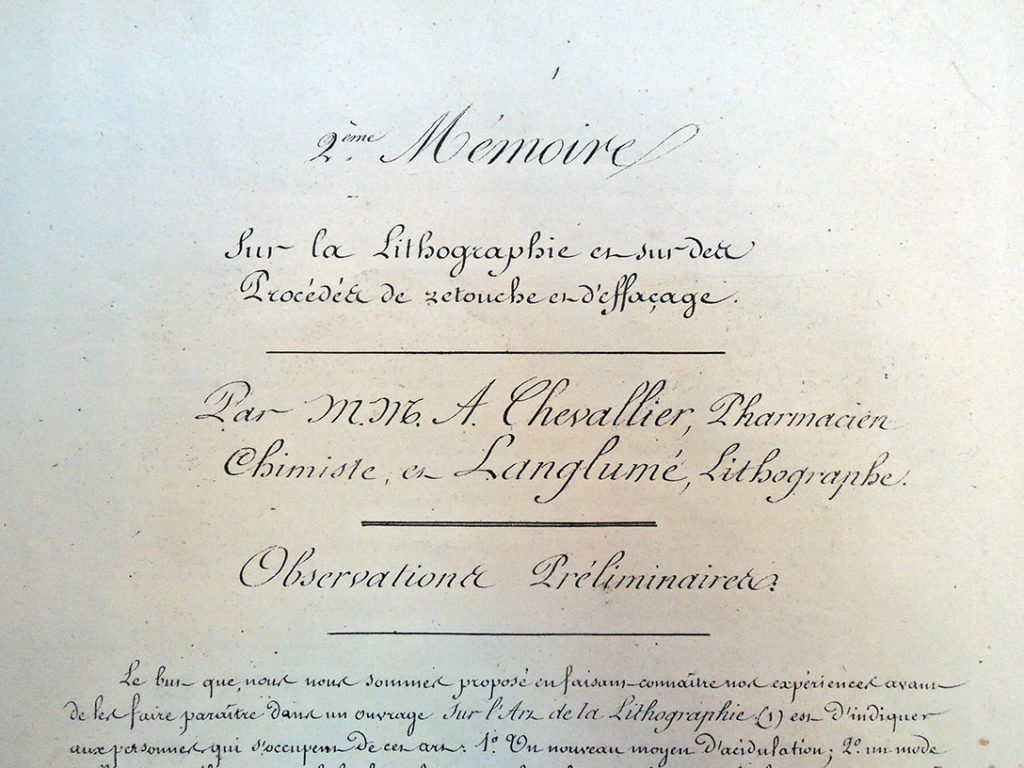 Chevallier and Langlumé wrote their submission to the Société d'Encouragement lithographically and only later, published a letterpress version to the public (see bibliography). It seems that the plates had been produced a month later after the lithographed text was submitted. It's interesting to note that the dates on the plates are quite crudely corrected from 1826 to 1828. Another important fact is some kind of involvement of and contribution by Charles-Philibert de Lasteyrie in this project, who created the first lithography establishment in France, bringing the technology back from the German Aloys Senefelder.
This lithographically produced treatise is believed to be the only copy of the original edition of Chevallier's complete work on lithography and represents an important moment in the history of printing.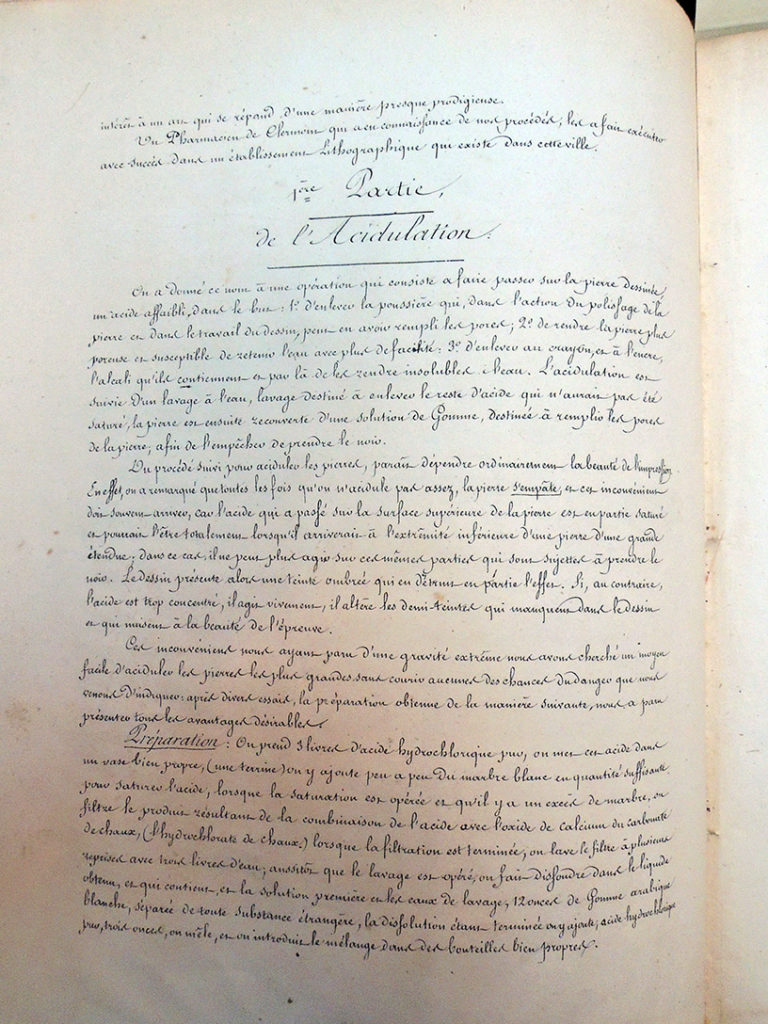 The letterpress editions:
Alphonse Chevallier (1793-1879). Mémoire sur quelques améliorations apportées à l'art de la lithographie = Dissertation on some improvements made to the art of lithography, Paris: 1828. Mentioned in histories but no copy known to exist.
Alphonse Chevallier (1793-1879). Mémoire sur l'art du lithographe: amélioration à y apporter Paris: Impr. de Cosson, 1829. 45 p. 4 plates. Columbia University, University of Virginia, and Bibliothèque cent du muséum national d'histoire naturelle. *note, Coming to Paris as a youth, Chevallier worked as a laboratory assistant at the Museum of Natural History, so it is not surprising that library holds this rare text.
Alphonse Chevallier (1793-1879) and Pierre Langlumé (1790-1830). Traité complet de la lithographie, ou Manuel du lithographe… ; avec des notes de MM. Mantoux et Joumar... Paris: 1838. 1 vol. (XVI-270 p.) in-8. Multiple collections, no plates in most.