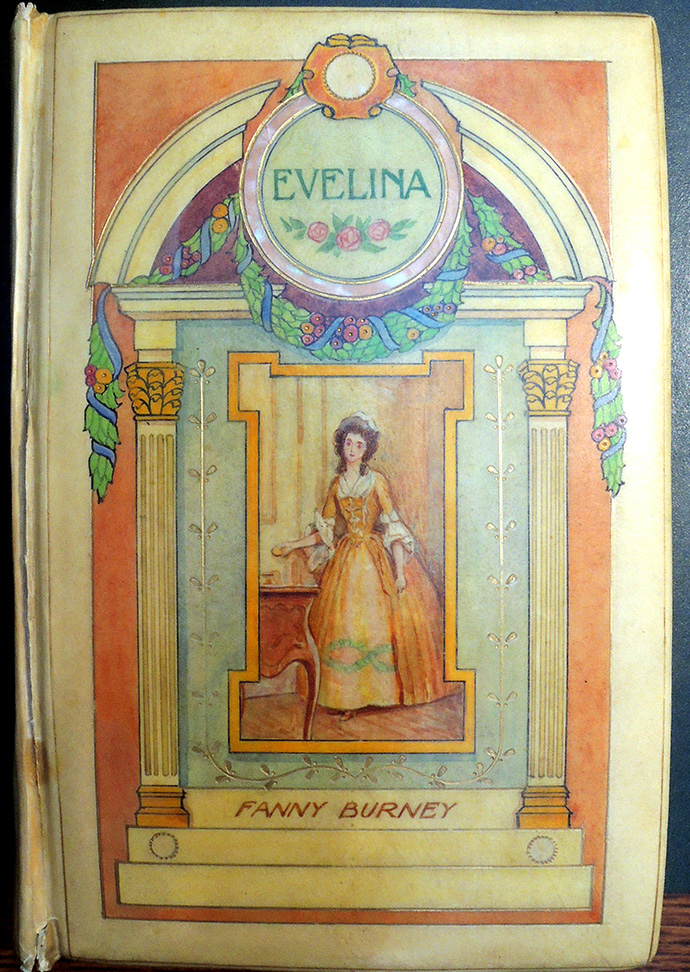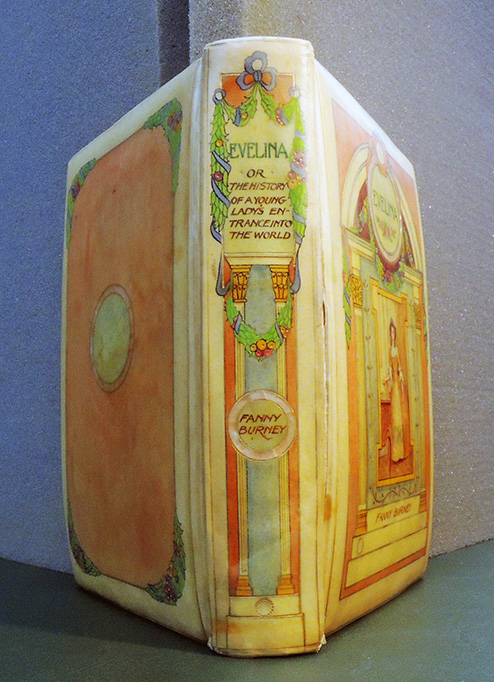 Vellucent binding: "A method of decorating (and protecting) a bookbinding utilizing transparent vellum. The technique was developed by Cedric Chivers sometime around 1903, and is designed not only for the protection of leather bindings, but also to protect covers bearing colored designs (usually pictorial in nature) painted on paper, attached to the boards, and then covered with the vellum. The vellucent covering is also suitable for highly decorative designs because it is possible to further embellish the design by means of mother-of-pearl, iridescent shell, and the like, all of which may be covered and permanently protected by the vellum. The surface of the vellum itself can he tooled in gold, thus further enhancing the entire effect. See also: EDWARDS OF HALIFAX . (94 , 236 )"—CoOL URL: http://cool.conservation-us.org/don/dt/dt3692.html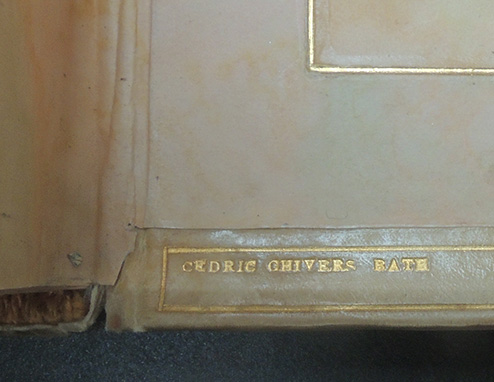 Thanks to Stephen J Gertz for the following: http://www.booktryst.com/2010/07/cedric-chivers-art-vs-library-bindings.html
"In his large bindery at Portway, Bath, Chivers employed about forty women for folding, sewing, mending, and collating work, and in addition, five more women worked in a separate department, to design, illuminate, and colour vellum for book decoration, and to work on embossed leather. These five were Dorothy Carleton Smyth, Alice Shepherd, Miss J.D. Dunn, Muriel Taylor, and Agatha Gales. Most Vellucent bindings were designed by H. Granville Fell, but the woman most frequently employed for this kind of work was probably Dorothy Carleton Smyth" (Marianne Tidcombe, Women Bookbinders 1880-1920, p. 86).
"Smyth [1880-1933] was born in Glasgow, the daughter of a jute manufacturer. She studied art in Manchester and then attended the Glasgow School of Art from 1895 until 1905. Her stained glass piece Tristan and Iseult was exhibited at the International Exhibition in 1901, and in 1903 an anonymous female patron paid for Smyth to study in Europe. At first Smyth was best known as a portraitist, particularly for her sketches of theatre personalities. Later she specialised in theatre costume working in London, Paris and Sweden. She designed costumes for several of the Shakespearean Festivals held in Stratford-upon-Avon, beginning in 1906. Smyth was appointed Principal of Commercial Art at Glasgow School of Art in 1914, and began to concentrate more on teaching than costume design. However, in 1916 she designed costume and decoration for the Quinlan Opera Company's world tour. In 1933 Smyth was appointed as the first woman director of the School of Art, but died before she could take up the post" (The Glasgow Story).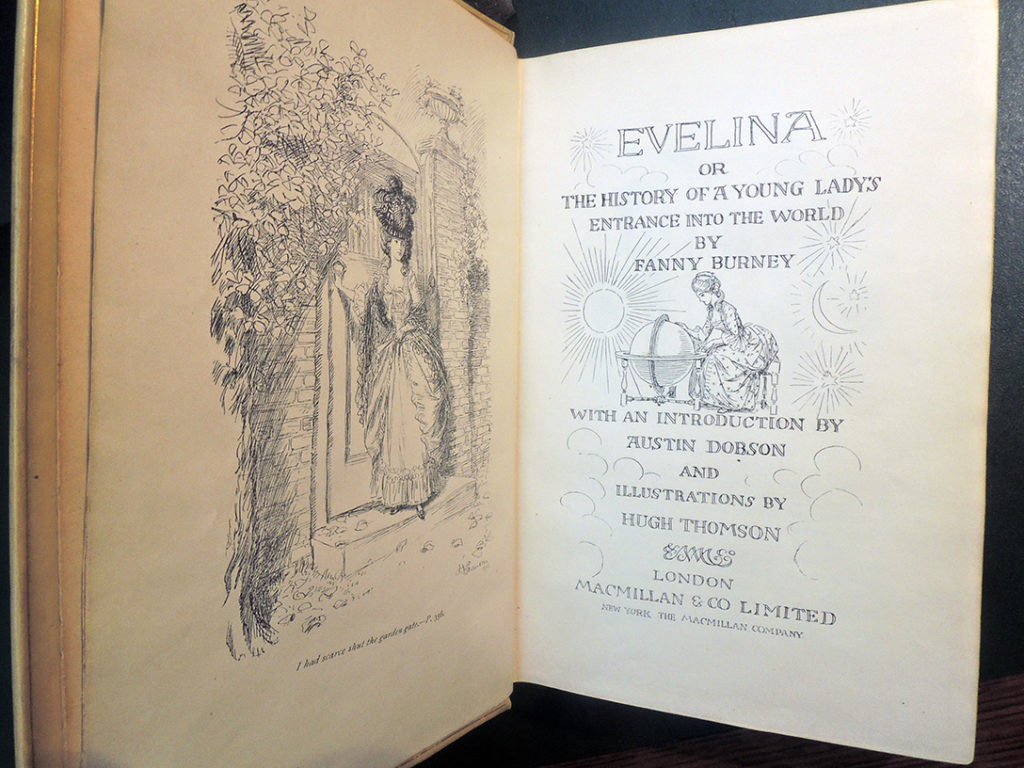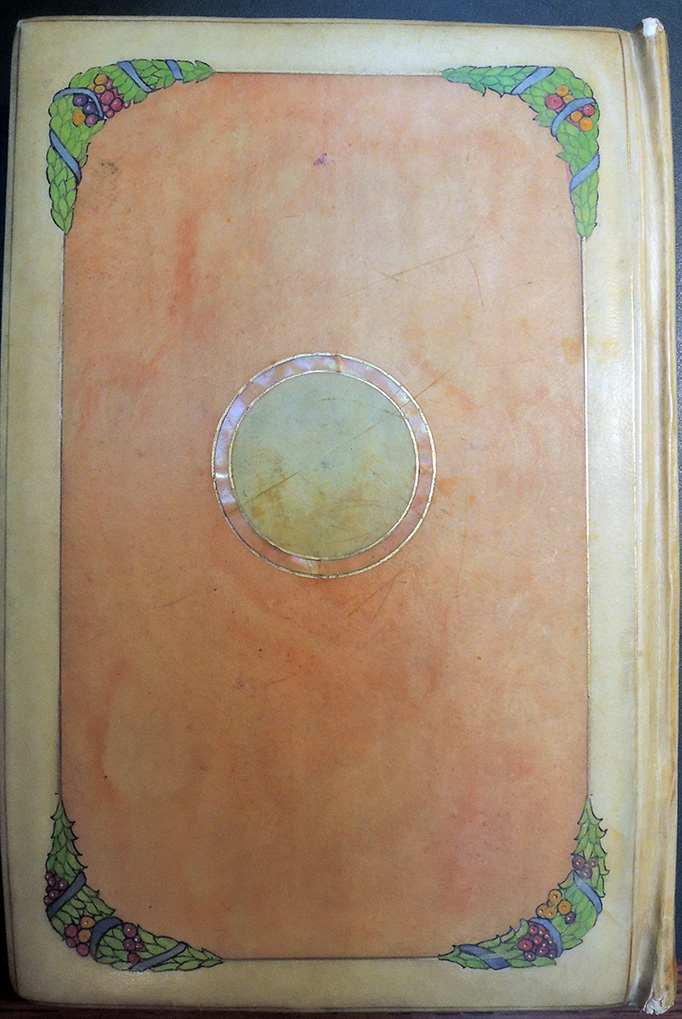 Fanny Burney (Madame D'Arblay), Evelina or The History of A Young Lady's Entrance Into The World; With an Introduction by Austin Dobson and Illustrations by Hugh Thomson. Bound by Cedric Chivers (London: Macmillan & Co Limited, 1903). Graphic Arts Collection GAX 2020- in process
Our new acquisition is completed in a "vellucent" binding by Cedric Chivers of Bath, stamp-signed on the back turn-in, of transparent vellum over paper. Front cover with a multi-color painted architecturally frame with three mother of pearl inlays enclosing an original painting of Evelina after Hugh Thomson frontispiece, with the title and author hand-lettered. Spine with matching decoration, lettering and mother of pearl ring around Burney's name. Back panel painted plus another mother of pearl ring and painted multi-color floral gatherings in the corners. Vellum and paper doublures ruled in gilt.
The British Library printed this biography of the author:
"Burney's entry into the world of letters was elaborately strategised and much anguished over, much like the debuts into society through which she put the heroines of her most celebrated novels. After a childhood spent writing stories and plays, Burney anonymously published her first novel, Evelina, in 1778. Wary of the public eye and uncertain how her family would react to her writing for a mass audience, Burney sought to keep her authorship secret for as long as possible. But, after months of public speculation and the praise of literary figures such as Hester Thrale and Samuel Johnson, Burney owned the novel as her own.

…Burney's father introduced her to important writers, actors and artists – David Garrick and Joshua Reynolds socialised at the Burney household – but was conservative in his estimation of what literary genres were suitable for women writers. Burney was discouraged by her father and close family friend Samuel Crisp from writing comedy and satire, particularly for the stage. Instead, she put her sharp insight into the foibles and mannerisms of society to good use in her next novel, Cecilia (1782), which sold widely and cemented Burney's literary reputation and her status as a literary celebrity in London."– https://www.bl.uk/people/frances-burney
Princeton University Library also owns this half vellucent binding in the Cotsen Children's Library:  Geoffroy de La Tour Landry (active 14th century), The booke of thenseygnementes and techynge that the Knyght of the Towre made to his doughters (London: George Newnes, 1902) (London & Edinburgh : Ballantyne Press) Cotsen Children's Library Press 40742.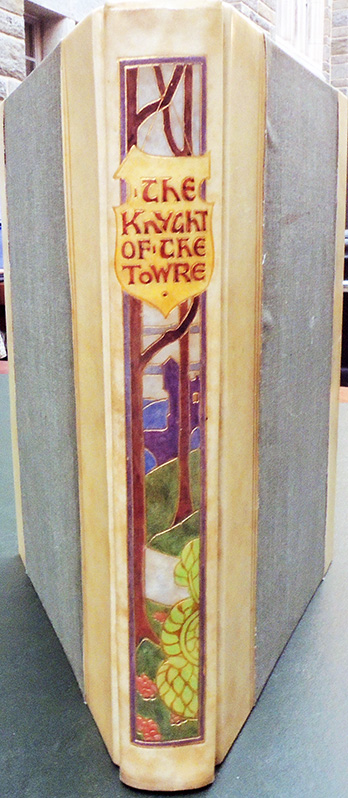 Thanks to Edward Levin for sharing his copy of Eleanor Vere Boyle, Days and Hours in a Garden (London: Elliot Stock, 1898) Chivers catalogue no. lxxxvi, with a similar binding.