The Graphic Arts Collection acquired a nearly complete deluxe set of Oak Tree Press's First Chapter Series of Booker Prize-winning novels and prints [8 of 10]. Not only are the individual numbered copies signed by the author on the title page and hand bound in cloth, but many include a signed print within the slipcase. The series began in 2006 with J.M. Coetzee's Life and Times of Michael K, with a lithograph by the South African artist Colbert Mashile [above].
"Colbert Mashile was born in 1972 in Bushbuckridge, Mpumalanga and currently lives and works in Johannesburg. Mashile received his Diploma in Fine Arts from the Johannesburg Art Foundation in 1994 and later continued his studies at the University of Witwatersrand where he obtained a BA in Fine Arts in 2000 and a Post-Graduate Diploma in Heritage Studies in 2002. Since then Mashile has presented ten solo exhibitions, with the most recent being Messages from our Ancestors in 2013 at the Art Eye Gallery in Sandton, Johannesburg." — Read more: https://smacgallery.com/exhibition/colbert-mashile-2015/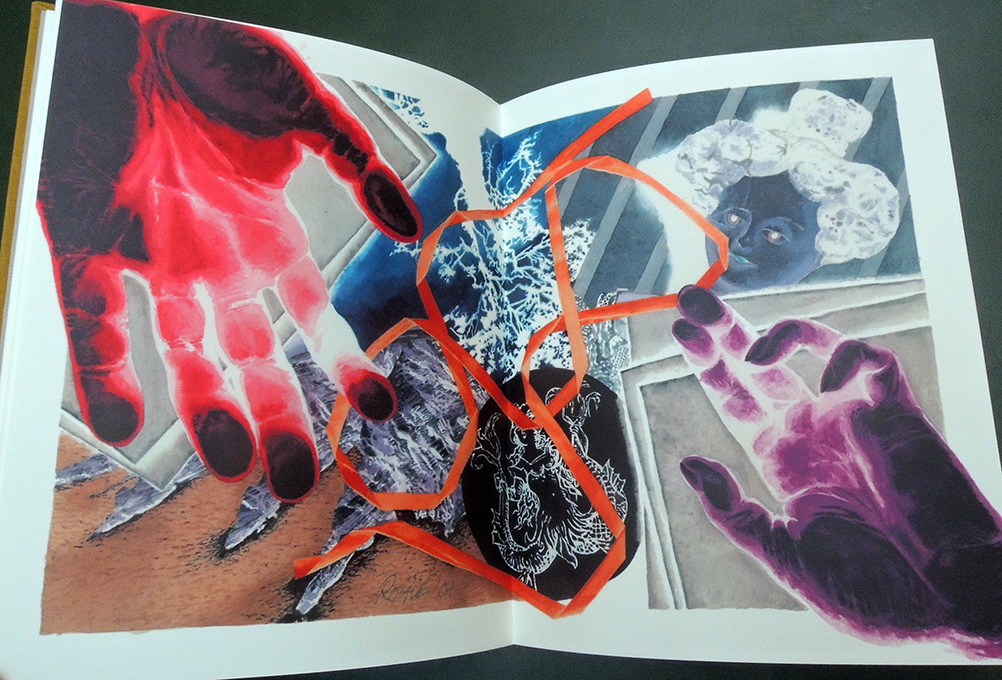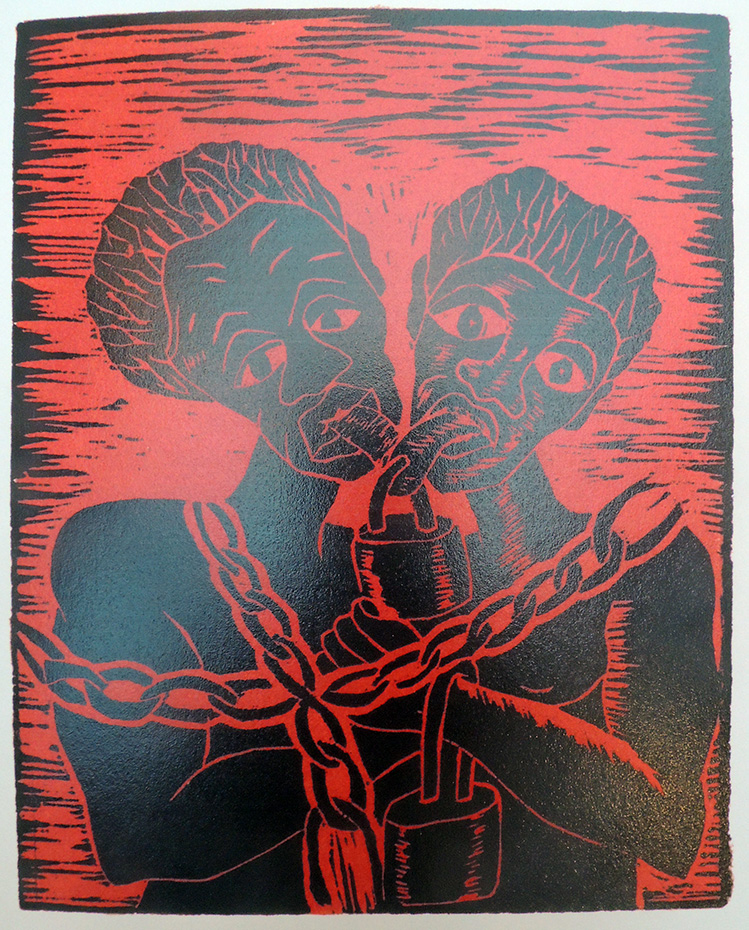 "Ezequiel Mabote [his work above] is a self-taught artist who grew up in an arts neighborhood in Maputo. He was influenced by the old masters of sculptures, paintings and batiks at the age of 10. He then took art lessons at Noroestel High School in Maputo. In 1998, Ezequiel moved to South Africa to fulfill his dreams in art. He stayed in Durban KwaZulu Natal with his cousin brother, Isaac Sithole. Isaac introduced him to the Bat Centre where he networked with local artists. In 1999, he attended a printmaking workshop at the Bat Centre with Samuel N Mbingilo from the John Muafangejo Art Centre in Namibia.
He held his first exhibition in 1999 at the Intensive Care Café at the Bat Centre and two years later attended printmaking workshops at the Caversham Press in the KwaZulu-Natal Midlands under well-known artists such as Malcolm Christian, Dr David Koloane, the late Gabi Nkosi, Kevin Sipp, Xolile Mtakatya and many more. Ezequiel now specializes in printmaking, woodcut colour reduction, oil pastels, paintings, sculptures, murals and bookbinding."–https://www.maboteart.com/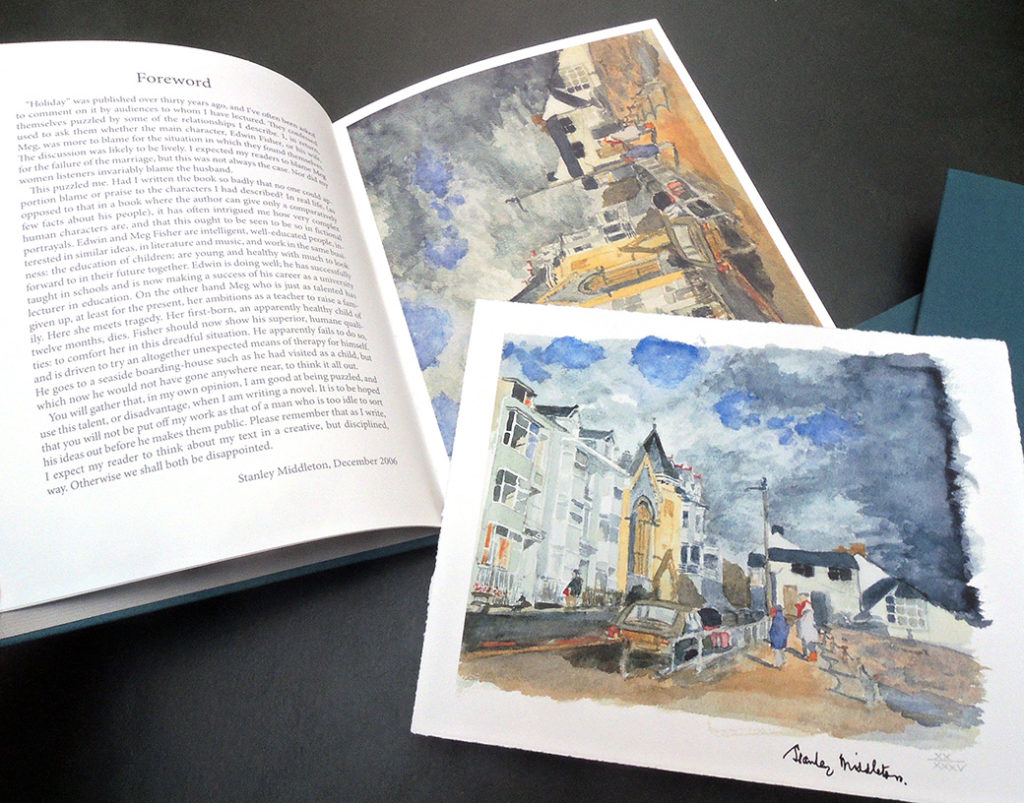 Also part of this series is Midnight's Children by Salman Rushdie with a lithograph by Thomas Howard; Holiday by Stanley Middleton with a watercolor by the author [above]; The Conservationist by Nadine Gordimer with an etching by Cyril Coetzee; Sacred Hunger by Barry Unsworth with a woodcut by Ezequiel Mabote; The Blind Assassin by Margaret Atwood with an ink drawing by Yoko Ono; The Line of Beauty by Alan Hollinghurst with a lithograph by Gilbert and George [at the top of the page]; and Possession A Romance by A.S. Byatt with a lithograph by David Royle.
Oak Tree Fine Press is a privately owned publishing company based in Oxfordshire, England. "We specialize in exceptionally high quality books featuring work by the world's greatest authors and artists. All profits from the sales of all our books go to organisations assisting children living with or affected by HIV/AIDS." http://www.oaktreefinepress.com/site/about.asp
Additional information from the press states, "The support of Nobel Prize winner J. M. Coetzee has been vital to the success of the series, and its second volume featured his Booker Prize winning novel of 1999, "Disgrace." Since then, a wide range of authors have collaborated on the series, linked by their shared status as Booker Prize winners, and their mutual interest in contributing to a worthwhile cause through the creation of beautiful and thought provoking book. Each book is comprised of the first chapter of the title, accompanied by an illustration made especially for the series."