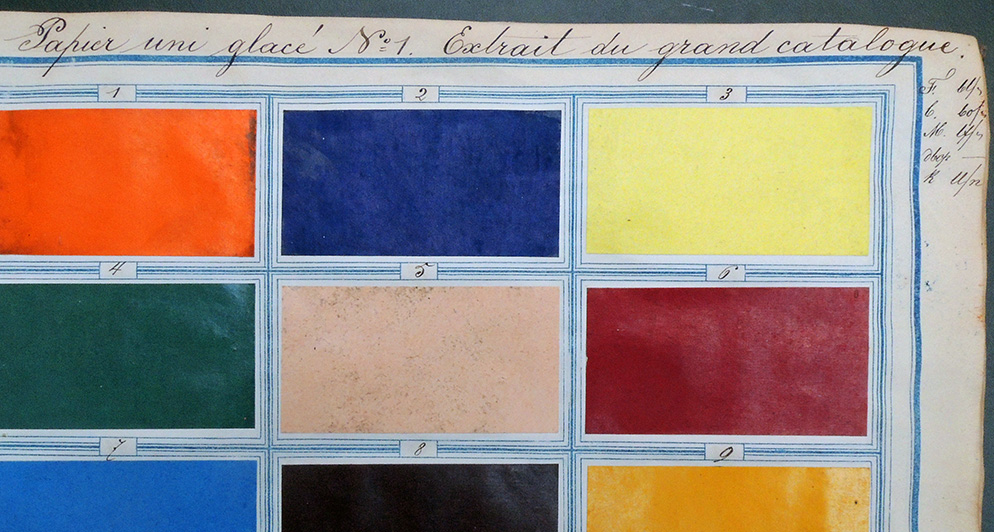 The Graphic Arts Collection added several marbled paper sample books, with swatches of various techniques from the 19th century. These can be used in conjunction with the modern reference texts and the wonderful database from the University of Washington "Decorated and Decorative Paper Collection" at https://content.lib.washington.edu/dpweb/index.html, posted by Sandra Kroupa, Katie Blake and Johanna Burgess in 2006-2007. Not only are there digital examples that can be compared to these paper samples but a glossary of terms that explains the difference between what Wolfe calls Peacock and Miura calls Bouquet marble. They note:
When examining classification of marbling patterns, it is important to know that although many texts have been written on the subject, none is universally accepted as the ultimate authority. Historically patterns have been given idiosyncratic names, based on various criteria: the techniques used in their making, cultural practices or artist's whim. The result is that patterns have multiple names.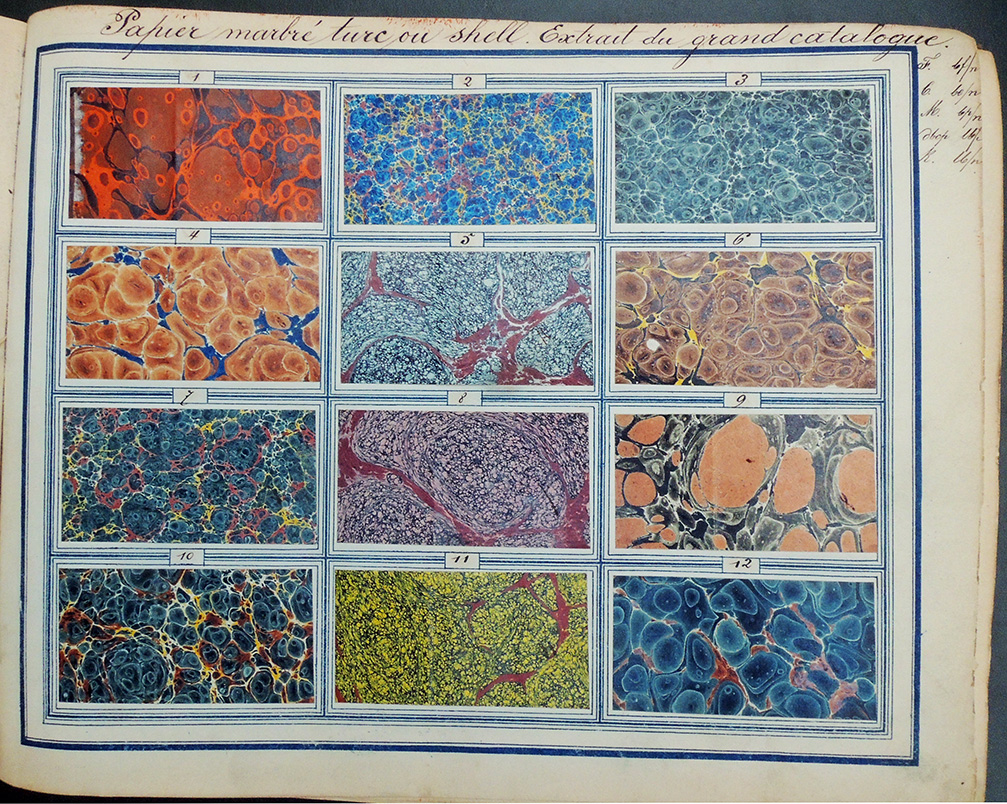 See also: Wolfe, R. Marbled paper: Its history, techniques, and patterns. Philadelphia: University of Pennsylvania Press, 1990 and Miura, Einen. The art of marbled paper. London: Zaehnsdorf Ltd., 1989.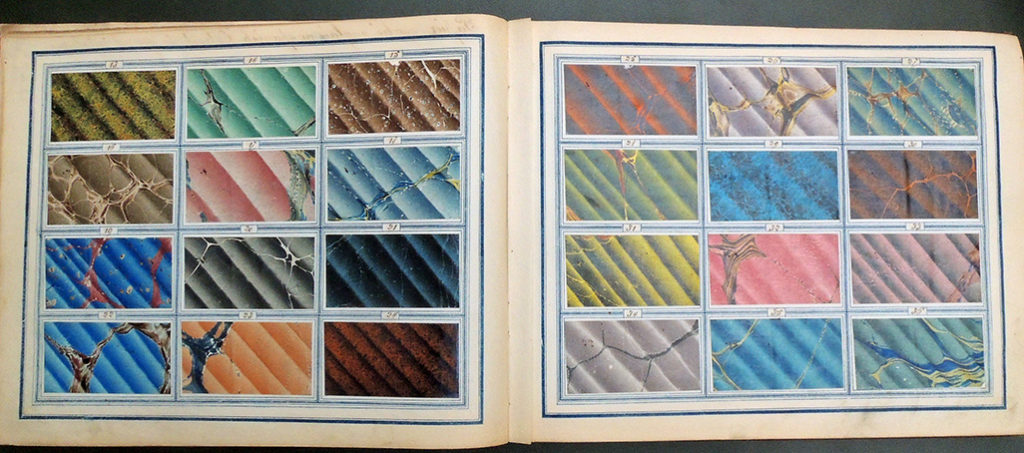 Posted here are images from the Belgian packaging firm A. van Genechten. [Paper sample catalogue]. Turnhout, A. van Genechten, 1858, with 421 original paper samples pasted onto 78 unnumbered leaves, including:
62 samples of papier marbré turc ou shell (Turkish or shell marbled paper)
53 samples of papier marbré anglais ou spanish (English or Spanish marbled paper)
20 samples of papier marbré dannonay (Annonay marbled paper)
27 samples of papier marbré écaille (tortoiseshell marbled paper)
14 samples of papier graîné (grained marbled paper)
14 samples of papier pointillé fin (fine dotted marbled paper)
7 samples of papier piqué (quilted paper)
6 samples of papier jaspé (paper resembling a jasper stone)
36 samples of papier uni glacé no. 1 (plain glossy paper)
10 samples of papier uni glacé taffend (taffend? glossy plain paper)
4 samples of papier tarrotage sur fond blanc (tarrotage? paper on white background)
65 samples of papier fleuragé no 1 (flower paper)
26 samples of papier fleuragé sur fond blanc (floral paper on a white background)
8 samples of papier uni balance (plain balanced paper)
2 large samples of papier marbré splashed, satiné ou non satiné (splashed marbled paper, satin or non-satin)
10 large samples of papier marbré à plumes ou non pareil no 1(feathered or non-similar marbled paper)
17 large samples of papier marbré à plumes ou non pareil no 2 (feathered or non-similar marbled paper)
6 large samples of papiers fins divers (various fine papers)
7 large samples of papiers emaillés (enameled papers)
7 large samples of papiers marbrés agathe (Agathe marbled papers)
3 large samples of papiers racinés (rooted papers)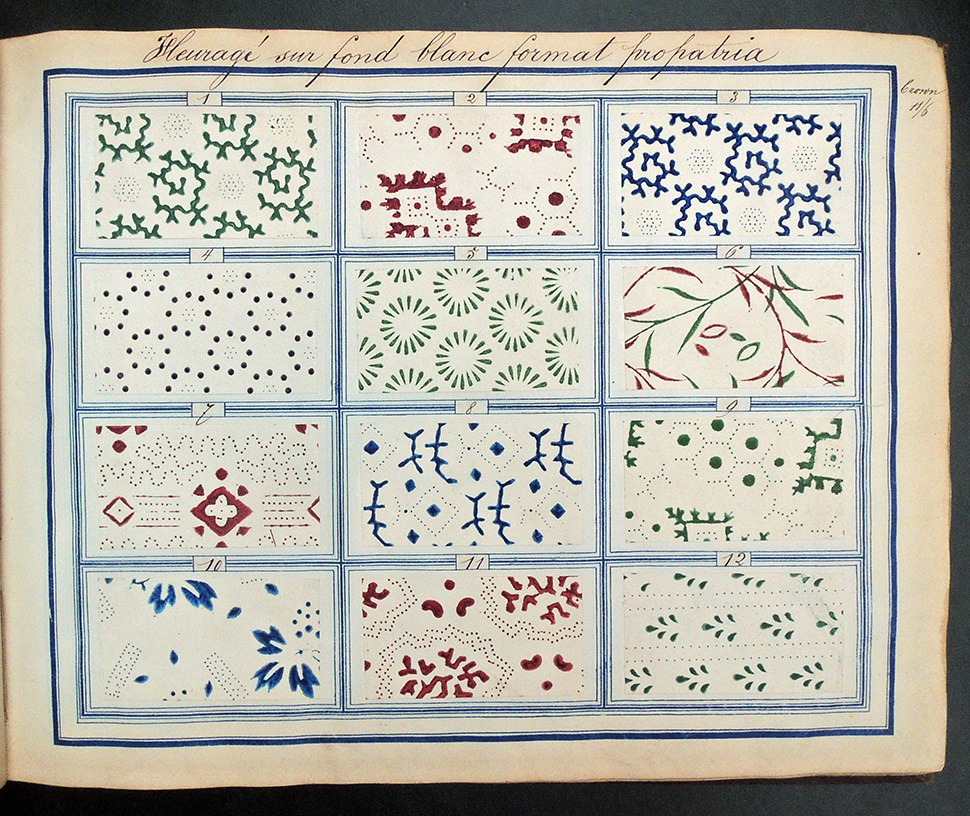 Founded in 1855, the firm of Antoon van Genechten specialized in playing cards, decorated papers, ephemera, and packaging material, flourishing over 100 years. The firm supplied products worldwide including England, Spain, France, Denmark, South-East Asia (Thailand, Java, the Celebes), India, China and Japan. In 1868 Van Genechten had been granted an official licence to print playing cards with Chinese and Japanese paintings. The company finally merged, along with Brepols and Biermans, into the newly formed company Carta Mundi in 1970. See more: https://www.wopc.co.uk/belgium/van-genechten/