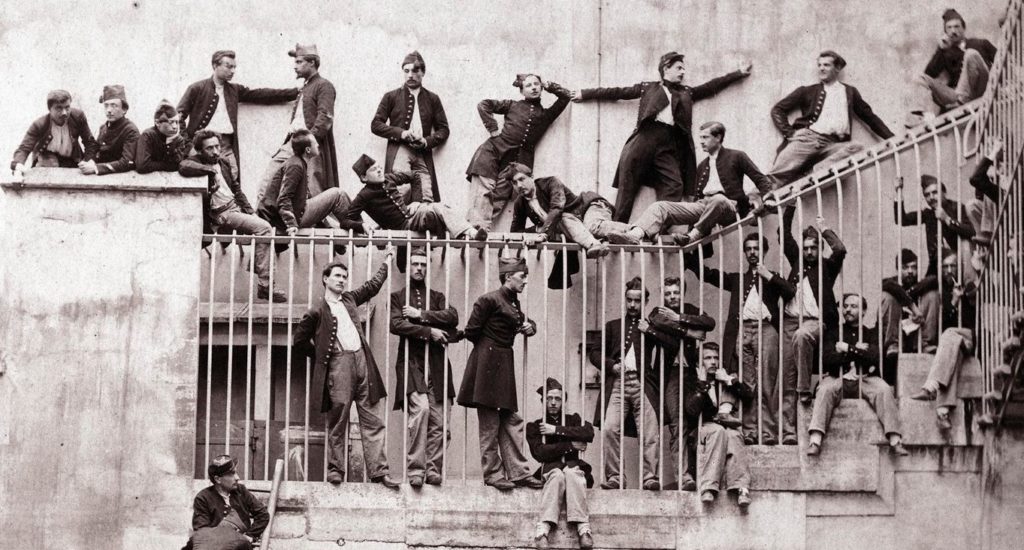 Franck, Cadets at the Ecole Polytechnique, Paris, 1861. Albumen print from collodian negative. Patrick Montgomery's History of Photography
Contrary to the social distancing we practice today, French photographer François Marie Louis Gabriel Gobinet de Villecholle (1816-1906, also known as Franck or Franck de Villecholle) gained a reputation for his jam-packed group portraits. Either cut and pasted then rephotographed as one assemblage (as seen below) or captured live, Franck's work has been called trombinoscopes, or visual membership directories.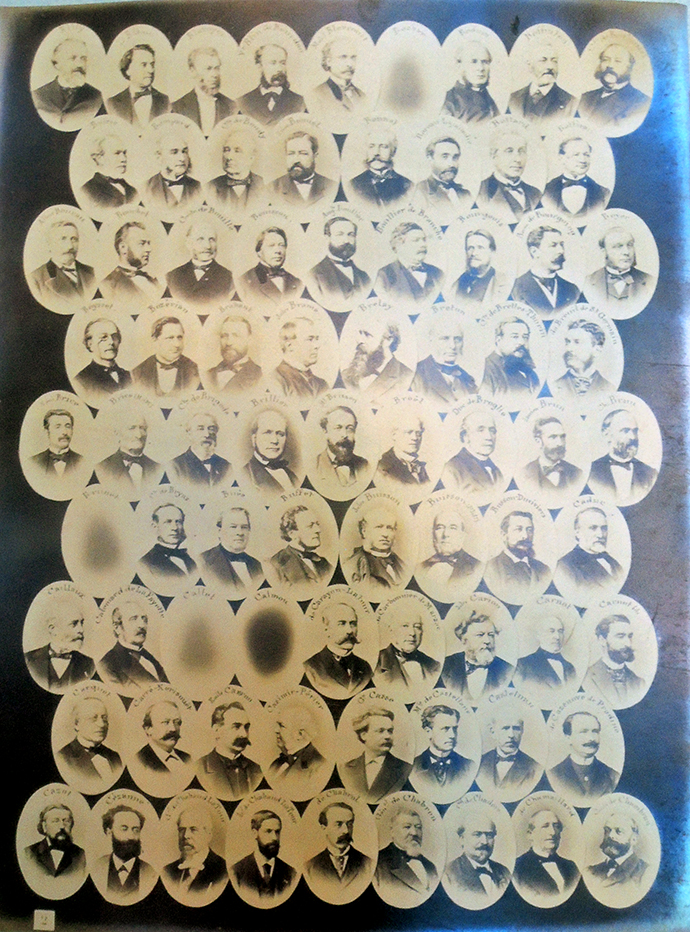 The Graphic Arts Collection recently acquired a book of ten photographic plates visually documenting the French National Assembly of 1874. In total, the volume presents 630 individual portraits of deputies sitting in the National Assembly, session 1871-1876, which was the first elected Assembly of the Third Republic in France following the 1871 Versailles armistice. According to my count, some plates hold up to 77 portraits, although each is different.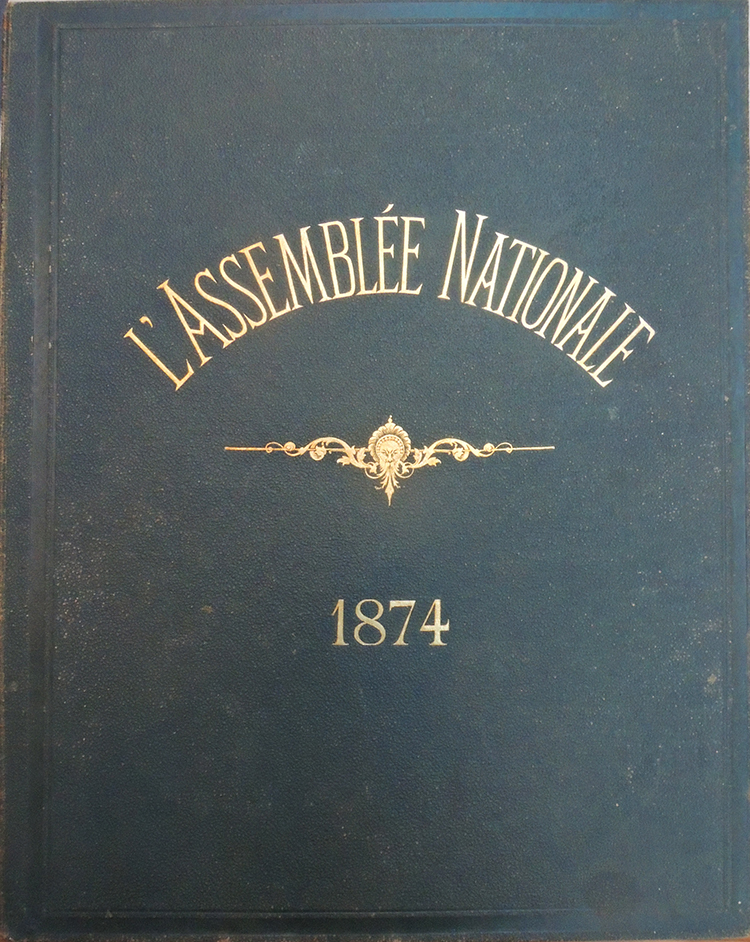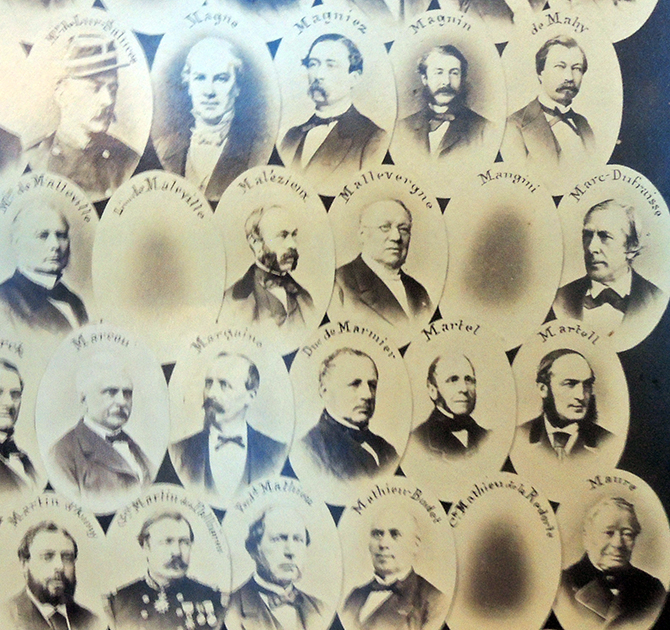 Franck learned to make daguerreotypes around 1845 and paper photographs soon after, working until the early 1880s in Barcelona and then Paris. He taught photography at the Ecole Impérale centrale des arts et manufactures in 1863 and worked as a professor at the Ecole Centrale in 1862. Read more in Elizabeth Anne McCauley's Industrial Madness: commercial photography in Paris, 1848-1871 [only available in paper].
Thanks to Patrick Montgomery's History of Photography pages, here are two other group portraits captured live. Below is Franck's Ecole Centrale des Arts et Manufactures, Hôtel Salé, Paris, ca. 1855. Salted paper print. Montgomery notes: "This photograph comes from a set of documents relating to the Ecole Centrale des Arts et Manufactures in Paris. The building now houses the Picasso Museum and the professor standing at the bottom right of the photo, is probably Mr. Auguste Perdonnet who taught steam engine mechanics and everything related to railroads. Mr. Perdonnet was appointed director of the Central School in 1862, and remained in that position until his death in 1867."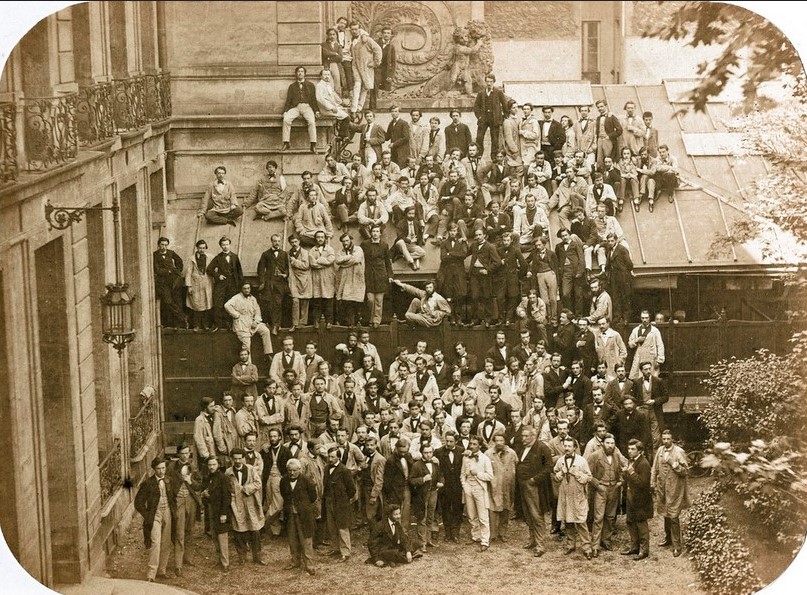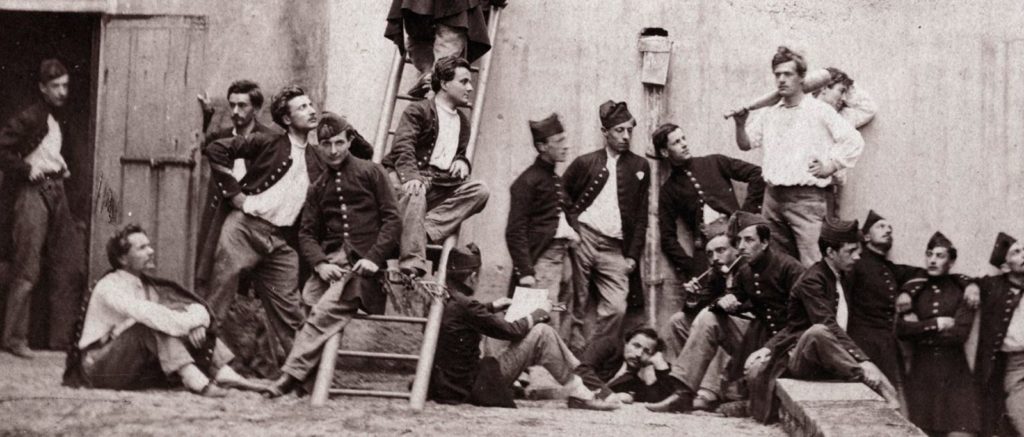 Here and at the top is Franck's Cadets at the Ecole Polytechnique, Paris, 1861. "The Ecole Polytechnique was established during the French Revolution in 1794 by Gaspard Monge, and it became a military school under Napoleon in 1804. It is still under the control of the French Ministry of Defence today. Initially, the school was located in the Latin Quarter of central Paris, and it moved to Palaiseau on the Saclay Plateau about 14 km southwest of Paris in 1976."
The entire 1965 Album-contemporain: contenant les biographies sommaires de trois cents des principaux personnages de notre époque, with text by Justin Lallier and 304 photographic portraits by Franck can be found online here: https://babel.hathitrust.org/cgi/pt?id=gri.ark:/13960/t0ms8fk1t&view=thumb&seq=11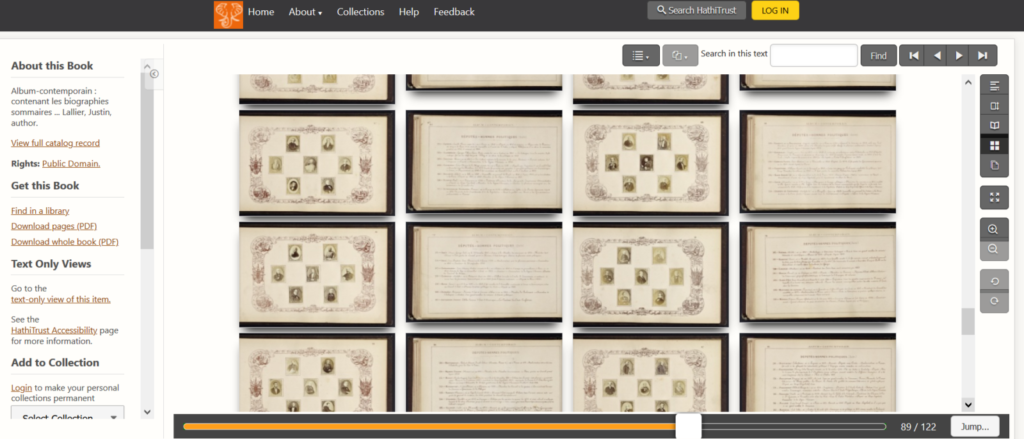 And the Musée d'Orsay offers this Franck assembly of literary figures: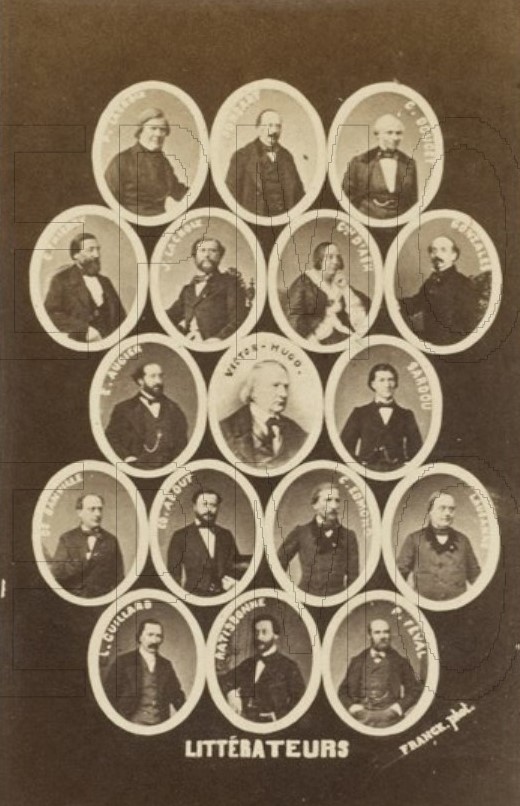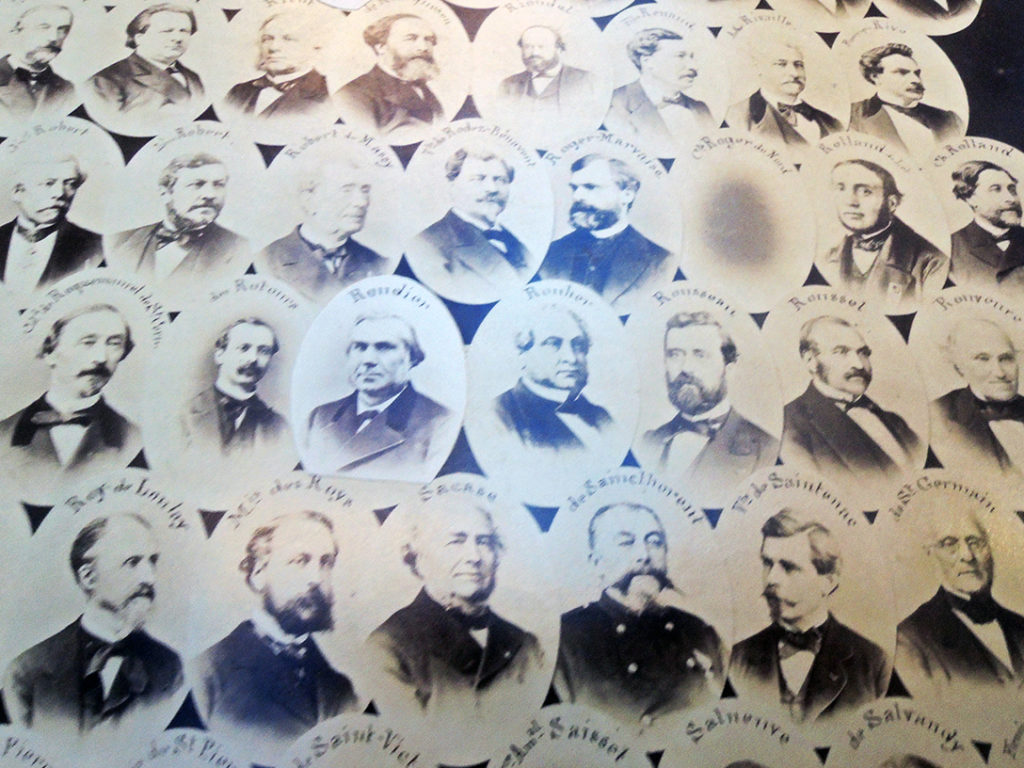 Franck (1816-1906), Photographe de l'Assemblée natonale 1874. Paris: l'Assemblée natonale, 1874. Graphic Arts Collection GAX 2020- in process.