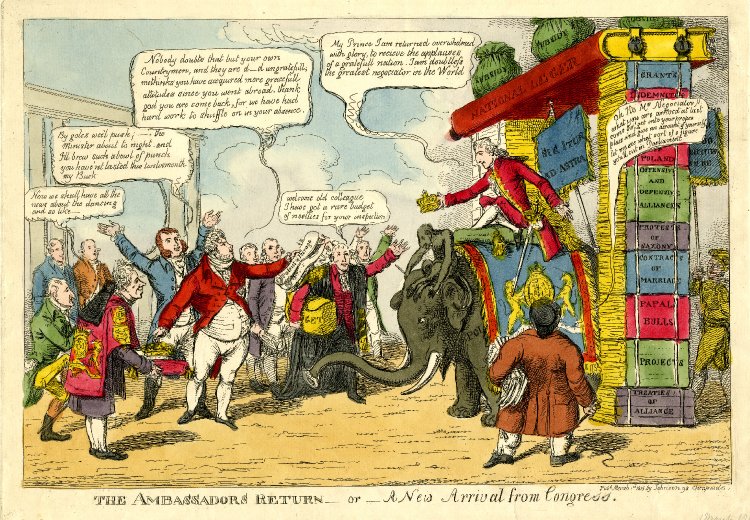 Charles Williams (died 1830), The Ambassadors Return- or- A New Arrival from Congress, March 1, 1815. Hand colored etching.
Description: Robert Stewart, Viscount Castlereagh and 2nd Marquess of Londonderry (1769-1822) says: "My Prince I am returned overwhelmed with glory, to recieve the applauses of a gratefull nation. I am doubtless the greatest negociator in the World." False praise since Dorothy George tells us that in fact Castlereagh, who left Vienna and landed at Dover on March 3, 1815, was attacked for sacrificing Poland and Saxony, having done his utmost for Poland, and succeeded in defeating the demands of Prussia for the whole of Saxony.
This is one example of the difficulty in online searching of digital images (here done in the Graphic Arts Collection and the British Museum print collection). The above print and the ones below all appeared thanks to a search on Working From Home, words that appear somewhere connected. This can be fun, except when a final paper is due. For today, each is a terrific scene – perhaps not surprising that several concern taxes.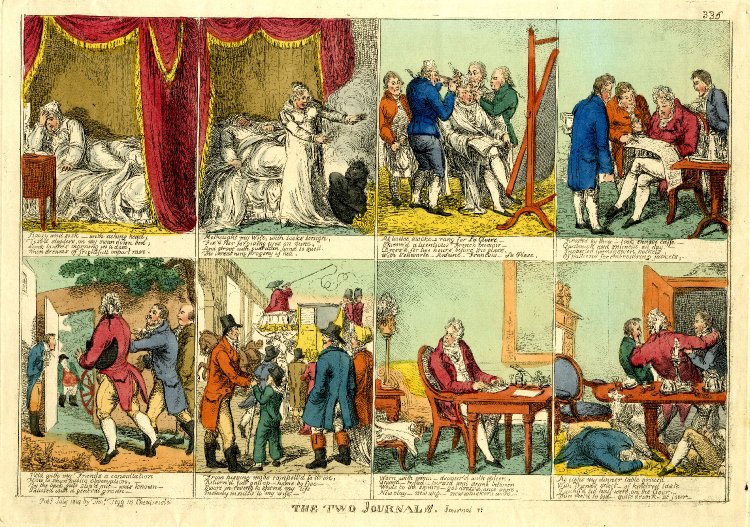 Charles Williams (died 1830), The Two Journals [second of two plates], July 1814. Hand colored etching.
On June 2, 1814, the Prince Regent, on his way to the Drawing Room at Buckingham House, was hooted when his carriage entered the Park. This was on account of his exclusion of the Princess of Wales from the Drawing Room, at which Princess Charlotte made her first appearance.
It ends: The Regent sits at a writing-table, looking round to the left. "Worn with ennui—devour'd with spleen, / Yawn'd—trifled—cursed and drank between / Wrote to the square—got dressed once more, / New stay—new wig—new whiskers wore—"  Finally, the Regent's empty chair stands at a dinner-table on which are decanters and glasses, some overturned or broken. The drunk Prince is being conducted from the room by McMahon and Yarmouth. "At eight my dinner table graced / With friends select—of kindred taste / I quaff'd till half were on the floor, / Then reel'd to bed—quite drunk—at four—"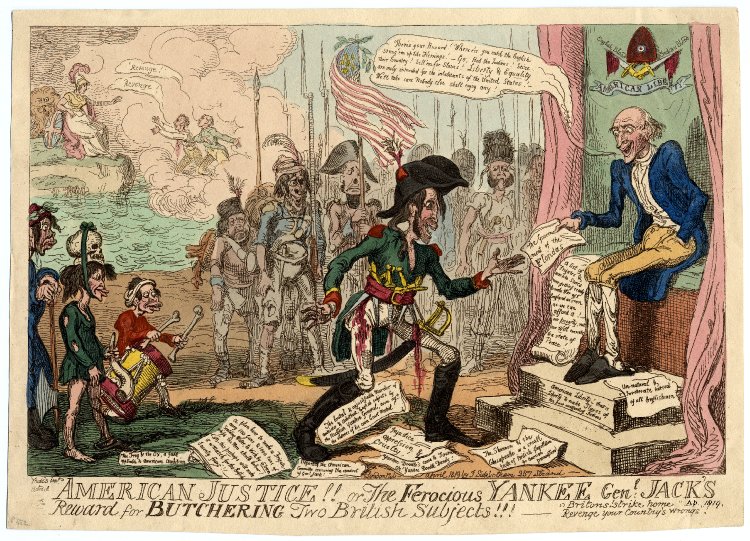 George Cruikshank (1792-1878), American Justice!! or the Ferocious Yankee Genl Jack's Reward for Butchering Two British Subjects!!!-, April 1819. Hand colored etching.
President Monroe (right) receives General Andrew Jackson, offering him "The Government of the Floridas." Monroe says: "There's your Reward! Where e'er you catch the English String 'em up like Herrings!—Go, Rob the Indians! Seize their Country! Sell 'em for Slaves! Liberty & Equality are only intended for the inhabitants of the United States! We'll take care Nobody else shall enjoy any!"
Dorothy George comments that Andrew Jackson was sent in 1818 to attack Seminole Indians from Florida who were making trouble on the frontier. He followed them into Spanish territory, and, setting aside the sentence of a court-martial, hanged two British subjects, Robert Christian Ambrister and Alexander Arbuthnot, who had been exercising hostile influence with the Indians. The Report of a Committee of the Senate on the 'Seminole War' blamed Jackson for the execution of the two British subjects who were prisoners of war.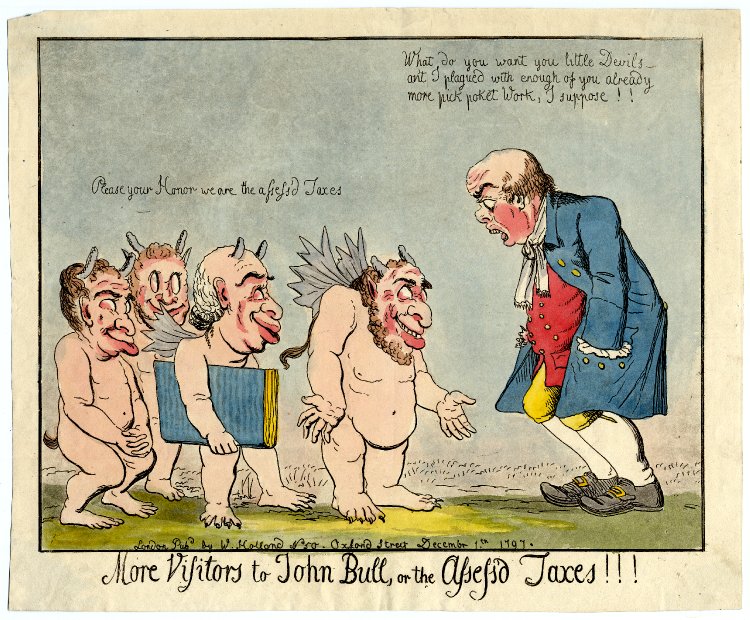 Attributed to Richard Newton (1777-1798), possibly after a design by George Moutard Woodward (ca.1765-1809), More Visitors to John Bull, or the Assess'd Taxes!!!, December 1, 1797. Hand colored etching.
John Bull (right) says: "What do you want you little Devils – an't I plagued with enough of you already more pick poket Work, I suppose!!" They reply: "Please your Honor we are the assess'd Taxes." It is a satire on the tripling of the assessed taxes proposed by Pitt in his famous budget speech on November 24, 1797, his 'plan of finance' to support the war without recourse to loans…
See more: Richard Cooper, "William Pitt, Taxation, and the Needs of War," Journal of British Studies  22, no. 1 (Autumn, 1982), pp. 94-103.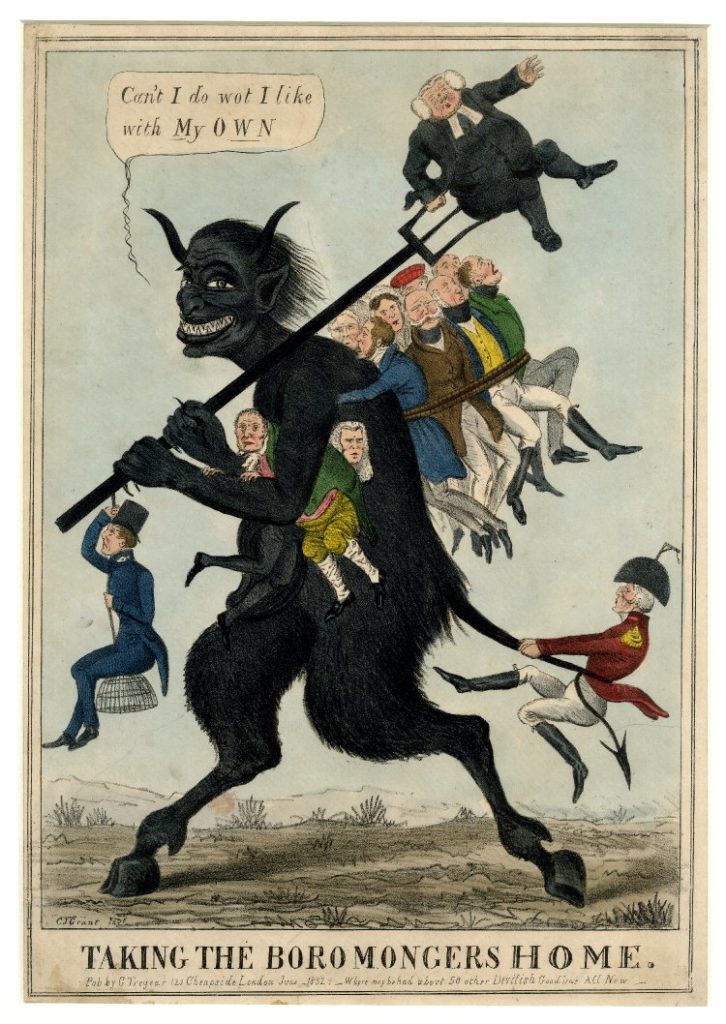 Charles Jameson Grant (active 1830-1852), Taking the Boromongers Home, June 1832. Hand colored lithograph.
The devil is carrying off a group of political dignitaries or boroughmongers. What is that? The OED lists boroughmonger as "One who trades in parliamentary seats for boroughs. (A sarcastic designation coined about the end of the 18th cent., and very frequently used in the discussions on electoral reform up to 1832.) As in 1809   Sir Fr. the Reformer   "He swears eternal detestation to borough-mongers of the nation."
Princeton, N.J., stopped being a borough on December 31, 2012, so there is no boromongering here.