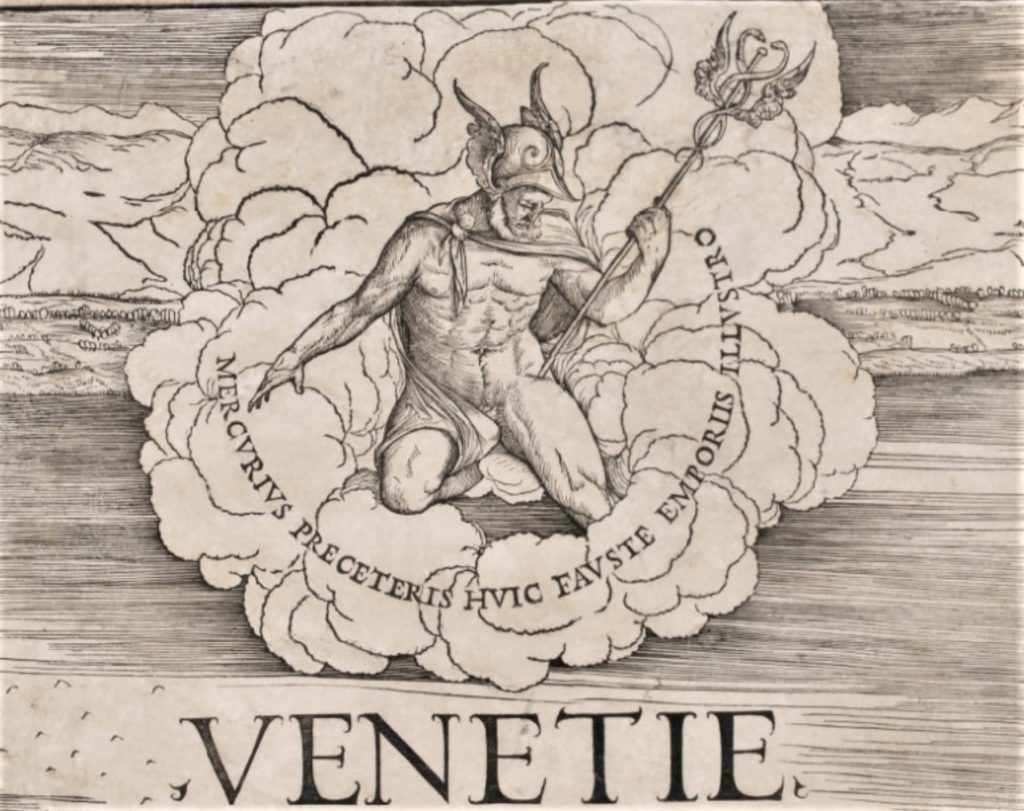 Mercurius Pre Ceteris Huic Fauste Emporiis Illustro = I, Mercury, Shine favorably on this market that surpasses all others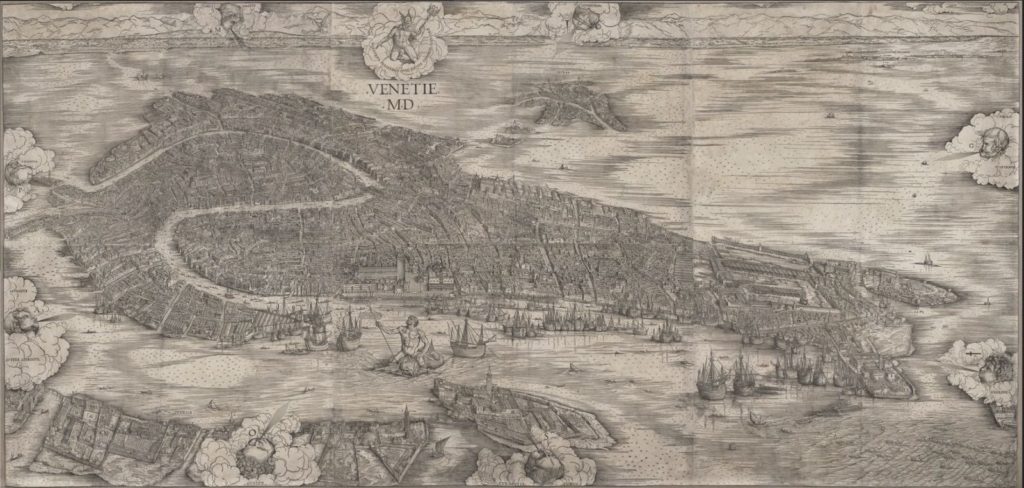 Jacopo de' Barbari (ca. 1460/70–before 1516), View of Venice, 1500. Published in Venice by Anton Kolb. Woodcut from six blocks on six sheets of paper. 153.35 x 300.04 cm
https://en.wikipedia.org/wiki/View_of_Venice#/media/File:Clevelandart_1949.565.jpg
https://collections.artsmia.org/art/111219/view-of-venice-jacopo-de-barbari
http://gigapan.com/gigapans/166926
One of the landmark woodcuts of the renaissance is Jacopo de' Barbari's bird's-eye view of Venice, printed from six enormous woodblocks that are still in good condition in the Correr Museum in Venice. Amazingly, there are twelve extant prints of the first 1500 edition; six of the second 1514 edition; and six of the third from the later sixteenth century. Several institutions have digitized their sheets at high resolutions allowing us to closely examine every centimeter of the extravaganza (three links are offered above but there are more). De' Barbari presents an elongated view of Venice from a vantage point somewhere above San Giorgio Maggiore, which has been compared to the shape of a dolphin. GoogleMaps, below, is condensed but still somewhat fish-like: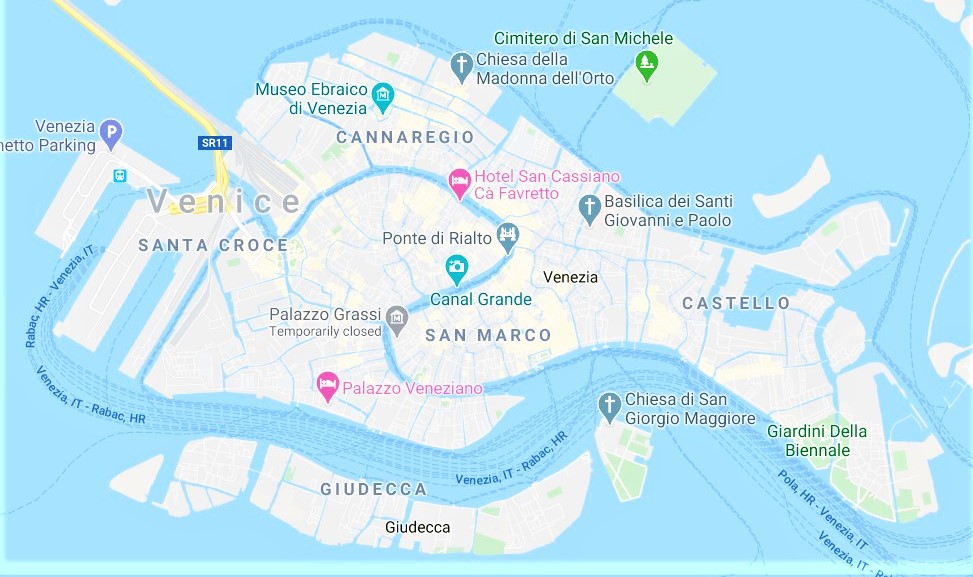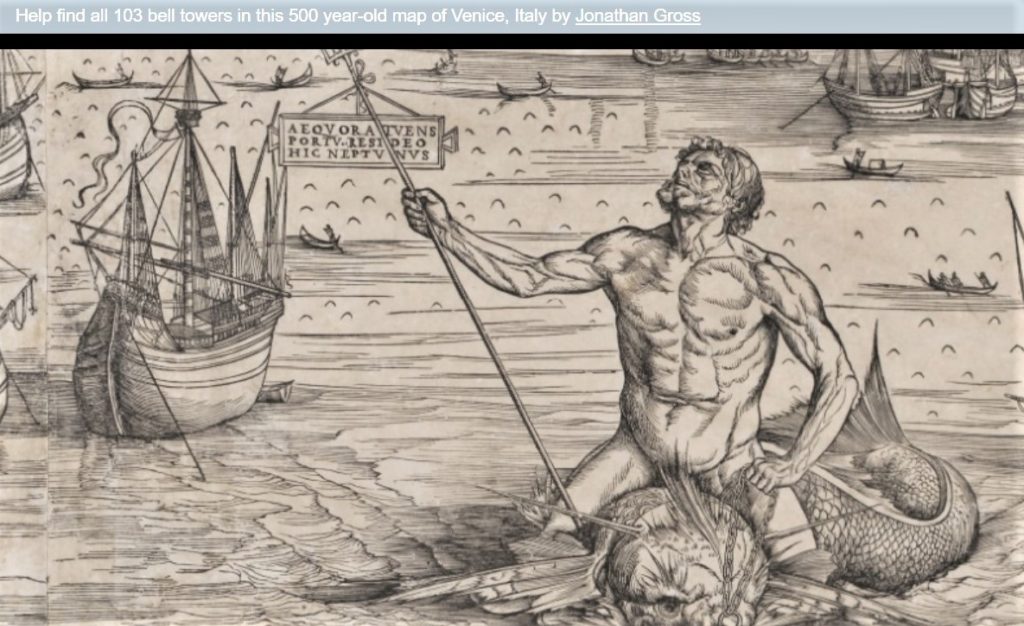 Digital reproductions show the meticulous detail De' Barbari was able to achieve in his depiction of architecture, commerce, and day-to-day Venetian life. In 2016 a project called "The Venice Atlas" was posted at: http://veniceatlas.epfl.ch/mapping-venice-1500-searching-the-de-barbari-map-final-report/. Among the many things accomplished by the DH project was a count of the bell towers found in the map. Jonathan Gross then asked the public if they could not only find the 103 towers identified but if any others had been missed. As a fun, no pressure home project this week, see if you can find 103 bell towers in De' Barbari's view of Venice.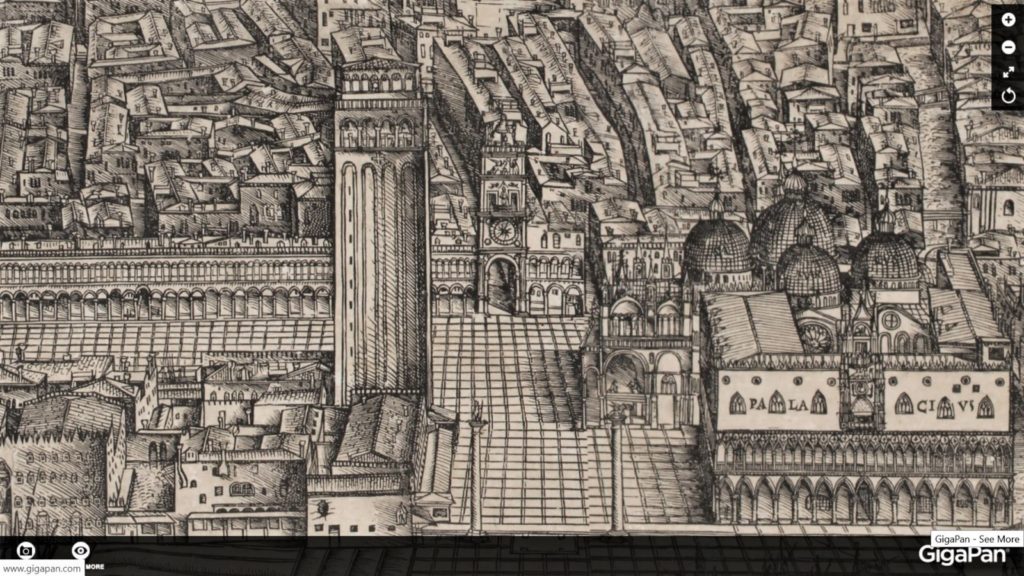 If you look at several of the Venice maps online, check to see if they have a temporary flat roof on the great bell tower in St Mark's Square, which was erected after a fire in 1489. This means it is a first state, not the second for which the wood blocks were altered to show restoration work done in 1511-14.
One additional search might be for the former Senate Secretary Antonio Landi, hanging by his neck in Canal de San Secondo. The noose hangs from a pole balanced on two tripods. It can only be found in one state of the print and there is no explanation why it was removed. Perhaps the wood was worn down.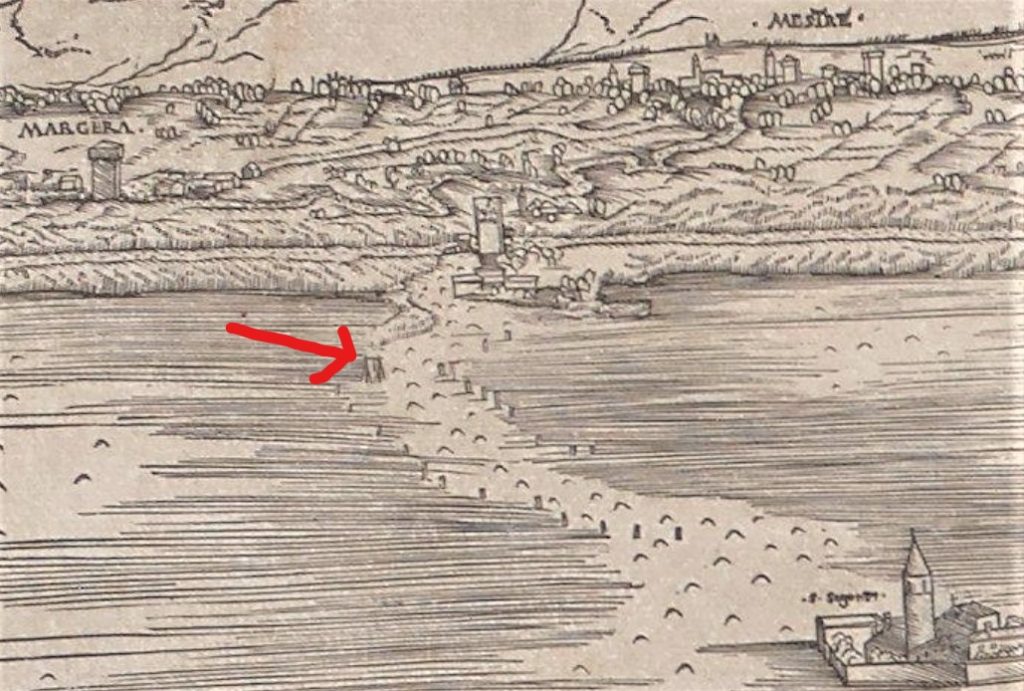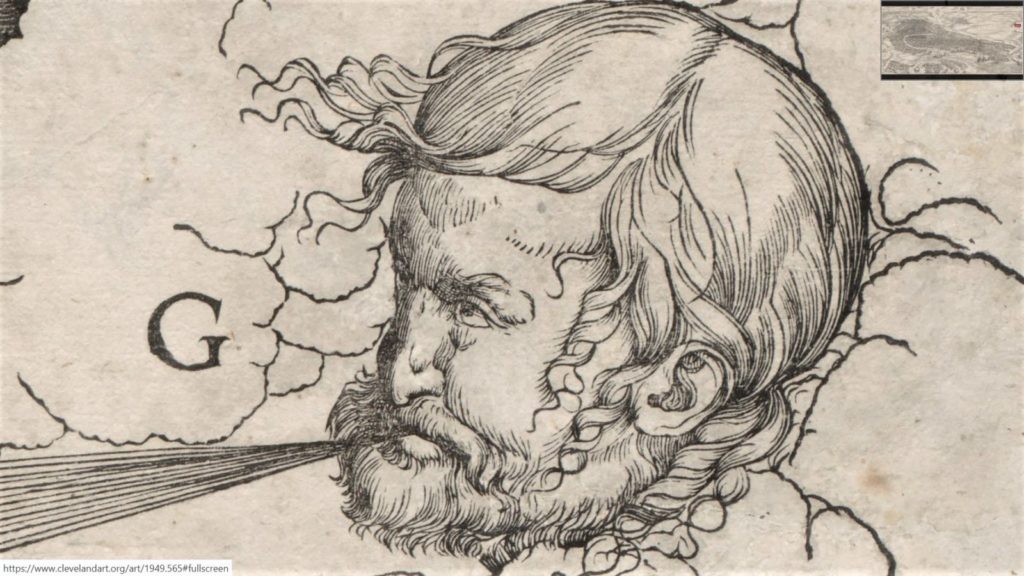 At the top center is the messenger god Mercury, looking down at the city with Neptune riding a sea monster at the mouth of the Grand Canal. Along the sides are putti representing the eight major winds. It has been suggested that the figure representing the northeast wind (left) may be Barbari's self-portrait.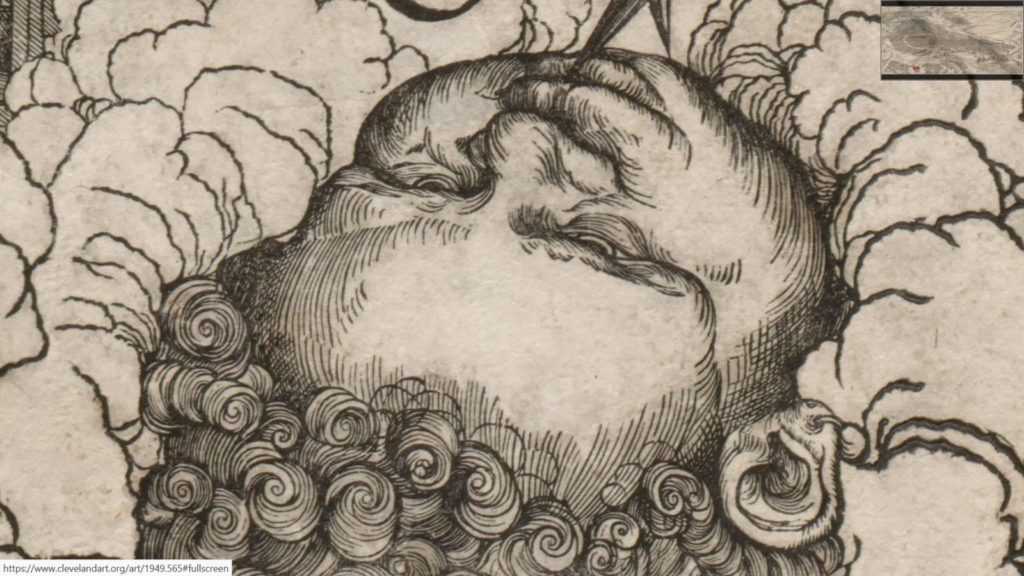 The Graphic Arts Collection has a facsimile edition of the complete map. The institutions with original prints are: first edition, 1500:
Hamburg, Boston (Museum of Fine Arts), Cleveland (Museum of Art), London (British Museum), Nuremburg (Germanisches National Museum), Paris (BNF), Venice (Fondazione Scientifica Querini Stampalia), Venice (Museo Correr, 3 examples), Venice (Nuseo Navale), Berlin (Staatlichen Museum).
Second edition, 1514 (?):
London (British Museum), Venice (Biblioteca Marciana), Venice (Museo Correr), Vienna (Albertina), Washington (National Gallery of Art), Los Angeles (University of California).
Third edition, late sixteenth century.
Florence (Private collection), Venice (Museo Correr), Venice (Private collection), Vienna (Albertina), Amsterdam (Rijksprentenkabinet), Austin (University of Texas).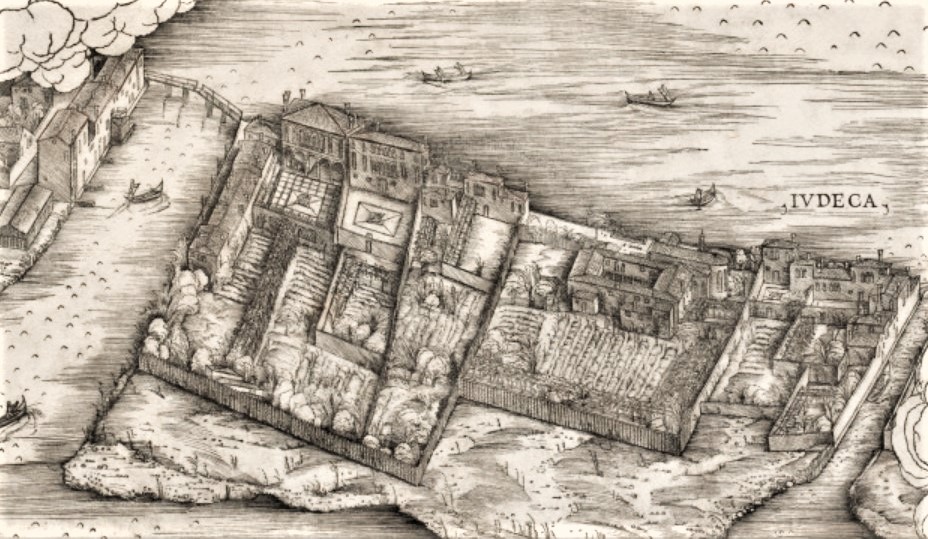 Read more: Schulz, Juergen. Jacopo de' Barbari's View of Venice: Map Making, City Views, and Moralized Geography before the Year 1500. The Art Bulletin. 1978 Sep; 60(3): 425–474 (Jstor).
For another analysis see: Howard, Deborah. Venice as a Dolphin: Further Investigations into Jacopo de' Barbari's View. Artibus et Historiae. 1997 18(35): 101–111 (Jstor).