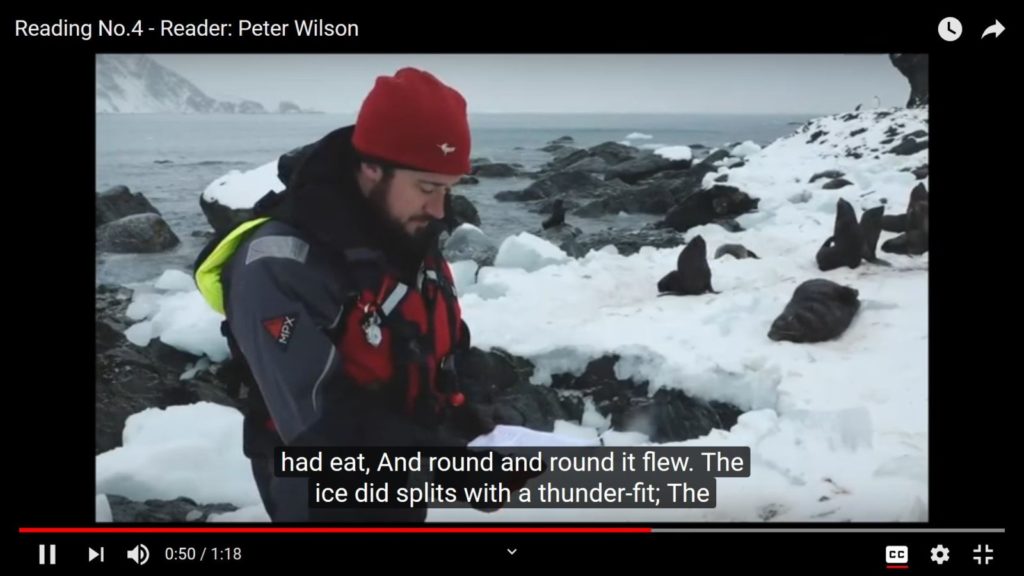 Are you following the Ancient Mariner Big Read presented by The Arts Institute at the University of Plymouth plymouth.ac.uk/arts-institute; an inclusive, immersive work of audio and visual art, commissioned by @theaiplym @plymuni #marinerbigread www.ancientmarinerbigread.com? Readers include Simon Armitage, the 2019 Holmes Visiting Professor and Poet at Princeton University.

https://www.ancientmarinerbigread.com/reading/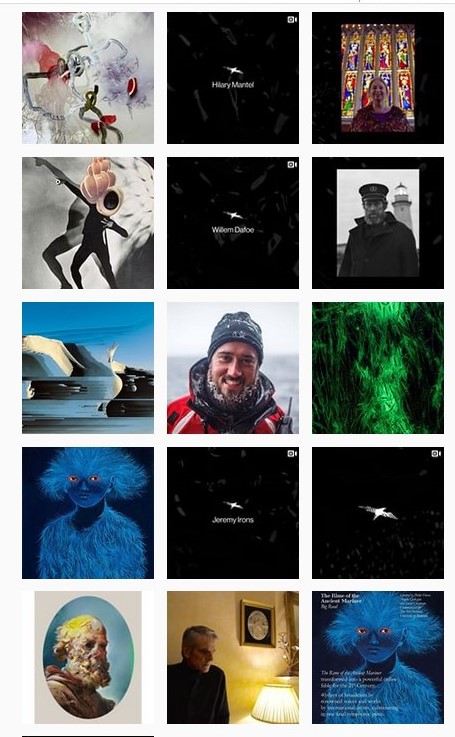 The readers and artists:
No.1, Reader Jeremy Irons, Artist Glenn Brown "The Shallow End," Oil on panel (oval)
No.2, Reader Jeanette Winterson, Artist Lisa Wright "Lucent Blue," Oil on canvas
No.3, Reader Samuel West, Artist Ackroyd + Harvey, "Storm Drawings" Luminescent paint on card
No.4, Reader Peter Wilson, Artist Peter Wilson, "Polar guide" Filmed + recorded by Eric Wehrmeister, Point Wild, Antarctica
No.5, Reader Willem Dafoe, Artist Gordon Cheung, "Albatross Glitch"
No.6, Reader Hilary Mantel, Artist Linder "Post-Mortem: Yura" Photomontage
No.7, Reader Simon Armitage, Artist Sarah Chapman "Immersion" Photograph, oil + ceramic on aluminium
It is an ancient Mariner,
And he stoppeth one of three.
'By thy long grey beard and glittering eye,
Now wherefore stopp'st thou me?
The Bridegroom's doors are opened wide,
And I am next of kin;
The guests are met, the feast is set:
May'st hear the merry din.'
He holds him with his skinny hand,
'There was a ship,' quoth he.
'Hold off! unhand me, grey-beard loon!'
Eftsoons his hand dropt he.
He holds him with his glittering eye—
The Wedding-Guest stood still,
And listens like a three years' child:
The Mariner hath his will.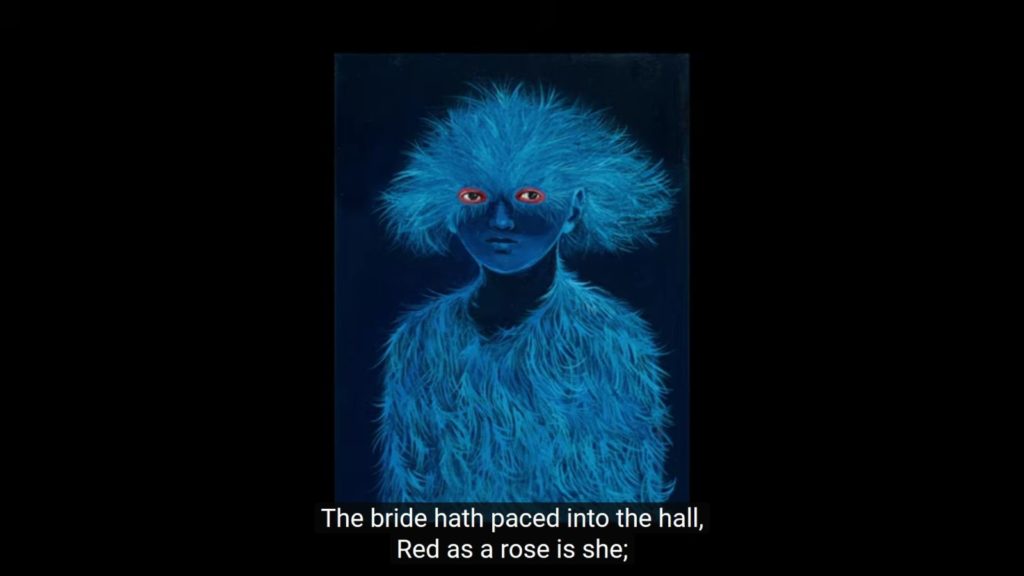 The Plymouth students write: "Samuel Taylor Coleridge was born 21 October 1772, at Ottery St Mary, Devon, where his father was the vicar. As a young man at Jesus College, Cambridge, he won a prize for his poem protesting the slave trade, and briefly absconded to enlist in the dragoons under the alias, Silas Tomkyn Comberbache; he spent most of his time falling off his horse and was officially discharged for being 'insane'. After leaving Cambridge he and Robert Southey tried to set up a utopian settlement in Pennsylvania, but this faltered. He married Sara Fricker in Bristol in 1795, and became close friends with William and Dorothy Wordsworth."

First published in 1798 – we [University of Plymouth] use Coleridge's revised version of 1817 – but still vitally relevant today, it is no coincidence, perhaps, that this poem is the first great work of English literature to speak to isolation and loneliness – and the possibility of redemption if we mend our ways. Three years in the making, drawing on the talents of actors, artists, performers, poets, and writers, The Ancient Mariner Big Read is a brand-new digital work of art in its own right – a wild and tempestuous voyage into the unknown.
See also the short silent film by Abishek Daniel Chawla:

See also this version using images from Samuel Taylor Coleridge (1772-1834), The Rime of the Ancient Mariner, illustrated by Gustave Doré (London: Doré Gallery, 1876). Graphic Arts Collection GAX Over 2006-0220F; more about that edition here: https://graphicarts.princeton.edu/2016/03/02/coleridge-and-dore/