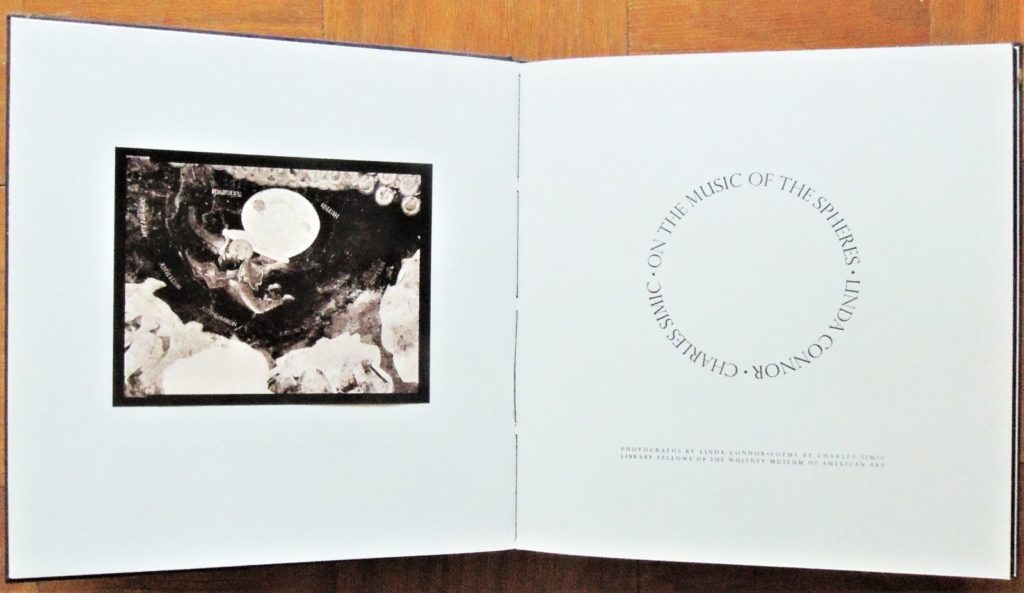 Linda Connor and Charles Simic, On the Music of the Spheres. Artists and writers series 16. Limited ed. of 250 copies ([New York]: Library Fellows of the Whitney Museum of American Art, 1996). ReCAP Marquand Oversize TR654 .C65472 1996q
On the Music of the Spheres presents 15 tipped in tritone reproductions of Linda Connor's gold toned printing out prints along with the poetry of Charles Simic. The results are astoundingly beautiful. One hundred copies were specially bound and signed by the poet and photographer with an additional platinum palladium print, signed by Connor, loosely inserted. The publication was named the 1998 Best Book of the Year from 21st- A Contemporary Photography Journal.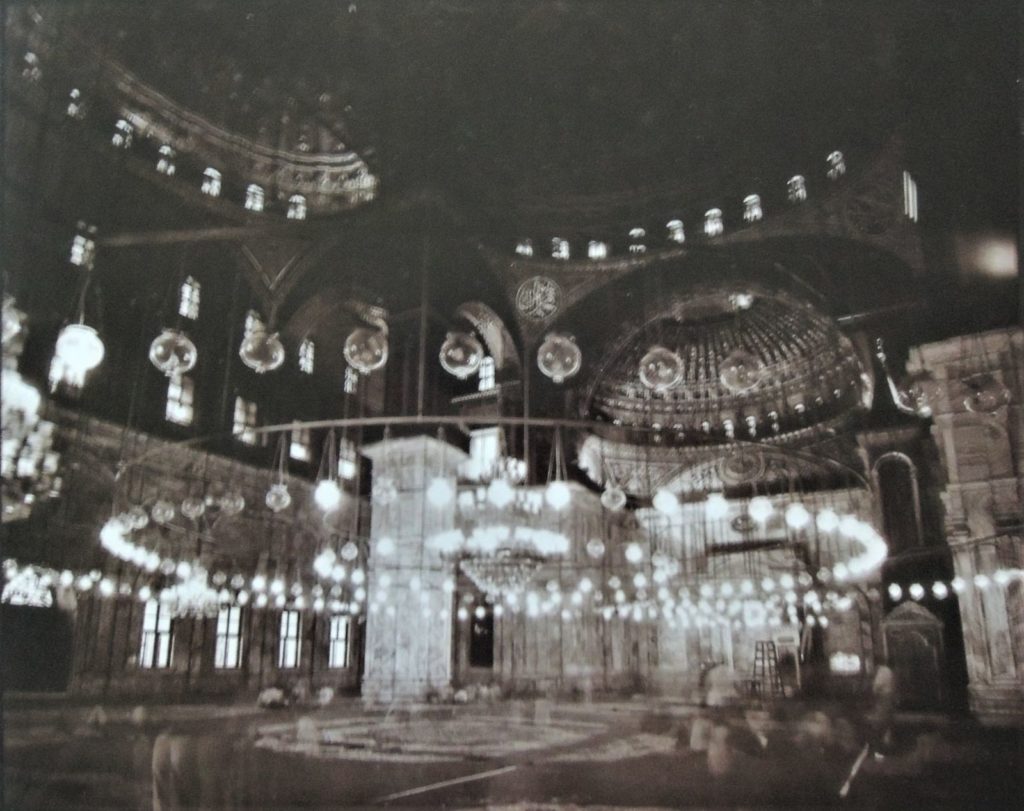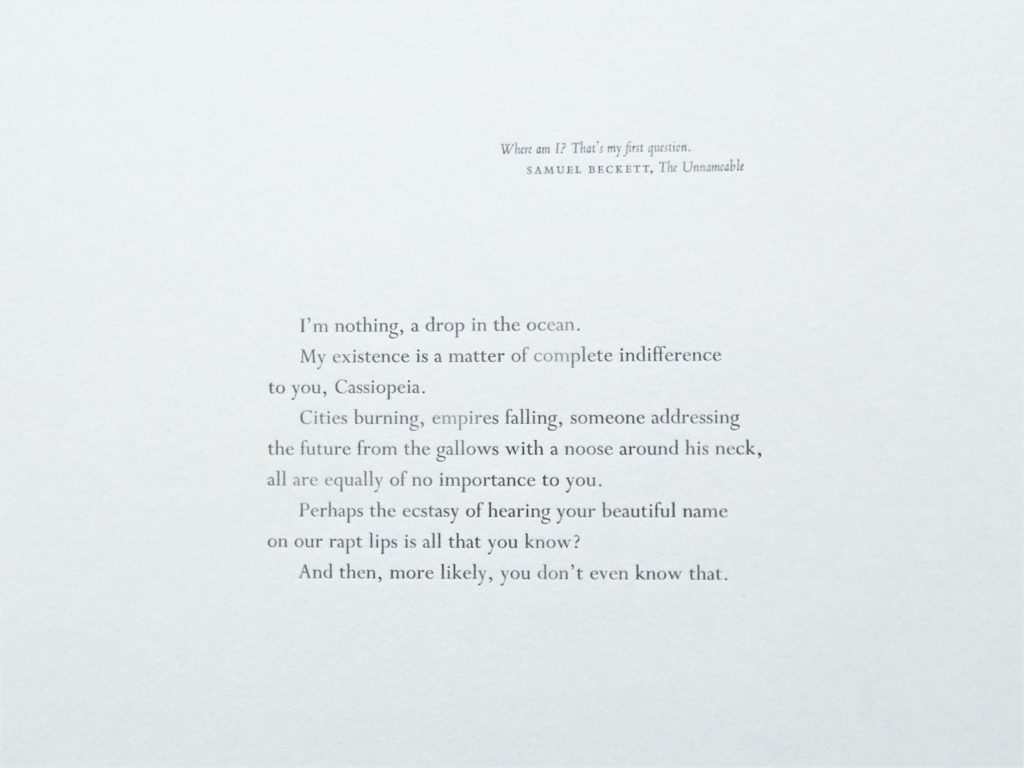 Writing for the New York Times, Phyllis Braff keenly observed
"Linda Connor stakes out ambitious visual and conceptual themes for her photographic projects, and her art has been earning wide respect for several decades. Her base is California, but she travels the world to gather content." In reviewing On the Music of the Spheres, Braff continues "The territory Ms. Connor chooses to explore is nothing less than the heavens. Turning the idea into a multifaceted essay that stimulates the mind as well as the eye, she interweaves her prints made from the glass plates of 19th-century astrological photographers with her images of indoor and outdoor settings that portray heavenly light. Photographs of illumination entering ancient holy places in India, Turkey, Egypt and Tibet seem to subtly depict the sun's rays as carriers of spiritual messages and these images are rather magical. Quite stunning, too, is the attention to architecture and to its use in building dramatic pictorial structure."– Phyllis Braff, "Capturing the Elusive: Music of the Spheres," New York Times December 15, 1996.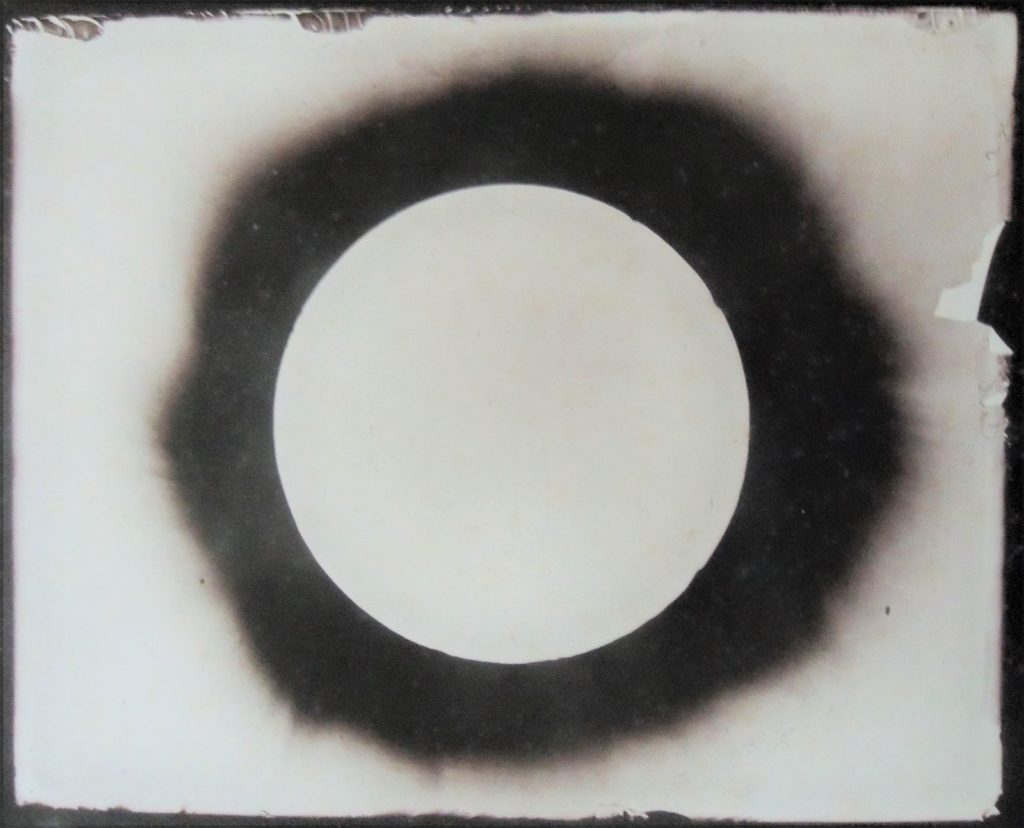 As noted by the Poetry Foundation, "Charles Simic is widely recognized as one of the most visceral and unique poets writing today. His work has won numerous awards, among them the 1990 Pulitzer Prize, a MacArthur Foundation "genius grant," the Griffin International Poetry Prize, the Wallace Stevens Award, and the appointment as US poet laureate. He taught English and creative writing for over 30 years at the University of New Hampshire. Although he emigrated to the US from Yugoslavia as a teenager, Simic writes in English, drawing upon his own experiences of war-torn Belgrade to compose poems about the physical and spiritual poverty of modern life. Liam Rector, writing for the Hudson Review, has noted that the author's work "has about it a purity, an originality unmatched by many of his contemporaries."
The project for the week is: Look up.
See also Simic's The White Room: https://poets.org/poem/white-room

It begins:
The obvious is difficult
To prove. Many prefer
The hidden. I did, too.
I listened to the trees. . .