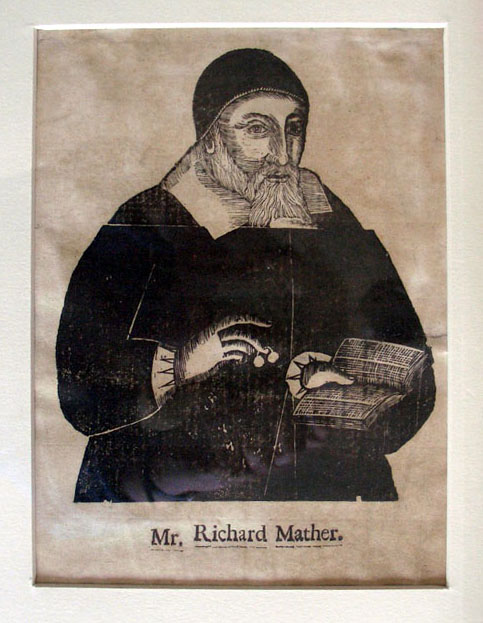 John Foster (1648-1681), Mr. Richard Mather, ca.1670. Woodcut. Sinclair Hamilton no.1, Graphic Arts Collection, Princeton University Library
To celebrate the 350th anniversary of the oldest surviving print from Colonial America, we have assembled all five extent copies of the portrait of the Reverend Richard Mather (1596-1669) to compare them. Never exhibited together in a physical gallery, this virtual presentation will help to address the many unanswered questions surrounding the five woodcuts, such as why is his shoulder so uneven? When were they actually printed? And what was the purpose of the picture?
Princeton University is fortunate to own one of these rare impressions. With our sincere thanks, the other copies are shown courtesy of the American Antiquarian Society; Houghton Library, Harvard University; Massachusetts Historical Society, and the Tracy W. McGregor Library of American History, University of Virginia.
Please join us for a live zoom talk at 2:00 p.m. EDT on May 22, 2020, beginning with a presentation by Julie Mellby, Graphic Arts Curator, Princeton University Library, followed by a conversation with Caroline Duroselle-Melish, Andrew W. Mellon Curator of Early Modern Books and Prints and Associate Librarian for Collection Care and Development, Folger Shakespeare Library.
Register here: https://libcal.princeton.edu/event/6715887. A link will be sent once you register. Questions are welcome during the talk or in advance to jmellby@princeton.edu. Hope to see you there.