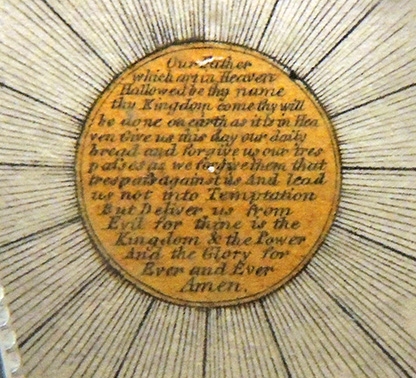 Detail from below
The Alphabet. The Alphabet in Capitals. The Lord's Prayer. May his efforts to please his kind patrons succeed... (London: W. Snow [prob. circa 1815]). Hand colored steel engraved card, 14 x 10.5 cm. Graphic Arts Collection Recap 103360002

Detail from below.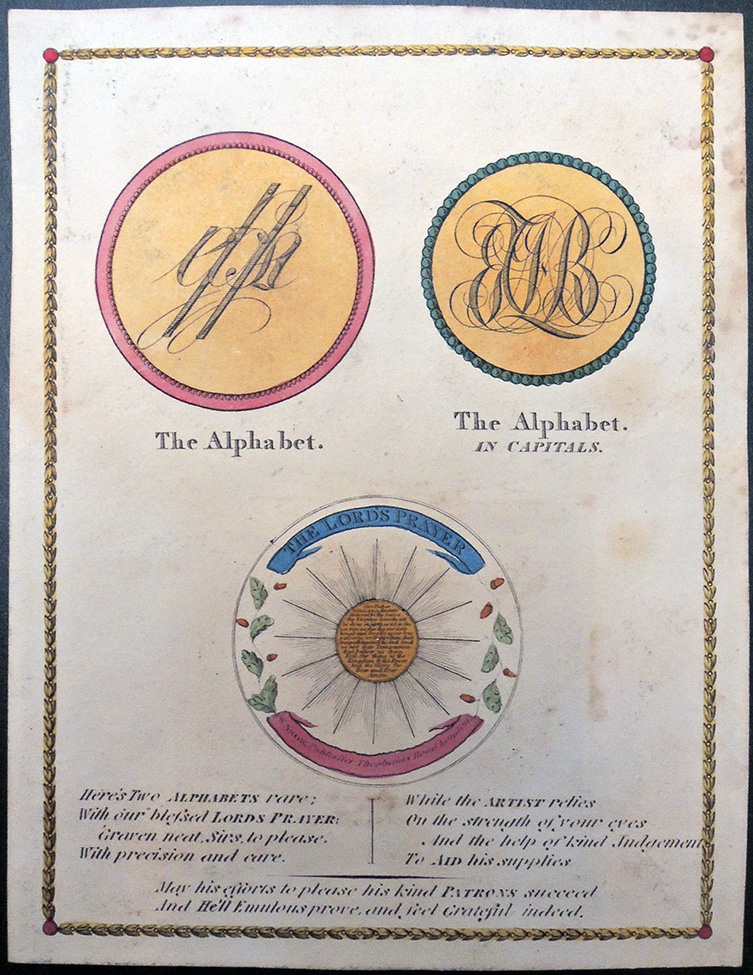 This fun piece of ephemera offers three puzzles on one printed card, each with an optical trick. Published by W. Snow in Theobalds Road, London, the card showcases two alphabets written in the shape of monograms and a micrographic script with Lord's Prayer.
W. Snow might refer to William Higgin Snow, publisher of another optical trick: A map of the country ten miles round London, printed around 1815 on a card 15 x 12 cm, the same as our optical card.
Such printed games were popular throughout the 19th century. A second copy of Snow's card can be found in the John Johnson Collection of Printed Ephemera at the Bodleian Library along with dozens of other examples of the Lord's Prayer or other texts "written in the compass of a silver penny." https://library.princeton.edu/resource/4747
Here's Two ALPHABETS rare;
With our blessed LORDS PRAYER;
'Graven neat, Sirs, to please,
With precision and care.
While the ARTIST relies
On the strength of your eyes
And the help of kind Judgement
To AID his supplies
May his efforts to please his kind PATRONS succeed
And He'll Emulous prove and feel grateful indeed.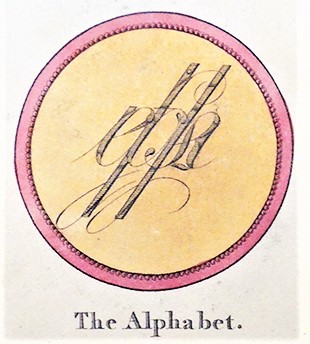 Can you find all the letters of the alphabet?
X and Z might be the most difficult, easier in capitals below.