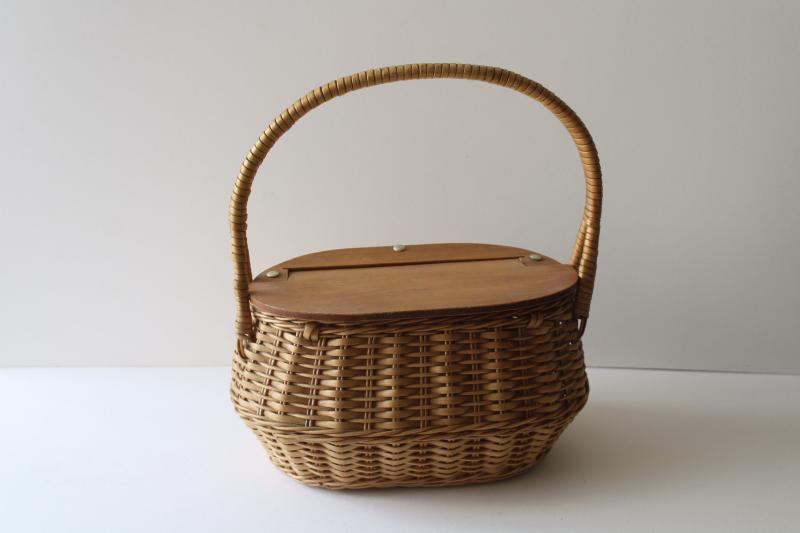 Have you checked to bottom of your sewing basket recently for rare prints?
For many years, an impression of the first woodcut portrait printed in colonial America laid in the bottom of the work-basket of Sarah Catherine Mather (1840-1924) before it was discovered. The rare print was passed down to her nephew Frank Jewett Mather Jr. (1868-1953), former art history profession at Princeton University and a direct descendant of the subject of the print, Reverend Richard Mather (1596-1669). In 1957, the woodcut was given to the Princeton University Library, in memory of Frank Jewett Mather, Jr., by his wife, son, Frank Jewett Mather III, and daughter, Mrs. Louis A. Turner.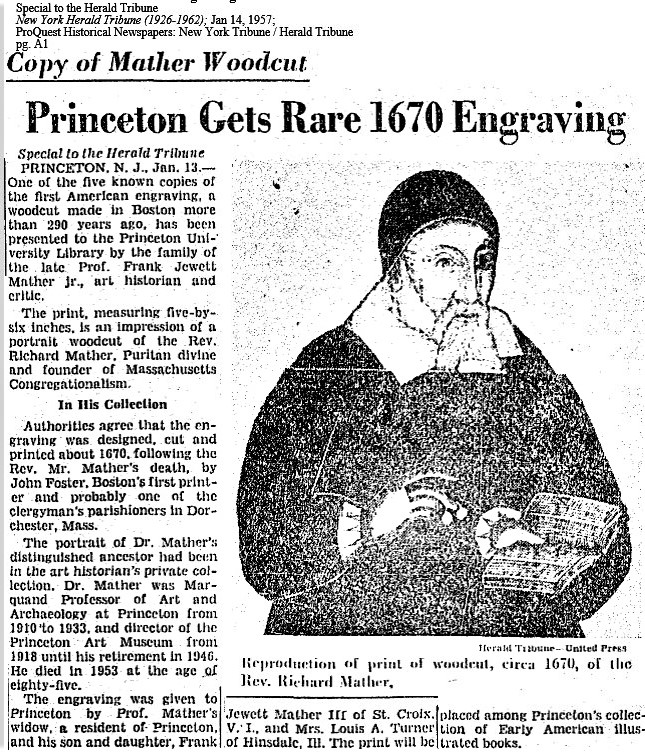 Sinclair Hamilton wrote,
"This cut is not only the first woodcut portrait produced in what is now the United States, it is also our first portrait print. Indeed, it is the first print of any significance to be made in this country, in any medium or of any kind, and may be said to mark the beginning of engraving, using that word broadly to embrace all types of cuts, in North America. … It is further reported by a good friend of his that, when the cut finally came into [Frank Mather's] possession, he hung it near the front door so that, in case of fire, it would be the first object to be rescued, even before his Giorgione painting, which, a gift from him shortly before his death, now hangs in Princeton's Art Museum".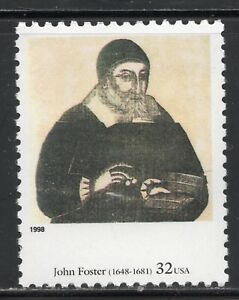 There are four other extant impressions from Foster's woodblock. The first to be given to a public institution was presented in 1807 to the Massachusetts Historical Society by Arthur Maynard Walter, a descendant of Richard Mather.
William Bentley, another descendant of Mather, willed his copy of the print to the American Antiquarian Society, who acquired it in 1819. Green compared this copy with the one at the Massachusetts Historical Society, saying "A similar engraving, in which the two parts fit, is owned by the American Antiquarian Society at Worcester. Evidently this is a later impression from the same block, as the two parts fit; and furthermore, the left arm has been considerably pared off."
According to Gillett Griffin in his 1959 article in PaGA, "The Harvard copy alone has a satisfactory seventeenth-century provenance. The handwriting of William Adams of Dedham, who died in 1685 and the fact that the print also belonged to his son, Eliphalet Adams of New London, who had it 'bound in 1701-2', provide the means of establishing its record." This copy in the Houghton Library was not purchased individually but found, according to Samuel A. Green, "pre fixed to a copy of Increase Mather's The Life and Death of That Reverend Man of God, Mr. Richard Mather, Cambridge, 1670, which in turn was bound up with a number of other pamphlets. Except for this one instance, nothing has been recorded which would indicate that the cut was originally intended for use as a frontispiece." No date of the discovery is given.
In 1935 Tracy William McGregor (1869-1936) acquired the best collection in private hands of books and manuscripts written by or relating to the Mathers. Formed by William Gwinn Mather of Cleveland, Ohio, the collection numbered over 2,100 items, including John Foster's woodcut of Richard Mather. Three years later, the trustees of the McGregor Fund donated the collection to the University of Virginia, beautifully housed today in the Tracy W. McGregor Library of American History.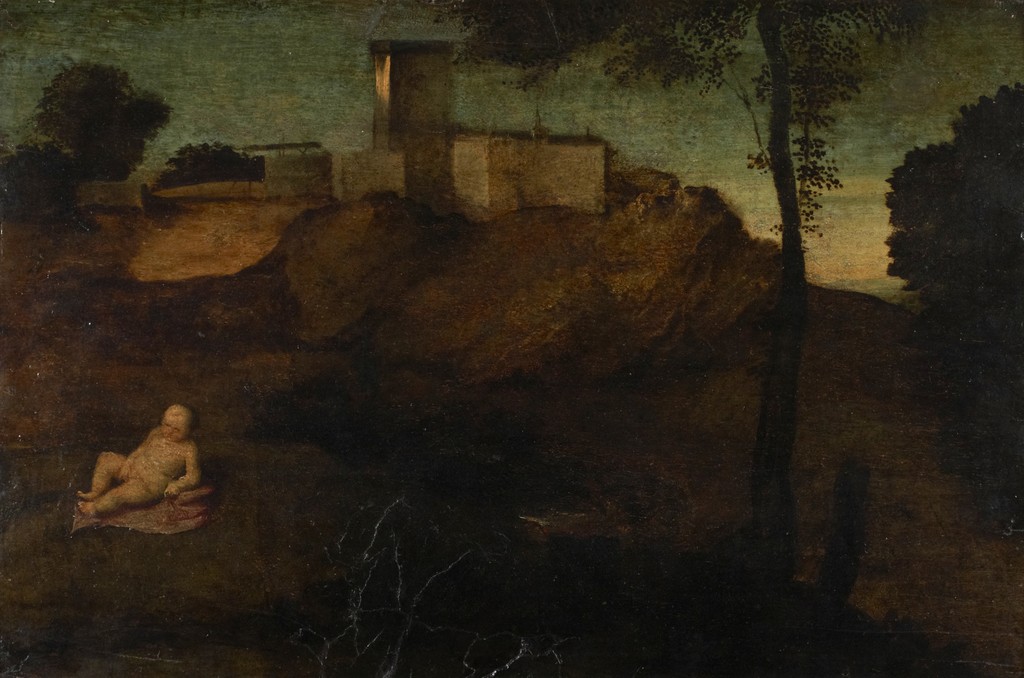 Circle of Giorgione, Infant Paris Abandoned on Mount Ida, ca. 1510. Oil on wood panel. Gift of Frank Jewett Mather Jr., y1948-65