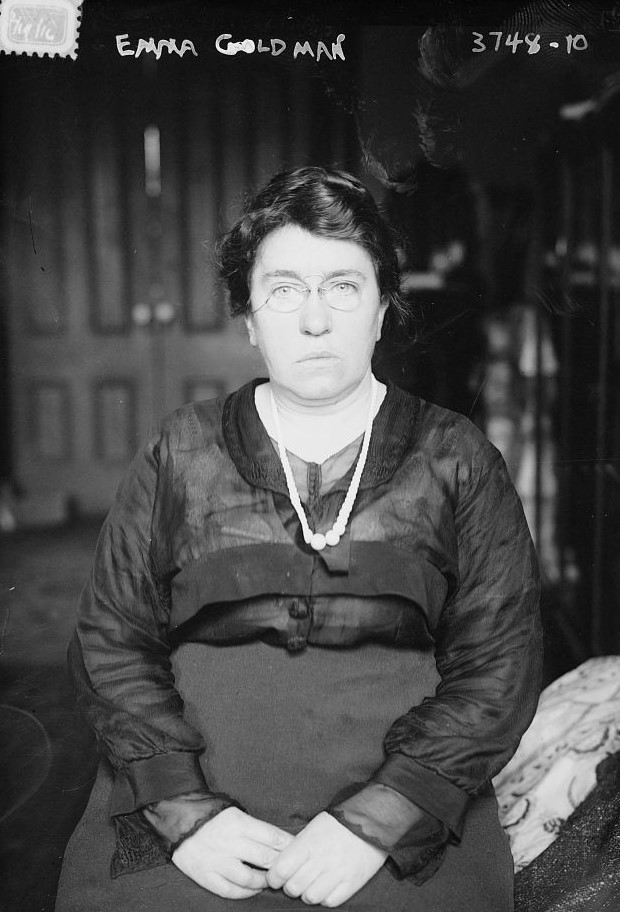 From the George Grantham Bain Collection (Library of Congress).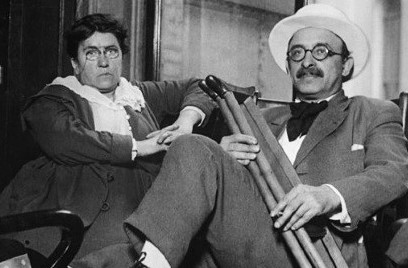 Political activist Emma Goldman (1869-1940) came to the United States in 1885 and was swept up in the anarchist movement that led to the attempted killing of Henry Clay Frick and the assassination of President William McKinley. In between, to pay the rent, she twice operated an ice cream parlor. The first was successful but given up to make the attempt on Frick's life. The second was a failure and forgotten.
Together with her partner at the time, Alexander Berkman (1870-1936), she opened her first ice cream parlor in 1892 in Worcester, Massachusetts. The enterprise is well documented and there are several links below. Goldman did the cooking and serving, while Berkman helped out periodically.
S.N. Behrman went to Goldman's ice cream parlor as a child living in Worcester and wrote about the experience in "Double Chocolate with Emma and Sasha," The New Yorker, January 16, 1954: 24-29.
"One day, when I was still very young, Providence Street began to come alive with rumors and horrid allegations about the proprietors of a new ice-cream parlor that had been opened in our neighborhood. We children were forbidden to patronize the anathematized parlor, and it was a long time before I dared to defy the ban. Since the new entrepreneurs were Emma Goldman and Alexander Berkman (whom Miss Goldman called Sasha), some people might have disapproved of them on political grounds; the hatred of the Providence Street parents was founded on religious ones."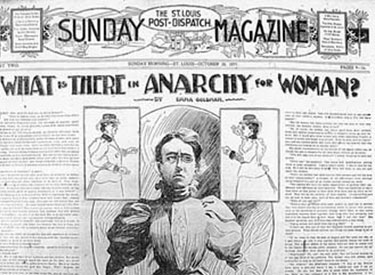 Not long after she was released from prison, Goldman opened her second ice cream parlor in the spring of 1895, together with her friends Claus Timmerman and Edward Brady. Located in the Brownsville neighborhood of Brooklyn, New York, it only lasted three months. In her autobiography Goldman writes,
"It occurred to me that we might try something like our ice-cream parlour in Worcester. It had been successful there; why not in New York? Ed approved of the project and suggested that we proceed at once. I had saved a little money and Fedya offered us more. Friends advised Brownsville: it was a growing centre, and a store could be got not far from the race-tracks, where thousands of people were passing daily. So to Brownsville we went, and fixed up a beautiful place. Thousands did pass by there, but they kept on passing. They were in a hurry to get to the race-track, and on their way home they had already visited some ice-cream store nearer the track. Our daily receipts were not enough to cover our expenses. We could not even keep up the weekly payments on the furniture we had bought for the two rooms we had rented in Brownsville. One afternoon a wagon drove up and proceeded to collect beds, tables, chairs, and everything else we had. …In three months we had lost five hundred dollars, besides the work." –Emma Goldman, Living My Life, Volume 1
This week's challenge:
Where exactly was the second ice cream parlor located? Might it be the same building where she helped her friend Margaret Sanger (1879-1966) opened the first birth control clinic in the United States: 46 Amboy Street, Brooklyn, New York? When you find the answer, please email jmellby@princeton.edu.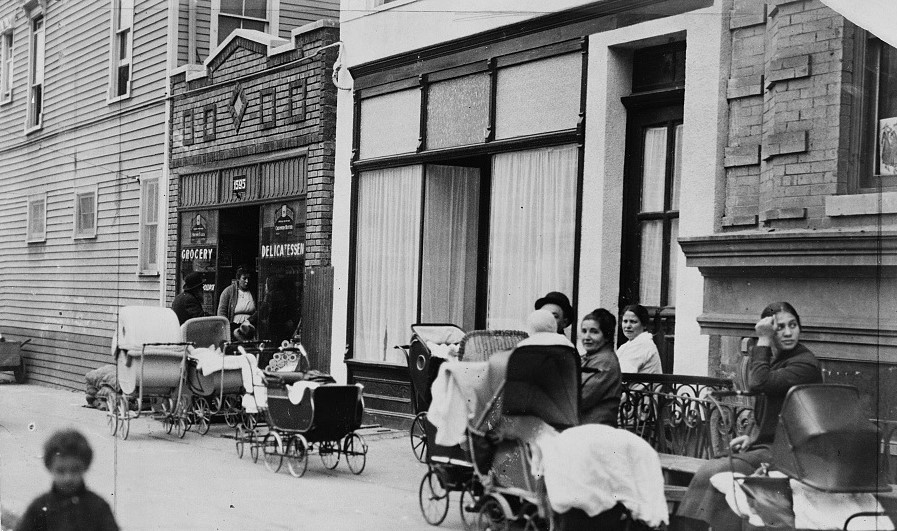 46 Amboy Street, Brooklyn, New York. Above: ca. 1916.  Below: 2020.



Soon after this, Goldman moved into 208 East 13th Street, where she published a monthly magazine, Mother Earth, that served as a forum of anarchist ideas and a venue for radical artists and writers. Happily, Hathi Trust is providing open access for students while the library is closed. Firestone Library HX821.M85
Here are some other accounts of the ice cream parlor:
https://commons.wikimedia.org/w/index.php?curid=67893771
https://www.lawyersgunsmoneyblog.com/2015/04/ice-cream-the-dessert-of-revolution
http://www.snbehrman.com/library/newyorker/54.1.16.NY.htm
https://www.latimes.com/business/hiltzik/la-fi-mh-anarchism-with-whipped-cream-and-a-cherry-on-top-20150401-column.html
A preview of the PBS American Experience episode on Emma Goldman:
The full hour can be streamed here: https://www.pbs.org/wgbh/americanexperience/films/goldman/#part01