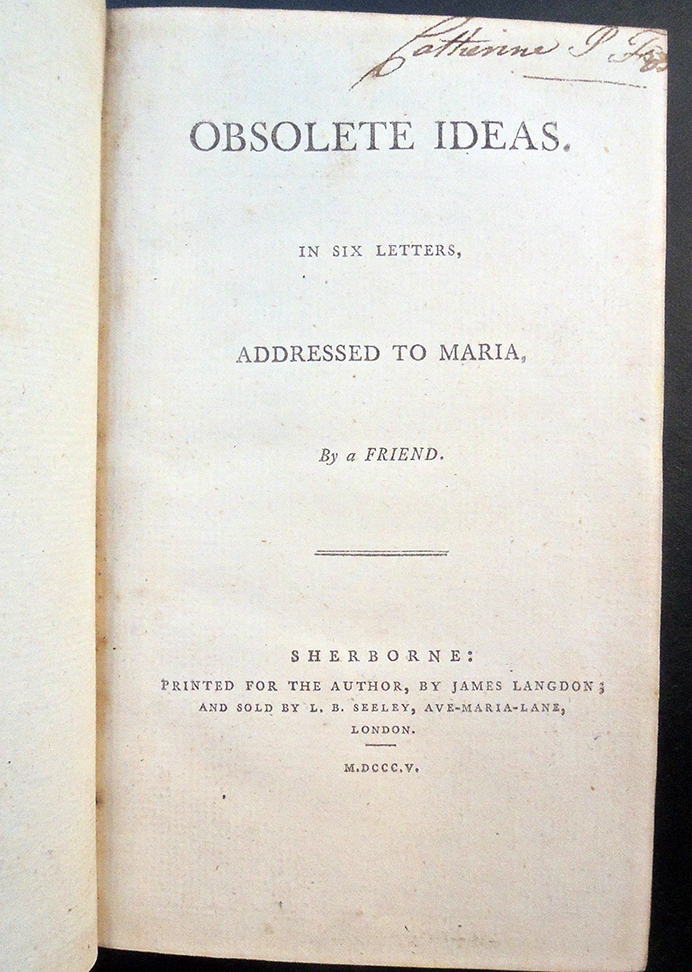 Eliza Browne, Obsolete Ideas, in Six Letters Addressed to Maria By a Friend (Sherborne: for the author by James Langdon, 1805). Graphic Arts Collection GA 2020- in process.
If the contents of this small volume written by a women to a female reader were not appealing enough, the provenance of a female owner,  Catherine P[ayton] Fox, (inscribed on the title page with her label on front pastedown), makes it extra desirable.
Eliza Browne, identified in the fourth edition of her work, wrote six letters giving advice to a younger women. This is not your usual etiquette book or guide to modern manners. It would be interesting to compare all four editions to see if the advice changes over the years.
"Under this singular title, are comprised some shrewd and useful observations on the relative conduct of parents and children; the fashionable dissipation of young men, who have been piously educated; the respect due to aged persons; chaste women, and women of character; on the poor in general; and on single women. To the latter two classes, the fair author, though apparently allied to neither, is in every respect very charitably disposed. In proof that a deserving person may be reduced even to beg in the streets, she relates a very pleasing and pathetic story… No part of the short table of contents, probably, may excite the curiosity of our readers, so much as the distinction between chaste women and women of character."–The Eclectic Review, vol. II, part 1, 1806, pp. 148-49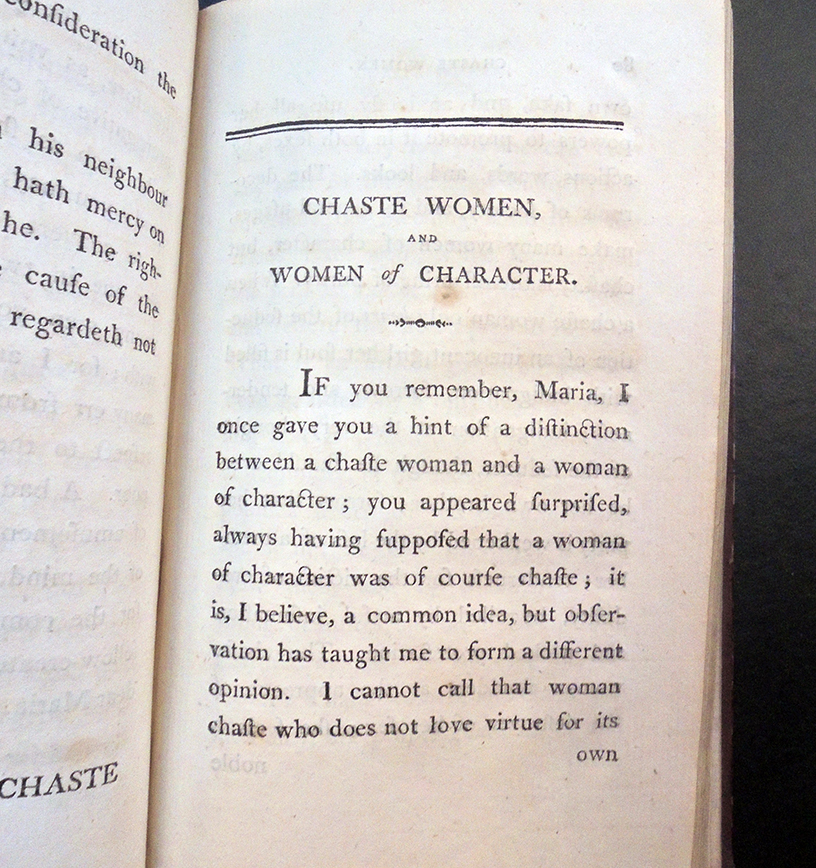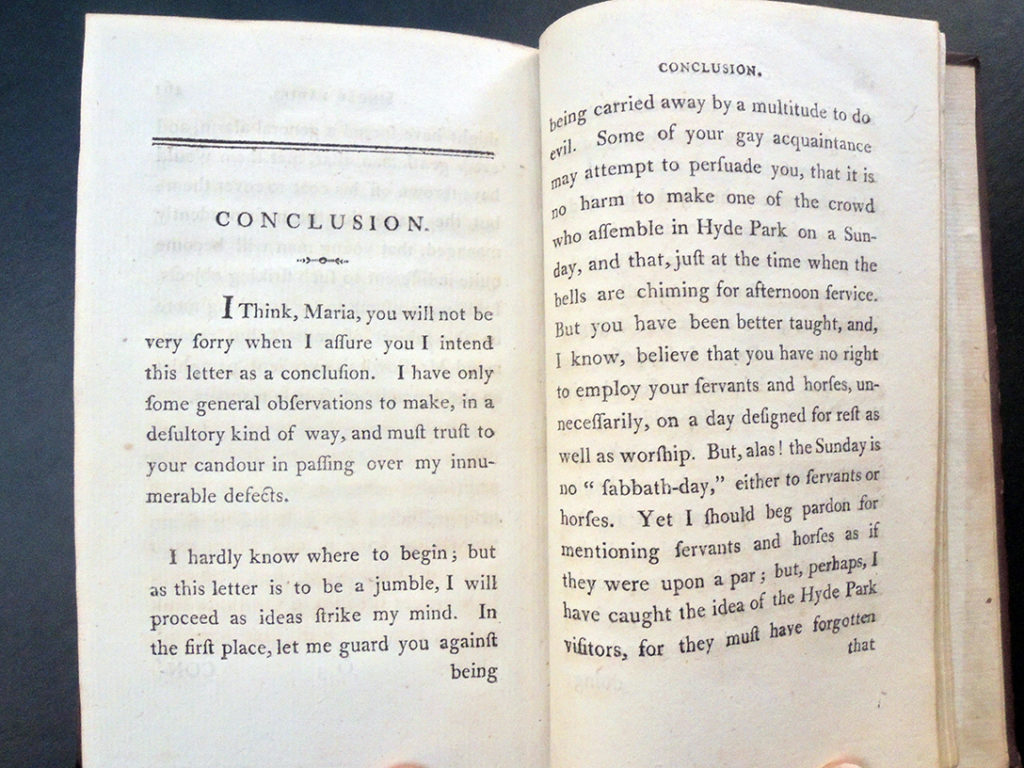 "Courteous, candid, and gentle Reader," Eliza begins, "those are epithets that must sound very strange in modern ears, but the writer of the following pages cannot by any means do without them; and as she makes a point of rejecting nothing that may answer her purpose, even though it should have been the fashion of the sixteenth century, it is therefore hoped that the introduction of so obsolete an address with give offence [sic] to [no one]."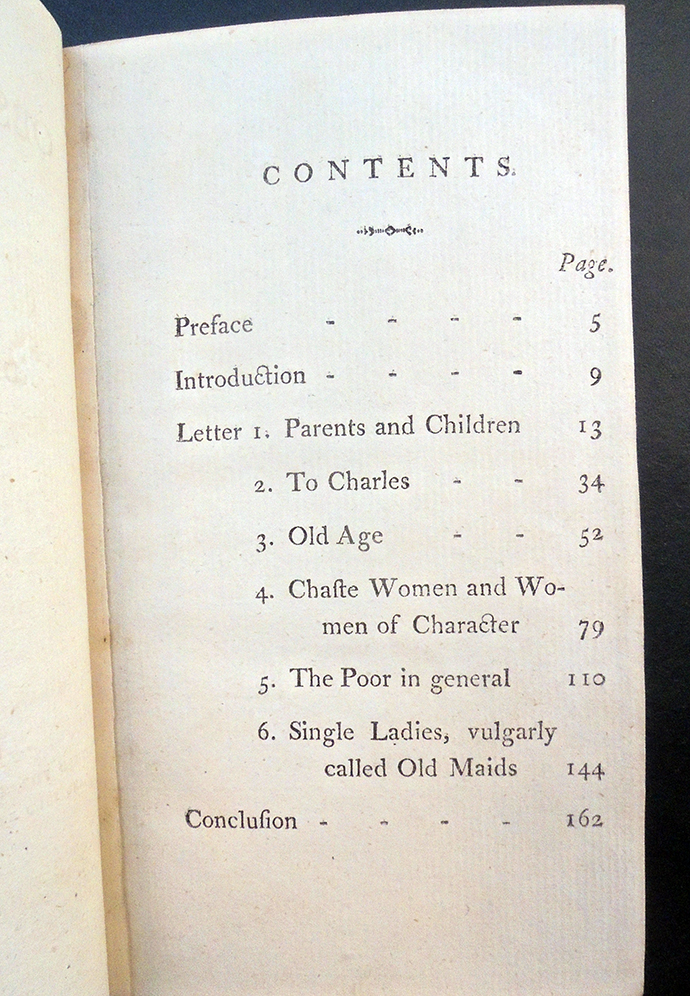 The fourth edition of this book introduces yet another women to the mix. It is dedicated to the Viscountess Cremorne, probably Philadelphia Hannah Freame, the daughter of Thomas Freame and Margaretta Penn, fourth daughter of William Penn (1644-1718), the founder of Pennsylvania.
"In 1770 she married the widowed Thomas Dawson (1725-1813), who in that same year was elevated to the Irish peerage, as Baron Dartry of Dawson's Grove. Dawson was the son of Dublin banker Richard Dawson and his wife Elizabeth Vesey Dawson. From 1749-1768 Thomas Dawson served as a member of Parliament for County Managhan [Ireland].
He was married firstly in 1754 to Lady Anne Fremor, daughter of the first Earl of Pomfret, with whom he had a son and a daughter. Dawson and his second wife had a son and daughter as well. In 1795 he was made Viscount Cremorne, and in 1797 he became Baron Cremorne of Castle Dawson.
Dawson was a patron of the arts and a collector of paintings. Gilbert Stuart painted his portrait, as well as that of the Viscountess, and he was included on Stuarts' 1895 list of those patrons who were to receive copies of the artist's portrait of George Washington (although it is unknown whether he actually received one)."–National Gallery of Art, Washington D.C.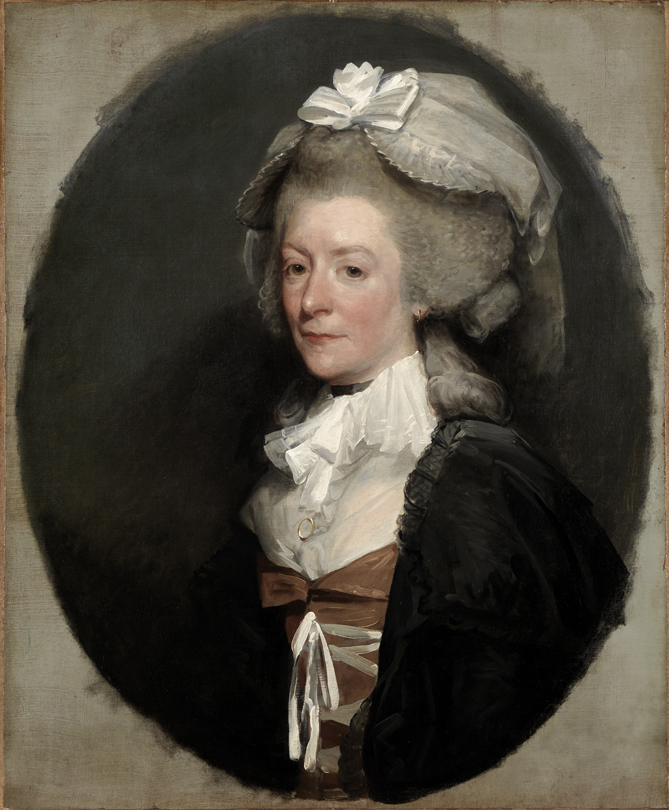 Gilbert Stuart, Portrait of 'Philadelphia Hannah', ca. 1785. Oil on canvas. Philadelphia Academy of the Fine Arts 1999.11