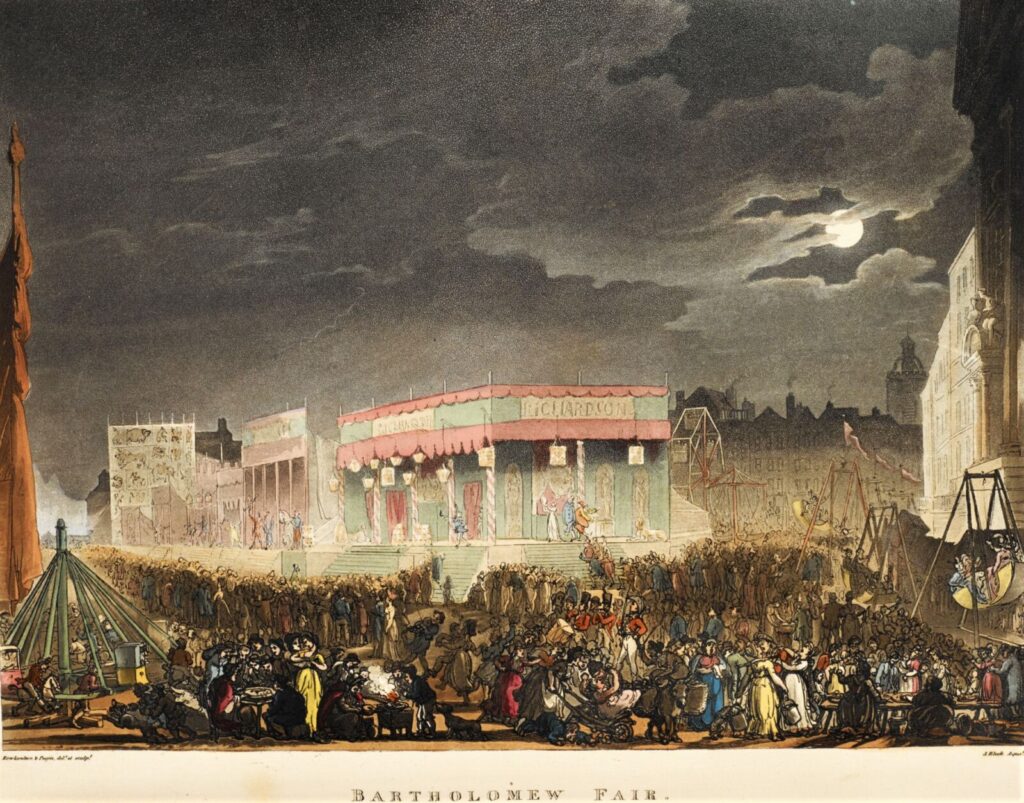 Perhaps the earliest and most charming image of Richardson's Theatre at the Bartholomew Fair appeared in Rudolph Ackermann's Microcosm of London (1808-10), etched and aquatinted by Thomas Rowlandson and Augustus Pugin. (Graphic Arts Collection Oversize Rowlandson 1808.02f).
Led by John Richardson (1767-1827), the outdoor productions at Bartholomew and Greenwich Fairs were said to rivaled those of the London theaters. "Richardson first opened his theatrical production at Bartholomew Fair in 1798 using scenery from Drury Lane. The performances took place in a narrow booth (100 feet by 30 feet), colourful and brightly lit. The show toured, in the London area, to such fairs as Southwark, Brook Green and Greenwich. Over time, Richardson's booth expanded, and he ran several performances simultaneously, and he could stage over a dozen burlesques and melodramas each day. By 1828, the price of admission was sixpence, and refreshments were another profit source for the troupe. The young Edmund Kean learned his craft here, before moving on to a more respectable theatrical environment. After Richardson's death, the show was continued until 1853 by Nelson Lee.—Victoria & Albert collection database
According to the British Library, "Bartholomew Fair was under almost constant attack from City authorities during the 18th and 19th centuries for the immorality and drunkenness that was often witnessed there. The salacious theatre productions on show were of particular concern to moral reformers, as was the ability of the fair to keep the working population from their daily employment. Theatrical shows were eventually banned from the site in the 1840s following several public disturbances, and the fair itself was prohibited entirely by the City of London authorities in 1855."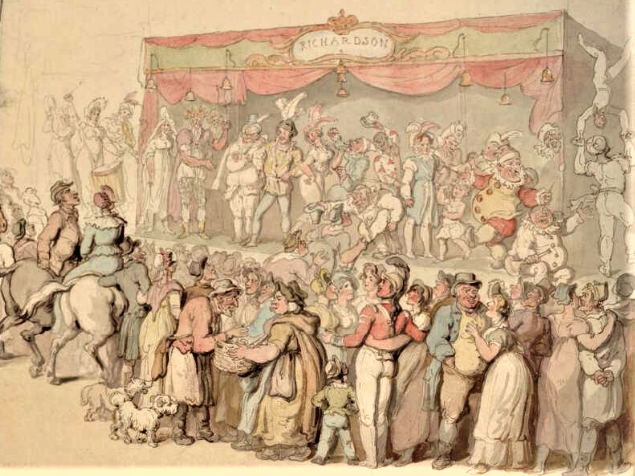 Thomas Rowlandson, Greenwich Fair with Richardson's booth [detail]. Pen and brown and grey ink, with grey wash and watercolour. 1811-1816. British Museum. 'Richardson's Show' (part of this composition) was etched by the artist and published in 'Rowlandson's World in Miniature', 1816, pl. 14. Graphic Arts Collection Rowlandson 1816.5
"Richardson's platform was lined with green baize, festooned with crimson curtains, and lighted with fifteen hundred variegated lamps. His money takers sat in Gothic seats. He had a band of ten beefeaters, and a parade of his dramatic force."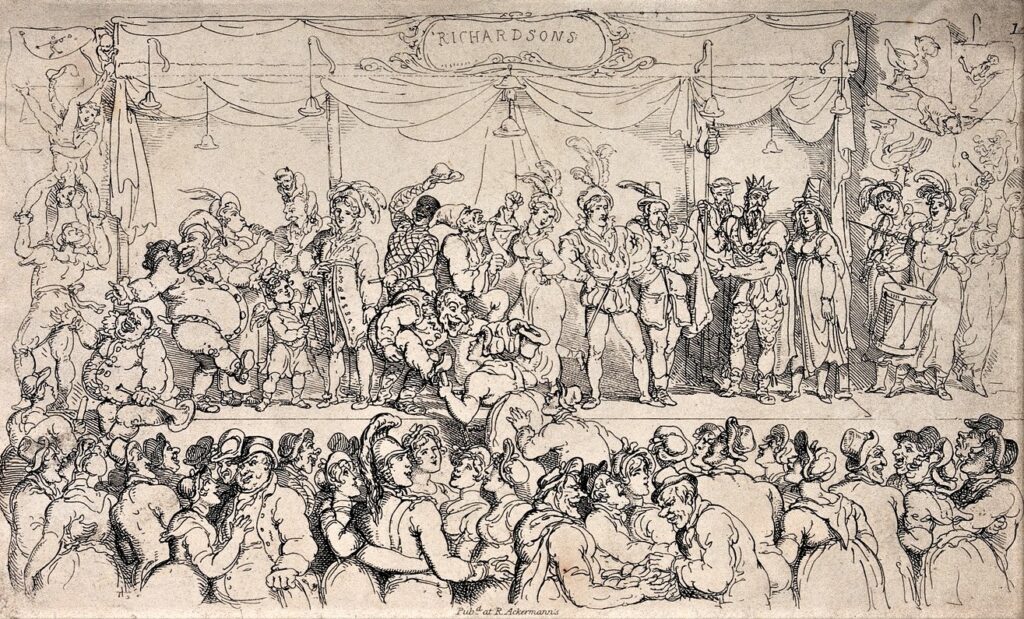 Thomas Rowlandson, People watching Richardson's Travelling Theatre on stage. Etching, 1816. Welcome Institute.
"In 1825 William Hone described [Richardson's] theatre at Bartholomew Fair. Its frontage was a hundred feet wide and thirty feet tall, with a spacious elevated platform, or 'walk-up', in front. This was decorated in green baize with fringed crimson curtains and contained two Gothic arches into the theatre behind, where the money takers sat. Fifteen hundred lamps in chandeliers, clusters and festoons illumined the walk-up, where a band of ten played and actors in costume paraded or danced in sets. Charles Dickens described "the company now promenading outside in all the dignity of wigs, spangles, red-ochre, and whitening. See with what a ferocious air the gentlemen who personates the Mexican chief paces up and down and with what an eye of calm dignity the principal tragedian gazes on the crowd below, or converses confidentially with the harlequin!" — Robert Leach, An Illustrated History of British Theatre and Performance (2018).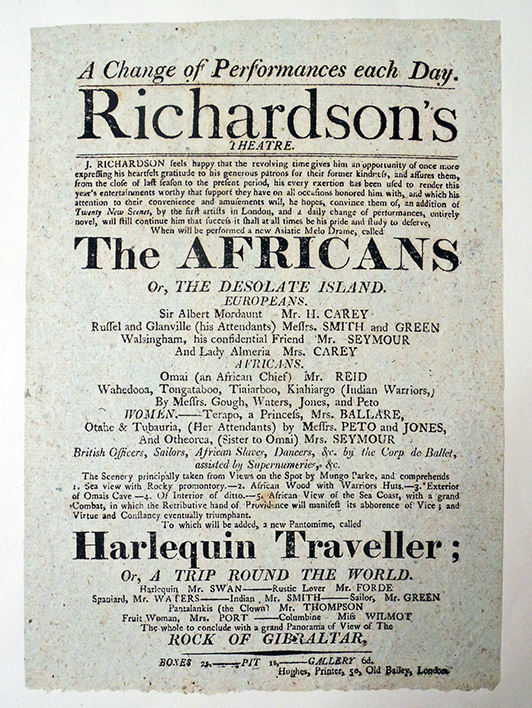 The Africans or, The Desolate Island [broadside] (London: Hughes, 1800). Graphic Arts Collection GAX 2020- in process
The broadside states: "J. Richardson feels happy that the revolving time gives him an opportunity of once more expressing his heartfelt gratitude to his generous patrons for their former kindness, and assure them, from the close of last season to the present period, his every exertion has been used to render this year's entertainments worthy that support they have on all occasions honored him with, and which his attention to their convenience and amusements will, he hopes, convince them of, an addition of Twenty New Scenes, by the first artists in London, and a daily change of performances, entirely novel, will still continue him that success is shall at all times be his pride and study to deserve, when will be performed a new Asiatic melo Drame, called The Africans or, The Desolate Island."