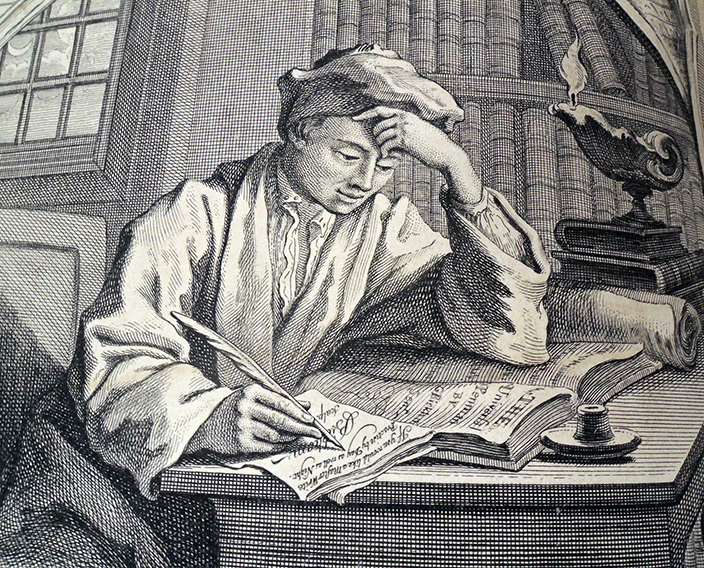 "…hmmm. First edition, second issue…Second edition, first issue…"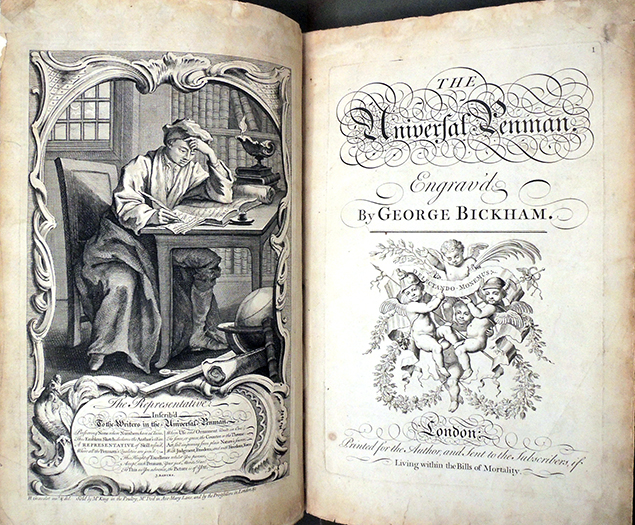 George Bickham the Elder (1684-1758), The Universal Penman, or, The Art of Writing Made Useful to the Gentleman and Scholar, As Well As the Man of Business (London: Printed by and sold for the Author, 1741). Graphic Arts Collection GAX 2020- in process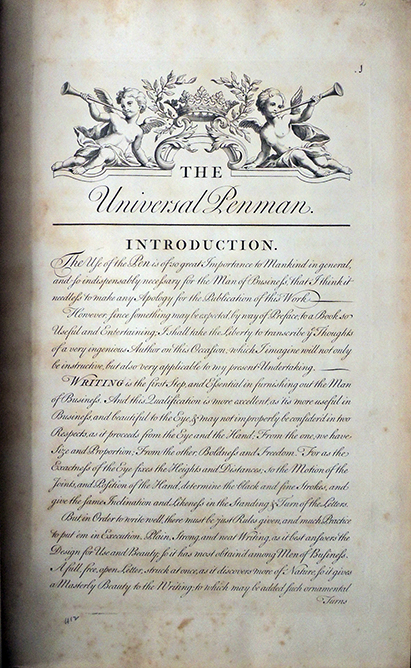 A classic text in the history of writing and printing, the engraved copybook The Universal Penman by George Bickham the Elder is a must for any serious rare book collection. According to most sources, Bickham began collecting samples of English penmanship in 1733 from 25 London writing masters. A master engraver by trade, he then transferred the ink calligraphy to engraved copper plates and issued them in 52 parts between 1733 and 1741. The popular collection was reprinted and reissued continually, most recently by Gale in 2018.
Is there a definitive first edition?
Princeton University Library now holds three early collections of Bickham's parts. Our most recent is complete with an engraved frontispiece by Hubert-François Bourguignon, commonly known as Gravelot (1699–1773), two engraved title pages, and 212 engraved plates of calligraphy. The table of contents matches one other volume but not the front matter, while the pages match a second volume but not the index. This post is not a solution but only the question, whether one set of parts is more correct than another.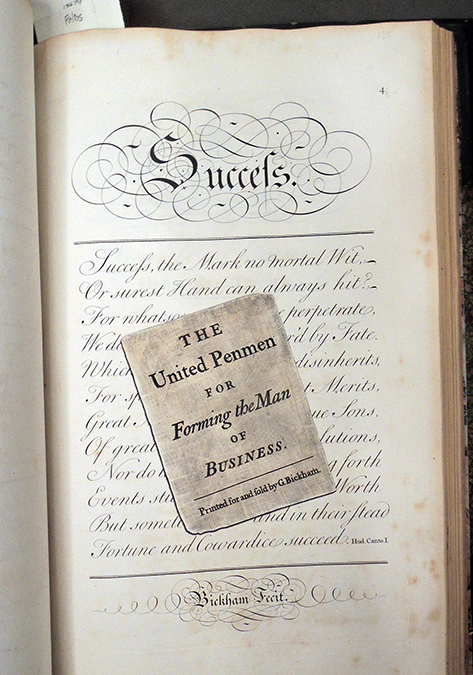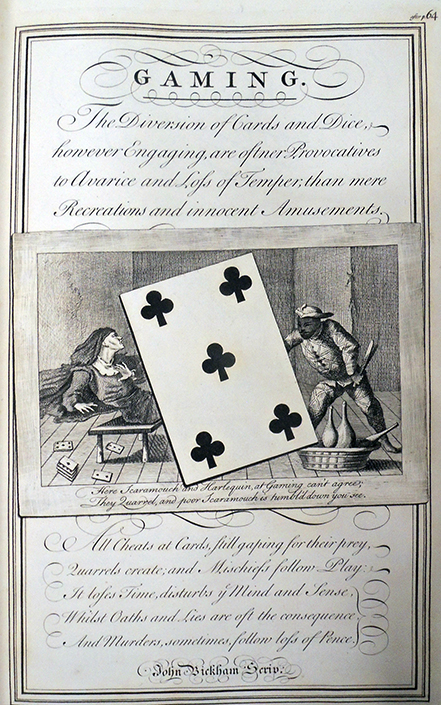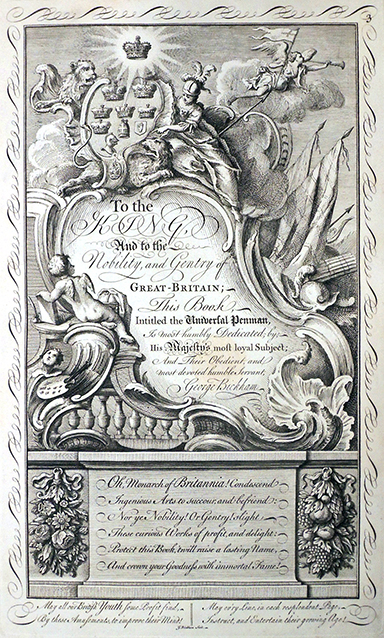 Kim Sloan writes for the Dictionary of National Biography:
Bickham, George (1683/4–1758), engraver and writing-master, was born in London; he was said to have been seventy-four when he died in 1758. …Bickham was apprenticed to the writing-master and engraver John Sturt and quickly gained a good reputation among writing-masters as an engraver of calligraphy. Joseph Champion claimed Bickham surpassed his master by being the first to cut through wax on copper without tracing the design first, thus transmitting the master's original more faithfully. …In his first surviving trade card, of 1705, Bickham advertised himself as a copperplate-engraver and teacher of drawing at Hoop Alley in Old Street, London.

…In 1723, while living in the parish of St Leonard, Shoreditch, in London, he was declared insolvent and imprisoned. Three years later he designed and engraved several plates in Thomas Weston's Writing, drawing and ancient arithmetick for the use of the young gentlemen at the academy at Greenwich, a school at which his son George later taught drawing. Several combination drawing and writing copybooks were published by George Bickham in the 1720s and early 1730s, and it is impossible to say for certain whether father, son, or both were responsible for them, since by this date both taught drawing and both were skilled engravers.

Often—as in the case of The Drawing and Writing Tutor—the first edition is undated and later editions contain additional plates clearly engraved by the son. However, the invention of plates which cleverly combined simple drawing examples with calligraphic text can undoubtedly be attributed to the father.

In the 1730s the elder Bickham seems to have settled fairly permanently in the Clerkenwell district of London, where his Penmanship in its Utmost Beauty and Extent (1731) was sold from his premises in Warner Street. Two years later he embarked on his most important contribution to British engraving, The Universal Penman, a joint work with his son and John Bickham (fl. 1730–1750), his son or brother, which was sold from his house in James Street, Bunhill Fields. Issued in fifty-two parts from 1733 to 1741, it was the culmination of his work as an engraver of calligraphy: it contained examples by twenty-five contemporary writing-masters on 212 folio copperplates, many embellished with decorations engraved by his son, as the elder Bickham firmly believed that drawing was a necessary qualification for the man of business.
Or woman of business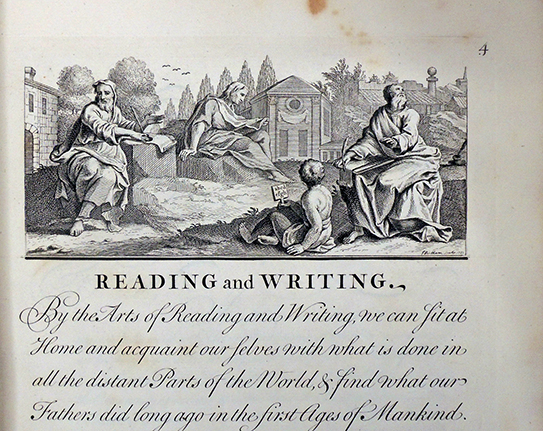 "By the Arts of Reading and Writing we can sit at Home and acquaint our selves with what is done in all the distant Parts of the World, & find what our Fathers did long ago in the first Ages of Mankind."