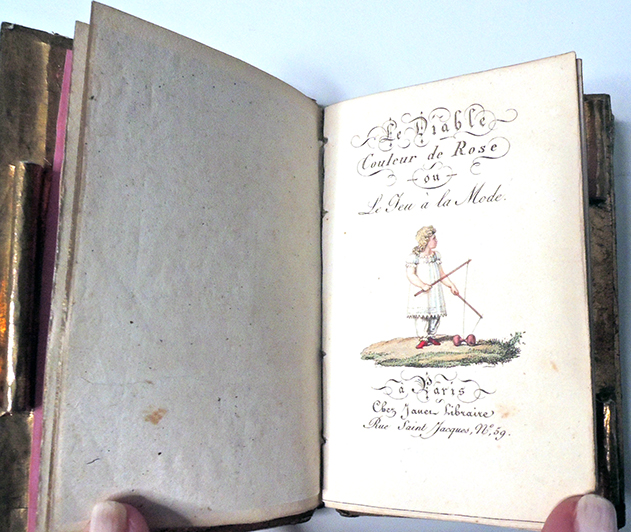 Le Diable couleur de rose ou Le jeu à la mode [=The Pink Devil or The Fashionable Game] (Paris: [Louis] Janet, Libraire, rue St. Jacques No 59, [ca. 1813-1819]). Graphic Arts Collection GAX 2020- in process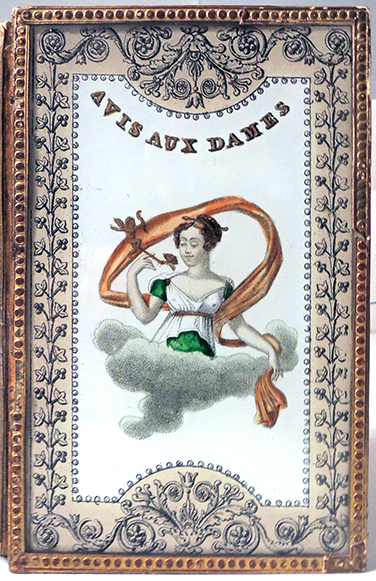 This luxury gift book/almanac for fashionable ladies features poetry, calendars, and six etchings depicting the game of 'devil sticks' also called the Chinese yo-yo also known as juggling a diabolo. Although the game originated in China, it was especially popular in France in the early 19th century, as seen here. The front and back endsheets incorporate gilt loops to hold a tiny pencil but there are no notes in this volume.
Bound and published by Janet, the BnF lists Pierre-Claude-Louis Janet, also known as Louis Janet (1788-1840) as a "Bookseller and bookbinder. – Son of the Parisian bookseller-bookbinder Pierre-Étienne Janet (1746-1830) and brother of the music publisher Pierre-Honoré Janet (1779? -1832) and of the engraver-publisher François-Pierre Janet (1784-1870). First established in 1810 as a satin maker and bookbinder. Patented bookseller in Paris on June 26, 1821, in succession from his father who gave him his patent (inspector's report of April 12, 1821). Publishes almanacs, New Year's Eve books and gift books known as "keepsakes". Produces cardboard boxes, serial bindings and luxury bindings. Bankruptcy declared on July 6, 1838. Died in Paris in Jan. 1840. His widow succeeded him in 1841 and would practice until at least 1875."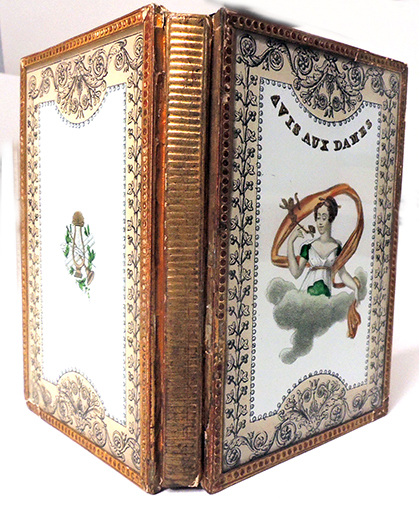 Janet's "fixé sous verre" binding includes two hand painted scenes, front and back, mounted under transparent material framed with heavy gilt paper "gauffred cartonnage" [https://cool.culturalheritage.org/don/dt/dt1504.html]. On the cover a charming lady rises from a cloud balancing cupid on the stem of a rose. Above her is "Avis Aux Dames" or Ladies View or Ladies Point of View.
See also: https://cirque-cnac.bnf.fr/en/diabolo


Want to learn how to juggle the diabolo?