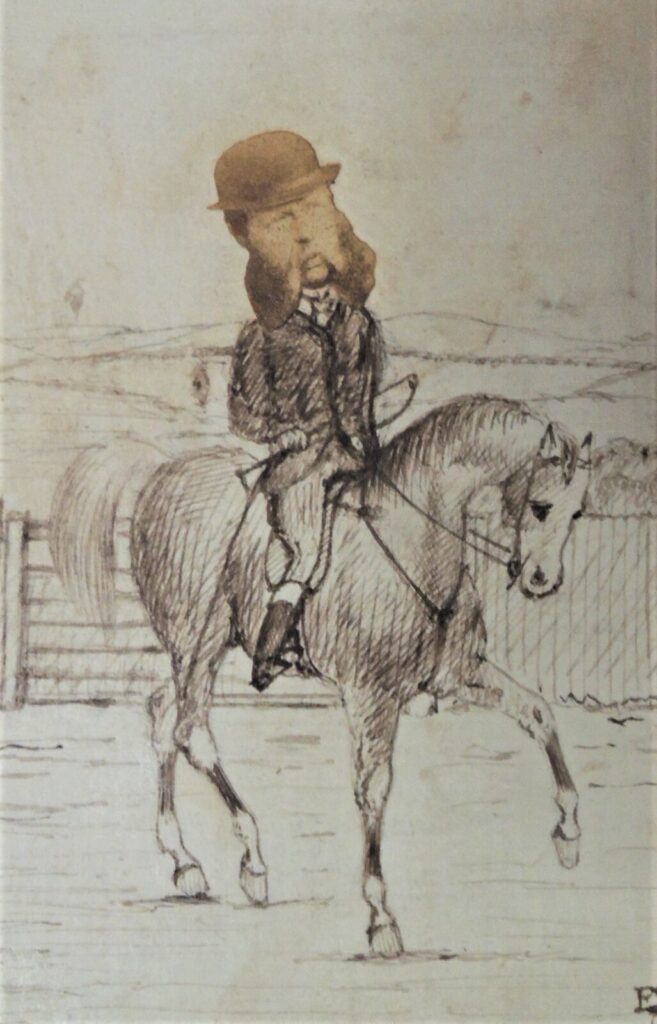 The Graphic Arts Collection recently added an album of 259 original cartoons, watercolors, and pen-&-ink sketches on 170 pp., along with a few printed cartoons, including one "sent to Punch January 1868."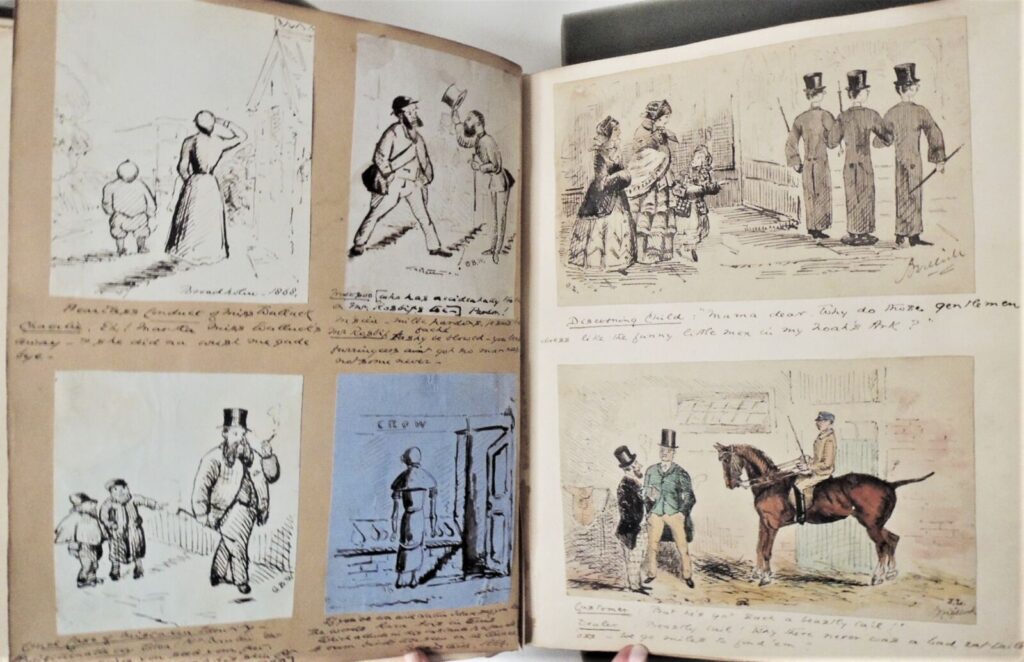 George Boileau Willock (born 1832), Gore Wynyard Willock (1861-1910), et al., Scraps by Many Hands, [ca. 1855-1885]. Embossed cover "G.B.W."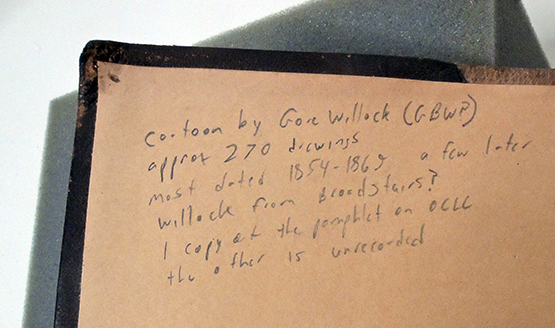 Some work has already been done on the albums provenance, which is repeated here:
A collection of original art work by G.B.W. (George Boileau Willock, born 1832) and his artistic friends. The album was passed to his son, G.W.W. (Gore Wynyard Willock, 1861-1910). George came from an Imperial family that included Alexander Willock, London merchant and slave owner in the West Indies, his son Francis (1785-1834), naval officer and brother of Sir Henry Willock (1790-1858) chairman of the East India Company, and Captain Frank Gore Willock (1829-1857) who died at Delhi.
The son of Sir Henry Willock and Elizabeth Davis, George married Georgina C.M Willoughby in 1857 and together they had three children, Beatrice, Gore and Frank. Gore was born at Mussoorie, (a hill station pictured in the album) in the Indian state of Uttarakhand, north of New Delhi, and served in the Indian army before retiring to London. The Boileau connection was through Mary Elizabeth Boileau (1838-1919), who married Henry Davis Willock in 1859.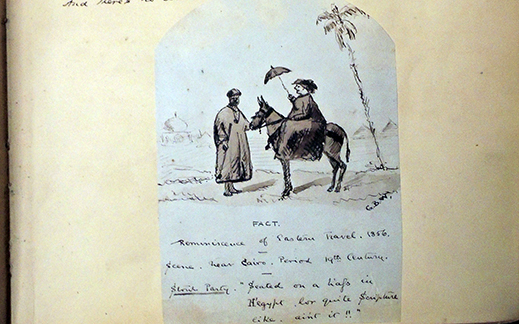 It is assumed that Gore compiled his father's drawings into this album, including 124 cartoons signed G.B.W. or G.B. Willock; and about 80 others unsigned but probably by Willock. George was clearly an accomplished artist but many of the drawings present racist views of Asian, African, and Indian people, both in the image and the text. They are not included here. A portrait [at the top] presumed to be George Willock is included with a photograph of his face pasted to a sketch of a man on horseback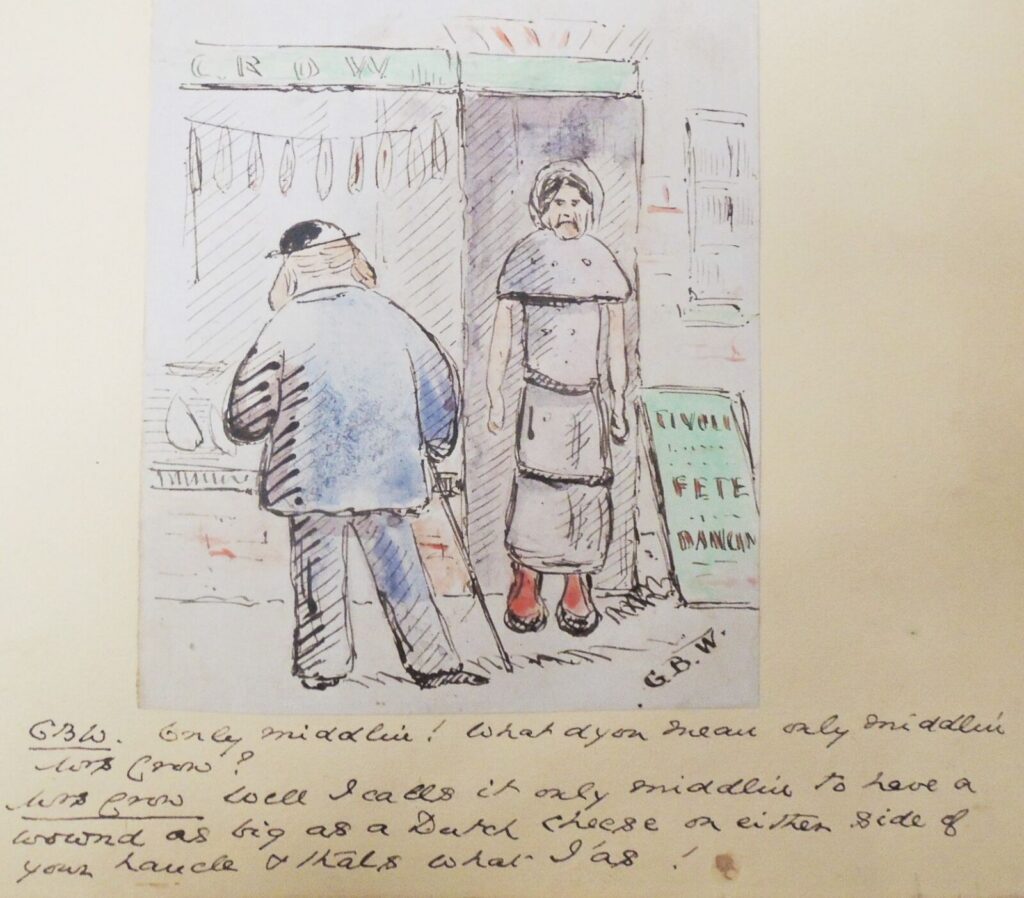 There are 20 non-humorous watercolors or pen-&-ink drawings of landscapes in England, Scotland, and India.. Eighteen cartoons are signed with the initials of other artists: 8 by C.A.R., 4 by J.L., 2 each by H.M.J. and W.T., one each by W.F.L. and M.E.
The two printed items laid into the album are:
Legend of Broadstairs. For Private Circulation only (Broadstairs: Printed by E. Cantwell, ca. 1875). Signed G.B.W. at end. Inscribed to "Gore from the Author," [ca.1875].
A True Tale told by Mariah Hanne to Sarah Jane. 3pp. on a single folded sheet [ca.1880], inscribed to "Gore from the Author."