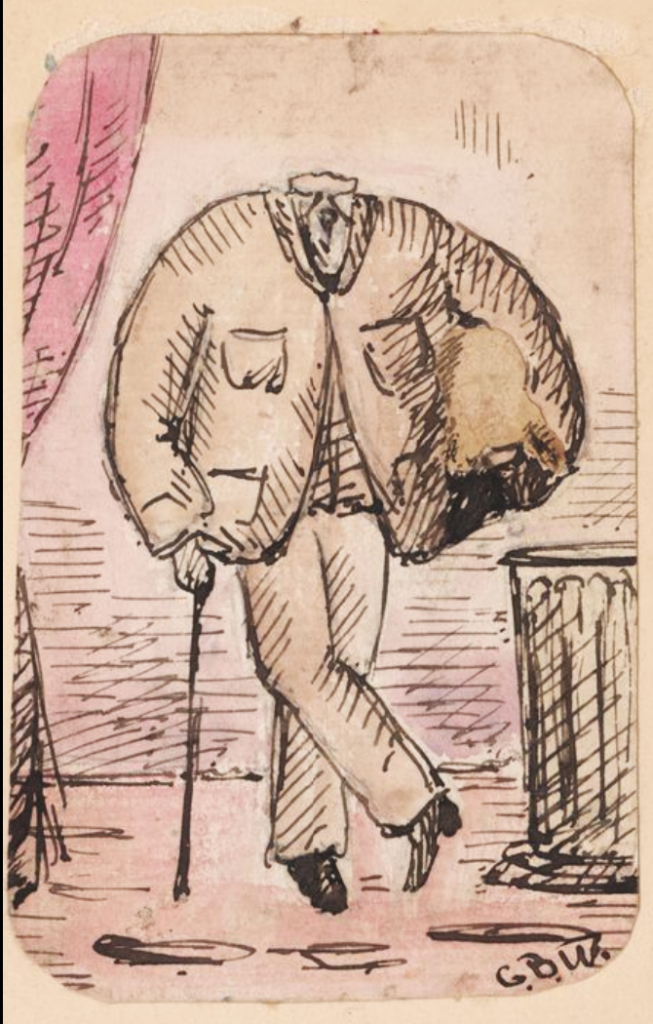 A newly acquired Victorian album of hand-drawn cartoons and watercolors titled "Scraps by many hands," has been digitized allowing the online reading of pages, which are difficult to decipher even in person. Not surprising, the jokes are based on degrading ugly women, fat men, indigenous people of British India, Asians, Africans, and others outside upper class Victorian London society.
It is surprising the number of drawings collaged with original photographs, such as the image above, where a British gentleman recommends a casual pose while having a photograph taken – head in hand. The album can be enjoyed at https://catalog.princeton.edu/catalog/12197569.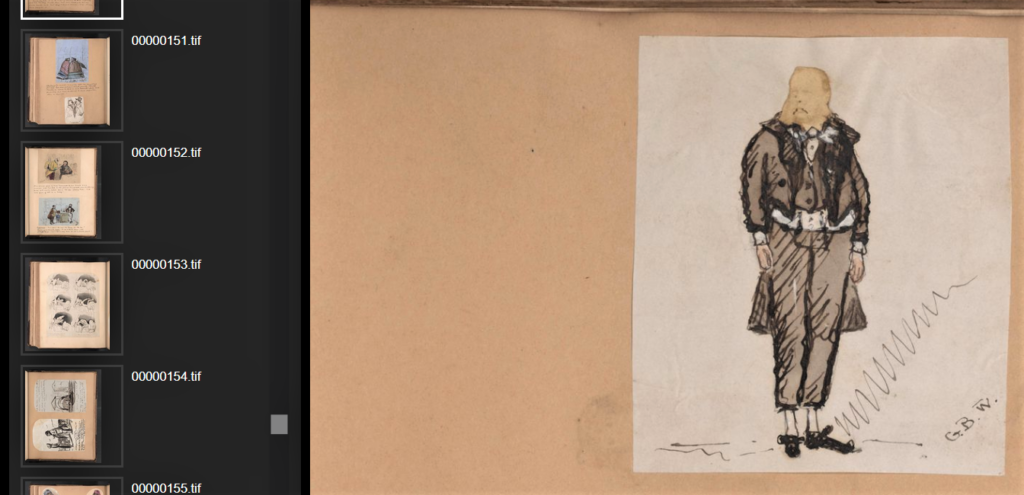 caption enlarged below:

The album is clearly inspired by George Cruikshank (1792–1878) who published a collection, called Scraps and Sketches, each year between 1824 and 1834. See Special Collections – Graphic Arts Collection » Oversize 2015-0065, 0066, 00677F, and many other copies.
Here are a few pages from "Scraps by many hands" but it is worth a few minutes to browse the digital pages.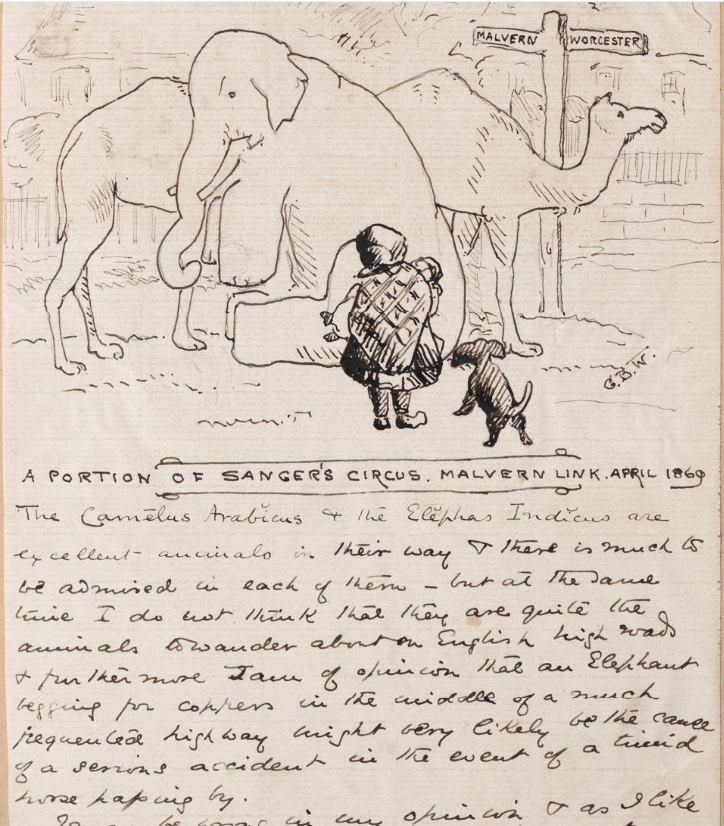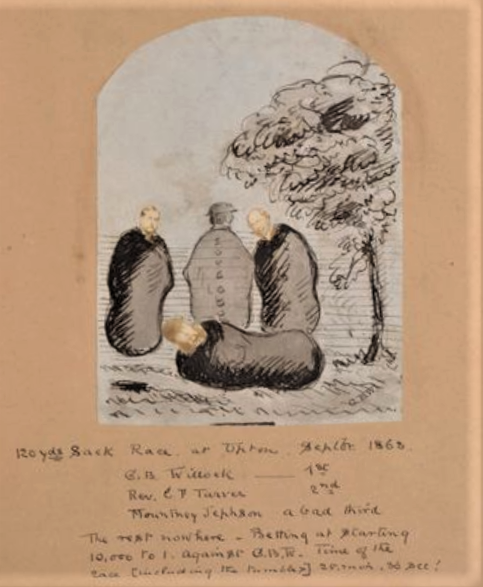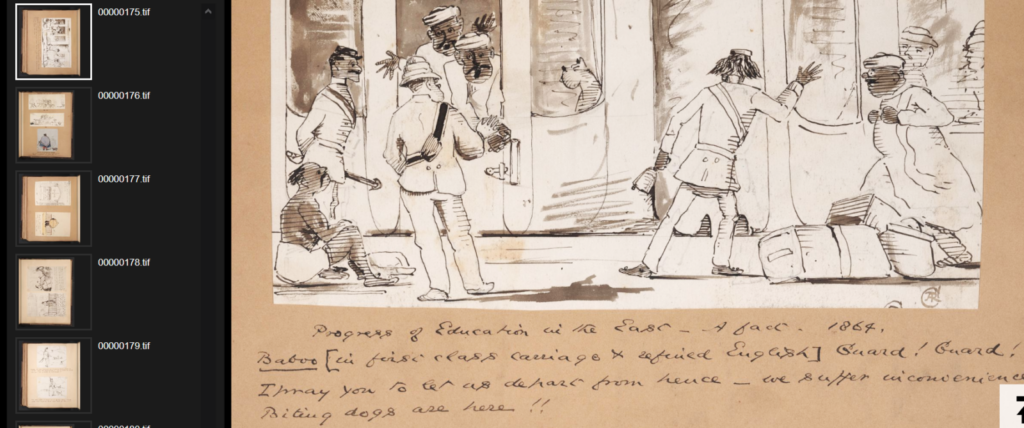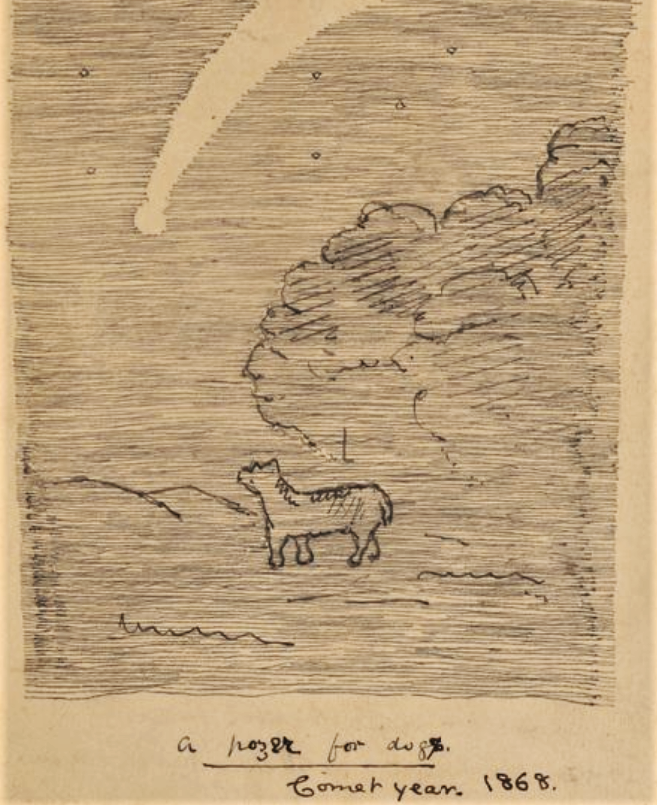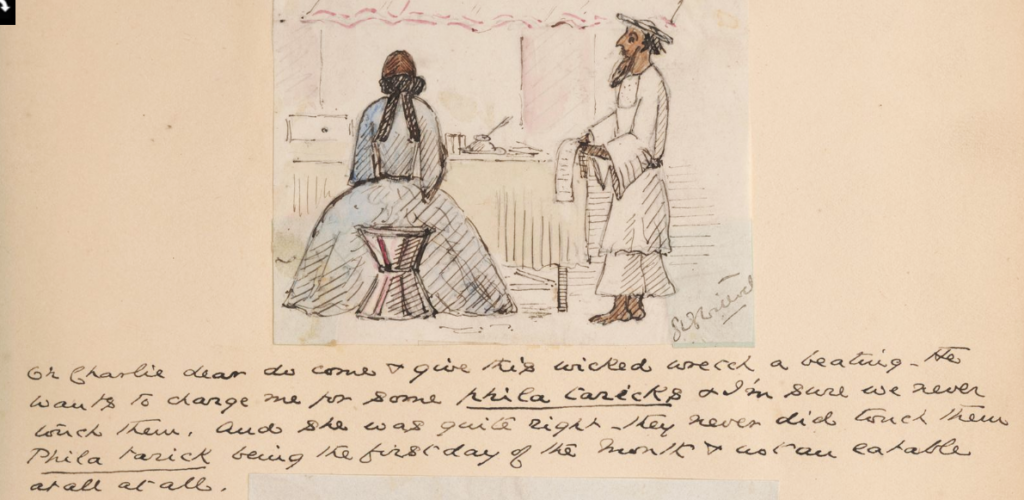 There are many references to Malvern, a spa town in Worcestershire, England, where the owner of the album may have lived. Wikipedia notes:
C.S. Lewis and J. R. R. Tolkien are among the authors that have frequented Malvern. Legend states that, after drinking in a Malvern pub one winter evening, they were walking home when it started to snow. They saw a lamp post shining out through the snow and Lewis turned to his friends and said "that would make a very nice opening line to a book". The novel The Lion, the Witch and the Wardrobe by Lewis later used that image as the characters enter the realm of Narnia. J.R.R. Tolkien found inspiration in the Malvern landscape, which he had viewed from his childhood home in Birmingham and his brother Hilary's home near Evesham. He was introduced to the area by C. S. Lewis, who had brought him here to meet George Sayer, the Head of English at Malvern College. Sayer had been a student of Lewis, and became his biographer, and together with them Tolkien would walk the Malvern Hills. Recordings of Tolkien reading excerpts from The Hobbit and The Lord of the Rings were made in Malvern in 1952, at the home of George Sayer. The recordings were later issued on long-playing gramophone records. In the liner notes for J.R.R Tolkien Reads and Sings his The Hobbit & The Fellowship of the Rings, George Sayer wrote that Tolkien would relive the book as they walked and compared parts of the Malvern Hills to the White Mountains of Gondor.