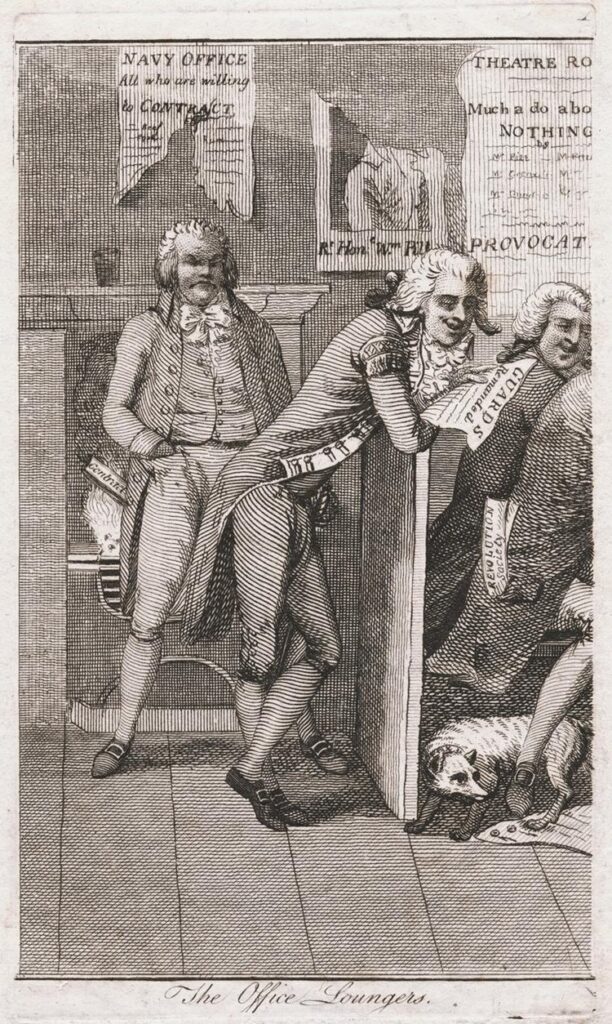 Thanks to Dickson Q. Brown '1895, the Graphic Arts Collection holds this 18th-century engraving titled The Office Loungers, once published in a London magazine as the left side of a complete print. You can see the unfinished line at the top and bottom. It is not uncommon when clipping images over the years to mix them up and/or loose the matching plate. Individual copper plates were also reissued with new titles. Such is the case here. Do you know the complete scene?
A few similar questions have been solved, such as this print The Devil to Pay, which is one side of a set of engravings reproducing Samuel Collings (died 1795), Magnetic Dispensary, 1790, an oil on canvas owned by the Library Company of Philadelphia. The full engraving was printed by John Barlow after Collings in 1790 and published in The Attic Miscellany, 1791, vol. I, pictured on p. 121. Yale holds the original drawing by Collings and the Library of Congress has the complete engraving. Princeton holds the right side.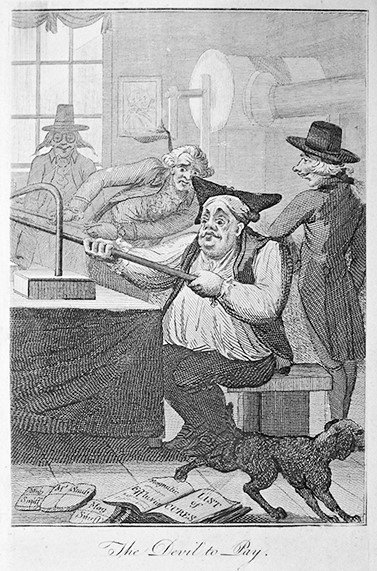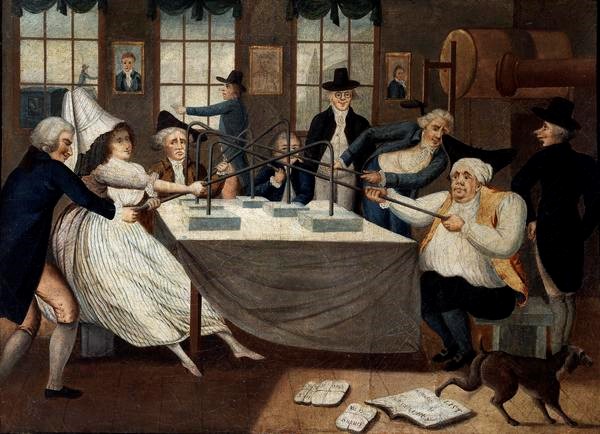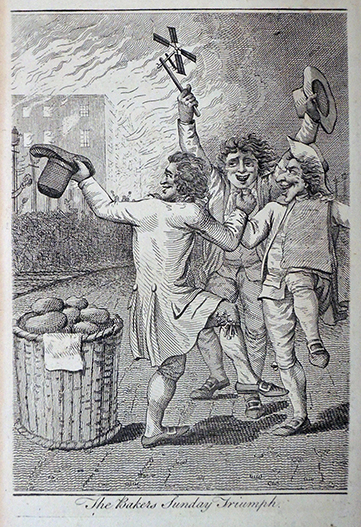 A few sheets were part of triptychs, such as this engraving on the left that was once published in the Carlton House Magazine as "Sunday Work which ought to be prohibited." The individual engraving, retitled The Bakers Sunday Triumph, 1794, shows bakers rejoicing while the steam-powered Albion Mills burns (referenced in William Blake's "dark satanic mills") and George III passes an act forbidding the baking of bread on Sundays.
The British Museum is fortunate to own this broadside [below] published 1791, after the Albion Mills burnt down. Their website notes "On 2 March 1791, the entire building burnt down. It was a dry night and a low tide, so it was difficult to access water to extinguish the flames. The east wind that night would have blown smoke towards the house of William Blake in Lambeth. A large crowd gathered to watch the fire, a scuffle broke out, and the insurer's fire brigade tuned their hoses on the crowd rather than the building. Arson was strongly suspected, but nobody was prosecuted. The building remained derelict until it was pulled down in 1809."
Art history involves detective work. Can anyone help us put the pieces together with our Office Loungers? Thanks very much.