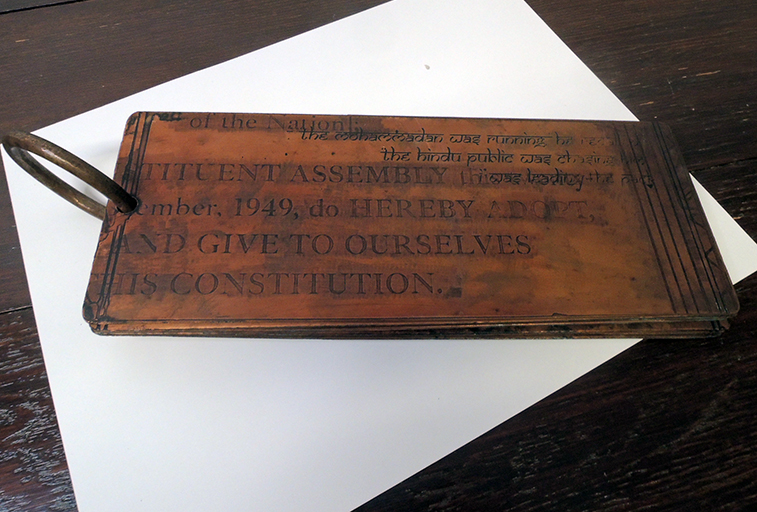 Ravikumar Kashi, 'Everything will be remembered' a palimpsest. Bangalore, India, 2020. Unique edition. Etched copper plate filled with printing ink, copper wire. Graphic Arts Collection GAX 2020- in process
The Graphic Arts Collection is honored to acquire Ravikumar Kashi's 'Everything will be remembered' a palimpsest, one of four finalist for the 2020 Minnesota Center for Book Arts (MCBA) Prize, selected by juror Betty Bright from 158 submissions sent from 18 countries. "Established in 2009, this biennial award is meant to represent the diversity of approaches to book art, honoring one winner and four finalists for their unity of form, material, and content."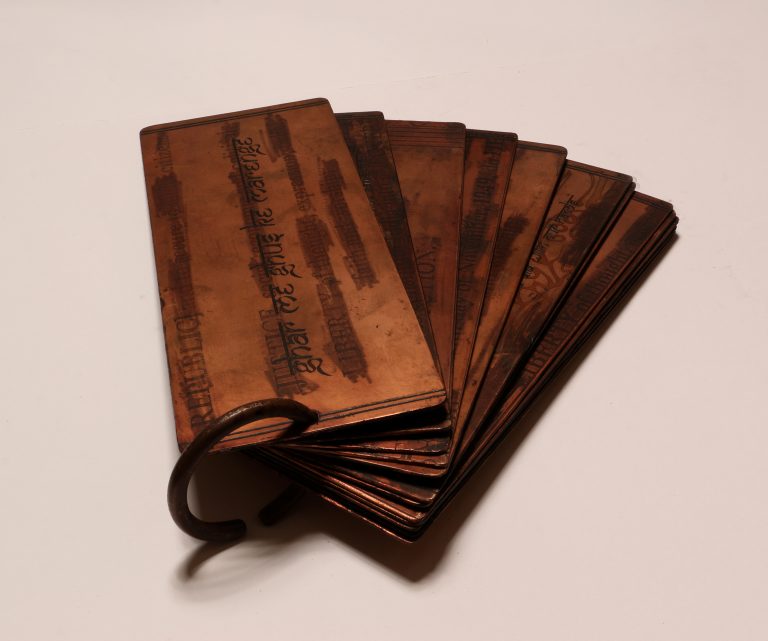 Born in Bangalore, India, Ravikumar Kashi (ravikashi.com) studied painting, printmaking, and papermaking under masters in India, Scotland, and Korea. He received a National award from Lalit Kala Akademi, Delhi in 2001 and two awards from Karnataka Lalita Kala Academy 1990, 1999 and one from Karnataka Shilpa Kala Academy for his works in 2000. He has also received first prize in 'Ventipertrenta', International Festival of Digital Art 2017, from Museo Internazionale Dinamico de Arte Contemporanea, Italy.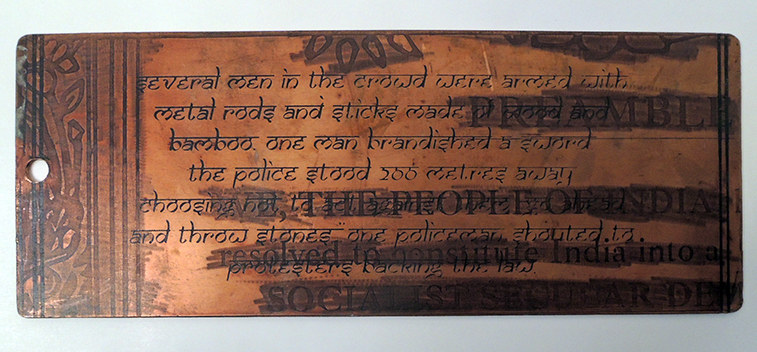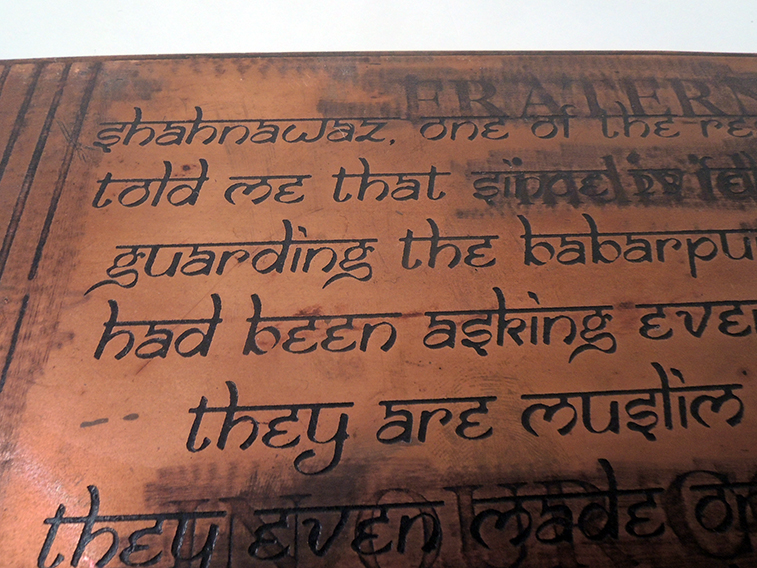 Note: "The type face of the second layer of the text is an English font called Samarkan, designed to look like a Sanskrit text, and is intended to act as a visual marker for the Indian right-wing practice of quoting ancient texts to gain validation. It is also a simulation of ancient handwritten palm leaf text manuals from India."
Here is a portion of his artist statement for MCBA, beginning with the background for the work:
On 30th May 2019, the Indian right wing party BJP led by Mr. Narendra Modi formed the central government for a second time. Its election campaign was replete with anti- Muslim rhetoric and sloganeering. That same year, on the 12th of December, the Government of India enacted the Citizenship Amendment Act (CAA). In the weeks following, nationwide protests calling for the repealing the CAA and the foregoing of the National Register of Citizens (NRC), which was supposed to precede CAA, were held….

In early 2020, following speeches given by BJP leaders inciting their followers to attack and shoot anti-CAA protesters, riots occurred in North-Eastern Delhi. Beginning on 23 February, and caused chiefly by Hindu mobs attacking Muslims, there were multiple waves of bloodshed, property destruction, and rioting. Of the 53 people killed in three days, two-thirds were Muslims who were shot, beaten, or set on fire in the Indian capital's deadliest Hindu-Muslim riot since 1950. …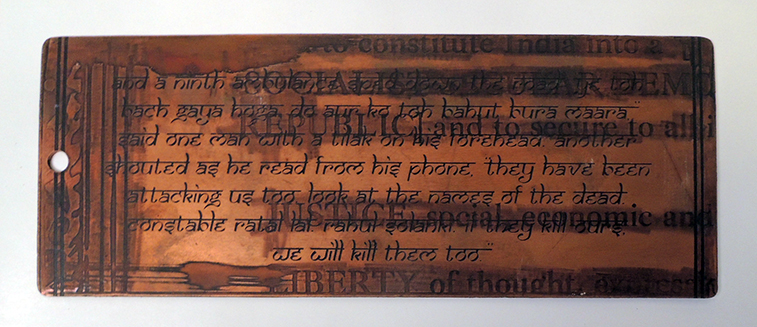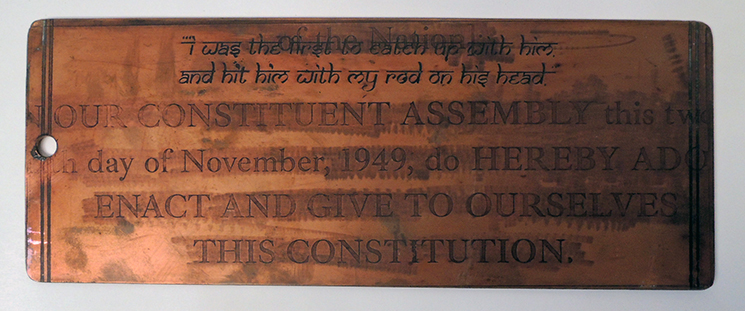 The Work Concept:
My work is a combination of copper plates used historically for documentation and the idea of palimpsest.
Copper plates: In the Madras Museum, located in southern part of India, a series of copper plates from as early as 4th century AD have been preserved and displayed. These copper plates recorded various events of their time for posterity.
Palimpsest: a manuscript or piece of writing material on which later writing has been superimposed on effaced earlier writing; something reused or altered but still bearing visible traces of its earlier form.

In the light of anti-CAA protests and Delhi riots, I wanted to create a copper plate palimpsest for my time , so that the erasure of our constitutional values will not be forgotten.

There are two layers of text in the work. In the partially erased layer seen beneath, is the preamble to the Indian Constitution, declaring its claim to secure justice, liberty, and equality to all citizens, and promote fraternity to maintain unity and integrity of the nation. That layer is being eroded, and replaced with textual details of Delhi riots, narrating the incidents of murder and rampage. There are Slogans of violence like "We will enter the house and beat you up" or "Shoot the traitors".

…The title for the work 'Everything will be remembered' comes from the title of the poem written by anti-CAA activist Aamir Aziz, lines of which were also recently recited by [Roger Waters] of Pink Floyd: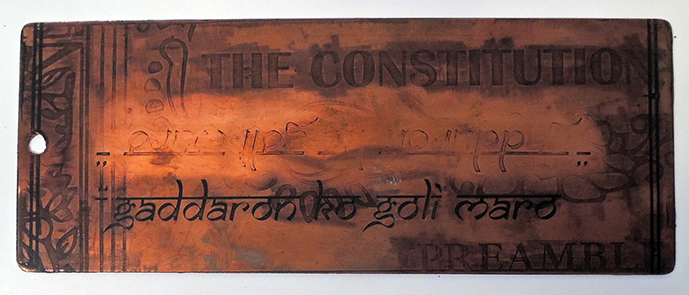 A section of "Everything will be remembered" by Amir Aziz.
Tum Raat Likho Hum Chand Likhenge,
Tum Jail Mein Dalo Hum Deewar Phand Likhenge,
You could write the night, but we will write the moon.
If you put us in jail, we would jump over the walls and still write.
Tum FIR Likho Hum Hain Taiyar Likhenge,
Tum Humein Qatl Kar Do Hum Banke Bhoot Likhenge,
Tumhare Qatl Ke Sare Saboot Likhenge,
If you would lodge an FIR against us, we are all set to write about the injustice we are suffering from.
If you murder us, we will come as the ghosts and still write. We will write mentioning the proofs unveiling the murders you have committed.
We will write mentioning the proofs unveiling the murders you have committed.
…Sab Yaad Rakha Jayega, Sab Kuch Yad Rakha Jayega,
Aur Tumhari Laathiyon Aur Goliyon Se,
Jo Qatl Huwe Hain Mere Yaar Sab,
Unki Yaad Mein Dilon Ko Barbaad Rakha Jayega,
We will remember everything. We will not forget it at all.
The dearest friends of mine who you murdered with lathis (or sticks) & bullets;
In the remembrance of them, we will keep our hearts broken-down. …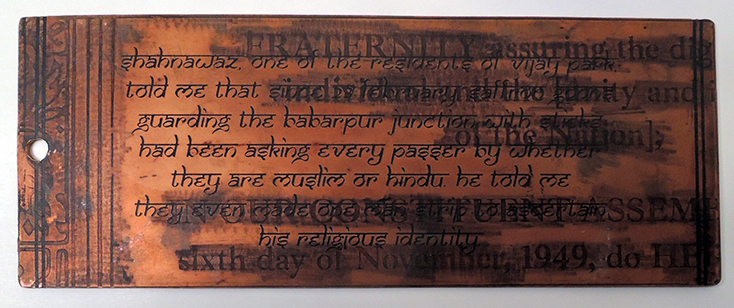 Additional reading: Indian antiquary. Bombay, Popular Prakashan [etc.]
https://hdl.handle.net/2027/coo.31924079325662