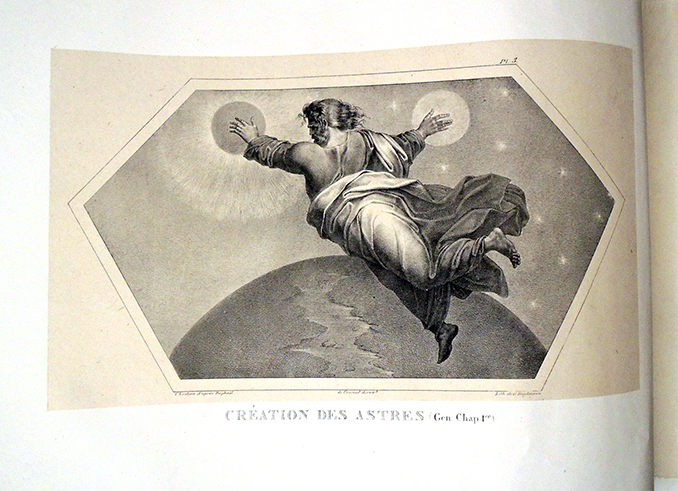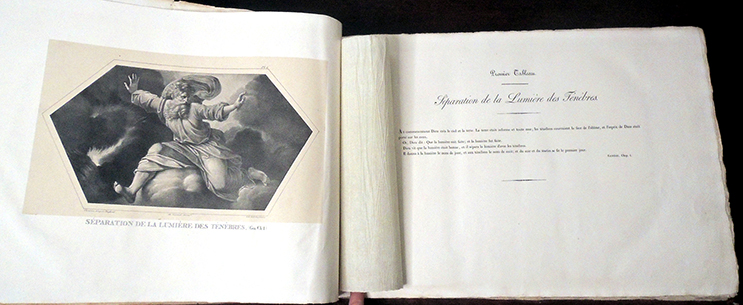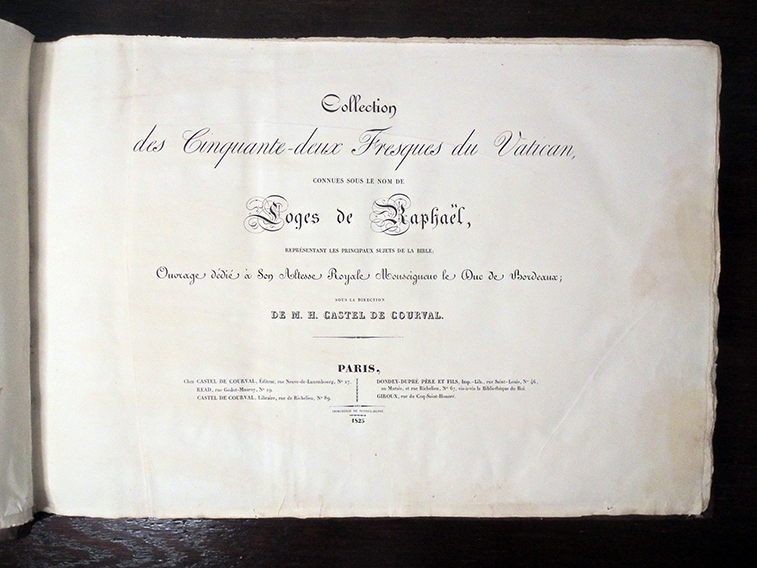 Tableaux de la Sainte Bible ou Loges de Raphaël: collection des cinquante-deux fresques du Vatican, représentant les principaux sujets de l'Ancien & du Nouveau Testament, peintes par Raphaël, dessinées et lithographiées par MM. Barathier,… [et al.]. Sous la direction de Mr Hippolyte de Courval. Avec les textes extraits des livres sacrés. Dédiés à son altesse royale, monseigneur le duc de Bordeaux = Paintings from the Holy Bible or Raphael's Lodges: A Collection of Fifty-Two Vatican Frescoes, representing the main subjects of the Old & New Testaments, painted by Raphael, drawn and lithographed by MM. Barathier,… [et al.]. Under the direction of Mr Hippolyte de Courval. With texts taken from sacred books. Dedicated to His Royal Highness, Monsignor the Duke of Bordeaux. (Paris: Chez Prodhomme et Cie, librairies, boulevard des Capucines N° 1. 1825). Graphic Arts Collection GAX 2020- in process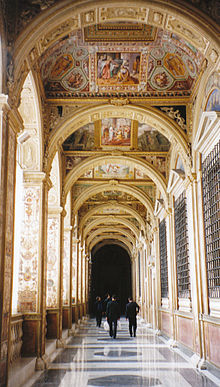 Under the direction of Hippolyte de Courval, the frescos of Raphaël (1483-1520), were drawn by Barathier; A. Barincou;; Bouillon; Chrétien; Charles Achille d'Hardiviller (1795-18??); Antoine François Gelée (1796-1860); Henri-Joseph Hesse (1781-1849); Julien Vallou de Villeneuve (1795-1866); Paul Claude Michel Le Carpentier (1787-1877); and Weber; then lithographed by Godefroy Engelmann (1788-1839) .
This is one of many attempts to reproduce the frescoes. Volume 2 of Le bibliophile belge (Bruxelles, 1845-1850) (Firestone Z1007 .B5354) has a "bibliographie des loges," which begins as early as 1607. The very long list is abbreviated below to show how far down this lithographic presentation comes.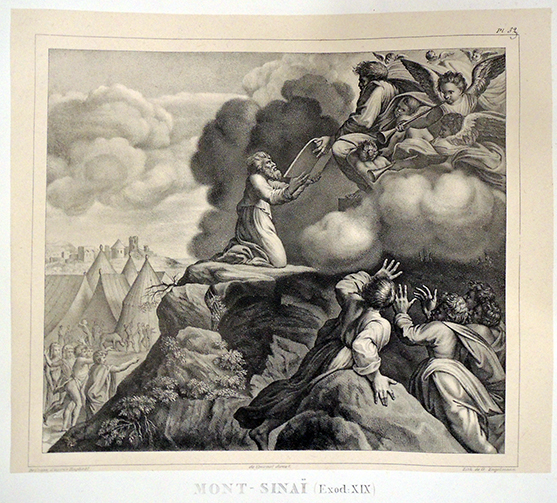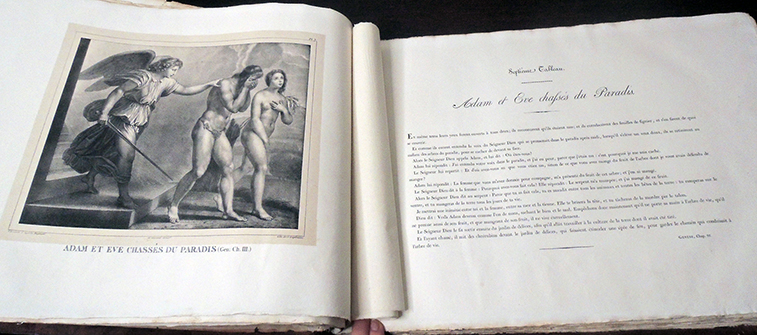 1. Historia del Testamento Vecchio, depinta in Roma nel Vaticano da Rafaelle di Urbino , et intagliata in rame da Ş. BADALOCCHIO ( Sisto Rosa) et 610. LANFRANCHI , Parmigiani. Al Sig. Annibale Caracci. Roma, appresso Giov. Orlandi, 1607….
2. Historia….. Urbino. Al Mto illo Sig. D. Giuseppe Bernagi Giov. Orlandi D. D. D. – BALDASS. Alois Bon. fe.- Si stampa in Roma appresso Giov. Orlandi, 1613.; Titre et cinquante feuilles avec un texte tiré de la Bible. H. 5 p. 5 1. L. 6p. 81. La première et la seconde planche sont en contre-partie comme dans la seconde édition du n° 1.
3. Les 52 sujets grávés par ORAZIO BORGIANT, de différente dimension, in-40 allongé et in-8′ H. B. 1615….
4. La Sacra Genesi figurata da Rufaele d'Urbino, intagliata da FRANCESCO VILLAMENA, dedicata al…. Card. Aldobrandino. Ronia appresso gli heredi del do Villamena, 1826. Dans la dédicace, la veuve de Villamena dit que son mari, qui avait dessiné toutes les loges de Raphaël, avait été interrompu par la mort tandis qu'il s'appliquait à les graver. …
10. Picturae Perystiti Vaticani Avec une dédicace au pape Pie VI par Montagnani. — Venit Romae apud Petrum Paulum Montagnani, 1790. 53 seuilles. H. 8 p. 81. L. 10 p. avec encadrement. Dessiné par LUIGI AGRICOLA , gravé par Luigi CuNEGO, Gio. PETRINI, GIROL. CARATTONI, G. MORGHEN, MOCHETTI , Pozzi, Cochini, Bossi , etc. ….
11. Loggie di Rafaele , gravé par J. VOLPATO et J. OTTAVIANI , d'après les dessins de C. Savorelli et P, Camporesi. Roma presso Marco Pagliarini, 1782, 43 feuilles, grand in-folio royal, publiées en 3 livraisons. La seconde porte ce titre : Seconda parte delle Loggie di Rafaele nel Vaticano che contiene XIII volte e i loro rispettivi quaddri, pubblicata in Roma, l'anno 1774, gravé par J. OTTAVIANI. Volpato avait pour objet spécial de représenter les arabesques, les stucs et les plafonds des loges.
12. Les loges du Vatican peintes par Raphaël, contenant 52 sujets avec le texte explicatif de la Bible, in-40, chez David, graveur (à Paris) et chez Treuttel et Wurtz (Journal général de la littérature de France, 1808, p. 60).
13. Collection des 52 fresques du Vatican, connues sous le nom de Loges de Raphaël, et représentant les principaux sujets de la Bible (lith. par Engelman), publiée par H. CASTEL DE COURVAL. Paris, 1825, in-fol. obl. Lithographies très-médiocres, copiées sur Chapron, et accompagnées des textes de la Bible correspondants à chaque sujet.
14. Au trait, in-8°, dans le Musée de peinture et de sculpture, dessiné et gravé à l'eau forte par Réveil, avec des notices descript., critiques et hist. par DoCHESNE aîné, in-8°.