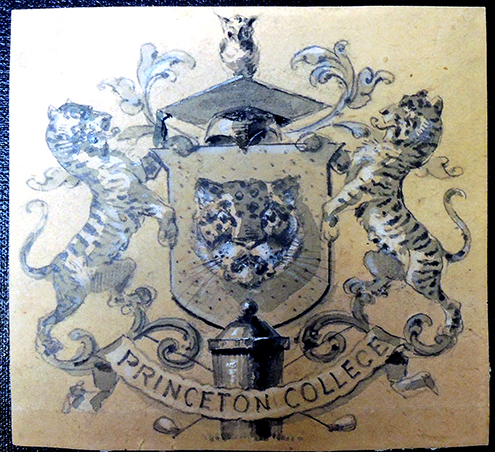 James Herbert Parsons' scrapbook, ca. 1900. Graphic Arts Collection. Gift of W. Allen Scheuch II, Class of 1976.
Thanks to the generous gift of W. Allen Scheuch II Class of 1976, the Graphic Arts Collection holds a scrapbook assembled by James Herbert Parsons (1831-1905), containing approximately 170 sketches and finished designs including heraldry, monograms, figures, birds, animals, and jewelry, some of which are miniatures. Most are watercolors but there are also drawings in pen-and-ink, charcoal, and pencil. The scrapbook, begun while the artist was still in England, was handed down to his youngest son Philip in 1905 and then, to Philip's niece Mary Evelyn Parsons Austin in 1942.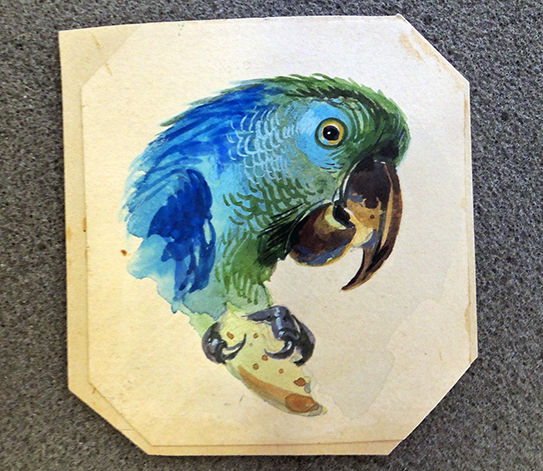 The highlight of the collection is a design for Princeton College (or the College of New Jersey), including no less than three tigers. It is not known whether the campus ever adopted Parsons' design for regular use. Although it is not dated, the design was made some time before 1896, when the school's name was officially changed to Princeton University during its Sesquicentennial Celebration. More about the Princeton colors and shield here: https://princetoniana.princeton.edu/things-princeton/colors-shields
For many years the same brief biography for Parsons was listed in every source: "An artist, died in West New Brighton, Staten Island, N. Y., on December 25, 1905, at the age of seventy-four years. He was with Tiffany & Co. for twenty-three years, and obtained the Beaconsfield gold medal in 1880. He won medals for his employers at the Paris and Chicago expositions. One of his best works was the [1895] marriage certificate of the Duke of Marlborough and Miss Consuelo Vanderbilt." — American Art Directory v.6
But this is only a small part of the story.
James Herbert Parsons was born in March 1831, London, England, to Peter and Mary Parsons. He was baptized on May 25 at St. Mary Abbots Church in Kensington, and as an adult rented a house on Edwardes Square, Kensington, never moving more than a few blocks from his extended family. James married Mary Flowers (born 1832) and together they had 5 daughters and 3 sons. He worked as a fine art engraver and by the age of 39, is listed as a draughtsman, which meant he was creating his own designs rather than engraving the designs of others.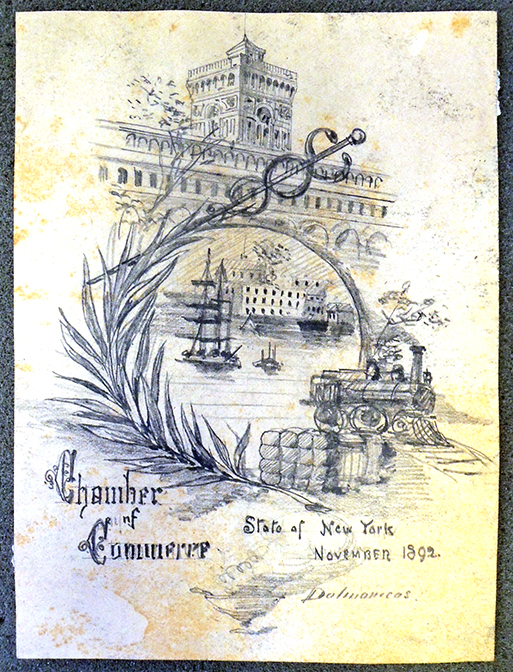 In 1881, James emigrated to New York City, leaving his wife to care for their 8 children, all still living at home. Presumably he was offered a position with Tiffany & Company, which had stores in Paris and New York City but not London. The following year, Mary and (at least) her two youngest children sailed for New York and moved into James' apartment at 416 West 68th Street off 9th Avenue, which was large enough to include an Irish maid. You might think they lived here so that he could walk to work but at that time Tiffany's headquarters was located at 15 Union Square West, where it remained until 1906. The New York Times called the building the "palace of jewels."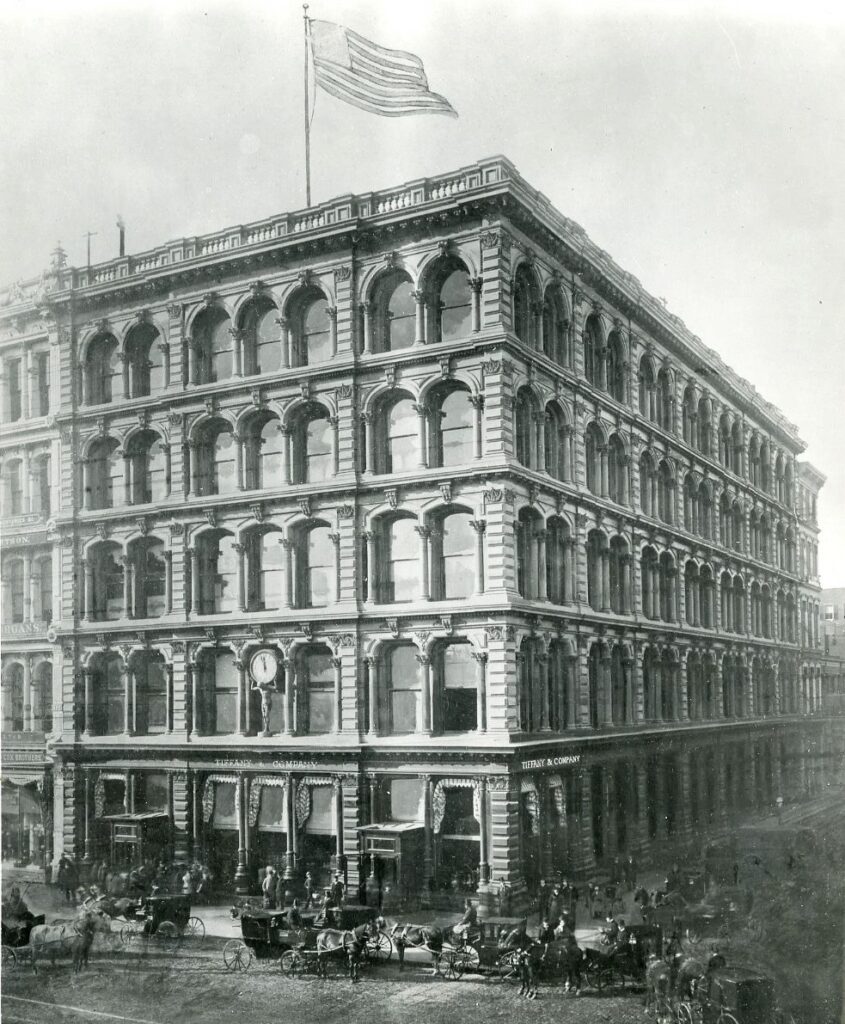 His position with Tiffany's brought the Parsons family wealth and stability, even throughout the bank panic of 1893, when his design work won a medal for Tiffany & Co. at the World's Columbian Exposition in Chicago.
The family eventually moved to Staten Island only a few years before James' death Christmas Day at the age of 74, the cause listed on the death certificate as Typhoid, Pneumonia, Senility.
Here are some of the other treasures in the Parsons scrapbook: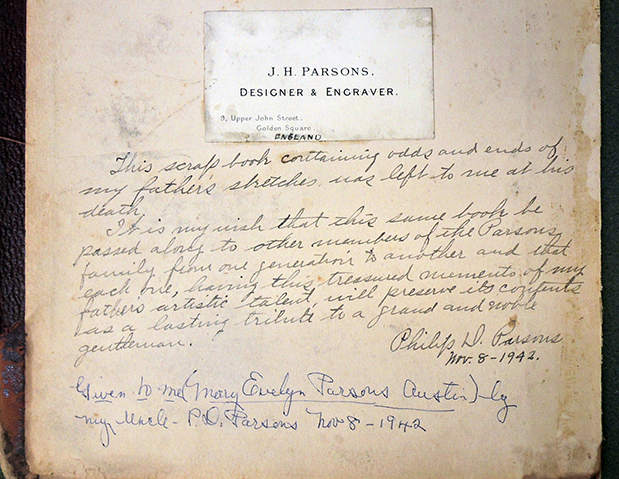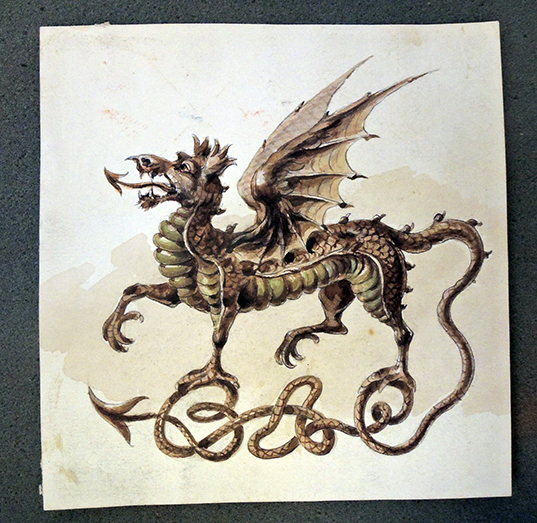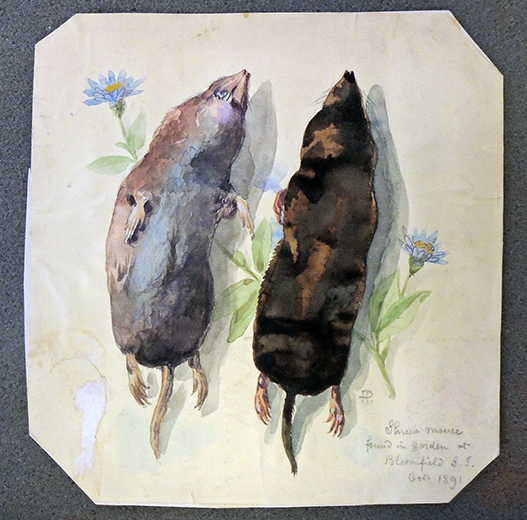 –mice found in the garden of their new home on Staten Island 1891