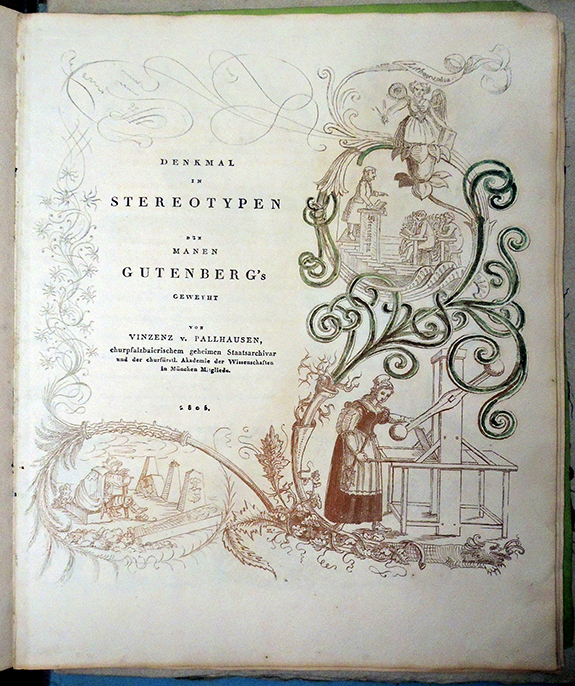 Vincenz Pall von Pallhausen (1759-1817) and Joseph Bonaventura Progel (died 1851). Denkmal in Stereotypen, den Manen Gutenberg's geweiht von von Vincenz von Pallhausen im Jahre 1805 und zur vierten Säcularfeier der Buchdruckerkunst mit lithographirten Federzeichnungen zu Johannis 1836 herausgegeben von Progel ([München]: [Franz], 1836, 1805
The Graphic Arts Collection now holds a unique copy of the first and only edition of A Monument in Stereotype: dedicated to Gutenberg's men, commemorating the Gutenberg jubilee in 1836, edited and reprinted from the 1805 stereotypes under the direction of Joseph Progel.
"Joseph Progel was Registrar of the Bavarian Academy of Sciences in Munich from the late 1820s until the mid-1840s. He was also Registrar for the joint scientific collections of the Academy and of the University of Munich (General-Conservatorium der wissenschaftlichen Sammlungen des Staates). His son was the distinguished botanist August Progel."–https://library.leeds.ac.uk/special-collections/collection/1306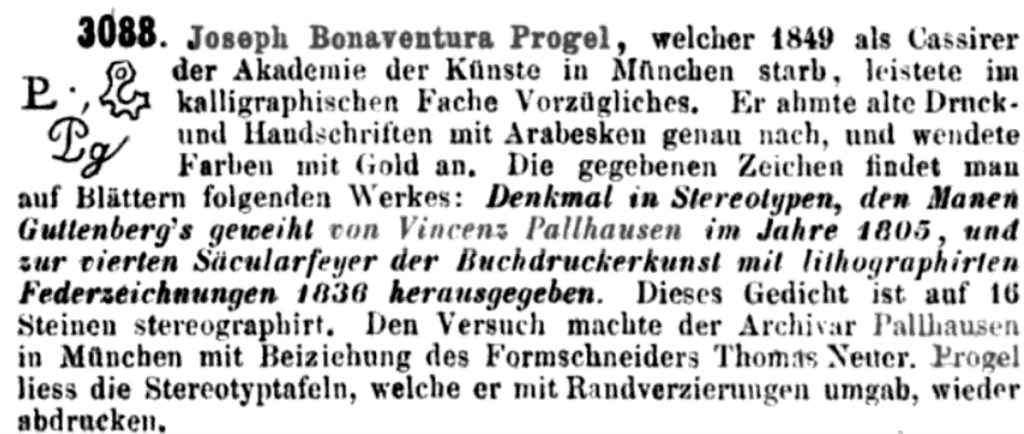 –Georg Kaspar Nagler, Die Monogrammisten, 1871
The loose plates, collected inside the original paper wrapper, have additional color, compared to the copy in the Bayerische Staatsbibliothek: https://reader.digitale-sammlungen.de/de/fs1/object/display/bsb10057223_00015.html?zoom=0.45. On the right is a second, proof sheet from Princeton's copy.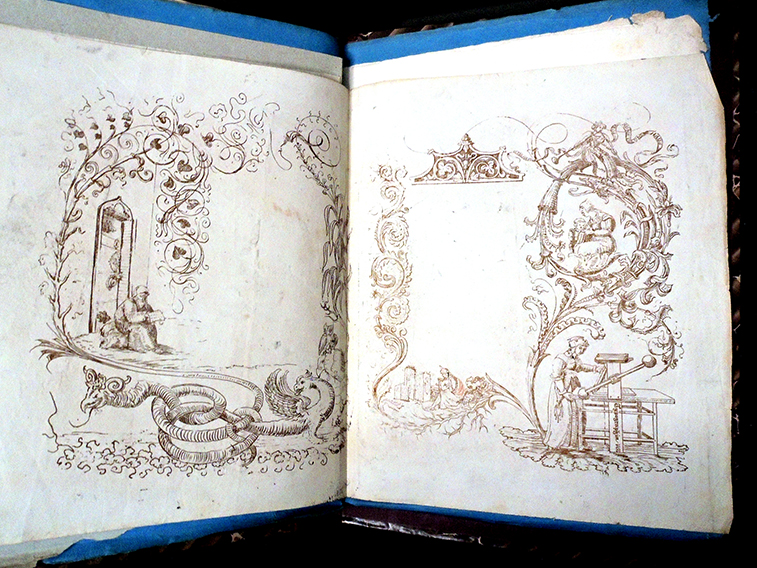 The volume at Princeton includes a second, perhaps rejected proof copy as well as 3 double-page sheets with still another variant of the illustrations, a sheet with a pencil drawing of one of the printed illustrations, and a design in gold for a title-page on a folded double-page sheet contained in blue wrappers with the illustrations in black only.
Here are a few more pages: